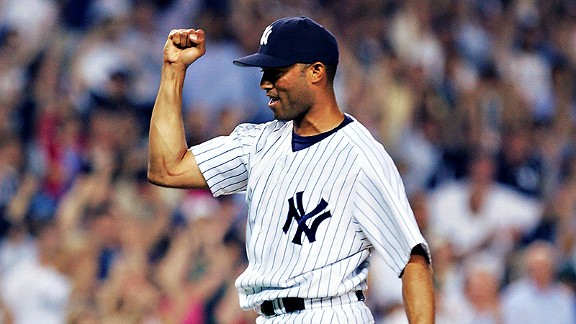 Ezra Shaw/Getty Images
Mariano Rivera circa 2004 after getting a save against the Rockies for the first time.For the remainder of the 2013 season, we will look ahead to Mariano Rivera's matchups against teams he will be facing for the final time in the regular season. We missed out on the Diamondbacks, but we'll circle back and play catch-up with that one eventually.
First up in our series, a look at Rivera's history against the Colorado Rockies, who came to the major leagues in 1993, only two years before Rivera did.
By the Numbers
Mariano Rivera's career stats vs. Rockies:
3 career appearances
3 saves
3 innings pitched
0 runs
2 hits
5 strikeouts
Did you know?
Rivera has pitched in 34 different stadiums, but has never pitched in a regular season or postseason game at Coors Field. He'll get the chance starting tonight.
Rivera has faced 10 Rockies hitters, matching the Cardinals for the fewest batters he's faced on a team. His three innings against the Rockies are his fewest against any team.
Mariano Rivera Has Never Allowed Run vs
The Rockies are one of 10 teams against whom he has recorded at least one save, but never blown one and one of eight opponents he's faced without allowing a run.
Rivera's first save against the Rockies in 2004 ended with a caught stealing of pinch runner Denny Hocking. How often has that happened in his career?
The Elias Sports Bureau tells us this one was the first of four. He also had one against the Tampa Bay Rays in 2005, the Oakland Athletics in 2008 and the Seattle Mariners in 2011.
They said it
"Professional."
-- Rockies right fielder Michael Cuddyer was asked what comes to mind when he thinks of Mariano Rivera. He gave that one word reply.
"It's like he's a machine out there."
-- Former catcher Russell Martin to reporters after Rivera's most recent save against the Rockies (detailed below).
Magic 'Mo'ment
Rivera's most recent save against the Rockies came on June 26, 2011, a one-inning, three-batter, three strikeout effort. Rivera has had 13 saves in which he's done that (three batters, three strikeouts). That's more than the next three Yankees pitchers in that stat -- John Wetteland (5), Dave Righetti (4) and Rich Gossage (3) -- have combined.
That save for Rivera was his 20th of that season, giving him 15 seasons with at least 20 saves, tied with Trevor Hoffman for the most such seasons all time.