Five things to know as Yanks head West
June, 6, 2013
6/06/13
1:21
PM ET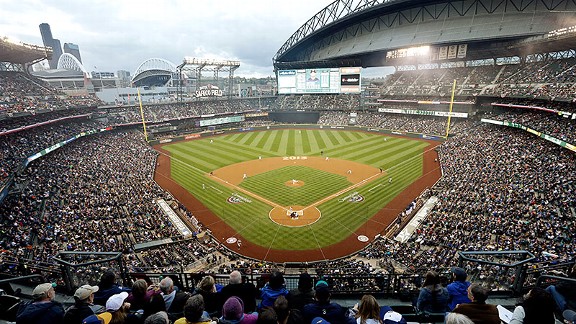 (AP Photo/Elaine Thompson)Will the Yankees be at their best against the AL Worst starting tonight at Safeco Field?
The Yankees start a 10-game road trip out West in Seattle tonight. They will arrive
a game and a half
behind the first-place
Boston Red Sox
.
So let's go a little deeper inside the trip.
[+] Enlarge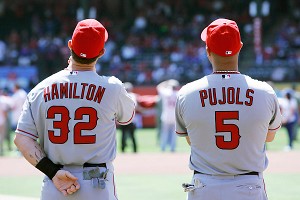 Tim Heitman/USA TODAY SportsJosh Hamilton and Albert Pujols haven't been living up to their names this season.
1. Beating the AL Worst:
The unfair part about the wild card is that teams like Texas and Oakland out West play a weighted schedule against poorer teams like the Astros, Mariners and Angels, while the Yankees have a division where everyone is somewhat competitive. In fact, the team a lot of us thought would be the best -- the Blue Jays -- is in the basement.
The Mariners are 26-34 on the season and
coming off a historic five-and-a-half hour, extra-inning loss
to the White Sox on Wednesday. Last season, the Yankees were 6-3 against the Mariners. In New York last month, the Mariners took two of three from the Yankees.
A "you can't predict baseball, Suzyn" fact from that series? Seattle's starter in the only game the Yankees won:
Felix Hernandez
.
At Safeco, beginning Thursday night, the pitching matchups are
Phil Hughes
(2-4, 5.37) vs.
Aaron Harang
(2-5, 5.82);
Hiroki Kuroda
(6-2, 2.59) vs.
Jeremy Bonderman
(0-1, 13.50);
Andy Pettitte
(4-3, 4.17) vs.
Joe Saunders
(4-5, 5.20) and
David Phelps
(4-3, 4.15) vs. Felix Hernandez (7.5, 2.58).
2. Oakland on fire:
When the Yankees saw the A's in early May, they were slumping a bit before taking two of three from the Yankees.
Currently, the A's have won 16 of their past 19 games. The A's series is sandwiched between the Mariners and Angels.
3. Hellish season:
You wanted the Yankees to sign
Josh Hamilton
and
Albert Pujols
, did ya? Well, Hamilton is hitting .216 with eight homers and 18 RBIs, while Pujols is at .243 with nine homers and 35 RBIs. Hamilton's OPS is .660, while Pujols' is .732.
By comparison,
Vernon Wells
' OPS is .705 and
Ichiro Suzuki
's is .650. Hamilton and Pujols have had seasons above 1.000.
The other problem for the Angels, besides hitting, is pitching. They don't do it well. That is why they have the same record (26-34) as the Mariners. They do have
Mike Trout
, though.
4. Trades:
The Ichiro the Yankees have seen this year is the one the Mariners saw the past two seasons. After the draft, Brian Cashman usually says the trade market heats up. The Yankees will look at
Curtis Granderson
as one corner outfield addition. The problem is they might need two because Wells and Ichiro have had their moments as Yankees but might not be legit starters anymore.
Plus, do you really think
Lyle Overbay
could eventually turn into an everyday outfielder
? Those guys have to prove they deserve to play every day or Cashman will have to make a deal.
5. Joba vs. Kelley:
All
Shawn Kelley
does is strike people out. In his past 12 innings he has struck out 23. He has a 2.25 ERA over those 11 outings.
Joba Chamberlain
has come off the DL and has had two good outings and one bad one. It seems as if Joe Girardi is sticking with Joba as his seventh-inning guy, but Kelley is definitely putting pressure on Joba.