Feeling a draft
June, 6, 2013
6/06/13
1:11
PM ET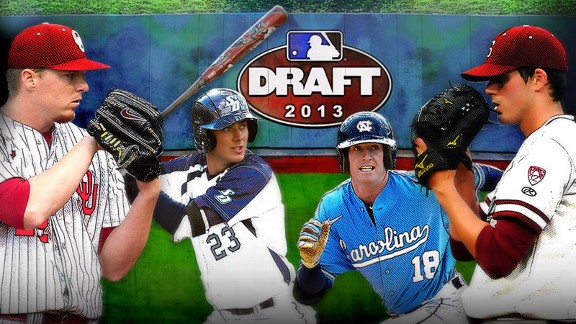 ESPN.com Illustration
The Yankees select 26th, 32nd and 33rd in the first round of the
MLB draft, which starts tonight
. General manager Brian Cashman said he chooses the best player available at each pick and never for need.
At the top of the draft, there is a little more certainty, but no guarantees. But where the Yankees are picking, nobody knows if the guy will be the next
Mike Trout
or John-Ford Griffin.
Just take a look at the Yankees' No. 1 picks since 2000. I have listed them by position, school and pick in the first round. The players in blue made the majors; the ones in black haven't yet or have retired:
2000: David Parrish, C, University of Michigan, No. 28
2001: John-Ford Griffin, OF, Florida State University, No. 23
2001:
Bronson Sardinha
, SS, Kamehameha HS (Honolulu), No. 34
2001: Jon Skaggs, P, Rice University, 42
2002: No Pick
2003: Eric Duncan, 3B, Seton Hall Prep (West Orange, N.J.), No. 27
2004:
Phil Hughes
, P, Foothill HS (Santa Ana, Calif.), No. 23
2004: Jonathan Poterson, C, Chandler HS (Chandler, Ariz.), No. 37
2004:
Jeff Marquez
, P, Sacramento City College (Sacramento, Calif.), No. 41
2005: CJ Henry, SS, Putnam City HS (Oklahoma City), No. 17
2006:
Ian Kennedy
, P, USC, No. 21
2006:
Joba Chamberlain
, P, University of Nebraska, No. 41
2007:
Andrew Brackman
, P, North Carolina State University, No. 30
2008: *** Gerrit Cole, P, Orange Lutheran High School (Orange, Calif.), No. 28
2008: Jeremy Bleich, P, Stanford University, No. 44
2009: Slade Heathcott, OF, Texas High School (Texarkana, Texas), No. 29
2010: Cito Culver, SS, West Irondequoit High School (Irondequoit, N.Y.), No. 32
2011: Dante Bichette, Jr., 3B, Orangewood Christian High School (Maitland, Fla.), No. 51
2012: Ty Hensley, P, Santa Fe High School (Edmond, Okla.), No. 30
*** did not sign