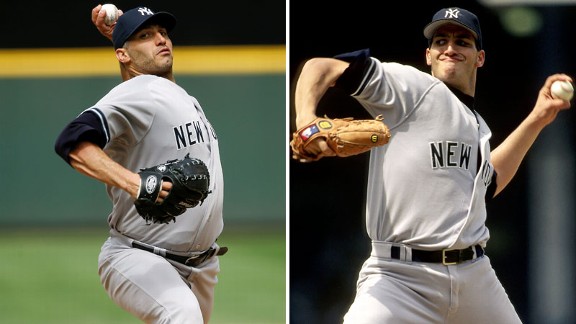 Getty Images
Can you tell the difference? The Pettitte on left is from win No. 250. The Pettitte on right is circa 1995.It took Andy Pettitte a few tries, but he finally reached 250 wins on the day his son Josh was drafted to pitch for the New York Yankees in the 37th round.
Andy Pettitte Then & Now
Win No. 250 came 18 years and one day to the day of his first win and the starts were nearly identical in nature from a statistical perspective, though separated by about 3,000 miles in distance
That the victory came against the Mariners was noteworthy because that's the one team he's struggled with the most among American League clubs. He's 12-13 in his career against them, 182-99 against the rest of the American League.
Pettitte isn't done with milestones just yet. His six strikeouts gave him 1,940 with the Yankees. That is 16 shy of Hall-of-Famer Whitey Ford's all-time franchise record.
The History
The Elias Sports Bureau noted that Pettitte is the fifth pitcher to win his 250th career game in a Yankees uniform, joining Red Ruffing (1942), Roger Clemens (2000), Randy Johnson (2005) and Mike Mussina (2007).
Elias also shared that 23 pitchers have earned their 250th career win over the last 70 years, but only five had fewer losses at the time of their 250th win than Pettitte: Johnson, Clemens, Greg Maddux, Jim Palmer and Tom Seaver.
How Pettitte won
What made Pettitte so good in his 250th win was what made him so good in his previous 249.
Though Pettitte has never been an overpowering pitcher, he's always been a precise one.
Saturday, that meant throwing his slider/cutter (some call it one thing, others call it another) knee-high on the inside corner to tie up a righty, and off the outside corner to make a lefty reach for it.
250 Wins, 630 Win Pct
Started Career in Live Ball Era (Since 1920)
Pettitte threw that pitch 24 times and netted eight outs with it (including five of his six strikeouts), yielding only one hit.
In all, Pettitte got 18 outs with pitches in the strike zone, his most in a game since August 31, 2009 against the Orioles.
He started 13 batters with an 0-1 count and retired all 13. He got to two strikes on 12 hitters and retired all 12. It's the first time this season that he retired every hitter against whom he got to two strikes.
Inside Pettitte's Season
When you go through the different combinations on our interactive "hot zone" chart below, take note of Pettitte's success this season up in the strike zone (all blue squares when you pick "Batting Average").
In Pettitte's previous two seasons, a couple of those squares would have been red. But Pettitte has been able to get away with stuff in the upper part of the strike zone (and above).
The Mariners were 0-for-5 in at-bats ending in pitches to that location. In his last five games, batters are 2-for-24 (.083) in at-bats ending on pitches "up" against Pettitte.
About the ESPN Hot Zone
• Use the dropdowns to select sortable information about the player.
• A color will appear when there are at least five at-bats using the selected criteria.
• Click on the image to receive the averages that correspond with the data.
• The raw data will appear when there are fewer than five at-bats using the selected criteria.