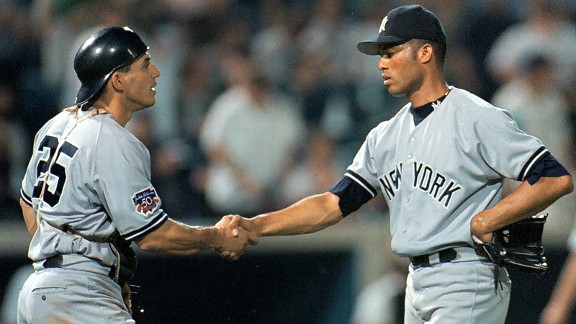 AP Photo/Frank Polich
Mariano Rivera and Joe Girardi celebrate a 1997 win against the White Sox.All season, we've been tracking Mariano Rivera as he prepares to pitch in his final series against each team. Next up on the goodbye list: the Chicago White Sox.
Career vs White Sox
1.29 ERA
41 saves, 4 blown saves
83 2/3 IP
51 Hits
71 strikeouts
16 walks
Did You Know?
• Rivera did not allow a run in his first 18 appearances against the White Sox, spanning 34 innings. That streak began on July 4, 1995 (more on that game in a moment) and ended on September 4, 1998, when he allowed an RBI single to current White Sox manager Robin Ventura in an 11-6 win.
Elias notes that was the longest scoreless streak against the White Sox since a 43 2/3 inning scoreless streak by Hall of Famer Whitey Ford for the Yankees from 1963 to 1964.
• When Rivera allowed a run in the ninth inning against the White Sox on August 7, it ended a streak of 13 straight scoreless appearances (14 2/3 innings) against them. It was his first run allowed to them since August 8, 2006 when Paul Konerko hit a game-tying home run against them.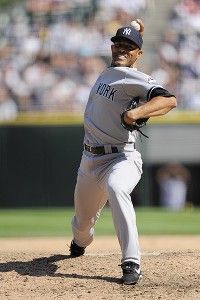 Ron Vesely/MLB Photos/Getty Images
This is what it looked like from behind home plate at U.S. Cellular Field when Rivera pitched.
• Rivera's 41 saves are the most of anyone against the White Sox, a dozen better than Dennis Eckersley, who ranks second.
• Rivera's 1.29 ERA against the White Sox ranks second-best for him among AL teams (not including the Astros), just behind his 1.24 ERA against the Minnesota Twins. Elias notes that it is the best ERA of anyone with at least 80 career innings against the White Sox.
• Rivera has a 1.11 ERA in 48 2/3 innings pitched at U.S. Cellular Field. That's the best ERA of anyone who has pitched at least 40 innings in that ballpark.
• Rivera has has allowed only two homers in 83 2/3 innings against the White Sox. That home run rate per nine innings of 0.22 is his lowest versus any team he's thrown at least 10 innings against.
• The White Sox have grounded into nine double plays against the Rivera. The only team that Rivera has gotten more double plays against is the Orioles (10).
• Rivera put a big hurt on the player known as "Big Hurt." White Sox star Frank Thomas went 3-for-22 with seven strikeouts in his career against Rivera. His .303 OPS was his second-worst against any pitcher versus whom he had 28 at-bats (Eric Plunk ranked better, .269).
They said it
"It turned out the scouting report we got was for the wrong Rivera. The pitcher we happened to be facing was Mariano Rivera."
-- John Kruk, explaining the White Sox befuddlement against Rivera on July 4, 1995.
That day, Rivera pitched eight scoreless, two-hit innings, striking out 11. Kruk was of the impression that the opposing pitcher threw 85 mph and leaned over the plate his first time up, only to watch a 95-mph fastball buzz by his chest.
That game is a turning point in Rivera's career. Rivera was five appearances into his major-league career at that point, the first four of which resulted in a 10.20 ERA and a demotion back to Triple-A.
"I have no doubt I can pitch here," Rivera told the media that day. Said prophetic White Sox manager Terry Bevington: "If he pitches like that, he'll be in the big leagues a long time."
Rivera's eight-inning, 11-strikeout scoreless outing against the White Sox in his fifth career game remains one of the best games that any Yankee has pitched that early into his career.
According to the Elias Sports Bureau, his 11 strikeouts are the most for any Yankee in a game within his first five career games.
Rivera is also the last Yankee to throw at least eight scoreless innings in a game that early into his career. Before Rivera, it hadn't been accomplished since Scott Nielsen did it in 1986.
Magic 'Mo'ment
Rivera had a couple of other moments of note against the White Sox:
On September 23, 2003, Rivera got to be on the mound for the clinching of the AL East, getting the final three outs in a 7-0 win over the White Sox.
On July 16, 2006, he closed out a 6-4 win over the White Sox to record the 400th save of his career.
And on September 15, 2008, he passed Lee Smith into second place on the all-time save list with his 479th save in a 4-2 win over the White Sox.