Pettitte gets 2,000th Yankee strikeout
September, 6, 2013
9/06/13
8:43
PM ET
Pettitte's Place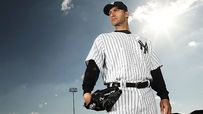 The Yankees are retiring Andy Pettitte's number. Where does the lefty rank among the all-time Bronx Bombers?
50 Greatest Yankees

Rank 'Em
NEW YORK --
Andy Pettitte
recorded his 2,000th career strikeout as a New York Yankee on Friday night against the
Boston Red Sox
.
The 41-year-old left-hander picked up strikeout No. 2,000 when he got Red Sox catcher
David Ross
to swing through an 85 mph slider to end the top of the fourth inning.
Pettitte is the franchise's all-time leader in strikeouts. Whitey Ford (1,957) is second and Ron Guidry (1,778) is third.
Pettitte came into the game with 1,993 career K's as a Yankee.
ESPN New York Writer
Covers the Brooklyn Nets for ESPNNewYork.com
ABOUT THIS BLOG
Wallace Matthews

Wallace Matthews has covered NY sports since 1983 as a reporter, columnist, radio host and TV commentator. He joins ESPNNewYork to cover the Yankees, which he's done since the days of Stump Merrill for Newsday, the New York Post, the New York Sun and ESPN New York 98.7 FM.
Andrew Marchand

Andrew Marchand is a senior writer for ESPNNewYork.com. He also regularly contributes to SportsCenter, Baseball Tonight, ESPNews, ESPN New York 98.7 FM and ESPN Radio. He joined ESPN in 2007 after nine years as a sports writer at the New York Post.
UPCOMING GAMES
| | W-L | HM | AW | STK | L10 |
| --- | --- | --- | --- | --- | --- |
| NYY | 1-1 | 0-1 | 1-0 | W1 | |
| PHI | 1-1 | 0-0 | 1-1 | L1 | |
| | W-L | HM | AW | STK | L10 |
| --- | --- | --- | --- | --- | --- |
| PIT | 1-2 | 0-2 | 1-0 | L2 | |
| NYY | 1-1 | 0-1 | 1-0 | W1 | |
| | W-L | HM | AW | STK | L10 |
| --- | --- | --- | --- | --- | --- |
| NYY | 1-1 | 0-1 | 1-0 | W1 | |
| HOU | 1-0 | 1-0 | 0-0 | W1 | |
BLOG ARCHIVE:
CATEGORIES:
MARCH 2015
APRIL 2015
MAY 2015
Sun
Mon
Tue
Wed
Thu
Fri
Sat

1

2

3

@PHI
W 5 - 5

4

PHI
L 1 - 3

5

@PIT
W 2 - 1

6

PIT
7:05 PM ET

7

@HOU
1:05 PM ET

8

WSH
1:05 PM ET

9

TB
1:05 PM ET

10

@BAL
1:05 PM ET

11

BOS
1:05 PM ET

12

ATL
7:05 PM ET

13

@BOS
7:05 PM ET

14

DET
1:05 PM ET

15

PHI
1:05 PM ET

16

17

TOR
7:05 PM ET

18

@ATL
6:05 PM ET

19

PHI
7:00 PM ET

20

@DET
1:05 PM ET

21

HOU
1:05 PM ET

22

@NYM
1:10 PM ET

23

@WSH
1:05 PM ET

24

DET
7:05 PM ET

25

NYM
1:05 PM ET

26

@TB
1:05 PM ET

27

@PHI
1:05 PM ET

28

BAL
1:05 PM ET

29

@HOU
1:05 PM ET

30

31

@MIN
1:05 PM ET

Sun
Mon
Tue
Wed
Thu
Fri
Sat

1

TB
1:05 PM ET

2

@DET
1:00 PM ET

3

WSH
1:05 PM ET

4

@WSH
1:05 PM ET

5

6

7

8

9

10

11

12

13

14

15

16

17

18

19

20

21

22

23

24

25

26

27

28

29

30

Sun
Mon
Tue
Wed
Thu
Fri
Sat

1

2

3

4

5

6

7

8

9

10

11

12

13

14

15

16

17

18

19

20

21

22

23

24

25

26

27

28

29

30

31
2015 GRAPEFRUIT LEAGUE STANDINGS