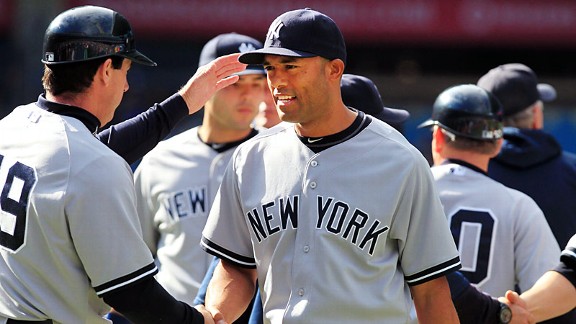 Kevin Hoffman/USA TODAY Sports
Mariano Rivera gets congratulations at Rogers Centre following his record-tying 601st career save.
All season, we've been tracking Mariano Rivera as he prepares to pitch in his final series against each team. Next up on the goodbye list: the Toronto Blue Jays.
By the Numbers
Rivera's career stats vs. Blue Jays
8-2 Win-Loss Record
53 saves
6 blown saves
1.83 ERA
103 IP
81 Hits
106 strikeouts
17 walks
Did You Know?
• Mariano Rivera has 53 career saves against the Blue Jays, his fourth-most versus any team (behind the Orioles, Rays and Red Sox). That's the most of any pitcher against the Blue Jays and as many as the pitchers who rank second and third have combined (Jonathan Papelbon 27, Roberto Hernandez 26).
• Rivera had 25 consecutive saves against the Blue Jays from 2005 to 2010, the longest streak by any pitcher against them. Second–best is Jonathan Papelbon: 24 games.
• Rivera's 1.83 ERA is the second-best all-time for anyone with at least 100 innings pitched against them. The only pitcher with a better ERA is Alex Fernandez, 1.80, a mark Rivera could break with 2 1/3 scoreless innings.
• Rivera's 0.95 WHIP against them is the lowest all-time, though he'll have to be good in this series to stay ahead of Dennis Eckersley's 0.97.
• Since the start of the 2006 season, Rivera has pitched 46 1/3 innings against the Blue Jays. He has 45 strikeouts and only one walk against them in that span.
• From the start of the 2006 season to the end of the 2010 season, Rivera did not walk a batter in 30 appearances vs. the Blue Jays. That streak of 30 straight walk-free outings is his longest such streak against any team in his career.
• Rivera has 106 strikeouts and 17 walks against the Blue Jays. That strikeout-to-walk ratio of 6.2 is his best vs. any American League team in his career.
• On August 7, 2005, Rivera threw one pitch and got the save vs the Blue Jays. That is one of two one-pitch saves in his career, along with one against the Angels in 2011.
• Rivera's six blown saves against the Blue Jays are tied for the second-most by any pitcher against them, surpassed only by the seven by former Blue Jays reliever Mike Timlin.
They said it
"It's just the way he carries himself. The dignity. There's no fanfare. He doesn't rub anything in. He just goes out and beats you and walks off the field. And then you hear the music."
-- Blue Jays manager John Gibbons conversing this spring with ESPN.com's Jayson Stark about Mariano Rivera
Magic Moments
On September 17, 2011, Rivera protected a 7-6 lead in the ninth inning against the Blue Jays, earning his 601st career save. That tied Trevor Hoffman for the most career saves in major-league history.
Earlier in the season, Rivera reached another milestone in a game against the Blue Jays. His appearance against them on May 25 was the 1,000th of his major-league career.
Mark Simon and Katie Sharp are researchers for ESPN Stats & Information. To read the other articles in this series, click here.