Yankees' 10 winningest managers
October, 10, 2013
10/10/13
12:01
PM ET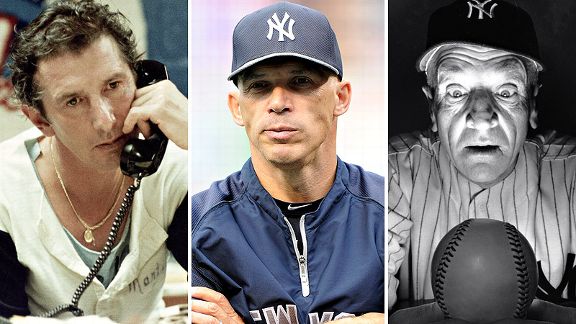 Getty Images, AP PhotoJoe Girardi has at least four more years as Yankees manager. Where does he rank on the team's all-time wins list?
Click here to find out
.
Click here
for our photo gallery of the 10 winningest Yankees managers.
(And for those of you out there who consider yourselves experts on the topic of Bombers skippers,
try this quiz
.)
ESPNNewYork.com
Matt Marrone is a senior editor at ESPNNewYork.com. He helped launch the site in 2010 after six years as a web sports editor and reporter at the New York Daily News.
Follow Matt on Twitter »
ABOUT THIS BLOG
Wallace Matthews

Wallace Matthews has covered NY sports since 1983 as a reporter, columnist, radio host and TV commentator. He joins ESPNNewYork to cover the Yankees, which he's done since the days of Stump Merrill for Newsday, the New York Post, the New York Sun and ESPN New York 98.7 FM.
Andrew Marchand

Andrew Marchand is a senior writer for ESPNNewYork.com. He also regularly contributes to SportsCenter, Baseball Tonight, ESPNews, ESPN New York 98.7 FM and ESPN Radio. He joined ESPN in 2007 after nine years as a sports writer at the New York Post.
UPCOMING GAMES
| | W-L | HM | AW | STK | L10 |
| --- | --- | --- | --- | --- | --- |
| NYY | 0-0 | 0-0 | 0-0 | W0 | |
| PHI | 0-0 | 0-0 | 0-0 | W0 | |
| | W-L | HM | AW | STK | L10 |
| --- | --- | --- | --- | --- | --- |
| PHI | 0-0 | 0-0 | 0-0 | W0 | |
| NYY | 0-0 | 0-0 | 0-0 | W0 | |
| | W-L | HM | AW | STK | L10 |
| --- | --- | --- | --- | --- | --- |
| NYY | 0-0 | 0-0 | 0-0 | W0 | |
| PIT | 0-0 | 0-0 | 0-0 | W0 | |
BLOG ARCHIVE:
CATEGORIES:
FEBRUARY 2015
MARCH 2015
APRIL 2015
| Sun | Mon | Tue | Wed | Thu | Fri | Sat |
| --- | --- | --- | --- | --- | --- | --- |
| 1 | 2 | 3 | 4 | 5 | 6 | 7 |
| 8 | 9 | 10 | 11 | 12 | 13 | 14 |
| 15 | 16 | 17 | 18 | 19 | 20 | 21 |
| 22 | 23 | 24 | 25 | 26 | 27 | 28 |
| | | | | | | |

Sun
Mon
Tue
Wed
Thu
Fri
Sat

1

2

3

@PHI
1:05 PM ET

4

PHI
1:05 PM ET

5

@PIT
1:05 PM ET

6

PIT
7:05 PM ET

7

@HOU
1:05 PM ET

8

WSH
1:05 PM ET

9

TB
1:05 PM ET

10

@BAL
1:05 PM ET

11

BOS
1:05 PM ET

12

ATL
7:05 PM ET

13

@BOS
7:05 PM ET

14

DET
1:05 PM ET

15

PHI
1:05 PM ET

16

17

TOR
7:05 PM ET

18

@ATL
6:05 PM ET

19

PHI
7:00 PM ET

20

@DET
1:05 PM ET

21

HOU
1:05 PM ET

22

@NYM
1:10 PM ET

23

@WSH
1:05 PM ET

24

DET
7:05 PM ET

25

NYM
1:05 PM ET

26

@TB
1:05 PM ET

27

@PHI
1:05 PM ET

28

BAL
1:05 PM ET

29

@HOU
1:05 PM ET

30

31

@MIN
1:05 PM ET

Sun
Mon
Tue
Wed
Thu
Fri
Sat

1

TB
1:05 PM ET

2

@DET
1:00 PM ET

3

WSH
1:05 PM ET

4

@WSH
1:05 PM ET

5

6

7

8

9

10

11

12

13

14

15

16

17

18

19

20

21

22

23

24

25

26

27

28

29

30
2015 GRAPEFRUIT LEAGUE STANDINGS