NEW YORK -- Yankees third baseman Alex Rodriguez won't testify Tuesday as his arbitration hearing continues, according to attorney Joe Tacopina.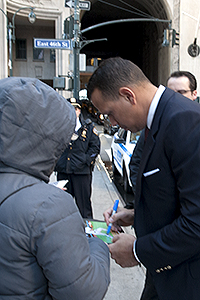 Jeff Skopin/ESPN
A-Rod pauses to sign autographsIt's unknown whether Rodriguez will testify as he fights the 211-game suspension handed to him by baseball. There is fear Rodriguez could receive an even harsher ban if it's found he is lying.
Tacopina arrived at Major League Baseball's office at 245 Park Ave. in Manhattan at 8:35 a.m. without Rodriguez. The third baseman showed up around 9:05 a.m., once again to little fanfare.
The protesters from Hispanics Across America were once again absent, but Rodriguez did sign for three fans who were waiting for him. At least two of them had copies of the August 2013 Sports Illustrated issue with Rodriguez as the cover story. The cover of that issue reads "The Last Days of A-Rod."
Rodriguez's camp is delivering it's side of the issue this week, and possibly into next week too, and is expected to call upon witnesses. Those could include Yankees President Randy Levine and MLB Commissioner Bud Selig.