The Yankees third baseman arrived at Major League Baseball's Park Avenue offices at 9:07 a.m. on a chilly Wednesday morning, coffee in hand.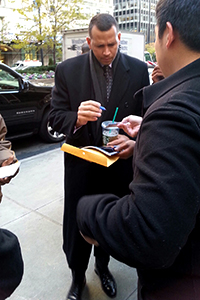 Mike Mazzeo/ESPN New York
A-Rod arrives at MLB headquartersA-Rod signed a couple autographs before heading inside.
When a fan asked him how he was doing, A-Rod, like he did Tuesday, said he wasn't feeling well.
According to weather.com, the temperature in New York City is currently 36 degrees.
There were barely any supporters on hand to greet Rodriguez. Perhaps they will arrive in greater number later in the day.
Rodriguez is currently appealing a 211-game suspension for violating the sport's drug policy.