Yankee Stadium getting hockey makeover
January, 15, 2014
Jan 15
6:31
PM ET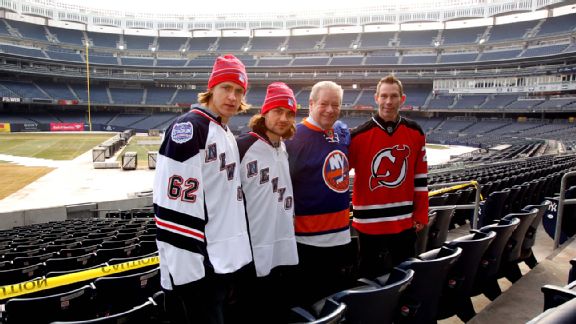 Brad Penner/USA TODAY SportsRangers Carl Hagelin and Mats Zuccarello joined ex-Islander Jean Potvin and ex-Devil Grant Marshall to take in the sights in the Bronx.
NEW YORK -- The transformation of Yankee Stadium into a hockey arena is underway.
The NHL has started the initial phases of converting Yankee Stadium for the two Stadium Series games to be held there later this month. The
New York Rangers
will face the
New Jersey Devils
on Jan. 26, and the
New York Islanders
on Jan. 29.
As of Wednesday afternoon, only the initial stages of construction had begun, with the roadways and staging for the rink being built. The NHL ice truck that will help create the rink also arrived Wednesday.
"Today is probably the day when I'm really thinking about how much fun it's going to be and how excited I am," Rangers forward
Carl Hagelin
said, sporting a Stadium Series jersey.
Starting Thursday, the crew will lay out the piping and ice pans, with the goal to start making ice Saturday, according to NHL senior manager of facility operations Mike Craig.
The truck that arrived Wednesday has a 300-ton capacity and serves as a mobile refrigeration unit and rink system. It pumps up to 3,000 gallons of glycol into aluminum trays on the field that help keep the ice near the ideal temperature of 22 degrees Fahrenheit, according to a release.
Water is then added, with the outdoor rinks needing up to two inches of thickness compared with the normal 1-1.25 inches. Each inch requires approximately 10,000 gallons of water. The surface will be whitened before the lines and logos are placed on the ice.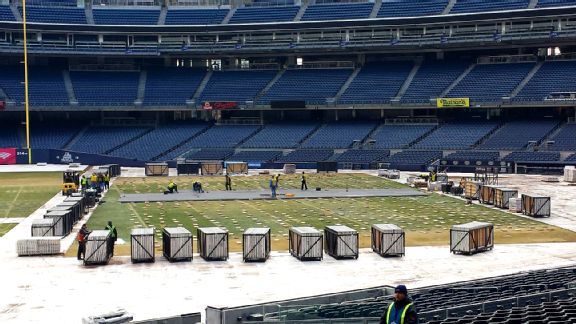 Matt Ehalt/ESPNNewYork.comConstruction has begun in earnest -- though there's still a lot of work to be done before faceoff.
Building a rink inside Yankee Stadium doesn't present any new problems for the crew.
"I think for the most part, our rink build is pretty similar no matter what stadium or park we go to," Craig said. "Refrigeration truck setup, piping setup is a little bit different here. A little bit longer run."
While all the talk surrounding the weather later this month is fixated on how it will affect the Super Bowl, weather is also going to be the biggest challenge for the NHL. The weather will dictate how the NHL preps the ice and maintains it for the games.
"We do a lot of research on the challenges that are going to be put to us. We have meteorologists that work very closely with the National Hockey League," NHL senior director of facility operations Dan Craig (Mike Craig's father) said. "We're very much in tune and what mother nature is going to give to us. When we wake up in the morning it is what is and the crews are ready to welcome that challenge."
In the first outdoor game this season in Ann Arbor, Mich., on Jan. 1, it was a snowy and frigid day for the Detroit-Toronto game. Mike Craig said they were able to get through that game well despite the snow.
He does have an ideal weather forecast for the games at Yankee Stadium.
"[I] always like to see cooler temperatures and cloud[s]. No wind," Mike Craig said. "If we could order that up that would be great."
Mike Craig, a native of Canada, called it "a bit of a fairy tale" to be turning Yankee Stadium into a hockey arena, and can't wait for the games. His excitement was shared by Hagelin.
"It's a great venue with a lot of history," said Hagelin, who was joined at Yankee Stadium by teammate
Mats Zuccarello
, former Islander Jean Potvin and former Devil
Grant Marshall
. "It's going to be incredible."