Kuroda struggles against Tigers
March, 12, 2014
Mar 12
6:24
PM ET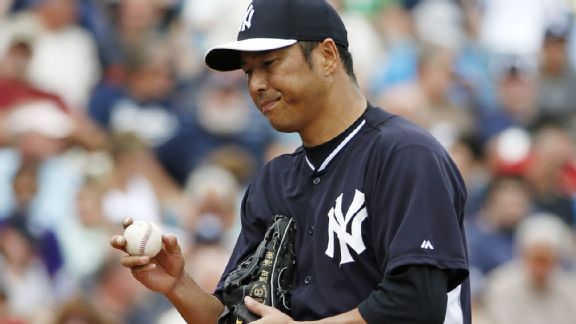 AP Photo/Kathy WillensHiroki Kuroda's second-half struggles last year sure didn't seem like ancient history during Wednesday's brutal spring training outing against Detroit.
TAMPA, Fla. -- It could have been nothing more than early spring training struggles, or it could have been a continuation of the second half of the 2013 season, when
Hiroki Kuroda
went from Cy Young to sayonara virtually overnight.
The Yankees believe it is the former, that the 39-year-old right-hander they expect to hold down the No. 2 spot in their rotation just needs a little more time to refine his collection of splitters, sliders and two-seam fastballs before the season begins.
It is the same belief they hold about the end of last season, that is was simply a case of late-season fatigue, and not the beginning of a career decline, that caused him to become ineffective over the last two months.
Because as Joe Girardi acknowledged, rather bluntly, in both cases, the alternative is far worse.
"I think he's going to have another good year for us. I do," Girardi said. "The arm speed is there and everything is there. I don't make too much of spring training games."
In that case, don't make too much of Kuroda's outing Wednesday against the
Detroit Tigers
, when he was hit hard for 3-2/3 innings, allowing 10 hits and six earned runs in what eventually ended in a 7-7 tie.
But as in Tuesday's 3-2 loss to the Nationals in Viera, the overriding memory of the game was not the late-innings comeback by the kids, but the early struggles, once again, of a starting pitcher the Yankees are pinning a lot of their hopes on this season. Tuesday, it was
CC Sabathia
and Wednesday it was Kuroda.
"Mechanically, I was inconsistent and I was rushing a little bit, and the hitters took advantage," Kuroda said. "When my stuff is good, I tend to get a lot of groundouts, but today it didn't work. The location wasn't there."
Kuroda's splitter, which needs to end up practically on the ground to be effective, mostly loitered waist-high on this day, allowing a Tigers lineup minus
Miguel Cabrera
and
Austin Jackson
to tee off on him from the first batter of the game. Catcher
Francisco Cervelli
noticed the Kuroda seemed "uncomfortable" in the bullpen before the game, and he never really settled down.
"It seemed like he was having trouble getting the feel for his slider," Cervelli said. "It was the kind of day anything he throw they hit it. They hit a 2-0 split, a first-pitch split, a first-pitch slider, so it's like, well, what you can do? Today was a day it just wasn't there."
Kuroda shrugged off the suggestion that today's outing was in any way related to August and September, when he went 1-7 with a 5.40 ERA over his final 10 starts.
"I haven't even thought about that," he said. "I think the velocity is pretty good. It's a matter of small changes mechanically, so that's what I'm trying to work on."
Girardi, an eternal optimist, chose to see Kuroda's struggles as magnified by the time of year they occurred.
"It was just a guy that went through a tremendous four months and then had a couple tougher months," he said. "If you have a tough month in May and a tough month in July, people probably don't say much. Because of the way he finished, people are going to question what we're going to have this year. I do feel good about him. I do think maybe he ran out of a little gas, but I can't tell you that for sure."
But he sure hopes so. And so should you.