First Pitch: Tanaka is Mr. Adjustment
May, 3, 2014
5/03/14
9:00
AM ET
NEW YORK --
Masahiro Tanaka
is used to being an ace. When he joined the Rakuten Golden Eagles in 2007, they immediately awarded him the No. 18, which traditionally goes to a Japanese team's best pitcher.
With
CC Sabathia
and
Hiroki Kuroda
struggling, Tanaka is clearly the Yankees' best starter right now.
[+] Enlarge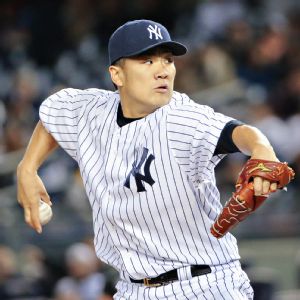 Anthony Gruppuso/USA TODAY Sports The Yankees' new ace will be on the mound Saturday afternoon.
He also may be their most unsatisfied. A day before his Saturday start against the Tampa Bay Rays, Tanaka was asked how he thought he has done so far.
"So-so," Tanaka said in English, before his translator could explain the question to him.
Tanaka's been much better than "so-so," with a 3-0 record and a 2.27 ERA. He has been incredible, especially with his ability to adjust in games.
Consider, batters are hitting .286 (12-for-42 with two home runs) the first time they face him. On the second turn through a lineup and beyond, Tanaka has controlled hitters, limiting them to a .167 average (15-for-90, including 32 strikeouts).
"I think probably the biggest thing we have learned about Tanaka is he is going to find a way to get it done," Yankees manager Joe Girardi said. "No matter what his stuff is that day. No matter what he goes through early in the game, he is going to find a way to stick around and give the team a good chance to win. That is what I've seen from him so far."
Girardi has watched Tanaka compose a diagnostic test of his stuff in each outing and then realize what he has on that given day. It is like Bill Belichick quickly making adjustments after the first quarter of a game and changing the outcome.
On the flip side, Tanaka has been hit early, which has left him feeling he has more to show.
"I'm not satisfied with how I've pitched," Tanaka said. "I've given up runs, particularly early in the games, that part kind of bothers me. That's one thing that has bothered me."
Tanaka is almost playing a different game on the mound -- at-bats extend to only two strikes, not three. Thus far, if he picks up two strikes, the third is almost assured.
In 76 two-strike at-bats, Tanaka has allowed just five hits, which is an .066 average. He has struck out 46 of the 76 batters. If he were to keep up this pace, he would join only the 2002 version of
Pedro Martinez
, who held opponents to an .099 average. (That stat has been tracked for only the past three decades.)
"I've seen some other guys poo-poo [Tanaka]," Tampa Bay's
Evan Longoria
said. "I'm not going to. He's looked pretty good and obviously his numbers show it."
As far as being the ace of the Yankees, Tanaka doesn't look at himself that way yet. In his mind, it will come only when his teammates think No. 19 is worthy, figuratively speaking, of wearing No. 18.
"I think it is something when you gain the respect of your teammates," Tanaka said. "I guess that could lead to someone becoming an ace."
On deck:
Tanaka will be opposed by
Jake Odorizzi
, with first pitch scheduled for 1:05 p.m. On Sunday, it'll be Sabathia (3-3, 5.11) versus
Erik Bedard
(0-1, 5.52).