The Jeet Sheet: Dominant career vs. Mets
May, 11, 2014
May 11
10:00
PM ET
By
Mark Simon & Katie Sharp
| ESPNNewYork.com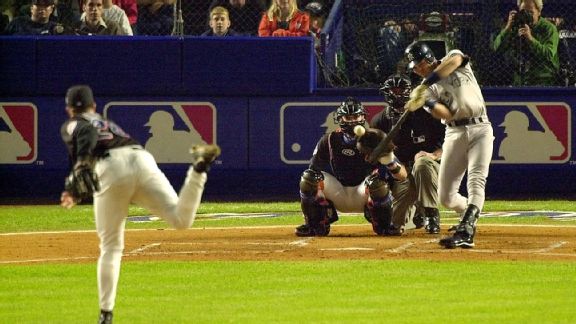 AP Photo/Bill KostrounJeter's homer in Game 4 was a turning point in the 2000 World Series.
All season we'll be tracking Derek Jeter as he prepares to play in his final series against each team. Here's a look at his career against a team he has tormented: the New York Mets.
CAREER
Regular Season
BA .368
OBP .421
Slug pct .548
HR 14
RBI 43
Runs Scored 66
SB-CS 19-1
Games 84
Postseason
BA .409
HR 2
RBI 2
2000 World Series MVP
BY THE NUMBERS
• Jeter's batting average, on-base percentage, slugging percentage, and stolen-base success rate against the Mets are his best against any team that he has played at least 10 games against in his career.
• Jeter's .368 batting average ranks third best among those with at least 100 career at-bats against the Mets, trailing only Rico Carty (.380) and Don Slaught (.376).
Presuming that Jeter records 12 at-bats against the Mets, he would need nine hits to finish at .381 and thus finish ahead of Carty.
• Jeter has had a hit in 70 of the 84 regular-season games against the Mets. He's only played six regular-season games against them in which he batted and failed to reach base via either walk, hit by pitch, or base hit.
• Jeter reached base in 34 straight games against the Mets from 2005 to 2011. That is the fifth-longest streak of anyone against the Mets. It is also tied for Jeter's second-longest streak against a team. He had a 40-gamer against the Athletics from 1995 to 1999 and a 34 gamer against the Blue Jays from 2004 to 2006.
• His 19-game hitting streak against the Mets from 2005 to 2008 is tied for his third-best against a team, six shy of his best, a 25-gamer against the Tigers from 1999 to 2001. It is tied for the eighth-longest against the Mets, five games short of Matt Holliday's 24 (and coincidentally one shy of a 20-gamer by his former manager, Joe Torre).
• Jeter's career record in starts against the Mets is 48-35, 52-36 if you include the 2000 World Series.
• Jeter finished a season hitting .400 or better against the Mets nine times. He batted below .260 against them only twice (1999 and 2012).
• Jeter has 127 hits in 84 regular-season games against the Mets. That's a 245-hit pace over 162 games.
If Jeter plays in all four games this week, he would need five hits to maintain an average of 1.5 hits per game against the Mets.
The Elias Sports Bureau notes that only three players have played at least 80 games against a team and finished their careers averaging 1.5 hits per game against them. Johnny Frederick against the Phillies, Hall of Famer George Sisler against the White Sox and Vladimir Guerrero against the Rangers.
• Jeter has 13 home runs in 84 games against the Mets. That's more homers than he has against the Tigers (12 in 139 games), Indians (10 in 132) and Royals (10 in 131)
• Jeter's slugging percentage (.864) and OPS (1.344) in the postseason vs the Mets are not only his highest marks vs any team, but also the highest by any player with at least 25 postseason plate appearances against the Mets. Only Jim Edmonds has more home runs and total bases against the Mets in the postseason than Jeter.
• If it's any consolation for Mets fans, Jeter is hitting only .233 in seven games at Citi Field, his worst batting average at any ballpark where he's played at least five games.
THEY SAID IT
"It's tough for me to find another player in the game I have more respect for [than Jeter]. Coming to the Mets, playing in the big leagues as a 21-year-old, it was only natural to look across town and see how Derek played and how he handled things.

"Then I was fortunate enough to play with him in the World Baseball Classic. I came into that being a big Derek Jeter fan. I came out of it as an even bigger Derek Jeter fan. Anybody can read the back of his baseball card, but it's how he does everything else that makes him Derek Jeter."
-- Mets captain David Wright
JETER'S BEST
Jeter's signature moment against the Mets came in Game 4 of the 2000 World Series when he homered leading off the game against Mets starter Bobby Jones. The Yankees would win that game and the next one (with Jeter hitting a game-tying home run in the sixth inning against Al Leiter) to win the series, 4 games to 1.
Jeter also had a clutch moment against the Mets on June 14, 2002, singling against Armando Benitez with two outs in the ninth inning to score the tying run in a game the Yankees would win in extra innings, 4-2.
To throw Mets fans a bone, Jeter did have one moment that Mets fans will remember in the best possible way, striking out against Dave Mlicki to conclude the first regular-season meeting between the teams in 1997.