Derek Jeter's Top 20 Teammates
August, 21, 2014
8/21/14
10:00
AM ET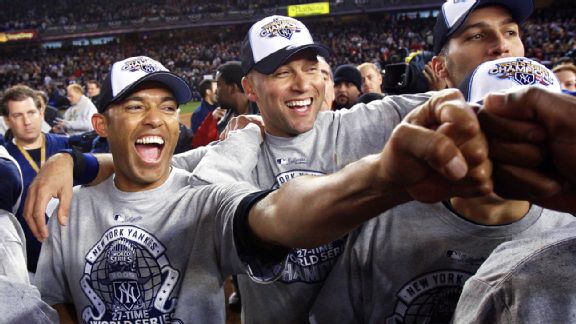 AP Photo/Elise AmendolaWhen it comes to pure ability and accomplishments on the field, who are the best teammates Derek Jeter has ever had? We tried to narrow it down to just 20.
Over his 20 years as a Yankee, Derek Jeter has had scores of superstar teammates beside him. We rank the best.
Whom did we snub? Who doesn't belong?
Check out our gallery
-- and post your comments below.
ABOUT THIS BLOG
Wallace Matthews

Wallace Matthews has covered NY sports since 1983 as a reporter, columnist, radio host and TV commentator. He joins ESPNNewYork to cover the Yankees, which he's done since the days of Stump Merrill for Newsday, the New York Post, the New York Sun and ESPN New York 98.7 FM.
Andrew Marchand

Andrew Marchand is a senior writer for ESPNNewYork.com. He also regularly contributes to SportsCenter, Baseball Tonight, ESPNews, ESPN New York 98.7 FM and ESPN Radio. He joined ESPN in 2007 after nine years as a sports writer at the New York Post.
BostonGlobe The Boston Globe
An open letter from @dan_shaughnessy to David Ortiz, regarding his defense against PED allegations http://t.co/39rnpEDJCA
about 4 hours ago

MarlyRiveraESPN Marly~ESPN Deportes
In cause you missed it:The Yankees 4-man and 1 horse rotation 1- Tanaka2- Pineda3- CC4- Eovaldi5- Secretariat
about 5 hours ago

ESPNNYYankees wallace matthews
Who's on first? A-Rod! http://t.co/a3yG9dUu8B
about 6 hours ago

ESPNNYYankees wallace matthews
12 Yankees come to the plate in top of the 5th; seven regulars come out of the game in bottom of the 5th. Pineda still pitching. 7-0
about 11 hours ago

flamethrower753 Mounir Chidiak
@ESPNNYYankees Breaking: Pitching machine is better than Phillies pitchers
about 11 hours ago

ESPNNYYankees wallace matthews
Two-run double by Chris Young and it's 7-0 Yankees, who have batted around in the fifth #juggernaut
about 11 hours ago

ESPNNYYankees wallace matthews
Three hits, 2 RBI for Stephen Drew today. What say you now? #DrewYankee
about 11 hours ago

ESPNNYYankees wallace matthews
RBI single by Teixeira and it's 3-0, none out, two on for McCann
about 11 hours ago

ESPNNYYankees wallace matthews
Beltran RBI single makes it 2-0, still none out, two on in the 5th
about 11 hours ago

ESPNNYYankees wallace matthews
Yanks on the board in the 5th as Ryan (double) scores from 3d on passed ball
about 11 hours ago

ESPNNYYankees wallace matthews
Another soft hit off Pineda, bloop single by Russ Canzler. No score in the fourth
about 11 hours ago

ESPNNYYankees wallace matthews
Freudian typo @YankeesWFAN Actually that was supposed to say "brakes" work. Breaks would be really bad at this point.
about 12 hours ago

ESPNNYYankees wallace matthews
Three hits off Pineda in 1-1/3 but none hit hard
about 12 hours ago

ESPNNewYork ESPN New York
FACE OF #NYC #MLB: Three guys are ahead of the pack -- but it's not too late to rock the vote: http://t.co/joK6Z6iHEH http://t.co/YDEZ92wab6
about 12 hours ago

ESPNNYYankees wallace matthews
Small bites @YankeesWFAN ARod's breaks work. Went 1st to 3rd and screeched to a halt with a stop sign. Then pulled up on C trying to score
about 12 hours ago

ESPNNYYankees wallace matthews
What exactly are they known for again? @SunnySoCal I don't think centaurs are known for speed
about 12 hours ago

ESPNNYYankees wallace matthews
A-Rod thrown out on the plate on Young's fly out, Did not slide. Did not barrel over C. Probably afraid Manfred would suspend him again
about 12 hours ago

ESPNNYYankees wallace matthews
Secretariat he ain't. A-Rod only gets to third on Drew's double into RF corner
about 12 hours ago

ESPNNYYankees wallace matthews
A-Rod single up the middle. Kid's on fire
about 12 hours ago

ESPNNYYankees wallace matthews
Damn, no Papelbon-A-Rod showdown. Aaron Nola coming out to pitch the second
about 12 hours ago
UPCOMING GAMES
| | W-L | HM | AW | STK | L10 |
| --- | --- | --- | --- | --- | --- |
| NYY | 14-11 | 7-6 | 7-5 | W1 | |
| PHI | 11-13 | 4-8 | 7-5 | L3 | |
| | W-L | HM | AW | STK | L10 |
| --- | --- | --- | --- | --- | --- |
| BAL | 9-15 | 3-8 | 6-7 | L2 | |
| NYY | 14-11 | 7-6 | 7-5 | W1 | |
| | W-L | HM | AW | STK | L10 |
| --- | --- | --- | --- | --- | --- |
| NYY | 14-11 | 7-6 | 7-5 | W1 | |
| HOU | 10-8 | 5-3 | 5-5 | W2 | |
BLOG ARCHIVE:
CATEGORIES:
MARCH 2015
APRIL 2015
MAY 2015
Sun
Mon
Tue
Wed
Thu
Fri
Sat

1

TB
1:05 PM ET

2

@DET
1:00 PM ET

3

WSH
1:05 PM ET

4

@WSH
1:05 PM ET

5

6

7

8

9

10

11

12

13

14

15

16

17

18

19

20

21

22

23

24

25

26

27

28

29

30

Sun
Mon
Tue
Wed
Thu
Fri
Sat

1

2

3

4

5

6

7

8

9

10

11

12

13

14

15

16

17

18

19

20

21

22

23

24

25

26

27

28

29

30

31
2015 GRAPEFRUIT LEAGUE LEAGUE STANDINGS