Sunday, May 8, 2011
Cervelli didn't know the bases were loaded

---
By Wallace Matthews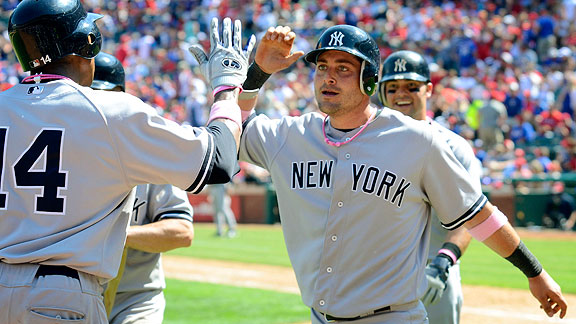 AP Photo/Matt StrasenFrancisco Cervelli arrives at home plate only to discover -- surprise! -- he'd hit a grand slam.

Francisco Cervelli had the biggest hit in the Yankees' 12-5 win over the Rangers on Sunday, but had no idea how big it really was until he got to home plate and found three sets of hands waiting to slap his.

"When I was running, no, I did not know the bases were loaded,'' he said, after fighting off a 3-2 pitch from Cody Eppley before lining a fastball over the fence in dead center field for his first career grand slam. "Now I'm going after Alex (Rodriguez), Lou Gehrig and Manny (Ramirez).''

Those three, of course, are the three most-prolific bases-loaded hitters in baseball history, a group Cervelli is in no danger of joining. (He had not hit a grand slam since 2007 for Single-A Florida). And in truth, the situation -- Yankees leading 6-5 with none out in the eighth -- might have called for a pinch-hitter, maybe Russell Martin, the everyday catcher who Cervelli was replacing for the day.

But Joe Girardi said he had never considered hitting for Cervelli, who had one previous career home run, back in June of 2009. "Cervy's been good in those situations,'' Girardi said. "He's had a lot of big RBIs for us.''

Cervelli said he hit the homer for his mother, who he hoped was watching back home in Venezuela. But he did not strike the blow using the pink bat most of the player swung in honor of Mother's Day. "The pink bat was a little uncomfortable,'' he said. "I used it twice (a groundout and a double play), but then I went back to my old bat.''

Certainly, his mother will understand.


---