Friday, July 6, 2012
W2W4: Yankees at Red Sox (Friday)

---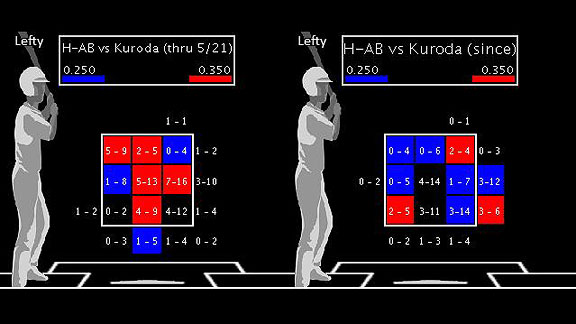 Hiroki Kuroda has excelled against left-handed hitters recently


Hiroki Kuroda Stats To Watch
Kuroda has pitched like an ace in his past seven starts, with a 1.65 ERA and 46 strikeouts in 49 innings.

He has held lefties to a .211 average with just one home run allowed during that span, after hitters posted a robust .330 average and slugged .530 against him in his first nine starts this season.

Also worth noting: Kuroda is 5-7 with a 4.08 ERA in 13 starts at night. In his three afternoon starts, he's 3-0 with no runs allowed in 23 innings.

Robinson Cano Stats To Watch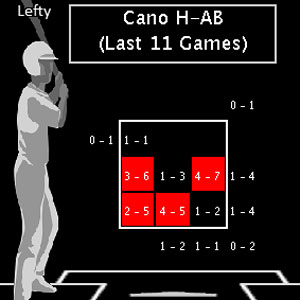 Robinson Cano during his hitting streak


Cano is in the midst of a tremendous tear, with an RBI in each of his last eight games.

If he can get an RBI in each of his next three, he'd match the Yankees record for consecutive games with an RBI, shared by Babe Ruth and Joe DiMaggio.

After getting off to a slow start this season, Cano is hitting .350 with 19 home runs since May 6.

He's also 20-for-his-last-45 with five home runs during an 11-game hitting streak.

Josh Beckett Stats To Watch
This will be Beckett's first start against the Yankees this season. He made five starts in 2011, winning four of them and getting a no-decision in the others. He's won five straight decisions against the Yankees overall. The last Red Sox pitcher with a longer winning streak against the Yankees was Reggie Cleveland (seven straight, 1975 to 1977)

Beckett returned from a two-week absence and allowed two runs in six innings in a no-decision against the Mariners.

The Red Sox have lost Beckett's last four starts, scoring only seven runs in those four games. That skid matches the longest that the Red Sox have had in Beckett's starts. They also had a four-game losing streak in Beckett starts in 2006.

One more loss for Beckett would be his eighth of the season. He hasn't had eight losses in a single season since 2008, when he had 10.

Beckett handled three Yankees very well last year. Mark Teixeira, Nick Swisher and Alex Rodriguez were a combined 1-for-30 (with four walks) against him. They missed on 14 of their 31 swings against Beckett's off-speed pitches.

David Ortiz Stats To Watch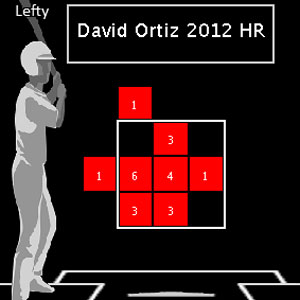 David Ortiz's home runs in 2012



The Yankees should avoid the inner third of the plate when pitching to Ortiz this weekend.

Ortiz has hit 22 home runs this year and 11 have come on pitches on inner-third of the plate or further inside.

Only two players -- Ryan Braun and Miguel Cabrera -- have more homers on inside pitches this season.

Ortiz has torched the Yankees this year with six hits, including a homer and a double, and zero strikeouts in eight at-bats.

He's 0-for-1 with a walk and a sacrifice fly in his career against Kuroda.

Adrian Gonzalez Stats To Watch
Gonzalez has gone from being one of the best home-run hitters in baseball to minimal home run production in just two seasons. Gonzalez averaged 34 home runs a season for the Padres from 2007 to 2010. He hit 27 in 2011 and has only six in 2012.

The heat map below looks at the area in which Gonzalez was likely/unlikely to get an extra-base hit in 2010 versus the areas in which he was likely/unlikely to hit doubles, triples, and home runs in 2012. (Red being high likelihood; Blue being low likelihood -- based on Isolated Power by pitch location).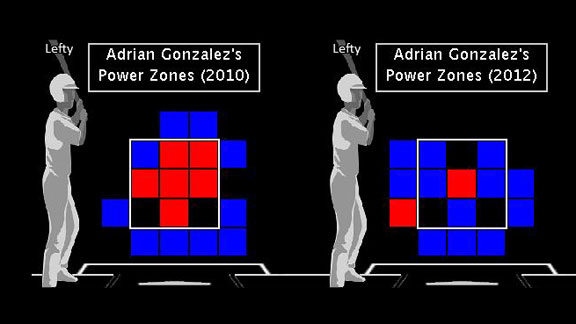 ---