February, 25, 2012
2/25/12
4:04
PM ET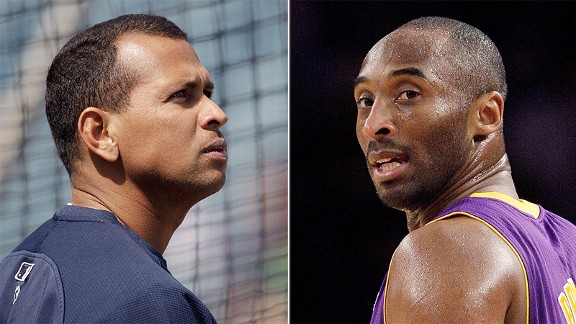 AP Photo
Alex Rodriguez
has a way of making waves, even when he doesn't mean to or want to.
When asked about his shoulder and knee procedure, A-Rod revealed that
Kobe Bryant
nearly retired -- or, at least, thought about it, because of his own knee issues.
Well, that's, according to A-Rod, third baseman/DH/NBA insider.
The topic came up after A-Rod was asked about his offseason trip to Germany.
"Just a simple dinner with Kobe --
Kobe Bryant
from the Lakers," A-Rod said, politely clarifying it wasn't another Kobe. "He was really adamant about how great the procedure was for him. He was hurting before. He was almost thinking about retirement, that's how much pain he was in. After he went to Germany and saw [Dr.
Peter Wehling
], that he felt like a 27-year-old again."
A-Rod, 37 in July, is hoping for the same miracle cure after having the
procedure done on his knee and his shoulder
. He doesn't know how many games he will play, but he hopes it is more than the 99 he played last season.
January, 24, 2011
1/24/11
10:14
AM ET
Usually at this point of the offseason, when New York football fades into the night, the Yankees have answered all their offseason questions. Or, at least, they have addressed them.

This offseason, not so much.

With Cliff Lee not a Yankee and Andy Pettitte still yet to decide if he will be once again, the Yankees have a lot of questions. Let's detail five right here:

1. Who are the Yankees fourth and fifth starters?

One will not be Joba Chamberlain. Brian Cashman has made that clear. Ivan Nova of the 1-2, 4.50 ERA in 42 major league innings is the No. 4. Why he is better than Chamberlain for this year doesn't make sense to me? But the Yankees feel Chamberlain's stuff diminishes as a starter.

At the No. 5 spot is Sergio Mitre. Mitre's career numbers are 13-29 with a 5.27 ERA. Now, read those numbers again for Mitre and Nova --- what do they tell you? They say to me the Yankees will add at least one more pitcher in the next three weeks and hope for Pettitte's return.

Meanwhile, the Yankees have a host of arms led by Dellin Bettances, Manny Banuelos and Andrew Brackman that they think could be ready by 2012, if not sooner.

2) What is A.J. Burnett?

He has a ring so the negativity toward him has not reached epic proportions, but he was 10-15 with a 5.26 ERA. If he doesn't deliver this year, he will enter the Pavano Zone. This is new pitching coach Larry Rothschild's biggest test. The guess here is that Burnett will be better (I know, I know, how could he be worse?), but he will be more of a No. 3 or 4, not the No. 2 he was paid to be.

3) Will Derek Jeter bounce back?

You may have heard that Jeter's play was questioned this offseason. He will be 37 after the All-Star Break. If he is not hurt in the first half, he should have his 3,000th hit by then, becoming the first Yankee ever there.

But the focus on Jeter will be about every ball that finds the hole and where his average stands. People who follow the sport closely have been watching these things for awhile. Now, they are mainstream and national. It will be interesting watch.

4) The forgotten man, Alex Rodriguez, also is a year older, what does he have?
Forgotten man? A-Rod? Well, not entirely. But the three questions above will be bigger than A-Rod going into the spring, but Rodriguez has a way of finding the spotlight.

A-Rod hit .270 with 30 homers and 125 RBIs. Not bad, but the average was 33 points worse than his career mark. A-Rod is still very good, but he is not the same player he once was. He still has six years left on his contract. He turns 36 this season.

5) Will Brian Cashman make a move?

Cashman wanted to preach patience, but his bosses said that they wanted to sign Rafael Soriano. Cashman talked about payroll flexibility, but do you really think that Soriano's deal is going to stop the Yankees from acquiring another big-time ace? Very doubtful.

If an ace becomes available, the Yankees will be at the front of the line. Cashman has held his chips for awhile. He will likely be forced to spend them this season in a deal.
April, 22, 2010
4/22/10
7:32
PM ET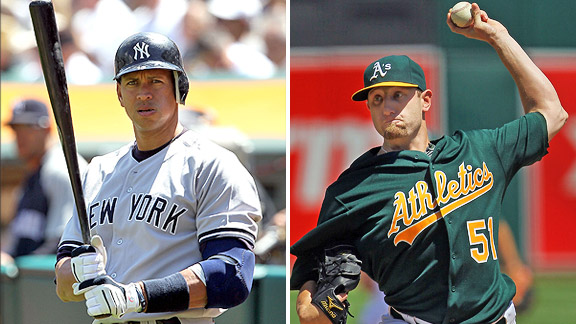 Add
Dallas Braden
to the list of major leaguers who think
Alex Rodriguez
is a Hall of Fame bush leaguer. Braden, the starting and winning pitcher in the Oakland Athletics' 4-2 victory over the Yankees on Thursday afternoon, berated the Yankees' third baseman loudly and obscenely for running across the pitcher's mound on his way back to first base after a
Robinson Cano
foul ball in the sixth inning.
"It wasn't exactly, 'Yes, sir, have a good day," an animated Braden said in the post-game clubhouse. "The guy ran across my mound. He had his foot on my pitching rubber. Any kind of disrespect like that has got to be handled and that's what I did. If my grandmother did what he did, I'd tell her the same thing.''
Asked whether A-Rod apologized when informed of his transgression, Braden said, "What do you think? The guy was tasting himself too long to apologize.''
After Rodriguez, who had singled to reach base with one out in the sixth, returned to first, Braden got Cano to ground into a double play, and then was removed from the game. As he left the mound, he could be seen shouting at A-Rod, and fired his glove at the wall as he arrived in the dugout.
"It's not about me starting anything [with the Yankees],'' Braden said. "It starts and ends with today. Nobody's ever done that to me when I pitched in the big leagues. I had to get my point across in terms of the unwritten rules, the little intricacies of the game, how the game's supposed to be played, how we expect it to be played, how we play it over here, and I did that.''
Braden went on to describe several other A-Rod transgressions, including "the time he was playing jumping jacks or whatever he was trying to do on his way down the first base line," an apparent reference to his attempt to slap the ball out of Red Sox pitcher Bronson Arroyo's glove in Game 6 of the 2004 ALCS.
"It's unfortunate he has to play that way, because the guy has a great talent,'' Braden said.
In the Yankees' clubhouse, A-Rod professed surprise at Braden's remarks. "He just told me to get off his mound,'' Rodriguez said. "I thought it was pretty funny, actually. I'd never quite heard that before, especially from a guy with a handful of wins in his career.''
Responded Braden: "I don't even have a handful of wins. I only have three. Do the math, A-Rod."
Then he threw in the final insult: "He should maybe watch his captain a little more often."
Ouch!
•
Matthews: A-Rod in the center of his own universe
April, 12, 2010
4/12/10
1:25
PM ET
The Yankees will have a quick workout today. It is optional so it will be interesting to see how many Yankees actually show up. We know that Joe Girardi and Andy Pettitte will be here, because they both have press conferences scheduled for today to discuss the home opener.
I could definitely see guys like A-Rod and Derek Jeter taking the day to avoid the media crush that will be here. Mark Teixeirawill likely be here because he has started off slow and his constant reasoning for that are all the off-days. He says as a switch-hitter it is hard to stay in rhythm when you are off so often. This is the same thing he said during last year's playoffs.
April, 3, 2010
4/03/10
9:05
PM ET
We're hoping to make this a regular thing during the season. Andrew Marchand and Wally Matthews IM-ing about the biggest topics and sometimes going off topic about the Yankees

Andrew: To me, the biggest concern going into this season, is the mileage the Big 3 put on their arms last October. CC has now thrown nearly 800 innings the past three seasons, A.J. has never thrown 200 innings back-to-back, like he did the past two years, and Andy Pettitte is now 39 and has made 40 postseason starts so he really already might be 40 in pitching years.

I love the Javy Vazquez pickup for this reason -- he is a 200-inning horse. Plus, how many times is the guy who was fourth in the NL Cy Young voting, your fourth starter?

What's your biggest concern?

Wally: I think your concerns are justified, but for me, the most disturbing thing is the age of some of the core players, for whom there really is no adequate replacement. Mariano turns 41 in November, Posada 39 in August, Jeter 36 in June. If any one of them goes down for a significant length of time, who is going to not just fill in, but provide the same level of performance? Obviously, the answer is no one.

The Yankees could escape with an injury-free season, as they did last year with the exception of Wang and Nady, and if so, should repeat as AL East champs and as the AL rep in the World Series. But anyone who discounts the possibility of age and injuries severely compromising their chances just isn't being realistic. They've already had a few scares in the spring with Posada, Marte, Aceves and Johnson, and you know there will be more to come from the injury-prone DH. That's a given. It's the other guys the Yankees have to worry about.

Andrew: Yes, I don't think they are making it through the regular season with eight starters this year. To me, Posada is the guy that can't get hurt, because I'm not sold on Francisco Cervelli. He is a great guy and a great story, but look at his minor-league batting averages. The league very well could catch up with him. Plus, Posada is only supposed to start 100-120 games.

My other big concern is Curtis Granderson. He is a great guy and his swing may be built for Yankee Stadium. But when people see how much he strikes out and how he can't hit lefties, Johnny Damon is going to look even better in the rearview mirror.

Of course, I'm being picky here, because if Granderson and Cervelli don't hit, the Yankees will still score runs.

Ok, let me give you a layup, finish this thought for me: The Yankees will win it all again because ....

Wally: ... They have the best players in the game at five key positions -- first base, second base, third base, shortstop and closer -- and the resources and desire to get what is necessary everywhere else as needed. They are proven winners and their manager, though unorthodox at times with his in-game maneuvers, has the trust and respect of his players and has shown the ability to keep things running smoothly inside his clubhouse. Until proven otherwise, they remain the class of the American League, and thus, all of major league baseball.

Andrew: Finally, you've already written that the Captain will be back. I wrote that I don't think Jeter will ever switch positions, he will just DH a lot more. Where is Jeter playing in three years? Five?

Wally: I agree with you. If Jeter didn't switch positions for a god like A-Rod, I don't think he's switching for some mere mortal like Father Time. I say he's definitely still the Yankee shortstop in three years and if he's not in five, it will not be without a struggle both with the organization and his own great pride. People I've spoken to within organization feel confident Jeter will never embarrass himself by playing beyond his time, but at the same time can't really square that belief with what they know about his incredible competitiveness. Jeter's self-belief, which is among the strongest I've ever seen in any professional athlete I've covered, may persuade him that a drop-off in production is merely a temporary slump and not the inevitable decline of age.

I just can't imagine Derek Jeter ever giving up easily on anything, least of all his ability to play baseball at a high-level, or to play shortstop for the Yankees.
NBA
NHL
COLLEGE BASKETBALL
MLB
MLS