New York Yankees:

Aaron Boone
October, 16, 2013
10/16/13
1:53
PM ET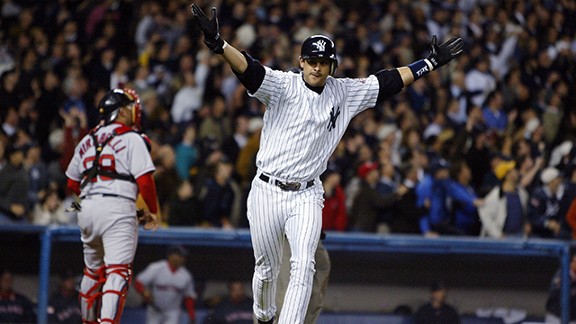 Linda Cataffo/NY Daily News Archive/Getty ImagesAaron Boone is 40 years old, but Aaron (Bleepin') Boone was born 10 years ago today.
On Oct. 16, 2003,
Aaron Boone
sent a ball into the left-field seats at Yankee Stadium and placed himself right next to Bucky Dent in Yankees-Red Sox lore. Boone, now an ESPN analyst, told our own Front Row what the last decade has been like for him since the Game 7 ALCS homer that extended the Curse one more year.
"It never ceases to amaze me how many people on both sides of the ledger have an intimate story about that moment," Boone said. "It's one of those moments where people can recall exactly where they were, what they were doing and what they were thinking. I guess it's just made me realize how big of a rivalry the Red Sox/Yankees is. It was at one of the heights of the rivalry."
To read the entire post, including Nomar Garciaparra's take, click here
.
What is your memory of that night?
October, 16, 2010
10/16/10
9:00
AM ET
By
Mark Simon
| ESPNNewYork.com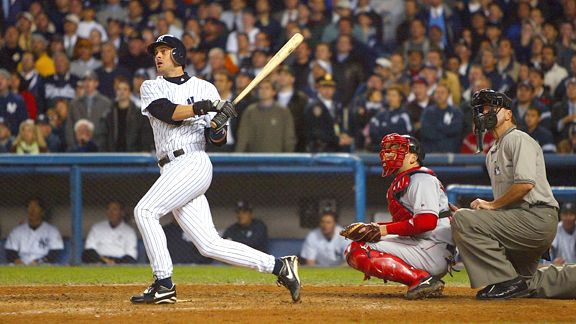 Al Bello/Getty Images
Aaron Boone's pennant-winning walk-off home run against the Red Sox happened seven years ago today.
Throughout the postseason, Baseball Tonight and SportsCenter will be running a feature "I Hit a Walk-Off Home Run," spotlighting some of the most famous walk-off home runs in postseason history.

Feature producer Lisa Fenn talked to ESPN analyst Aaron Boone about the walk-off home run he hit to end the 2003 ALCS, seven years ago today. Here's what Boone had to say:
"I was not having a very good series, and, didn't even start Game 7. That night started out kind of rough for us as a team.
Pedro (Martinez
) was shutting us down, they got out to a quick lead off of us. It was looking like they were gonna finally 'Reverse the Curse.'
Willie Randolph
told me before the series that I was his sleeper pick. I remember Mo (
Mariano Rivera
) getting out of the eleventh inning, pitching his third scoreless inning, I knew running off the field that inning, I had a feeling like I was gonna do something.
"As I'm walking up to the plate, initially I was thinking about taking a pitch. And on my way up there, I kind of changed my thought and said 'forget that.' You know, 'you've been thinking too much this series. Just go up there and get a good pitch to hit. The first pitch was a good pitch to hit … and I got a good piece of one.
"When I made contact I knew almost instantly that it was gonna be a home run. I knew I got a really good piece of it. Just wanted to make sure initially that it was gonna be fair and once I knew it was gonna be fair… stuck my arms out, and really just tried to embrace as much as I could."
"All of us kids that played ball when we were little kids, all lived out that moment in our backyard -- Two outs, bottom of the 9th, 3-2 count, Aaron Boone at bat … and you hit the home run. To get to actually live that out on a major league field in Yankee Stadium against the Red Sox was something that … I feel really blessed to just be in that situation."
Earlier this season, we ran a list of noteworthy nuggets pertaining to Boone's home run. We repeat them here for your enjoyment, thanks to the help of
Baseball-Reference.com
:
Speaking of walk-offs --
Boone was a member of the 1999 Reds team, which he says invented the celebratory home plate "bunny hop" that follows a walk-off home run. Boone didn't bunny-hop that season, but if you include his Game 7 home run, he had seven career walk-off home runs. His brother Bret, father Bob, and grandfather Ray, combined for just six.
Tim Wakefield gave him trouble --
Boone was just 1-for-10 against Wakefield, combining his regular season and postseason numbers, and finished 3-for-17 against the Red Sox knuckleballer. After hitting the home run, Wakefield got him out five times in a row, before Boone doubled in the last matchup between them.
He was the right man at the plate --
You may have heard this referenced on Baseball Tonight during "Stat Week." We played with the numbers a little bit to indicate that Boone was the third-most clutch Yankee during his stretch with the team, behind
Jason Giambi
and
Derek Jeter
. What this really meant? His clutch rating, as calculated via his Win Probability Added numbers (found on
Fangraphs.com
), showed that he performed slightly better in big spots than ordinary ones.
Extra Innings Was His Specialty --
Some players may have gotten tired at the end of games, but not Boone. He hit .319 with a .440 on-base percentage and six home runs in 69 extra-inning at-bats.
He's the only one
-- Of the 39 players to hit a postseason walk-off home run, Boone is the only one to work as an analyst on Baseball Tonight. And thus he can give you a perspective that the likes of
Nomar Garciaparra
,
John Kruk
,
Chris Singleton
, and our other analysts cannot.
For the record, Aaron Boone's playoff predictions: Yankees in 6, Phillies in 7. He was 4-for-4 in picking the LDS correctly.
October, 9, 2010
10/09/10
9:00
AM ET
By
Mark Simon
| ESPNNewYork.com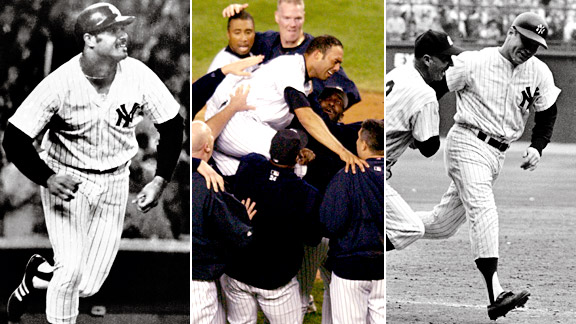 AP Photo
Chris Chambliss, Mariano Rivera and Mickey Mantle are among the most valuable clinching-game players in Yankees history.
With clinching feeling like an inevitability at this point, today seemed like a good day to look back through Yankees history at the best performances in a postseason series-clinching win.
How to do that? It feels like a combination of statistical analysis and common sense is the right way to go.
We'll let the stat Win Probability Added, available on the research godsend,
Baseball-Reference.com
serve as the initial guide.
Win Probability Added measures the impact of every plate appearance on the chance a team has to win a game.
Each plate appearance is worth percentage points, based on the increase or decrease that teams have historically shown to win in those situations. A tie-breaking home run in the ninth inning nets a lot more points than a home run in a 10-0 blowout.
WPA measures value, so there's a bias to those whose late-game heroics were difference-makers over those who were accumulators over the course of a game. So we'll reserve the right to overrule the WPA tally when it seems appropriate.
Let's do this in a position-by position format to create an All-Yankee Clinchers Team.
Catcher --
This one isn't too hard, advanced metrics or not. In Game 7 of the 1956 World Series,
Yogi Berra
was Superman, hitting two-run home runs in each of his first two at-bats against
Don Newcombe
, to put the Yankees up 4-0 after three innings. The Dodgers would intentionally walk Berra the next two times up, and the second time
Moose Skowron
buried them with a three-run home run. The Yankees won 9-0 to avenge their World Series loss the previous year.
First Base --
Chris Chambliss'
performance in Game 5 of the 1976 makes this another not-so-tough choice. Not only did Chambliss hit the walk-off home run in the ninth inning, but he also had a game-tying sacrifice fly in the first inning and a go-ahead RBI groundout in the third.
Through the quirks of the Win Probability system, Chambliss actually lost points for the latter two (since he made outs each time), but his home run more than makes up for that. He gets tabbed ahead of the aforementioned Skrowron, a very valiant runner-up, who had four-RBI games in Game 7 of both the 1956 and 1958 World Series.
Second Base --
Let's go with sentiment over mathematics here, our choice being
Brian Doyle
, for his efforts in Game 6 of the 1978 World Series. For those unfamiliar, Doyle had only 54 regular season at-bats that year, but was called to duty when
Willie Randolph
got hurt.
Doyle ended up going 7-for-16 in the series with four runs scored. In the clinching sixth game he went 3-for-4 with two RBIs, driving in the tying run in the second inning with a double, and a lead-padding run with a sixth-inning RBI single.
The math says to take
Billy Martin
(walk-off hit in 1953 World Series) or
Tony Lazzeri
(a three-hit, two-homer game in 1932), but we like a good story, so we'll pick Doyle.
Shortstop --
WPA says to go with Doyle's double play mate,
Bucky Dent
, but we'll overrule in favor of the next guy on the list. In Game 7 of the 1947 World Series,
Phil Rizzuto
was the Yankees' unsung hero.
With the Yanks trailing 2-0 early, Rizzuto drove in their first run in the second inning. He then kept a rally alive with a two-out fourth inning single, which led to the Yankees taking the lead later in the inning. Then in the sixth inning he bunted for a hit, stole a base, and scored on a two-out hit to put the Yankees up 4-2. And as a bonus, he started the series-ending double play.
For those wondering,
Derek Jeter's
best series-clinching games fall a little short, statistically speaking. Perhaps he's due for a big one today.
Third Base --
Amazingly, the individual game that scores highest of any Yankee-clincher Win Probability-wise, is one which
Alex Rodriguez
didn't even drive in a run.
Rodriguez earns the honor for the events of the 2004 ALDS Game 4 clincher against Minnesota, in which he reached base four times in six turns. He didn't have the winning hit, but he did the next best thing. In the 10th inning, he doubled with one out, then stole third (a play increasing the Yankees' chance of winning by 11 percent by itself) and scored on
Kyle Lohse's
wild pitch.
Left Field --
A more distant memory than
Reggie Jackson's
three-homer game (which we'll get to in a moment) is
Babe Ruth's
series-clinching trifecta in Game 4 of the 1928 World Series. Twice Ruth homered to tie the game and he added a put-away blast with the game out of reach in the eighth.
This one actually doesn't score highest on the WPA chart --
Bob Meusel
(1923 WS),
Elston Howard
(1958 WS) and
Dave Justice
(2000 ALCS) rate higher, but the power of the Bambino overrules in this instance.
Center Field --
This was one of the harder ones to pick, but we'll go with
Mickey Mantle's
clutch hitting against the Dodgers in Game 7 of the 1952 World Series. His sixth-inning home run gave the Yankees the lead and his seventh-inning RBI hit gave the Yankees a two-run cushion.
If you want to stump your friends with some good clinching trivia, ask them to name the only Yankee center fielder with four hits in a clinching game. It's not Mantle,
Joe DiMaggio
,
Bernie Williams,
or even Hall of Famer
Earle Combs
, the latter three of whom all had games that could have been picked here -- it's
Mickey Rivers
, in Game 5 of the 1976 ALCS.
Right Field --
Reggie Jackson
, Game 6, 1977 World Series. Three swings, three home runs. End of discussion.
DH --
Also fairly simple:
Hideki Matsui
tied a World Series record with six RBIs in last year's clincher against the Phillies. WPA says he's the pick too.
Mid-game replacement --
We'll call it a tie, and I think our Baseball Tonight colleague
Aaron Boone
will agree that trying to pick between his walk-off home run in Game 7 of the 2003 ALCS and
Luis Sojo's
series-clinching hit in Game 5 of the World Series is too tough. So let's call it even. There's room on the bench for both.
Starting Pitcher --
The performance that rates highest among all Yankees, regardless of position, for Win Probability Added in a series clincher --
Ralph Terry
. People of my age talk about
Jack Morris'
Game 7 1-0 win for the Twins in the 1991 World Series. People my father's age speak of Terry, who overcame the stigma of allowing
Bill Mazeroski's
series-ender two years prior.
Terry allowed no runs and four hits in a 1-0 win in San Francisco. Yes, he was fortunate to escape a ninth-inning jam when
Willie McCovey
lined out with runners on second and third to end the series, but it speaks highly to his value that his manager felt confident enough in him to stick it out in the ultimate pressure-cooker moment.
Another one with which to stump your friends: The last Yankee to pitch a complete game in a series-clincher?
Mike Torrez
, better known for giving up the famous homer to
Bucky Dent
, did it in Game 6 of the 1977 World Series (it rates a distant 30th on the WPA list).
Relief Pitcher --
Mariano Rivera
has been on the mound to get the last out of 14 different postseason series (trivia buffs note:
Gabe White
and
Ramiro Mendoza
are the other two Yankees to get series-clinching outs in the Rivera closer-era), but rising above those on the WPA scale and our list is one in which he didn't celebrate the final out -- Game 7 of the 2003 ALCS.
Rivera pitched three shutout innings against the Red Sox that day, bravely keeping the game tied until Boone's winning home run. It's the ultimate game in the legacy of one of the greatest Yankees of all time.
Now, as to which is better: three scoreless innings or three home runs? You can make the call on that.
June, 9, 2010
6/09/10
12:13
PM ET
By
Mark Simon
| ESPNNewYork.com
Former Yankee
Aaron Boone
's MLB debut may not rival
Stephen Strasburg
's, but it was pretty good. Aaron's working "Baseball Tonight" this week, so we caught up with him to get the story of his first big league appearance. Here's his tale:
"It's 1997 and I'm in Indianapolis. It's June and the Reds have a veteran club that's struggling. My brother (Bret) gets sent down ... he was an established guy who was struggling and they made an example of him. I knew he was coming down to play with me, which was weird.
"The Reds had an off day. We played a game that day in the minors. I got called into the office after the game. My dream was being realized. I was being called up to replace my brother. It was a very emotional moment on so many levels for me.
"My brother was only down for two games and then back up, thankfully. He was very excited for me. I remember he said 'I'll see you in a couple days.'
"My first game, I fly to St. Louis, didn't get much sleep that night. My lack of sleep aided me, calmed me down so I wasn't overwhelmed running onto the field at Busch Stadium.
"Matt Morris was pitching. In my third at-bat I got my first hit and got my first RBI. I stole second. Joe Oliver got a base hit to right field. I come in to score, slide, tap the plate with my left hand in a pop-up slide. I get called out by Gary Darling.
"As I pop-up from my slide, I react, and throw my helmet down, not trying to be confrontational -- more of an 'Oh no!'. It catapaults 10 feet in the air. Next thing I know, Gary is giving me the heave-ho. An ejection.
"The panic sets in, and I walk off the field thinking that the umps are gonna blackball me. I'm in panic mode as I go back to the clubhouse. I walk in, and John Smiley, Jeff Brantley and Dave Burba are sitting there. They all start laughing.
" 'Hey, we liked it,' they said, referring to the ejection. 'We got your fine covered.'
"Someone talked to Gary on my behalf. We look back and laugh now about that moment. We got along great after that. Fortunately, the umpires never stuck it to me."
Mark Simon is a researcher for Baseball Tonight. Follow him on Twitter at @msimonespn or e-mail him at webgemscoreboard@gmail.com.
NBA
NHL
COLLEGE BASKETBALL
MLB
MLS
NBA
NHL
COLLEGE BASKETBALL
MLB
NBA
NHL
COLLEGE BASKETBALL
MLB