October, 17, 2012
10/17/12
5:22
PM ET
DETROIT -- Here is the lineup that will face Tigers right-hander
Max Scherzer
:
Ichiro Suzuki
, LF
Nick Swisher
, RF
Robinson Cano
, 2B
Mark Teixeira
, 1B
Raul Ibanez
, DH
Eric Chavez
, 3B
Russell Martin
, C
Brett Gardner
, CF
Eduardo Nunez
, SS
CC Sabathia
, LHP
October, 16, 2012
10/16/12
5:28
PM ET
October, 14, 2012
10/14/12
2:02
PM ET
By
Mike Mazzeo
| ESPNNewYork.com
As expected,
New York Yankees
reserve infielder
Jayson Nix
will start in place of injured starter
Derek Jeter
at shortstop in Game 2 of the American League Championship Series on Sunday afternoon.
Jeter is out for the rest of the playoffs after fracturing his left ankle in the 12th inning of New York's 6-4 loss to Detroit in Game 1 of the ALCS on Saturday night.
Nix will be batting ninth in the lineup.
"The bottom line is that Derek's down and I'm in, so it's an opportunity for me, it's time for me to do what I can do, and I'm excited for it," Nix said Saturday night.
Yankees manager Joe Girardi has made several other changes to lineup to try and get things jumpstarted.
Second baseman
Robinson Cano
, who is 0 for his last 22, has been moved up to the No. 2 slot in the batting order.
Right fielder
Nick Swisher
, marred in a 1-for-16 slide, has been dropped down to eighth.
Third baseman
Alex Rodriguez
, who is hitting .105 in the postseason, will once again hit sixth.
Center fielder
Curtis Granderson
, who has struck out 11 times in 23 postseason at-bats, will hit seventh.
Raul Ibanez
will serve as the designated hitter and bat in the cleanup spot. Ibanez hit another game-tying, ninth-inning, two-out homer on Saturday night.
Left fielder
Ichiro Suzuki
will leadoff in place of Jeter.
Cano, Swisher, A-Rod and Granderson are hitting a combined .108 (10-for-93) in the postseason.
Sunday's lineup that will face Tigers right-hander
Anibal Sanchez
:
Ichiro Suzuki LF
Robinson Cano 2B
Mark Teixeira
1B
Raul Ibanez DH
Russell Martin
C
Alex Rodriguez 3B
Curtis Granderson CF
Nick Swisher RF
Jayson Nix SS
Hiroki Kuroda
, RHP
October, 14, 2012
10/14/12
1:36
AM ET
NEW YORK -- Derek Jeter needed to be helped off the field after attempting a diving stop on a grounder by Detroit Tigers shortstop Jhonny Peralta in the 12th inning of Saturday night's ALCS game at Yankee Stadium after suffering a fractured left ankle.

The Captain In Photos

With Derek Jeter in pursuit of his 3,000th hit this year, let's look back on The Captain's greatest moments in pinstripes. Photo gallery

Derek Jeter's Quest for 3,000 »

"His ankle fractured," manager Joe Girardi said after the game.

Jeter made the stop moving to his left and flipped the ball toward first base, but rolled over and remained face down on the infield in obvious pain.

"It's a three month recovery," Girardi said. "It won't jeopardize his career."

Girardi and trainer Steve Donohue rushed to assist the Yankees' captain, who needed to be supported on the shoulder of both men, unable to put any weight on his left leg. What remained of the crowd chanted "Derek Jeter!'' as he was helped into the dugout.
Read the rest of the story,
here
.
October, 13, 2012
10/13/12
11:42
PM ET
By
Mike Mazzeo
| ESPNNewYork.com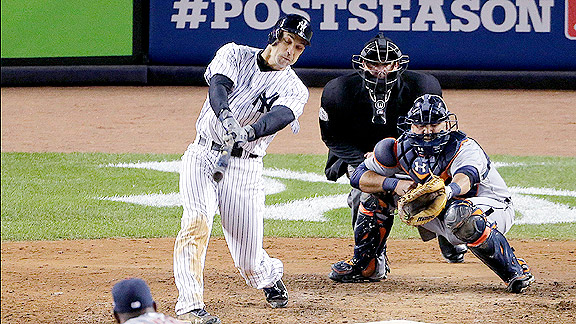 AP Photo/Charlie RiedelRaul Ibanez's dramatic homer Saturday capped a 4-run Yankees rally to tie the game.
He did it again!
Forty-year-old
Raul Ibanez
blasted another game-tying home run with two outs in the bottom of the ninth inning -- this one a two-run shot in the right-field seats off Tigers closer
Jose Valverde
in Game 1 of the ALCS on Saturday night, making him the first player ever with three home runs in the ninth inning or later in a single postseason, according to ESPN Stats & Info.
Ibanez accomplished the same feat in Game 3 in the ALDS, granted that one was a solo bomb. Oh, and he was pinch-hitting for
Alex Rodriguez
. He then won that game with a walk-off homer.
Ichiro Suzuki
had brought the Yankees within 4-2 earlier in the frame with a two-run homer of his own.
What will Ibanez do next? Stay tuned.
October, 13, 2012
10/13/12
10:40
PM ET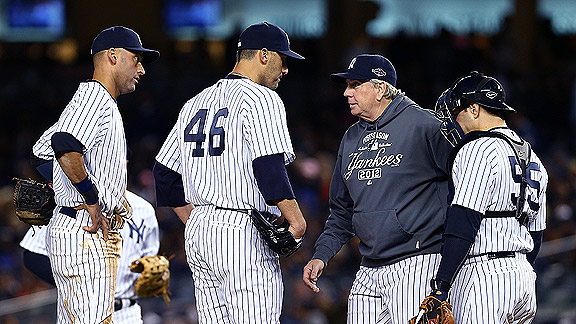 Elsa/Getty ImagesAndy Pettitte was solid again Saturday, but exited the game with the Yankees in a 2-0 hole
For the second straight outing,
Andy Pettitte
gave the Yankees a great performance.
His offense just didn't back him.
Pettitte tossed 6 2/3 innings of two-run ball Saturday but left the game with the Yankees down 2-0 as they left the bases loaded three times.
The veteran held Detroit scoreless for the first five but a triple by
Austin Jackson
ignited Detroit in the sixth. After the call was made to intentionally walk
Miguel Cabrera
with one out,
Prince Fielder
and
Delmon Young
responded with back-to-back singles to give Detroit the lead. He left the game in the seventh with two outs after walking
Omar Infante
.
Unless the Yankees rally, Pettitte will be 0-2 in the postseason despite not yielding more than three runs in either start. He gave up seven hits and struck out five.
October, 13, 2012
10/13/12
9:18
PM ET
The umpires weren't kind to the Yankees in the second inning.
With the bases loaded and two outs in the inning Saturday,
Robinson Cano
was called out at first although video replay appeared to show he was safe.
Cano hit a rocket off the wrist of Detroit starter
Doug Fister
and the ball bounced to
Jhonny Peralta
, who made a bare-handed grab and throw to get Cano at first. On replay, however, it appeared Cano beat the throw.
That marked the second inning the Yankees left the bases loaded in Game 1, as
Alex Rodriguez
grounded into a force out in the first when Peralta made another fantastic grab.
October, 13, 2012
10/13/12
8:19
PM ET
By
Mike Mazzeo
| ESPNNewYork.com
Want attend Game 2 of the ALCS?

Well, there are plenty of good seats available.

As of 8 p.m. Saturday, there are currently 8,969 tickets for Sunday's Yankees-Tigers tilt available for purchase on StubHub, the cheapest being $36.

Crazy. Or is it?

October, 13, 2012
10/13/12
12:21
AM ET
By
Ian Begley
| ESPNNewYork.com
It'll be
Andy Pettitte
in Game 1 of the ALCS.
And if the numbers are any indication, it could be an interesting night for Pettitte and the Yanks.
The veteran lefty's career regular season numbers against the Tigers are hit-and-miss. Triple Crown winner
Miguel Cabrera
is 4-for-12 with two homers and a double against Pettitte.
Delmon Young
is 11-for-19 with three doubles and four RBIs against the lefty.
Jhonny Peralta
is 6-for-16 with three homers and nine RBIs over his career against Pettitte.
The 40-year-old Pettitte was sitting in the bullpen in Game 5 of the ALDS and hadn't had much time to consider the Tigers' lineup when speaking to reporters after the game.
Here's what he had to say:
"Obviously you have Cabrera in there and (Prince) Fielder, great hitters. (You) just hope you can go out there and make quality pitches. Nothing different, you know, just try to make quality pitches," he said.
Pettitte, who missed nearly three months in the regular season with a broken bone in his foot, gave up three runs on seven hits in seven innings in Game 2 against Baltimore, a 3-2 Yankees loss.
He has the most playoff wins of all time, though, so his career numbers against Detroit should be taken with a grain of salt.
Still, Pettitte knows to be careful with Cabrera & Co.
"He will be a big key," Pettitte said of Cabrera. "To try to shut him down, I don't know if you can shut him down. But to try to keep him from doing too much damage in the series, that's the key to us wining the series, that's for sure."
Girardi did not announce a Game 2 starter.
Hiroki Kuroda
, who started Game 3 on Wednesday, is a candidate to throw on short rest.
David Phelps
, who tossed 1 1/3 innings in Game 4, is another option. A third possibility is
Derek Lowe
, who is not stretched out and tossed a third of an inning on Thursday.
October, 12, 2012
10/12/12
10:44
PM ET
Last year and in 2006, the Tigers ended the Yankees' season. They own a Triple Crown hitter this year, and now the Yankees want to make sure they don't have another sort of triple accomplishment.
The Yankees took the 2012 regular-season series from the Tigers, winning six of 10 games, but the only games anyone will remember are the ones that will be played over the next week.
So let's get to the Yankees' issues going into the American League Championship Series.
1. Who's on third?
[+] Enlarge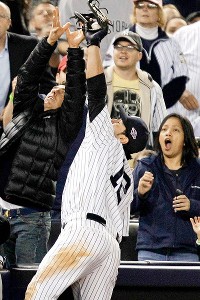 AP Photo/Kathy WillensWill Eric Chavez be the Yankees' starting third baseman?
The Tigers are expected to throw four right-handed starters at the Yankees, which could mean more designated sitter time for
Alex Rodriguez
.
The guess here is Rodriguez will get a chance to contribute but it will be a small chance.
Eric Chavez
could have taken control of the job for the rest of the playoffs with a good game Friday. But he didn't, going 0-for-3.
In Game 1, the Tigers are expected to start
Doug Fister
. Rodriguez has faced Fister nine times and has just one hit. Chavez has three hits in 11 at-bats.
Everyone keeps talking about the shift in the status of A-Rod and his relationship with Joe Girardi. If he doesn't start Game 1, who knows how much action he will receive in this series?
Keep in mind, the fragile Chavez has not done too well playing too many consecutive days, so it probably is a matter of when, not if, A-Rod starts in the ALCS.
The guess here is Game 1.
2. Who starts Game 2?
The Tigers are going to go with
Anibal Sanchez
in Game 2. The Yankees? Well, that is a mystery at the moment. Girardi declined to say even who the options are for the start.
Andy Pettitte
will start Game 1, so
Hiroki Kuroda
would start Game 2, right? No, Kuroda likely won't go because he last pitched Wednesday. The Yankees were concerned about Kuroda wearing down, so it seems highly unlikely he will go with one fewer day of rest than normal.
[+] Enlarge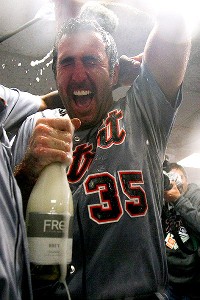 Kelley L Cox/US PresswireJustin Verlander is set to start Games 3 and 7 for Detroit.
The No. 1 option is probably
David Phelps
. Phelps was 2-2 as a starter with a 3.77 ERA. When he was asked about the possibility, he said, "This is the first I heard of it."
If the Yankees were to go with Phelps, it might change the complexion of their postseason roster because they might need another long man, possibly putting
Ivan Nova
or
Freddy Garcia
into play. However, they both got crushed when the Tigers saw them this season.
Derek Lowe
could be in play to start, but he isn't that stretched out so he seems likely to remain in the 'pen.
3. Justin and CC on the sidelines
After the mystery Game 2 starter, the Yankees could go with Kuroda in Game 3 and
CC Sabathia
in Game 4. They could flip flop those two if they want to test Sabathia's limits. Sabathia led the Yankees to the World Series in 2009 throwing on short rest throughout.
A Game 3 matchup would pit Sabathia versus
Justin Verlander
. Verlander can pitch Games 3 and 7.
Most likely, Girardi will hold his cards, waiting to see where the series stands before deciding on his Game 3 starter. Even if Sabathia started Game 4 on normal rest, he could go on short rest in a possible Game 7. This is probably the most likely setup.
4. Triple Crown threat
The Yankees' starters were 2-1 with a 2.04 ERA against the Orioles in the AL Division Series, but there is no one in the Baltimore lineup like
Miguel Cabrera
or
Prince Fielder
. They are two of the most lethal hitters in this series, and if the Yankees are going to beat the Tigers, they will need to neutralize them.
Rafael Soriano
and
David Robertson
have had some success against Cabrera, holding him to just two singles in 14 at-bats.
5. Whither Swisher?
With another 0-for-3,
Nick Swisher
finished the division series at .111 with just two hits in 18 at-bats. He has a .148 average in 168 postseason at-bats.
"You are making this about individual numbers," Swisher said. "It is all about wins and losses."
Swisher has to start hitting, or it is possible Girardi could rearrange his outfield.
Raul Ibanez
could play in the field, opening up the designated hitter spot for someone else.