New York Yankees:

Alex Gordon
May, 4, 2012
5/04/12
3:37
PM ET
By
Mark Simon, ESPN Stats & Information
The top thing to watch tonight will be how the Yankees closer fares if given his first save chance in the post-Rivera-injury era.
But what else is worth keeping an eye on?
Matchup to Watch: Sabathia vs Moustakas/Gordon
Royals third baseman
Mike Moustakas
hurt the Yankees on a couple of fronts in the series opener, with a home run and a fine game-ending defensive play against
Alex Rodriguez
.
Moustakas doesn't always start against lefties, but is hitting .432 in his last 10 games. If he plays tonight he'll go up against
CC Sabathia
, which will pose a more formidable challenge. This will be the first time they've ever faced each other.
Moustakas is 5-for-11 with two doubles against left-handed pitching this season, but hit only .191 in 89 at-bats against them last season.
Gordon has gone head-to-head with Sabathia previously and is 4-for-21 against him with a walk. This is a better version of Gordon than the one who has often faced Sabathia in the past.
Last season, he made
significant improvements
at getting hits against left-handers, so it will be interesting to see how Sabathia pitches him.
Sabathia usually dominates lefties with his wipeout slider, which has accounted for 16 of the 21 times he's gotten a lefty out this season. However he's already been taken deep this season by
Carlos Pena
,
Josh Hamilton
and
Prince Fielder
, allowing one homer each on his fastball, curveball and slider.
Gordon is a potential troublemaker if Sabathia's slider lacks bite. He hit three home runs against lefties' breaking balls last season, after hitting only one in 2009 and 2010.
Sabathia's 17 wins against the Royals are one shy for his most against any team. He's won 18 games against the White Sox.
Matchup to Watch: Teixeira vs Chen
There are several Yankees with good histories against
Bruce Chen
, though none better than Mark Teixeira. Sort of.
Teixeira hit six home runs in his first 11 at-bats against Chen, though all of those came in 2005 and 2006.
Since then, the success in the matchup has gone the other way.
Chen gave up two more hits to Teixeira after the last homer, but has since retired him seven times in a row.
What's been key to that is Chen's use of the cutter, with which he's gotten Teixeira out four times, three of which were on pitches that jammed him inside.
Expect that approach to continue. Teixeira has had nine at-bats as a right-handed hitter this season that ended with a pitch on the inner-third or closer to him. All nine of those at-bats ended in outs.
Stewart vs Martin
We'd expect
Chris Stewart
to catch today, since Sabathia has had a good run of starts with him behind the plate.
The Yankees numbers with Stewart behind the plate are impressive- a .185 opponents batting average, 47 strikeouts, and eight walks. In Stewart's 42 innings behind the plate, the Yankees have not allowed a stolen base.
The Royals defense
The Royals defense hurt the Yankees in a number of respects on Thursday, not just on the game-ending play. Centerfielder
Jarrod Dyson
made a couple of nice running catches in the spacious outfield gaps, and first baseman
Eric Hosmer
made a perfect scoop to complete the ninth-inning double play on Teixeira.
The Royals also have two outstanding outfield arms in the corners in Gordon and
Jeff Francoeur
, and one of the 2011's Web Gem leaders at shortstop in
Alcides Escobar
.
So far this season, their defense checks in about average, with two Defensive Runs Saved, a mark considerably better than the Yankees' -20.
November, 1, 2011
11/01/11
11:30
PM ET
By
Mark Simon, ESPN Stats & Information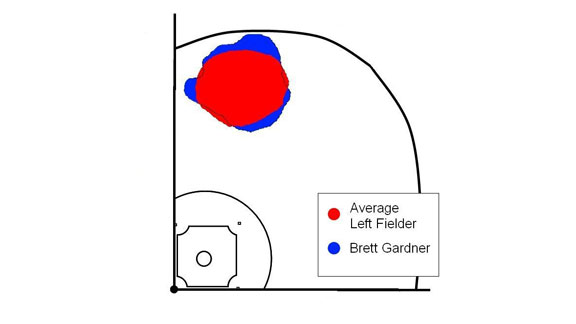 Image courtesy: Ben Jedlovec, Baseball Info SolutionsImage
from earlier this season
shows the difference between Brett Gardner and other left fielders.
Brett Gardner
got robbed.
There is one statistical justification for Royals leftfielder
Alex Gordon
winning the American League Gold Glove award for that position -- his league-leading total in assists (20). But there's a lot more statistical justification for Gardner.
Advanced defensive metrics show that Gardner was the best of the best in the majors this season. He was one of the Yankees' best chances at a Gold Glove, but he, first baseman
Mark Teixeira
and second baseman
Robinson Cano
were denied in voting announced Tuesday night.
There are two metrics available publicly that measure defense: Defensive Runs Saved and Ultimate Zone Rating (UZR). Gardner had the highest UZR in the major leagues by a considerable margin and tied with Tigers center fielder
Austin Jackson
and Giants third baseman
Pablo Sandoval
for the most Defensive Runs Saved.
In fact, among AL left fielders, Gardner had more than twice as many Defensive Runs Saved (22) as anyone else (Rays left fielder
Sam Fuld
ranked second with nine). Gordon finished with four Defensive Runs Saved.
Gardner also led left fielders in "Good Fielding Plays," a stat tracked by Baseball Info Solutions (BIS), a group that reviews and categorizes video of every pitch of every game.
A Good Fielding Play is like a Web Gem nominee -- a catch on a ball that was more likely to be a hit than an out, reaching into the stands to catch a foul ball, or cutting off a ball before it reaches a fence to prevent a single becoming a double. Gardner had 33 Good Fielding Plays in 2011 (two more than Gordon), 22 of which were related to catches he made.
A search of "Brett Gardner 2011 catch" in
MLB.com's video archives
yields 19 different nifty plays by Gardner last season, such as the
lead-preserving running catch
he made in the eighth inning against the Orioles on April 24, a
sliding backhand snag
to take away a hit from
Carl Crawford
and the Red Sox and a
diving catch
against Twins infielder
Tsuyoshi Nishioka
on Aug. 19
Where Gardner is statistically strongest is in the area that is probably the toughest to fully understand -- turning batted balls into outs. He makes catches that other left fielders don't make. This is hard to fully evaluate using basic stats because if a fielder just misses a ball, he isn't charged with an error. The batter is credited with a hit.
What BIS does to evaluate defense is that its game-watchers chart every batted ball, categorizing it as a fly ball, a line drive, a "fliner" (between a fly ball and line drive) or a ground ball. They then compute the hang time if it's a fly ball, and determine via video review where the ball landed.
This allows them to create the equivalent of an approximate batting average for a ball hit to every spot on the field. Using this data, they create a plus-minus rating, calculating how many more plays a player made at his position and how many more bases he saved (ie: some of the plays would have been doubles and triples), than the average player at his position.
Gardner's plus-minus ratings were +21/+31 (21 plays above average, 31 bases saved above average), both the best among left fielders. The +31 is the second-highest total for any left fielder since BIS began tracking the stat in 2003.
That's one reason why Gardner won a "
Fielding Bible Award
," an honor given by BIS based on a panel vote that rates the best defensive players.
By comparison, Gordon was among the worst left fielders in this regard. His ratings were -8/-14 (eight plays
below
average, 14 bases below average).
Gordon's strength was in the deterrent value of his arm. But by advanced stat methods used by BIS, Gardner was rated as having the second-best arm rating for left fielders, a distant second to Gordon, but second in the entire major leagues nonetheless.
There are many factors that come into play regarding a left fielder's ability to have a high plus-minus rating, including but not limited to where he is positioned, where his teammates are positioned, his speed, his ability to run good routes, his fundamental defensive skills and how frequently balls are hit to the outfield among them.
Baseball-Reference.com
charts hit location data in simpler terms. They tally the Yankees as having allowed 290 base hits to left field this season, fewest in the majors, 30 fewer than the team with the second-fewest (Phillies, 320). Yankees left fielders also recorded 339 outs, eighth-most in the majors.
Gardner played around 80 percent of the Yankees innings in left field. You'd like to think that some of the credit belonged to him. But apparently it wasn't enough to merit a Gold Glove.
May, 10, 2011
5/10/11
5:25
PM ET
Yankees manager Joe Girardi is not surprised that the Kansas City Royals are off to such a good start this season -- 18-16, in second place in the American League Central, 4 1/2 games behind the even more surprising Cleveland Indians.

"No I'm not [surprised]. They're much more aggressive than they used to be, with all the stolen bases and the things that they're doing," Girardi said before Tuesday's series opener in the Bronx. "They have a bullpen that we haven't seen a lot of, when you look at all the new faces that they added. ... They're pitching, they're playing well, they're running."

The Royas have already stolen 42 bases this season, which leads the major leagues. Eleven different players have swiped at least one -- Mike Aviles and Jarrod Dyson lead the team with eight apiece.

"Melky [Cabrera] is having a good start, [Jeff] Francoeur is playing extremely well, Alex Gordon as well. So they're getting a lot of production out of their outfield," Girardi said.

Gordon is batting .309 with three homers and 23 RBIs; Francoeur, the former Met, is batting .302 with eight homers and 24 RBIs; and Cabrera, the former Yankee, is batting .283 with three homers and 21 RBIs.