September, 29, 2014
Sep 29
10:00
PM ET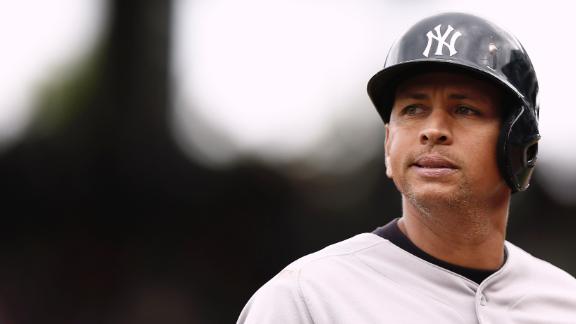 NEW YORK -- Joe Girardi is about to go from the Farewell Tour to the Circus Parade.
Girardi took a lot of heat this season for managing what some believed was a
Derek Jeter
Farewell Tour rather than a baseball season, and put forth the dubious proposition that this was the reason the Yankees missed the playoffs for the second straight year.
Next year, I can practically guarantee it will be the other way around. While Girardi certainly deferred to Jeter all season, continuing to play him at shortstop and bat him second, despite sometime shrill calls from many corners claiming this was the reason the Yankees stunk in 2014,
Alex Rodriguez
cannot hope to enjoy the same level of respect.
[+] Enlarge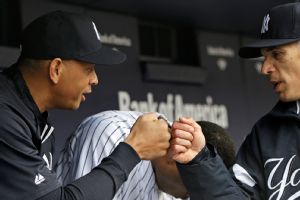 AP Photo/Kathy WillensAlex Rodriguez, left, is in for a rude awakening if he expects Joe Girardi to give him the same superstar treatment Derek Jeter received this past season.
That much was clear from Girardi's postseason wrap-up news conference at Yankee Stadium on Monday, in which he refused to guarantee A-Rod his old job back, despite being given several opportunities to say so.
And it is backed up by his history, most notably in the 2012 postseason, when Girardi decided that the best Yankees lineup in six playoff games, including two elimination games, did not include Alex Rodriguez.
Asked directly, twice, on Monday if A-Rod was returning as the Yankees' starting third baseman, Girardi hedged.
"He hasn't played in a year," Girardi said. "That's not easy to do, to sit out a year. I've got to see where he's physically at, I've got to see from a playing standpoint where he's at. Do we expect him to be a player on our team? Absolutely. Do we expect him to play third base? Yes. But in fairness, I think you have to see where he's at."
Which raises the bizarre and tantalizing prospect that Alex Rodriguez could be returning to the Yankees as a part-time player, or worse, a bench player.
Funny, Girardi showed no similar hesitation when asked similar questions about Jeter a year ago, even though Jeter was a year older than Rodriguez and coming off a similar yearlong layoff, having played in just 17 games scattered throughout the 2013 season. No matter by what illicit means he achieved it, Rodriguez was always a better player than Jeter, if not nearly as much of a winner or so good a teammate.
Still, it seems obvious that Rodriguez, with more home runs than all but four players in the history of the game -- and incredibly, only the fifth-highest paycheck on the team these days -- will not be getting the star treatment from his manager.
It is easy to argue that he doesn't deserve it, for transgressions both on the field and off. And you know that just his mere presence, from his first appearance in spring training, will create more of an uproar than Jeter's entire eight-month victory lap, which really started when he made his retirement announcement back in February.
Without even trying, A-Rod is going to cause Girardi the kind of headaches that Jeter never did, and he does not appear to be relishing the prospect, even five months removed from the start of spring training. Although the manager went out of his way to mention, "I have a good relationship with Alex," he was unable to give a precise date of the last time he and his erstwhile third baseman actually spoke.
According to Girardi, he and A-Rod have communicated via text "once or twice a month," and never about baseball.
"We've talked more about how he's just doing and his family, mostly through texting," Girardi said. "Obviously that will pick up now that we're through the season and I don't have nearly as much to do, just to see where he is at physically and encouraging him and see what his thoughts are."
I can make a pretty good guess at what his thoughts are: All indications are that he expects to come back to the Yankees in all of his former capacities, as the everyday third baseman and a middle-of-the-order hitter, as well as a possible new capacity -- as a team leader now that Jeter will no longer be in the clubhouse.
Without mentioning names, Girardi spoke in general terms about the likelihood that several current Yankees could step up next year to fill the leadership void Jeter leaves behind. And from what I know about Alex, I can tell you he considers himself one of those candidates, if not the only legitimate one. He certainly enjoyed a good amount of stature with many of the younger players and probably assumes he still will when he returns next season.
But it is just as likely that his return will be seen by some in the Yankees clubhouse as a burden, because at least for the beginning of spring training, the camp is likely to be crawling with even more media than usual, poking and prodding A-Rod for his daily thoughts and charting his every move on and off the field.
Girardi acknowledged the coming circus could serve as a camp distraction, but said: "I think our players will handle it fine. The first couple of days in spring training there will be more attention, and that will die down. That's the nature of sports too. Something's gonna happen that the focus will be off of him again." His history, of course, tells us that the focus will never be off him for very long, however, and once the spring training games begin, the spotlight will be on him again as he faces a likely procession of hostile crowds, perhaps even in his own ballpark.
"His teammates enjoy Alex," Girardi said. "His presence in the clubhouse, the way he likes to teach the game and talk about the game, so I don't think that will be an issue. Will he have to deal with some angry fans? Yeah. But we'll help him get through that. And when's the last time Alex hasn't had to deal with that? It's not like it's something he's not used to, and sometimes players thrive on that, so maybe it will help him."
If he's even 75 percent of the player he was before he was suspended, A-Rod can help the Yankees too, especially the offensively challenged Yankees of 2014.
But there's no guarantee that when he comes back to the Yankees -- and his yearlong suspension ends as soon as the World Series is over -- that aside from his lavish paycheck, Rodriguez will enjoy any of the perks he did before he was set down, or any of the deference the manager showed to Jeter.
Which sets up a mouthwatering question for Girardi's postseason news conference a year from now:
After being accused in 2014 of playing Derek Jeter too much, will Girardi in 2015 face charges that he didn't play Alex Rodriguez enough?