New York Yankees:

Alfredo Aceves
May, 4, 2014
May 4
7:03
PM ET
NEW YORK -- The biggest play in the
New York Yankees
' 5-1 loss to the
Tampa Bay Rays
on Sunday was
Wil Myers
' three-run inside-the-park home run in the third inning off
CC Sabathia
.
But it shouldn't have been a home run.
It was a legitimate extra-base hit, for sure. Yankees center fielder
Jacoby Ellsbury
almost snagged it, but the ball just eluded his grasp and hit the top of the wall in right-center field. The ball then deflected off Ellsbury and rolled toward right field.
The runner on second base would have scored anyway, and the runner on first may have scored as well. But right-fielder
Carlos Beltran
was late in backing up Ellsbury and retrieving the ball, which allowed Myers -- who loafed to first base before seeing the ball drop and picking up the pace -- to come all the way around.
"I just got caught up watching the play," Beltran said, "and when I reacted the ball kind of went toward the right-field wall and I just couldn't get to it."
Yankees manager Joe Girardi goes out of his way to avoid criticizing his own players, but came about as close as he gets to doing so on Sunday.
When asked if Beltran was supposed to be in position to back up Ellsbury on that play, Girardi said, "We have to take care of that, yes."
"I don't think [Beltran] anticipated that that was gonna happen, is what happened," Girardi said later. "He didn't read what could possibly happen there."
Beltran admitted he could have done a better job on the play.
"Sometimes, as an outfielder, you kind of like watch the play a little bit and see what happens and react," Beltran said. "That play right there, the perfect thing for me would have been to react a little bit faster."
Unsung hero:
A day after being called up from Triple-A Scranton/Wilkes-Barre,
Alfredo Aceves
came on in relief of the ineffective Sabathia in the fourth inning, and finished the game.
Aceves threw 5 1/3 shutout innings, giving up just three hits (all singles), with five strikeouts and no walks. After allowing a leadoff single to
Desmond Jennings
in the top of the sixth, Aceves retired 12 batters in a row to finish the day.
It didn't help the Yankees earn a win Sunday, but it could pay major dividends this coming week. The team's bullpen desperately needed a break -- Girardi had to use eight different pitchers in Friday night's 14-inning loss, and needed two innings of relief in Saturday's win as well.
"He did a heck of a job today," Girardi said, of Aceves. "He saved our bullpen, and it's a bullpen that needed some rest, and he did a great job."
For Aceves, it was his first major league appearance of the season, and first with the Yankees since May 8, 2010. The Yanks re-acquired the 31-year-old righty just before Opening Day, after he was cut by the
Baltimore Orioles
.
But after Aceves struck out
James Loney
to start the top of the fifth, Girardi and a team trainer visited the mound to check on the pitcher.
"He said he just felt something in his leg," Girardi said. "It seemed to get better as time went on. I considered pulling him, but he threw a few pitches and said he was OK, and we checked with him every inning.
"I don't know what it means tonight and tomorrow, if we run a test on him or what to see what's going on or how he feels right now. But he was able to pitch (through) whatever was going on."
Aceves himself said he was fine after the game.
"The doctors checked it out, and they said it's OK. So it'll be OK," Aceves said. "Really looking forward for the next game."
May, 3, 2014
May 3
1:28
PM ET
By
Danny Knobler | Special to ESPNNewYork.com
NEW YORK -- It's rarely simple with
Alfredo Aceves
, so of course his return to the
New York Yankees
was going to be a little different.
Aceves was back in the Yankees' bullpen Saturday, back in pinstripes for the first time in nearly four years. He was back because the Yankees needed a fresh arm after using eight relievers in Friday night's 14-inning loss to the
Tampa Bay Rays
, but Aceves could be excused if he was feeling a little less than fresh himself.
He was in Norfolk, Va., with the Triple-A Scranton/Wilkes-Barre RailRiders, when a call from the Yankees woke him up at 1 a.m. Saturday. Could he be ready to leave at 4 a.m. to get to Yankee Stadium in time for a game Saturday afternoon?
Of course he could.
"I'm excited to be here," Aceves said, standing in the Yankee clubhouse a few hours later.
He's excited enough, for now, that he said he would do anything the Yankees need. He's here as a middle reliever, with manager Joe Girardi saying there are no thoughts for now of using him as a starter.
"I want him to be a guy I can use in a lot of different areas," Girardi said. "Two innings, three innings, one inning."
When he's willing to do that, Aceves has proved to be a useful piece of a team, as he was for the Yankees' last championship team, in 2009. But he was gone from the Yankees after May 2010, first with an injury and then because they decided against re-signing him.
He went to the Red Sox, where again he was often useful, but sometimes trouble. He spent spring training this year with the Orioles, then signed with the Yankees when Baltimore released him just before Opening Day.
"I was a Yankee," he said. "When I heard they wanted to sign me again, I was pretty excited."
He made two starts and one relief appearance for Scranton, with a 1.98 ERA in 13 2/3 innings. And now he's back in New York, where once he makes an appearance he'll become the 20th pitcher used by the Yankees this season.
A long night, part I:
With Friday's game ending just before 1 a.m. and the Yankee players required to be at the ballpark early for a Photo Day promotion, it was easy to feel as if they had never left.
Two of them really hadn't.
Catcher
John Ryan Murphy
and reliever
Preston Claiborne
spent the night sleeping on sofas in the Yankee clubhouse.
A long night, part II:
When Friday's game ended, Girardi had used every available player on his roster, save the other four starting pitchers.
Chris Leroux
, who gave up five runs in the 14th inning (and was designated for assignment Saturday) was his last pitcher.
So if the game went on, who would have pitched?
"I don't know what I would have done," Girardi said.
Leroux, he said, could have thrown as many as 90-100 pitches (he threw 40). But then what?
David Phelps
wasn't an option, because he had thrown a between-starts bullpen before the game began. The Yankees almost certainly would have had to use a position player, but with no position players on the bench, it would have had to be someone already in the game, with Leroux moving to the outfield.
March, 28, 2014
Mar 28
8:39
PM ET
TAMPA, Fla. -- Manager Joe Girardi completed his bullpen tonight, naming right-hander
Dellin Betances
and lefty
Vidal Nuno
to a relief staff that already included
David Robertson
,
Shawn Kelley
,
Matt Thornton
,
David Phelps
and
Adam Warren
.
But his infield is still up in the air, possibly because
Brendan Ryan
, out since March 4 with upper-back spasms, is unlikely to be ready to return to action when he is eligible to come off the disabled list on April 7.
[+] Enlarge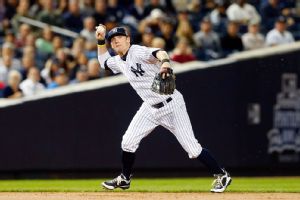 Jim McIsaac/Getty ImagesBrendan Ryan, who hasn't played much this spring, looks questionable for Opening Day.
"He hasn't done anything, and he only had 10 plate appearances before he got hurt," GM Brian Cashman said of Ryan before tonight's game against the
Miami Marlins
. "He's going to have to start from scratch."
That could mean Ryan will not play until mid- or even late April, meaning whomever the
Yankees
add as a reserve infielder would not be just a four- or five-game replacement. More importantly, since Ryan's intended role was as the backup to
Derek Jeter
, the Yankees will need someone who can step in and play shortstop at least once a week, and possibly more.
That is likely the reason Girardi, who had intended to announce his entire roster before tonight's game, was forced to say, "The infielders are not done."
"There's some discussions that need to take place and some things we have to talk about, and we'll get it worked out as soon as we can," he said.
As of yesterday, the candidates were
Eduardo Nunez
,
Dean Anna
and Yangervis Solarte, who had the best spring of the three but is not on the 40-man roster. The Yankees would need to move someone off the 40 to make room for him.
Cashman acknowledged that the roster status of Solarte, who batted .415 this spring with two home runs and eight RBI while playing several infield positions as well as left field, complicated the Yankees' decision-making process.
"Obviously, by adding someone not on the 40, it's going to have to come at someone else's expense," he said. "We're talking through it all."
Teixeira
Tex sets the record straight
: A N.Y. tabloid story on Friday portrayed
Mark Teixeira
as "protecting" his surgically repaired right wrist and quoted him as "not trusting that the wrist is healthy." Before tonight's game, Teixeira said his problem was "subconscious" rather than physical, that he was unknowingly letting go of the bat on contact while batting left-handed.
"It was just a really bad mechanical thing," he said. "Mentally, I have to continue to remember that it's healthy now, and, even though it might be a little bit tight -- and every now and then it's a little bit sore -- I can still take that full swing."
Teixeira said he and hitting coach Kevin Long noticed it while watching tapes of his swing pre- and post-surgery. As a result, Long said, Teixeira's swing was not "explosive" until yesterday's game against the
Pittsburgh Pirates
in Bradenton, Fla., when Teixeira, although hitless, made some decent contact. Teixeira's spring average is .091 with no home runs and four RBI.
"I've been hitting some nice line drives, but those line drives I need to get under and hit for home runs," Teixeira said. "That'll come. That'll come with just getting stronger as the season goes on. No one can predict what the season's going to give you, but what I do know is that, through six weeks of spring training, I'm healthy, and that's a really good sign."
Vidal options
: Girardi said his reason for choosing Nuno over
Cesar Cabral
as the second lefty out of the bullpen was a matter of flexibility. "We think Nuno gives us more options because he's a guy that can give you some innings if they have a lefty, righty, lefty," Girardi said.
"I can sleep a little bit better now, just knowing that I'm heading to Houston [for the season-opening series] and then New York," Nuno said. "It was such a big rush. It was unbelievable how everything just came true a little bit. Now, I gotta stick here and just produce."
Ellsbury
Ellsbury to play Saturday
:
Jacoby Ellsbury
went 2-for-5 in a minor league game and came out with no problems, so Girardi said the plan was to play him in the spring training finale tomorrow afternoon. That is, if the weather cooperates. Rain is in the forecast all day Saturday. In the event of a rainout, Girardi said Ellsbury -- who has not played in a big league game since March 14 -- would remain in Tampa to play in one more minor league game on Sunday before joining the Yankees for the opener in Houston.
Pineda staying back
:
Michael Pineda
, who won the No. 5 starter job with an excellent camp, does not pitch until Saturday, April 5, so the Yankees will leave him in Tampa so he can pitch a minor league game here on Sunday.
Coming back
: Right-hander
Alfredo Aceves
, a Yankee for three seasons, including the 2009 championship season when he went 10-1, was signed to a minor league deal after opting out of his contract with the
Baltimore Orioles
upon learning he would not make the team. Aceves, a 31-year-old, was assigned to Triple-A Scranton and is expected to be a starter for the RailRiders. He could provide some late-season rotation insurance in case of injury.
April, 12, 2012
4/12/12
7:38
PM ET
A 1-5 start hasn't sent new Red Sox manager
Bobby Valentine
into panic mode.
"I don't see anything wrong with this team," Valentine said
on his weekly spot on The Michael Kay Show
on ESPN New York 1050. "I think a lot of things are going to go right real soon."
Boston hosts Tampa Bay in its home opener at 2:05 p.m. on Friday. Valentine didn't sense any anger from fans about the slow start when he walked around his new city Thursday.
"I sensed a lot of caring for sure, people are into it, and I heard a lot more words of support than anything else. They could be a little frustrated, no doubt about that, I am," Valentine said. "As a friend of mine who deals with football said this morning, this is like the fourth minute of opening day of an NFL season. What's the panic all about?"
Detroit swept Boston to start the season and the Red Sox just lost two of three to Toronto. The bullpen has failed early this season, especially
Alfredo Aceves
and
Mark Melancon
. The former Yankees have blown two of the first three save opportunities and have 27.00 and 36.00 ERAs, respectively. Valentine believes the pair has the fortitude to handle the closer role while closer
Andrew Bailey
is sidelined with a thumb injury.
While the natural reaction would be to move new starter
Daniel Bard
back to the bullpen, where he starred in the past, that's not Boston's plan at the moment.
"We'd be foolish if we haven't had that conversation about (moving him back to the bullpen)," Valentine said. "At this time where our situation is set up, he's going to stay right where he is and we might adjust things as they go on, but I don't see any reason to do it right now."
When the Red Sox host the Yankees on April 20 and honor the 100
th
year of Fenway Park, former manager
Terry Francona
, who was fired after last season's meltdown, will not be present. Valentine said the former manager will be "truly missed" if he's not in attendance.
"I think Terry is as much a part of Red Sox history and Red Sox Nation as anyone," he said.
Valentine's weekly appearance on ESPN New York 1050 has created a stir, and the Red Sox manager seemed puzzled as to why there would be outcry from both Yankees and Red Sox fans about his appearances on a rival town's radio station.
"I guess they think there aren't people that care about the Red Sox or care about baseball who listen to your station, they think there are only people that bleed that navy blue Yankees or whatever it is, or the orange and blue Mets," Valentine said. "I happen to know there's a lot of people that listen in the New York metropolitan area that give a damn about the Red Sox and I'm glad that I have the chance to be with you every week."
You can listen to the full interview here.
April, 8, 2011
4/08/11
12:37
PM ET
Alfredo Aceves, who was such an important part of the yankees bullpen in 2009 but spent most of 2010 on the DL with a back injury, was added to the Red Sox roster this morning and will be available to pitch in today's game at Fenway. Aceves, who was non-tendered by the Yankees after suffering a broken collarbone in a motorcycle accident in the off-season, was signed by the Red Sox in February but optioned to Triple A Pawtucket at the end of spring training.
January, 26, 2011
1/26/11
10:15
PM ET
In the course of trying to answer as many questions as possible in the limited time I have for the weekly Yankees live chat, I mistakenly stated that Alfredo Aceves, who missed almost all of 2010 with a lingering lower back injury, was not expected to pitch at all in 2011. That was incorrect, and that is what happens when you rely on memory rather than taking the time to double-check, a mistake I will not make again.

In fact, Aceves' current injury is a broken collarbone, suffered in a bicycle accident in late November. Aceves had surgery to repair the injury on November 30 and is expected to need a full three months of rehabilitation, which means he would not be ready for the start of spring training. However, he may be able to pitch at some point in 2011, although right now, not for the Yankees, who non-tendered him two days after the surgery. It is unclear if they will bring him to spring training as a non-roster invite.

My sincere apologies for the error.
August, 21, 2010
8/21/10
1:10
AM ET
By
Ian Begley
| ESPNNewYork.com
Felix Hernandez put himself in some elite company after tossing eight-innings of shutout ball in the Bronx on Friday night.

Hernandez has gone at least eight innings in all three of his starts against the Yankees this season. He's struck out at least nine in all three and has allowed only one earned run against the Bombers.

Lefty Grove and Bob Feller are the only other pitchers since 1920 to go at least eight innings, strike out at least nine and allow one or fewer earned runs against Yankees in three starts in the same season.

"He's got a lot of weapons," Joe Girardi said after Hernandez allowed just four hits and struck out 11.

Hernandez is 4-0 with a 0.51 ERA against the Yanks over the last two seasons.

According to the Elias Sports Bureau, Hernandez has the fifth lowest single-season ERA (0.35 ERA) against the Yankees in baseball history among pitchers who have thrown at least 25 innings.

"His ERA speaks for itself and sure enough, he lowered it a little bit more tonight," Curtis Granderson said.

A.J. BURNED: Bad A.J. was back in the Bronx on Friday night.

Yankees right-hander A.J. Burnett allowed six runs on 12 hits in seven innings against Seattle. Girardi said Burnett, who was coming off two strong starts prior to getting roughed up on Friday, struggled with his command against the Mariners.

Burnett (9-11, 4.80 ERA) allowed a three-run homer to Russell Branyan in the top of the first and gave up another homer to Branyan in the sixth.

"I just missed my spots," Burnett said after throwing a season-high 122 pitches.

Burnett fell to 0-8 in his last 12 starts in August, dating back to 8/24/08, according to Elias.

ACE IS UP: Reliever Alfredo Aceves (remember him?) will throw three innings on Saturday for the Trenton Thunder, who are playing in Portland, Maine, against the Sea Dogs. Aceves, who has been sidelined with a strained lower back since May 12, says he has been pain-free for the past two weeks.

But the righty still has many more hurdles to pass before returning to the Bronx.

"This is spring training for him," Girardi said. "We think he still needs to build some arm strength and get sharper. We'll call him back as soon as there's a need. But we want to make sure he's ready before he gets back."

SEE YA, ZACH: The Yankees announced that they have sent minor-league pitcher Zach McAllister to Cleveland to complete the Austin Kearns trade. He was 8-10 with a 5.09 ERA in Triple-A this season.

McAllister entered the 2010 season ranked by Baseball America as the 5th best prospect in the Yankees organization. He went 7-5 with a 2.23 ERA last season in Double-A Trenton. McAllister was selected by the Yankees in the third round of the 2006 draft.

NUNEZ ON CLOUD NINE: Eduardo Nunez spent five-plus seasons in the Yankees' farm system. He said on Friday afternoon that his call-up to the Bronx is "the most excited I've been in my life."

He hoped to fly his mother, Victoria Mendez, in from the Dominican Republic for a game soon. He said he has family from Boston and New York who have been hounding him for tickets to a Yankee game. He hasn't fulfilled any requests yet.

Nunez was called up from Triple-A Scranton on Thursday to give the Yankees needed depth in the infield. Ramiro Pena has started the last four games at third base while Alex Rodriguez recovers from a strained left calf.

Nunez replaced Derek Jeter at short and then switched positions with third baseman Ramiro Pena in the top of the ninth on Friday night.
July, 3, 2010
7/03/10
1:26
PM ET
By
Ian Begley
| ESPNNewYork.com
Right-hander Sergio Mitre threw in the bullpen on Friday in Tampa and is scheduled to throw two "innings" in the bullpen on Monday. Mitre was placed on the 15-day DL on June 15 with a strained left oblique. Yankees manager Joe Girardi said it would be "reasonable" to expect Mitre back soon after the All-Star break.

Girardi said Mitre is further along in his rehabilitation than righty reliever Alfredo Aceves. Aceves is slated to throw 40-45 pitches in a bullpen session on Monday, using his full repertoire of pitches. He went on the disabled list on May 12 with a strained lower back.

STILL NICK'ED UP: DH/OF Nick Johnson will take swings with a fungo bat today and hit 20 balls off of a tee. If Johnson doesn't suffer any setbacks, he will head to Tampa to continue rehabilitation from right wrist surgery. There is no timetable for Johnson's return.

Johnson had surgery on May 18 to repair the injured wrist.

"I just want to keep moving in the right direction," said Johnson, who has been on the disabled list nine time in a 10-year career.

ALL-STAR ALMOST ALL DONE: Girardi said he has done his due diligence regarding All-Star selections and is nearly through with the process. Girardi will manage the American League team in the All-Star Game in Anaheim on July 13 in Anaheim.

The starters for the game are selected by a fan vote. The remaining reserves and pitchers are selected by a player vote and Girardi. The team will be announced on Sunday at noon.

"I've made my decisions for the most part," Girardi said.

If Girardi were managing the National League, it sounded as if he'd bypass Nationals phenom Stephen Strasburg. Strasburg (2-2, 2.27 ERA) has 48 strikeouts in 31 2/3 innings.

"The kid is a great talent, but there are a lot of guys who have logged in 100 innings already," Girardi said.
May, 8, 2010
5/08/10
9:09
PM ET
Alfredo Aceves thinks he will be out two or three days because of his stiff back.

The Yankees' initial plan is to wait before bringing up anyone. If they end up using their bullpen a lot Sunday night, they will likely make a move in Detroit to protect themselves against Sergio Mitre and Javier Vazquez not giving them innings.

Aceves has had the back stiffness before and didn't seem overly concerned it would be a big deal. Aceves left Saturday's blowout in the sixth because of the backache.
May, 8, 2010
5/08/10
7:00
PM ET
After a one-hour and 14 minute rain delay, Alfredo Aceves replaced CC Sabathia on the mound. Soon after, Aceves was hurt.

After finishing off the fifth, Aceves was forced to leave the game with two on and two outs in the sixth. Aceves seemed to slip on the mound as he delivered a pitch to Jeremy Hermida.

The Yankees say he has a stiff lower back.

Joe Girardi and trainer Steve Donohue came out to check on Aceves and then they took him out, replacing him with Boone Logan.

This adds to the Yankees' injury woes. The team announced on Saturday that Nick Johnson will be out "several weeks" with his wrist injury. They already have Curtis Granderson on the DL with a groin injury.

And the Core Four is sore with Jorge Posada, Andy Pettitte and Mariano Rivera all recovering from injuries.