New York Yankees:

Atlanta Braves
June, 20, 2012
6/20/12
4:31
PM ET
By
Mike Mazzeo
| ESPNNewYork.com
Recap
|
Box score
|
Photos
WHAT IT MEANS
: What is it 2009 again?
Playing in hot, humid,95-degree weather, the Yankees and Braves combined for a new Yankee Stadium-record nine home runs on Wednesday afternoon in New York's 10-5 loss to Atlanta.
The last time two teams combined for nine bombs in the Bronx was July 31, 2007 against the White Sox, according to ESPN Stats & Information.
It's the first time the Yankees (41-27) have lost a series since May 28-30 in Los Angeles (AL).
AW-PHIL
:
Phil Hughes
gave up a career-high four home runs. The 25-year-old right-hander has now allowed 19 homers this season -- the most in the major leagues.
He surrendered long balls to
Freddie Freeman
(first),
Martin Prado
(third),
Jayson Heyward
(fourth) and
David Ross
(fifth) before exiting the mound to boos from the crowd. Heyward also went deep in the eighth.
His final line: 4.1 IP, 6 H, 6 ER, 0 BB, 5 K.
Hughes (7-6), had yielded just four runs in his previous three starts -- all victories.
STREAK OVER
: Prior to Hughes' dud of an outing, Yankees pitchers had gone at least six innings in 19 straight starts.
CAPTAIN CRUSH
:
Derek Jeter
slugged
Tommy Hanson
's first pitch into the right field seats for his seventh home run of the season -- and first in 65 at-bats, dating back to June 3 in Detroit (
Justin Verlander
). Jeter has hit four leadoff bombs this season and 28 in his career.
AN A-POP! FOR A-ROD!
Alex Rodriguez
utilized the friendly confines at the stadium, hitting a high fly ball that went over the wall in right for his 11th jack of the year leading off the sixth. A-Rod now has 1,925 RBIs, surpassing
Jimmy Foxx
for sole possession of sixth place on the all-time list.
Robinson Cano
followed Rodriguez with a real blast of his own -- his 14th homer of the season -- to make it 6-4. The Yankees trailed 6-5 in the seventh, but A-Rod grounded into an inning-ending 6-4-3 double play with runners on the corners.
E-ROCK
: Filling in for
Mark Teixeira
at first base,
Eric Chavez
belted a solo shot to center leading off the fifth inning for his fourth dinger of the year. Teixeira (sore heel) later lined a pinch-hit double to left in the eighth.
MAKING HISTORY
Like Hughes, Hanson also gave up four homers. It was the first Yankees game in the Live Ball Era in which two different pitchers served up four dingers, according to ESPN Stats & Information (via Baseball-Reference.com).
BOURN TO FLY
:
Michael Bourn
robbed
Jayson Nix
of a two-run homer in the fifth with a leaping catch over the right-field wall.
K RAPADA
:
Clay Rapada
struck out all four batters he faced.
UP NEXT
: Part II of the Subway Series: LHP
Andy Pettitte
(3-2 2.77 ERA) vs. LHP
Jon Niese
(4-3, 3.82) on Friday night at Citi Field
June, 20, 2012
6/20/12
2:44
PM ET
After pitching so well of late, Phil Hughes was awful in the 94-degree heat at Yankee Stadium on Wednesday, allowing a career-high four homers to Atlanta in 4 1/3 innings. He has now given up a major-league high 19 gopher balls on the year.

It started early for Hughes and never ended until Joe Girardi finally, mercifully, removed him with one out in the fifth.

In the first, Freddie Freeman hit a two-run blow. In the third, Martin Prado nailed a solo shot. In the fourth, Jason Heyward slammed a solo shot and, leading off the fifth, No. 9 batter David Ross smashed a solo job. Hughes left with the Yankees trailing 6-1.

Entering Wednesday, Yankees starter had a 19-game streak of working at least six innings.

Hughes had been pitching very well. Over his previous eight starts, he was 6-1 with a 3.27 ERA. He had lowered his ERA from 7.48 to 4.50. After Wednesday's meltdown, he is at 4.94.

By the way, how bad is giving up four homers in one game? A.J. Burnett never even did it as a Yankee.
June, 20, 2012
6/20/12
1:28
PM ET
By
Mike Mazzeo
| ESPNNewYork.com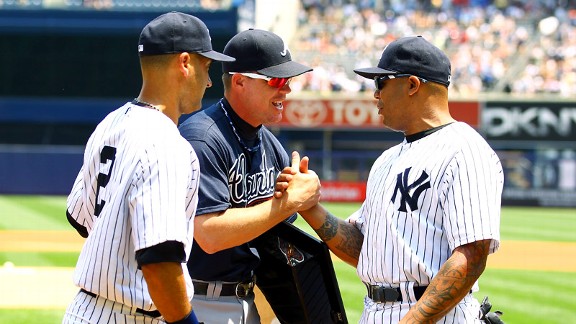 Al Bello/Getty ImagesDerek Jeter and Andruw Jones present third base to Chipper Jones.
In a nice gesture, the Yankees presented
Chipper Jones
with third base before Wednesday's game.
Jones is retiring at the end of the season. So, barring a Yankees-Braves World Series, this will be his last game at Yankee Stadium.
Jones inflicted a ton of damage on the crosstown rival Mets. Perhaps the Yankees were saying thank you.
Derek Jeter
and former Atlanta teammate
Andruw Jones
presented Chipper Jones with the base.
June, 14, 2012
6/14/12
12:36
AM ET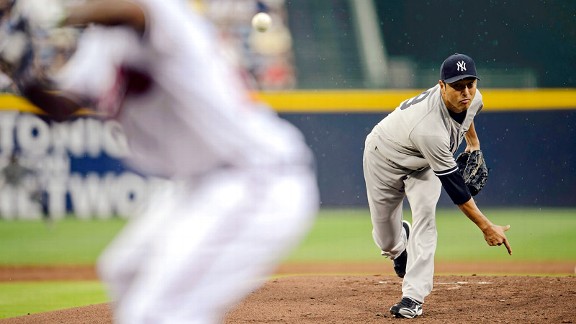 Paul Abell/US PresswireAn Atlanta rainstorm couldn't distract Hiroki Kuroda on Wednesday.
ATLANTA --
Hiroki Kuroda
doesn't show a whole lot of emotion or speak a whole lot of English, but he let loose with what for him is a veritable stream of both during the sixth inning of Wednesday night's game against the Braves.
"He fist-pumped and just went, 'Yes!'" said
Russell Martin
, who caught Kuroda in Los Angeles and has developed a more-than-adequate system of communication with the Japanese right-hander. "You don't see that very often."
The occasion was
Curtis Granderson's
two-run homer that gave the Yankees a 3-2 lead just minutes after the Braves'
Brian McCann
had hit a bomb off Kuroda to put Atlanta ahead 2-1.
For a pitcher who toiled for four years without run support, it must have seemed as if Kuroda had been transformed back into an L.A. Dodger. For the fourth straight outing, Kuroda pitched well -- 6 IP, 9 H, 2 ER, 8 K's, many of them biggies that snuffed out potential rallies -- but once again, the high-scoring Yankees couldn't help him out much; they average just 3.70 runs per game when Kuroda pitches.
"He's always been a tough guy, the type of guy that, whether he has a good day or a bad day, you can't really tell," Martin said. "He's not going to get too down on himself and he's not going to get too high, either. He never really lets anything get to him, even after the home run."
Kuroda, who was making his first start after taking a line drive off his left foot in an excellent performance against the Mets last Friday, showed no ill effects. In fact, he showed his best fastball of the season, blowing a 94 mph heater past
Chipper Jones
with a runner on third in the third inning, and a 92 mph fastball by
Eric Hinske
with a runner on second in the fourth.
"Now when he needs a strikeout, it seems like he has a little extra juice on them," Martin said. "Now, he'll show up some nights with unhittable stuff."
With the win, Kuroda evened his record at 6-6 and lowered his ERA to 3.43, better than any starter's other than
Andy Pettitte.
And between his 4-plus seasons in the major leagues and his previous career in Japan, it was Kuroda's 150th win as a big-league pitcher.
Said
Joe Girardi
: "I think this is the Hiroki that we signed."
June, 14, 2012
6/14/12
12:20
AM ET


ATLANTA -- Curtis Granderson has now hit 60 home runs in his last 218 games, 41 last year and 19 so far this year, and even though he is slightly behind last year's pace -- he had 20 at this point of the 2011 season -- is once again on pace to hit at least 40 homers, a level that would lead most to consider him a bona fide power hitter.

But not Granderson.

"Math is just crazy like that," he said in the Yankees' clubhouse on Wednesday night after his two-run homer in the sixth inning provided the winning margin in a 3-2 victory over the Braves. "It just ends up being that way. It just ends up happening from time to time. I get lucky. Sometimes they happen to get out of the ballpark."

He might be playing coy, or he might still be having trouble believing that in this era of giant, muscular sluggers, a guy with the body of Hank Aaron -- who hit a few homers in his day -- "could keep pace with the Jose Bautistas and the Josh Hamiltons of this world.

In fact, if you ask Granderson to describe what type of hitter he thinks he is, this is the answer you get:

"Still in progress. I want to get to the point where I can go out there and consistently understand what my plan and approach is. I'm still playing and battling with that. The ability to drive the ball into the gaps. The ability to get base hits. I can still bunt from time to time. Hopefully draw a walk from time to time. And I have the ability to leave the ballpark. But definitely not going to be too one-sided."

But even if Granderson doesn't consider himself a slugger, he is the closest the Yankees have to one right now; the nearest teammates (Mark Teixeira and Robinson Cano)" are each eight home runs behind. Granderson's home run off Tim Hudson was a blast into the right-field seats on a 1-1 pitch with Derek Jeter aboard. It was also the first home run Hudson had allowed in 49 innings, and only the second he had surrendered all year.

But whether Granderson considers himself a home run hitter or not is beside the point. The numbers say he is, and the numbers say he is essentially the same hitter he was last year, when he hit more bombs than any hitter in baseball other than Bautista, who had 43.

Power is not a worry with Granderson; what could be is the fact that he has not had a day off yet this season, mainly because the Yankees do not have a true backup center fielder. And with Brett Gardner likely to be out significantly longer than he already has been -- he will be examined on Thursday by Dr. Tim Kremchek in Cincinnati -- Granderson's next day off could be a long way off.

Granderson says he not concerned about that. "I haven't had that consistent stretch where I feel completely locked in," he said. "I don't necessarily feel terrible, but it hasn't been like, just let me get out there, I don't care who happens to be throwing. I had it for a spurt through the course of last year, but I just haven't gotten it this year."

It looks as if he'll get plenty of more chances to find it.
June, 12, 2012
6/12/12
10:14
PM ET
Recap
|
Box score
|
Photos
What it means:
That for the first time since April 21, the Yankees have first place in the AL East all to themselves, thanks to
Alex Rodriguez, Nick Swisher
and their old buddies the Mets, who beat Tampa Bay tonight.
The big story, of course, is the history-making grand slam hit by A-Rod in the eighth inning, but once the glow of that wears off, the Yankees -- winners of five in a row and 15 of their last 19 -- will wake up Wednesday morning and see themselves atop the standings again.
Slam Rod:
Whatever you think of him, Rodriguez certainly does have a flair for the dramatic, and his eighth-inning, bases-loaded at-bat was going to be the story of the game regardless of the outcome. The fact that he made the most of it, rocketing
Jonny Venters'
3-2 fastball into the lower left-field seats to tie both the game and
Lou Gehrig
, only cements his reputation as one of the most riveting figures in sports history.
And, oh yeah, Swisher goes deep, too:
If ever there was such a thing as an anti-climactic game-winning HR, Swisher hit it two batters after A-Rod's historic blast, with
Robinson Cano
aboard to prvide the margin of victory. On any other night, Swish is the story. Tonight, he's a sidebar.
Ace low:
Once again,
CC Sabathia
got off to a rocky start but settled down. CC got hit hard for much of the game but only in the first inning did the Braves do any damage, scoring three runs on
Matt Diaz's
bases-clearing double. And as he has all season, Sabathia gave the Yankees length on a night when the bullpen was short, working seven innings. But he allowed a season-high 10 hits, five of them doubles, and dug a hole that the Yankees needed some historic heroics to dig out of.
Blister all better:
Rafael Soriano
, sidelined on Monday with a blister on his index finger, had recovered sufficiently to close the game, retiring the Braves 2-3-4 hitters 1-2-3 in the ninth.
Major headache:
Braves lefty
Mike Minor
handled the Yankees, a team he had never faced, allowing just five hits, two by
Derek Jeter
, and only two runners to reach second base in 7 1/3 strong innings. Minor had allowed a league-high 14 HRs coming in, but the Yankees never came close to taking him out of The Ted tonight.
The Binder Rules, Part II:
With runners on second and third and one out in the seventh,
Joe Girardi
chose to have Sabathia walk
Dan Uggla
to load the bases for the left-handed hitting
Jason Heyward
. The verdict: a lukewarm win, because although the Yankees needed an outstanding play by Cano to retire Heyward at first, CC held the Braves to just one run in the inning.
Derek Nix:
Jeter borrowed a page out of the
Jayson Nix
playbook in the third inning when, after Uggla had doubled, he fired to third to get the lead runner on Diaz's grounder to short. Uggla might have been safe had he not overslid the bag, but the heads-up play wound up saving a run when
Chipper Jones
followed with a single.
What's coming:
What do you think I oughta write about tonight? Let me see ...
Tomorrow:
Yankees go for the sweep, sending out
Hiroki Kuroda
(5-6, 3.46), in his first start since pitching seven one-hit innings against the Mets (and getting tagged on the left foot by a line drive) against RHP
Tim Hudson
(4-2, 3.83), first pitch at 7:10 p.m.