New York Yankees:

Babe Ruth
December, 13, 2012
12/13/12
3:02
PM ET
ESPN's Hall of 100 -- a performance-centric look at the greatest players of all time -- has Babe Ruth No. 1 on the list, beating out Willie Mays and
Barry Bonds
.
No surprise there. But what about No. 7 Roger Clemens ahead of No. 9 Mickey Mantle?
You can join the debate by
clicking here
. Of the Top 25, nine are former or current New York players.
Alex Rodriguez
is 18th all-time, according to our experts, a few pegs behind
Rickey Henderson
at No. 14. The rest of the New York representatives in the Top 25 shake out like this:
1. Babe Ruth
2. Willie Mays
7.
Roger Clemens
9. Mickey Mantle
11. Lou Gehrig
14. Rickey Henderson
18. Alex Rodriguez
21. Joe DiMaggio
23.
Randy Johnson
24. Tom Seaver
What do you think? Where did we get this right or wrong?
December, 12, 2012
12/12/12
12:19
PM ET
By
Mark Simon
| ESPNNewYork.com
Five stats to know on the newest Yankees infielder
Kevin Youkilis
:
1. He was a little better with a change of Sox, but maybe not as much as you think
Youkilis had a .233/.315/.377 slashline (Batting Average/On Base Percentage/Slugging Percentage) in 42 games with the Red Sox, .236/.346/.425 in 80 games with the White Sox.
The change of teams resulted in an immediate jolt for Youkilis.
He hit. 340 with three homers and 15 RBI, with a bunch of big hits in his first 14 games with Chicago. He was 7-for-his-first-11 with the White Sox with runners in scoring position.
But you didn't see him much in highlights after that.
He hit .213 with 12 home runs and 31 RBI with 61 strikeouts in his last 66 games, and was 8-for-his-last-55 with runners in scoring position.
He had one RBI in his last 59 at-bats.
2. He is trending downwards as a hitter
Youkilis' numbers have taken a significant plunge the last two seasons. His power numbers have dipped, with his .409 slugging percentage last season being the worst in any full season he's played.
To watch this version of Youkilis means you have to brace yourself for a lot of 5-3 and 6-3 ground outs.
His ground ball rates have gone from 35 percent in 2009 to 41 and 43 percent the last two seasons.
Youkilis hit .192 (23-for-120) when hitting a ground ball to the left of the second base bag in 2012. That's about 50 points (or in this case about six hits) below what an average right-handed hitter did last season.
3. But he is the Greek God of Walks, Long At-Bats, and Hit by Pitches
Youkilis earned the nickname "Greek God of Walks" through a reference in the book
Moneyball
for his penchant for drawing them.
In the majors he has been a very good walker, though he has only ranked in the top 10 in walks once in his career (seventh in the AL in 2006).
More notably, he's an at-bat battler. He finished third in the majors in pitches-per-plate appearance last season and ranks tied for seventh in that stat over the last five seasons.
He's also frequently plunked. He led the AL last season with 17 hit by pitches. His 84 over the last three seasons, third in the majors behind
Chase Utley
(120) and
Carlos Quentin
(106).
4. He won't hurt you at third, and he could be help at first
Youkilis has played a little more than 1,800 innings at third base over the last two seasons and has rated as an average defender.
Youkilis' strength, stat-wise, is at turning the ball hit down the third base line into an out. That may be a positioning thing, because his numbers on other ground balls aren't as good, particularly those hit into the areas where third basemen most commonly field grounders.
Over the last two seasons, Youkilis ranks 22nd among the 29 third basemen who have played at least 1,000 innings in Revised Zone Rating (the ability to field balls hit into that "frequently-fielded" area). His out-conversion rate on those balls was 70 percent. By comparison, A-Rod ranks eighth-
best
with a 74 percent rate.
The difference probably figures to 10 to 12 balls over the course of a season.
Youkilis does have a very stellar history at first base and would be a credible fill-in as needed for
Mark Teixeira
. He ranked third at the position in Defensive Runs Saved in 2009, fifth in 2010.
5. He is going to become a part of some noteworthy trivia questions
By now you've probably seen the list of players who were members of the 2004 and 2007 Red Sox that went on to play with the Yankees after that.
If you hadn't, they are:
Mark Bellhorn
,
Kevin Cash
, Johnny Damon,
Alan Embree
,
Derek Lowe
,
Ramiro Mendoza
,
Doug Mientkiewicz
, and
Mike Myers
.
Youkilis will join this list when he plays his first game. If he has a good season and hits 20 home runs, he would join a five-man group of players to hit 20 home runs in a season for both the Yankees and Red Sox, as noted in the chart on the right.
If Youkilis ends up playing for a Yankees team that
wins
the World Series, he'll join seven others who have been in the World Series for winning Yankees and Red Sox teams. That group is Babe Ruth, long-ago notables Everett Scott, Wally Schang, Joe Bush, and Sam Jones, and more recently Johnny Damon and
Eric Hinske
.
May, 7, 2012
5/07/12
3:20
PM ET
Babe Ruth
's old house is for sale. From
the story
.
Babe Ruth's old house and they are asking for $1.65M. It is 5,000 square feet. From the story.

he estate known as Home Plate Farm in Sudbury, Mass., is on the market for $1.65 million.

Ruth, who for decades held the major league career home run record with 714, lived in the home from 1922 to 1926, according to broker Scott Adamson, of Coldwell Banker Residential brokerage.


"This is a great old antique house," Adamson said Monday, estimating the home dates to about 1800. "It's got a ton of modern features, but I think Babe Ruth would still recognize it even today because it retains many of the original features."


Ruth played for the Boston Red Sox from 1914 to 1919, then for the Yankees from 1920 to 1934. His playing salary over a 22-year career was less than $911,000, according to baseball-reference.com

The 5,000-square-foot, five-bedroom, 3½-bathroom home on a two-acre plot has undergone extensive renovations since the 1920s, including "a chef's dream kitchen, richly detailed family room, a sunny master suite with vaulted ceilings" and more, the listing says.
Imagine how much
Derek Jeter
's house in
St. Jetersburg, FL
will go for one day. It is a mere 26,000 feet bigger than Ruth's little place.
What would you pay for Ruth's house?
August, 8, 2011
8/08/11
12:05
PM ET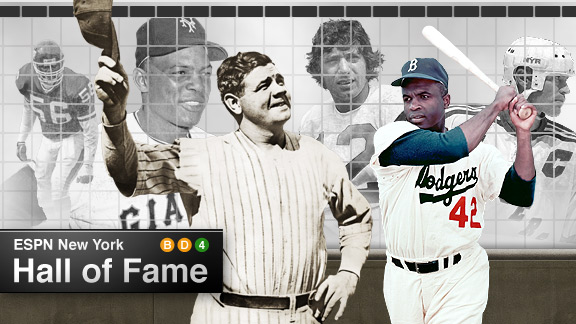 ESPN.com illustration
Vote: Pick the ESPN New York Hall of Fame class »
In honor of ESPN New York's inaugural
Hall of Fame ballot
, let's review our choices for the top Yankees of all time:
1. Babe Ruth
We disagreed on Nos. 2-50, but every ballot had the same No. 1: The Babe. Ruth embodied both Yankees dominance and excess, from his Curse to his curves, outhitting entire teams en route to a Hall of Fame career he began in Boston as a superstar pitcher.
2. Lou Gehrig
The Iron Horse saw his consecutive games streak end as ALS ravaged his body and ultimately took his life. But No. 4 found the strength to call himself "the luckiest man on the face of the earth." He was also the greatest first baseman in baseball history.
3. Joe DiMaggio
While Boomers boast about Mantle, The Commerce Comet, their fathers crow about Joltin' Joe, a three-time MVP who drove in 1,537 runs despite losing three prime years to World War II. The Yankee Clipper didn't just catch fly balls, he snagged Marilyn Monroe, too.
4. Mickey Mantle
In our closest race, The Mick was edged out of the top three by just a few points, but the switch-hitting Hall of Fame center fielder -- and hero of Baby Boomers from the Bronx and beyond -- is a top-fiver with three MVPs, a 1956 Triple Crown and seven rings.
5. Mariano Rivera
To be a top-five Yankee, you must be legendary, the dominant player at your position for a decade or more. Perhaps no one has owned his position like Mr. Automatic, the greatest closer ever. His five rings, 42 saves and a 0.71 ERA in October say it all.
June, 9, 2011
6/09/11
11:00
AM ET
By
Mark Simon
| ESPNNewYork.com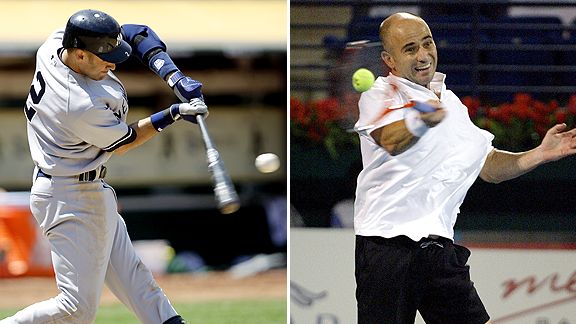 AP Photo/Getty ImagesHow does Derek Jeter's swing resemble Andre Agassi's? Read below to find out.
Last week, I got asked by one of ESPN's anchors to make a statistical evaluation as to whether
Derek Jeter's
career has been overrated.
There are a lot of ways to approach that question, and it seems trendy to knock aspects of Jeter's game, but in answering, I decided to focus on one element of Jeter's game-- his Batting Average on Balls in Play (BABIP).
For those unfamiliar, this statistic is what it says it is—it tells you the batting average of a hitter when the ball is put into the field of play (not a strikeout, not a home run). The major league average BABIP has consistently been between .295 and .305 for many years, meaning that a ball put in play is a hit typically about 30 percent of the time
Some think that a BABIP significantly higher or lower than .300 is due to luck, but that's not exactly true (for a great primer on the subject, read Tristan Cockcroft's
2010 piece
). A hitter's BABIP can be a product of skill. Hitters with good BABIPs usually are either fast (and able to beat out more ground balls than normal) or hit a lot of line drives (which result in hits at a higher rate than fly balls and ground balls).
Jeter's career BABIP is .354. That sounds extraordinary because it is.
It turns out that
Steve Lombardi of Baseball-Reference.com wrote of this back
in late May. Let's expand upon his findings.
Among players whose entire careers took place in the Live Ball Era (ie: since 1920), the highest BABIP among players with at least 5,000 plate appearances belongs to Hall of Famer
Rod Carew
, .359.
Jeter and
Ichiro Suzuki
are literally neck-and-neck for the top spot among active players. If both retired today, Suzuki would be second all-time, just ahead of Jeter.
For reference,
ex-Red Sox and Yankees star Wade Boggs'
career BABIP was .344.
contact master Tony Gwynn's
was .341. Hall of Fame outfielder
Lou Brock
finished at .338 and I'm guessing that was largely due to his speed.
Among all-time great Yankees,
Babe Ruth
finished with a .340 BABIP.
Lou Gehrig
ended his career at .332. Both of those are padded by a point or two because sacrifice flies were not officially tallied then.
Mickey Mantle's
career BABIP was .318. His two best seasons were 1956, in which he won the Triple Crown and had a BABIP of .356, and 1957, in which his BABIP climbed to .378.
As good a hitter as
Don Mattingly
was in his prime, his best BABIP was .333. For his career, he finished at an even .300.
I wanted to get a better sense of what Jeter's .354 BABIP meant to a major league player, so I asked our Baseball Tonight analyst,
Doug Glanville
on what the stat meant to him.
"Jeter's swing is an optical illusion," he said.
Glanville paired his explanation with that of fellow analyst, and ex-shortstop
Barry Larkin
to explain the difficulty of trying to defend Jeter on last Friday's Baseball Tonight.
"My job as an outfielder is to get a good read, a good jump, so I'm always cheating one way or leaning another, anticipating, based on the location (of the pitch) and the hitter," Glanville said.
"The thing about Jeter is, you could throw a ball inside and tie him up, and he's so late with (his swing) with which way he's going to hit the ball, that you get a late jump on it.
"An inside curveball, as an outfielder, you're not sure where he's going to go with that. With most hitters, you have a split second to judge). But with Jeter, you have to wait to see what's going to happen. He could rifle a ball down the right field line, or hook it down the left field line.
"You're thinking, I can't get a great read, because I don't know which way Jeter is going.
"He's like a great tennis player, like an Andre Agassi. You change directions (with your approach) at the last second and it causes everybody to get flat-footed.
"The split-second you lose as a fielder is the difference between an out and a hit."
Said Larkin: "As an infielder, it happens even quicker than it does in the outfield. The fact that he stays so squared to the plate. Most of the time, a guy will open up his front side (of his body) if he's going to pull the ball, or stay closed (in his stance) if he's going to hit the ball the other way.
"As a shortstop, that's what I'm reading (for positioning). Jeter makes every adjustment (to a pitch) with his hands. It makes it very difficult for an infielder to get a jump on the ball."
Sunday Night Baseball analyst Orel Hershiser completed our perspective on the subject by putting it this way: "He used the hole on the right side of the infield like a left-handed hitter would. And he hit the ball hard,
a lot
."
Jeter ranked fourth-best in the majors from 2002 to 2009 (2002 is as far as Fangraphs goes back) in terms of lowest percentage of balls in play that were fly balls- just over 23 percent. That helped keep his BABIP high. But when Jeter hit fly balls, they produced hits at a good rate, perhaps because of what Glanville talked about.
Baseball-Reference.com
allowed us to take our analysis a step further. It uses
Retrosheet
play-by-play data to estimate batting average on ground balls, line drives and fly balls. This isn't a perfect estimate, but it's the best we can do.
Let's use 2003 as an example to show just how well Jeter's plate approach worked.
That season, Jeter got hits on 25 percent of the fly balls he put into play. That rate was nearly double the American League average (13 percent). His rate of hits on line drives was 84 percent, also significantly better than the AL average (74 percent).
Why was that? Because he had great success hitting to the opposite field (we know those as "Jeterian hits") His BABIP on balls hit to the right side was .451. The major league average was .276.
Let's put all this in tangible terms. If Jeter had been an average AL hitter that season, he should have had 11 hits on the 84 fly balls he hit that stayed in the ballpark.
Jeter had 21.
And on 76 line drives that stayed in play, an average AL player would have produced 56 hits.
Jeter had 64.
So that season, Jeter had 85 hits, 18 more than an average player would have.
Tack 18 hits on to a major league hitter and how does that change your perception of him. That's enough to turn a .300 hitter into a .330 hitter.
That
is what made Jeter the player that he was, year in and year out for a long time.
Can someone with that sort of all-time great skill level be overrated?
I think we know the answer to that.
May, 9, 2011
5/09/11
4:33
PM ET
It may seem like a lot of dough for a bit of old laundry, but a Yankees jersey worn in a game by Lou Gehrig during the final season of his career went for $329,000, or the price of a house in many areas of the country, at an auction in Laguna Niguel, Cal. over the weekend.

Gehrig's still got a ways to go to catch Babe Ruth, however, when it comes to memorabilia value: the bat Ruth used to hit the first home run at Yankee Stadium 1.0 back in 1923 had previously gane for $1.265 million.
May, 9, 2011
5/09/11
4:23
PM ET
Derek Jeter's big day on Sunday, four hits, his first two home runs of the season, and three RBI, have rekindled hopes that the Yankees 36-year-old captain was on his way to rebounding strongly from his subpar 2010 season and slow start to the 2011 season.

But it should be noted that 76 years ago this month, another one-time Yankee captain seemed to have resurrected his career with a three-homer day on May 25, 1935. Eight days later, Babe Ruth announced his retirement. Turns out those three HRs were the last hits of his illustrious career; he went 0-for-9 in his next five games before hanging them up.

There are significant differences, of course. Ruth was 40, not 36, and had been in decline, byt his standards, for the previous two seasons. The Yankees had let him go the previous year and, playing for the Boston Braves, his heart clearly was not in it anymore. Plus, unlike Jeter, the Babe was not in the first year of a guaranteed three-year, $51 million contract. Ruth played that season for $35,000, an amount that was reduced by the amount of playing time he missed. For that final month of his career, Ruth probably got less than $10,000.
March, 30, 2011
3/30/11
1:41
PM ET
ESPN.com Illustration
ESPNNewYork.com named the 50 Greatest Yankees -- not an easy task, considering the Bombers have 27 World Series titles, 40 American League pennants and enough Hall of Famers to fill their own wing in Cooperstown.
The List

Rank 'Em »
•
Matthews:
My top three? Ruth, Gehrig, Rivera »
•
Here's the method to our madness »
October, 9, 2010
10/09/10
9:00
AM ET
By
Mark Simon
| ESPNNewYork.com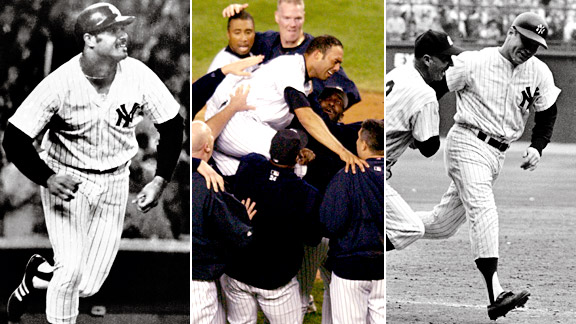 AP Photo
Chris Chambliss, Mariano Rivera and Mickey Mantle are among the most valuable clinching-game players in Yankees history.
With clinching feeling like an inevitability at this point, today seemed like a good day to look back through Yankees history at the best performances in a postseason series-clinching win.
How to do that? It feels like a combination of statistical analysis and common sense is the right way to go.
We'll let the stat Win Probability Added, available on the research godsend,
Baseball-Reference.com
serve as the initial guide.
Win Probability Added measures the impact of every plate appearance on the chance a team has to win a game.
Each plate appearance is worth percentage points, based on the increase or decrease that teams have historically shown to win in those situations. A tie-breaking home run in the ninth inning nets a lot more points than a home run in a 10-0 blowout.
WPA measures value, so there's a bias to those whose late-game heroics were difference-makers over those who were accumulators over the course of a game. So we'll reserve the right to overrule the WPA tally when it seems appropriate.
Let's do this in a position-by position format to create an All-Yankee Clinchers Team.
Catcher --
This one isn't too hard, advanced metrics or not. In Game 7 of the 1956 World Series,
Yogi Berra
was Superman, hitting two-run home runs in each of his first two at-bats against
Don Newcombe
, to put the Yankees up 4-0 after three innings. The Dodgers would intentionally walk Berra the next two times up, and the second time
Moose Skowron
buried them with a three-run home run. The Yankees won 9-0 to avenge their World Series loss the previous year.
First Base --
Chris Chambliss'
performance in Game 5 of the 1976 makes this another not-so-tough choice. Not only did Chambliss hit the walk-off home run in the ninth inning, but he also had a game-tying sacrifice fly in the first inning and a go-ahead RBI groundout in the third.
Through the quirks of the Win Probability system, Chambliss actually lost points for the latter two (since he made outs each time), but his home run more than makes up for that. He gets tabbed ahead of the aforementioned Skrowron, a very valiant runner-up, who had four-RBI games in Game 7 of both the 1956 and 1958 World Series.
Second Base --
Let's go with sentiment over mathematics here, our choice being
Brian Doyle
, for his efforts in Game 6 of the 1978 World Series. For those unfamiliar, Doyle had only 54 regular season at-bats that year, but was called to duty when
Willie Randolph
got hurt.
Doyle ended up going 7-for-16 in the series with four runs scored. In the clinching sixth game he went 3-for-4 with two RBIs, driving in the tying run in the second inning with a double, and a lead-padding run with a sixth-inning RBI single.
The math says to take
Billy Martin
(walk-off hit in 1953 World Series) or
Tony Lazzeri
(a three-hit, two-homer game in 1932), but we like a good story, so we'll pick Doyle.
Shortstop --
WPA says to go with Doyle's double play mate,
Bucky Dent
, but we'll overrule in favor of the next guy on the list. In Game 7 of the 1947 World Series,
Phil Rizzuto
was the Yankees' unsung hero.
With the Yanks trailing 2-0 early, Rizzuto drove in their first run in the second inning. He then kept a rally alive with a two-out fourth inning single, which led to the Yankees taking the lead later in the inning. Then in the sixth inning he bunted for a hit, stole a base, and scored on a two-out hit to put the Yankees up 4-2. And as a bonus, he started the series-ending double play.
For those wondering,
Derek Jeter's
best series-clinching games fall a little short, statistically speaking. Perhaps he's due for a big one today.
Third Base --
Amazingly, the individual game that scores highest of any Yankee-clincher Win Probability-wise, is one which
Alex Rodriguez
didn't even drive in a run.
Rodriguez earns the honor for the events of the 2004 ALDS Game 4 clincher against Minnesota, in which he reached base four times in six turns. He didn't have the winning hit, but he did the next best thing. In the 10th inning, he doubled with one out, then stole third (a play increasing the Yankees' chance of winning by 11 percent by itself) and scored on
Kyle Lohse's
wild pitch.
Left Field --
A more distant memory than
Reggie Jackson's
three-homer game (which we'll get to in a moment) is
Babe Ruth's
series-clinching trifecta in Game 4 of the 1928 World Series. Twice Ruth homered to tie the game and he added a put-away blast with the game out of reach in the eighth.
This one actually doesn't score highest on the WPA chart --
Bob Meusel
(1923 WS),
Elston Howard
(1958 WS) and
Dave Justice
(2000 ALCS) rate higher, but the power of the Bambino overrules in this instance.
Center Field --
This was one of the harder ones to pick, but we'll go with
Mickey Mantle's
clutch hitting against the Dodgers in Game 7 of the 1952 World Series. His sixth-inning home run gave the Yankees the lead and his seventh-inning RBI hit gave the Yankees a two-run cushion.
If you want to stump your friends with some good clinching trivia, ask them to name the only Yankee center fielder with four hits in a clinching game. It's not Mantle,
Joe DiMaggio
,
Bernie Williams,
or even Hall of Famer
Earle Combs
, the latter three of whom all had games that could have been picked here -- it's
Mickey Rivers
, in Game 5 of the 1976 ALCS.
Right Field --
Reggie Jackson
, Game 6, 1977 World Series. Three swings, three home runs. End of discussion.
DH --
Also fairly simple:
Hideki Matsui
tied a World Series record with six RBIs in last year's clincher against the Phillies. WPA says he's the pick too.
Mid-game replacement --
We'll call it a tie, and I think our Baseball Tonight colleague
Aaron Boone
will agree that trying to pick between his walk-off home run in Game 7 of the 2003 ALCS and
Luis Sojo's
series-clinching hit in Game 5 of the World Series is too tough. So let's call it even. There's room on the bench for both.
Starting Pitcher --
The performance that rates highest among all Yankees, regardless of position, for Win Probability Added in a series clincher --
Ralph Terry
. People of my age talk about
Jack Morris'
Game 7 1-0 win for the Twins in the 1991 World Series. People my father's age speak of Terry, who overcame the stigma of allowing
Bill Mazeroski's
series-ender two years prior.
Terry allowed no runs and four hits in a 1-0 win in San Francisco. Yes, he was fortunate to escape a ninth-inning jam when
Willie McCovey
lined out with runners on second and third to end the series, but it speaks highly to his value that his manager felt confident enough in him to stick it out in the ultimate pressure-cooker moment.
Another one with which to stump your friends: The last Yankee to pitch a complete game in a series-clincher?
Mike Torrez
, better known for giving up the famous homer to
Bucky Dent
, did it in Game 6 of the 1977 World Series (it rates a distant 30th on the WPA list).
Relief Pitcher --
Mariano Rivera
has been on the mound to get the last out of 14 different postseason series (trivia buffs note:
Gabe White
and
Ramiro Mendoza
are the other two Yankees to get series-clinching outs in the Rivera closer-era), but rising above those on the WPA scale and our list is one in which he didn't celebrate the final out -- Game 7 of the 2003 ALCS.
Rivera pitched three shutout innings against the Red Sox that day, bravely keeping the game tied until Boone's winning home run. It's the ultimate game in the legacy of one of the greatest Yankees of all time.
Now, as to which is better: three scoreless innings or three home runs? You can make the call on that.
October, 7, 2010
10/07/10
12:39
AM ET
By
Mark Simon
| ESPNNewYork.com
In the annals of Yankees clutch postseason home runs,
Mark Teixeira's
game-winner against the Twins doesn't come close to ranking near the top of the list, but it's still pretty significant nonetheless.
This was the second time that Teixeira hit a postseason go-ahead home run in the seventh inning or later, both coming against the Twins in the ALDS (last year's walk-off being the other).
Only three other Yankees have had at least a pair of such home runs, which we can find at
Baseball-Reference.com
--
Bernie Williams
(3),
Mickey Mantle
(2), and
Alfonso Soriano
(2).
Williams, as a matter of fact, is tied for the all-time lead in that stat with
Troy Glaus
. His three included a pair of walk-offs (against the Orioles and Red Sox) and an oft-forgotten one against the Angels in the 2002 ALDS, a series the Yankees would eventually lose.
Both of Mantle's came in the World Series. He's one of four players who have twice hit go-ahead home runs in the seventh inning or later of a World Series game, along with
Casey Stengel
(yes, he played too),
Rudy York
, and Hall of Famer
Jimmie Foxx
.
Soriano hit one of his in Game 7 of a World Series (2001), which might have gone down as one of the Yankees most significant homers of all-time had the Yankees not lost the game in the bottom of the ninth inning.
But Teixeira can say he's done something that
Babe Ruth
never did. For all of Ruth's Yankees heroics, he never hit a postseason go-ahead home run that late in a game. Other Yankees: 30, Babe Ruth: 0.
This was not something that Teixeira was accustomed to doing in 2010. He'd only hit one go-ahead home run in the seventh inning or later -- in May against the Indians. Five Yankees, all in Wednesday's lineup, had more than that --
Alex Rodriguez
(4),
Curtis Granderson
(4),
Nick Swisher
(2),
Marcus Thames
(2), and
Robinson Cano
(2).
The Twins have seen this before, and we're not just talking about earlier this season when they got beat by late home runs in separate games by Rodriguez and Swisher.
It's now happened to them in each of their last three postseason games. Teixeira's walk-off home run in Game 2 of the 2009 ALDS was followed by
Jorge Posada's
go-ahead home run off
Carl Pavano
in the series-clinching Game 3, and then this home run by Teixeira on Wednesday night.
They thus join the Braves, Mariners and Dodgers as teams who have been victimized three times by late-inning go-ahead Yankee postseason home runs.
June, 14, 2010
6/14/10
8:17
PM ET
By
Mark Simon
| ESPNNewYork.com
To say that
Roy Halladay
owns the Yankees is an understatement. To say that Halladay dominates the Yankees is a disservice as well. Even referring to him as a Yankee-killer, as old-timers do with a pitcher like
Frank Lary
, doesn't necessarily convey his skill.
It's hard to describe just how good Halladay has been in his career against the Yankees, but let's come up with five ways in which we can try, prior to his start against them Tuesday night.
1. Let's start with the most basic piece of information: wins and losses. Halladay is 18-6 all-time against the Yankees, good for a .750 winning percentage against them.
Only two pitchers who have more than 20 decisions against the Yankees have better win-loss records: You've heard of the all-time leader,
Babe Ruth
(17-5, .773). No. 2 is early 20th-century Hall of Famer
Addie Joss
(28-9, .757).
2. Wins and losses rarely tell the whole story. Let's go one step further. Halladay's career ERA against the Yankees is 2.84. Let's look strictly at this time period -- the wild-card era (since 1994) -- before venturing further.
Halladay's 2.84 is not just the best among the 19 pitchers who have thrown 100 innings. It's the best by an overwhelming margin. Here are the only pitchers among that group with ERAs under 4.00.
Halladay, 2.84;
Pedro Martinez
, 3.20;
David Wells
, 3.47. The other 16 pitchers all have ERAs over 4.
3. Let's broaden the scope to cover all time periods, which we can do, thanks to the Elias Sports Bureau. Rob Tracy at Elias looked at pitchers' ERAs against the Yankees and compared them to the ERAs of other pitchers of the time specifically against the Yankees.
Halladay stacks up about as well as can be historically. In the time in which he pitched, the average pitcher had an ERA against the Yankees of 5.15. He's nearly 81 percent better than the average pitcher (giving him an ERA+ of 181). And look who Halladay ranks ahead of historically (among those with 200 innings against the Yankees) -- only the guy many consider the best pitcher ever,
Walter Johnson
.
The only pitcher listed who is better:
Hoyt Wilhelm
, made only 13 starts. The knuckleball specialist dominated the Yankees primarily from the bullpen.
4. Halladay has seven complete games in 35 starts against the Yankees. No other pitcher in the wild-card era has more than four. In fact, to find another pitcher with seven complete games against the Yankees, you have to stretch the span back to measure from 1987 to 2010.
If you do that,
Roger Clemens
has seven as well. But his mark against the Yankees in that span pales in comparison, 16-12 with a 3.70 ERA.
For those who say it's easy for Halladay to rack up that many complete games given the number of starts he's made, consider this: Halladay has completed seven of 35 starts, which equates to 20 percent.
Of the 72 pitchers to have made at least 10 starts against the Yankees since 1994, only a dozen have multiple complete games against the Yankees. And of those 12, only
Chris Carpenter
has completed 20 percent of his starts against the Yankees (two out of 10)
For the record,
Tom Candiotti
,
Omar Olivares
,
Steve Ontiveros
and
Todd Stottlemyre
all have had two complete games in fewer than 10 starts against the Yankees within this time period. None dominated the Yankees though. The lowest ERA from that group is Ontiveros's 3.48.
5. Let's close by looking at the performance of the Yankees' captain against Halladay.
Derek Jeter
career: .242 BA, no home runs, 100 plate appearances.
There is a group of 16 pitchers with which Jeter is most familiar, having faced them 50 times or more. He shreds most of those on the list, with a couple of exceptions.
Within that group, there's no one he dreads more than Halladay. Jeter's .296 on-base percentage against Halladay is his worst against anyone in that group by 21 points. And his .582 OPS is 65 points worse than against any other.
So if he's good enough to embarrass Jeter, that (and our other four points) should be enough to declare him among the best Yankee-killers there is.
Mark Simon is a researcher for Baseball Tonight. Follow him on Twitter at @msimonespn or e-mail him at webgemscoreboard@gmail.com.
May, 7, 2010
5/07/10
5:51
PM ET
In placing Sergio Mitre in front of Javy Vazquez in the rotation, Joe Girardi said he made the move because Vazquez has experience hitting.

So Vazquez will start against Detroit, then Minnesota at Yankee Stadium before facing the Mets to begin interleague play on May 21.

Maybe Vazquez is Babe Ruth and the Yankees are about to discover something. But Mitre and Andy Pettitte-- who is expected to be back in the rotation by then -- both have pitched in the NL so Girardi saying he is concerned about pitchers picking up a bat for the first time doesn't seem to really pass the common sense test.

Really, what makes sense for the reason that Girardi has configured his rotation in this way is to avoid having Vazquez pitch against the Red Sox or Rays.

If Vazquez starts this Tuesday against Detroit, his next start will be a Sunday afternoon game against Minnesota. He won't pitch again until he faces the Mets in Flushing on the 21st.

Add it all up and that is probably why Vazquez is being pushed back a day. Or he is going to hit 714 homers.
April, 30, 2010
4/30/10
12:56
AM ET
To a man, the Yankees are happy to be home. Here are the weekend storylines.
Can
Robinson Cano
become the first Yankee to hit .400 with eight homers in April?
Babe Ruth, Joe DiMaggio and Mickey Mantle never did it
.
How will
Javy Vazquez
do on Saturday? Ian O'Connor with an excellent piece to get you ready. He
talked with Eddie Lee Whitson
.
And
Mark Teixeira
will be the happiest person on Saturday, though, he will refuse to admit it. The calender turns to May.