New York Yankees:

Brendan Ryan
May, 16, 2014
May 16
12:43
AM ET
Derek Jeter
, playing in his final regular-season Subway Series game, was replaced at shortstop by
Brendan Ryan
when
David Robertson
entered the game with two outs in the eighth as part of a double-switch.
"I just told him I'm going to make a double-switch," manager Joe Girardi said. "It is where we are in the lineup. He understands."
Ryan is the superior defensive player. Since spring training, Girardi has been asked if he will replace Jeter with Ryan in late-inning situations.
On Thursday, Girardi made the move, he said, because Jeter made the second out of the top of the eighth, which allowed Girardi to put Robertson's spot at the end of the batting order. Robertson entered in the eighth for a four-out save.
This move might have been just circumstantial, but it could be a precursor to Girardi's future late-inning plans. Girardi has already said he is managing to win, not for a "farewell tour."
Jeter was not available during the postgame media access.
Jeter went 0-for-4 at the plate but still finished with a .364 career batting average against the Mets in 88 games. That's his highest lifetime average against any one team (minimum 40 at-bats).
May, 11, 2014
May 11
12:19
AM ET
MILWAUKEE -- It is a play,
Brendan Ryan
said, that he makes 100 out of 100 times.
"At least," he added, with a rueful laugh. "And of course, that's the one that gets you. But I'll turn the page pretty quick."
[+] Enlarge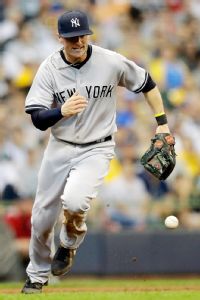 AP Photo/Jeffrey PhelpsBrendan Ryan's specialty is defense, but it didn't play out that way Saturday.
Not that he will get the chance anytime soon. A part-time player valued mostly for his glove does himself no favors, and makes no friends with management, by botching a routine two-out grounder -- especially with a pitcher who seems always to be walking a tightrope above disaster in every start.
Ryan's error on
Jean Segura
's grounder is not the reason the Yankees lost, 5-4, to the Brewers on Saturday night. But it certainly exposed the already-vulnerable
CC Sabathia
to more danger than he could afford to face, and before you knew it the Brewers had turned what should have been a scoreless third inning into a three-run windfall.
"It just rips your heart out," Ryan said. "CC was starting to cruise there for a minute, and then the next thing you know, it costs you three [runs]. It feels pretty awful. Big difference in the game. We rallied, but take those three runs away, we probably didn't need to."
Ryan, who spent most of spring training and all of April on the disabled list with a nerve injury in his upper back, got his first start of the season because Joe Girardi decided to give
Derek Jeter
a day off. Ryan had two hits, including a hard single on the first pitch he saw from
Kyle Lohse
, but as Girardi said before the game, "A shortstop's first responsibility is always defense."
"I just didn't get it in the right part of the glove," Ryan said. "You get it in one spot, and it just comes right on out. I didn't catch it in my web enough, and it's just a physical mistake, really."
Girardi and Sabathia were quick to absolve Ryan of blame.
"You've got to pick your guys up," Sabathia said of his failure to get the third out before giving up two huge home runs to
Jonathan Lucroy
and
Aramis Ramirez
. "They pick me up all the time and unfortunately I just wasn't able to make the pitch right there."
"It was maybe a little rust. I don't know," said Girardi, noting Ryan had played just one inning, as a defensive replacement for Jeter, since being reinstated to the roster on Monday. "It's frustrating, but sometimes you have to pick up your fielders, too."
Betances the only bright spot:
Girardi pulled Sabathia with the bases loaded and one out in the sixth inning. And with
Shawn Kelley
unavailable for a second straight day due to lower back stiffness, Girardi turned to young
Dellin Betances
, who has a wicked repertoire (96-mph fastball, sharp downward breaking curve), but also a penchant for wildness.
Betances came through, striking out an overmatched
Scooter Gennett
on three pitches and fanning the dangerous
Carlos Gomez
with a 1-2 curve.
"I just feel like Joe Girardi using me in that situation, and certain situations I've gotten used, just shows the confidence they have in me," Betances said. "I believe in myself and I trust that if I'm out there throwing strikes, I can do the job. And now I feel like he's trusting me more and more, each and every time."
April, 28, 2014
Apr 28
12:48
AM ET
NEW YORK -- It was just one swing, but it felt like so many before it.
[+] Enlarge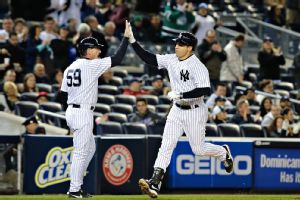 AP Photo/John MinchilloMark Teixeira gave the Yankees a big boost with his seventh-inning blast.
When
Mark Teixeira
tied Sunday night's game in the seventh inning with a mammoth solo homer off
Garrett Richards
, his swing felt like it used to, before wrist surgery basically robbed him of his entire 2013 season.
"The biggest thing for me is that swing felt like before I got hurt," said Teixeira, who is batting .229 with two home runs and five RBIs in 11 games. "It has been a long time since I felt that. I want to keep doing it. It is consistency, continuing to get better. Hopefully, this is the first step to a lot of those."
It was Teixeira's first homer at Yankee Stadium since June 4, 2013. He only played in 15 games last season because of the wrist injury.
Has Teixeira finally moved past the injury for good?
"No," he said. "Hopefully, I will be soon. It is something I'll always have to keep an eye on."
It didn't help, Teixeira said, that he hurt his hamstring and went on the disabled list just three games into this season.
"Missing those two weeks was tough because I felt like I had to start over," he said. "But hopefully, we'll get into a nice groove here and the weather will warm up and I'll stay on the field and stay productive."
Solarte scratched:
Yankees manager Joe Girardi scratched
Yangervis Solarte
a little more than an hour before first pitch with a shoulder injury.
"When he dove for the ball the other day, his shoulder was a little sore, maybe a little sorer than he let on," Girardi said. "I watched his [batting practice] today and he just didn't look quite the same swinging."
So Girardi took Solarte out of the lineup. "I told him, 'You get today off and you get Monday off and maybe it will be back to 100 percent,'" Girardi said.
A medical test -- Girardi didn't specify what kind, but it was probably an MRI -- came back negative, the manager said. The hope seems to be that Solarte will return to the lineup against Seattle on Tuesday.
It worked out for the Yankees, because
Brian Roberts
started for Solarte at second base. In the fifth inning, when the Yankees tied the game, it was Roberts' double that came in the middle of the sequence that led to the run.
Green light:
Jacoby Ellsbury
came around to score the winning run in the eighth inning on a walk, a passed ball and a wild pitch. But he still had opportunities to steal a base.
Did he have the green light to go? "I'm not going to always tell you what I'm going to do," Girardi said. "He was 52-for-56 last year."
We'll take that as a yes.
Ryan rehab:
Brendan Ryan
went 2-for-5 and played shortstop for nine innings during his first rehab game for Single-A Tampa. Girardi has said Ryan needs about 50 at-bats before he will be ready to join the big club. Ryan has not played yet this season because of a cervical spine injury.
Blocking machine:
With
Masahiro Tanaka
on the mound, catcher
Brian McCann
has extra work to do, in order to keep the splitter in front of him when men are on base.
"I thought Brian did a great job of blocking balls tonight," Girardi said. "When [Tanaka] pitches, you are going to block balls. It is really important. He has worked really hard at it and it was big tonight."
Raving about Richards:
The Yankees were very complimentary of Richards, the Angels starter. Teixeira said Richards reminded him of ex-Yankee Kevin Brown.
April, 11, 2014
Apr 11
5:44
PM ET
NEW YORK -- When he wasn't answering questions about Targate (AKA PineGate), the TV-created "issue" involving what was on
Michael Pineda
's palm last night, he was giving updates on his bullpen and two of his three injured players,
Mark Teixeira
and
Brendan Ryan
.
Girardi said he believed Teixeira, out with a calf strain, would be back by May 1. But the news on Ryan, out since spring training with what is officially being called a "cervical spine nerve injury," isn't even close to good. Girardi all but ruled him out for May and hinted Ryan, who had all of 8 spring at-bats, may have to do spring training all over again, which means about six weeks, and that's
after
he is cleared to resume baseball activities, which still hasn't happened.
"He is going to take some time," Girardi said of Ryan. "He's doing some light baseball activity. He's taken some grounders. He's improving but he's still a ways away from games. So I would think May 1 would be doubtful for him."
"He just started dry swings, some very light baseball activities," GM Brian Cashman said. "You're talking sometime after May 1 [for his return]."
Thankfully,
Yangervis Solarte
, hitting .387, and
Dean Anna
, who hit his first major-league home run in Thursday night's 4-1 Yankees win over the Red Sox, have made Ryan's return less than vital.
Kelley back to closing:
With a night to rest, almost all the pieces of the Yankees bullpen are available for use tonight with the exception of
Vidal Nuno
, who went 3 1/3 innings on Tuesday, and
David Phelps
, who worked 2 1/3 last night. Girardi said he was "leaning towards" Kelley as the closer tonight, but added, "I'll see where we are in the lineup."
Robertson throws:
The real closer,
David Robertson
, who is on the DL with a left groin strain, played catch for the second time this week and said his next move would be to throw off flat ground before throwing a bullpen or two. He said he is on track to return on April 22, the first day he is eligible to come off the DL.
"The timing of [Robertson's] injury was worst-case scenario, because as you set sail on your maiden voyage with a whole new bullpen and slots, we weren't able to even settle into anticipated roles that spring training auditioned for," Cashman said. "But listen, if we can get through the period while Robbie's down with success, we'll be better off for it."
25 is the new 34:
Teixeira turned 34 today.
Boston Socks Sabathia:
Since joining the Yankees in 2009,
CC Sabathia
, tonight's starter, is 8-7 against the Red Sox with a 5.03 ERA, his highest ERA against any Yankees opponent. Sabathia was 2-2 in five starts against Boston last year, and the last time he faced them here, on May 13, 2013, he pitched into the eighth inning, allowing one run on six hits in a 4-1 Yankees victory. Sabathia is 1-1 with a 7.50 ERA in two starts this season. He beat the Blue Jays on Sunday, going six innings and allowing four earned runs in a 6-4 Yankees win.
March, 28, 2014
Mar 28
8:39
PM ET
TAMPA, Fla. -- Manager Joe Girardi completed his bullpen tonight, naming right-hander
Dellin Betances
and lefty
Vidal Nuno
to a relief staff that already included
David Robertson
,
Shawn Kelley
,
Matt Thornton
,
David Phelps
and
Adam Warren
.
But his infield is still up in the air, possibly because
Brendan Ryan
, out since March 4 with upper-back spasms, is unlikely to be ready to return to action when he is eligible to come off the disabled list on April 7.
[+] Enlarge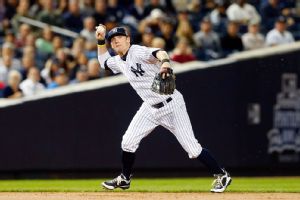 Jim McIsaac/Getty ImagesBrendan Ryan, who hasn't played much this spring, looks questionable for Opening Day.
"He hasn't done anything, and he only had 10 plate appearances before he got hurt," GM Brian Cashman said of Ryan before tonight's game against the
Miami Marlins
. "He's going to have to start from scratch."
That could mean Ryan will not play until mid- or even late April, meaning whomever the
Yankees
add as a reserve infielder would not be just a four- or five-game replacement. More importantly, since Ryan's intended role was as the backup to
Derek Jeter
, the Yankees will need someone who can step in and play shortstop at least once a week, and possibly more.
That is likely the reason Girardi, who had intended to announce his entire roster before tonight's game, was forced to say, "The infielders are not done."
"There's some discussions that need to take place and some things we have to talk about, and we'll get it worked out as soon as we can," he said.
As of yesterday, the candidates were
Eduardo Nunez
,
Dean Anna
and Yangervis Solarte, who had the best spring of the three but is not on the 40-man roster. The Yankees would need to move someone off the 40 to make room for him.
Cashman acknowledged that the roster status of Solarte, who batted .415 this spring with two home runs and eight RBI while playing several infield positions as well as left field, complicated the Yankees' decision-making process.
"Obviously, by adding someone not on the 40, it's going to have to come at someone else's expense," he said. "We're talking through it all."
Teixeira
Tex sets the record straight
: A N.Y. tabloid story on Friday portrayed
Mark Teixeira
as "protecting" his surgically repaired right wrist and quoted him as "not trusting that the wrist is healthy." Before tonight's game, Teixeira said his problem was "subconscious" rather than physical, that he was unknowingly letting go of the bat on contact while batting left-handed.
"It was just a really bad mechanical thing," he said. "Mentally, I have to continue to remember that it's healthy now, and, even though it might be a little bit tight -- and every now and then it's a little bit sore -- I can still take that full swing."
Teixeira said he and hitting coach Kevin Long noticed it while watching tapes of his swing pre- and post-surgery. As a result, Long said, Teixeira's swing was not "explosive" until yesterday's game against the
Pittsburgh Pirates
in Bradenton, Fla., when Teixeira, although hitless, made some decent contact. Teixeira's spring average is .091 with no home runs and four RBI.
"I've been hitting some nice line drives, but those line drives I need to get under and hit for home runs," Teixeira said. "That'll come. That'll come with just getting stronger as the season goes on. No one can predict what the season's going to give you, but what I do know is that, through six weeks of spring training, I'm healthy, and that's a really good sign."
Vidal options
: Girardi said his reason for choosing Nuno over
Cesar Cabral
as the second lefty out of the bullpen was a matter of flexibility. "We think Nuno gives us more options because he's a guy that can give you some innings if they have a lefty, righty, lefty," Girardi said.
"I can sleep a little bit better now, just knowing that I'm heading to Houston [for the season-opening series] and then New York," Nuno said. "It was such a big rush. It was unbelievable how everything just came true a little bit. Now, I gotta stick here and just produce."
Ellsbury
Ellsbury to play Saturday
:
Jacoby Ellsbury
went 2-for-5 in a minor league game and came out with no problems, so Girardi said the plan was to play him in the spring training finale tomorrow afternoon. That is, if the weather cooperates. Rain is in the forecast all day Saturday. In the event of a rainout, Girardi said Ellsbury -- who has not played in a big league game since March 14 -- would remain in Tampa to play in one more minor league game on Sunday before joining the Yankees for the opener in Houston.
Pineda staying back
:
Michael Pineda
, who won the No. 5 starter job with an excellent camp, does not pitch until Saturday, April 5, so the Yankees will leave him in Tampa so he can pitch a minor league game here on Sunday.
Coming back
: Right-hander
Alfredo Aceves
, a Yankee for three seasons, including the 2009 championship season when he went 10-1, was signed to a minor league deal after opting out of his contract with the
Baltimore Orioles
upon learning he would not make the team. Aceves, a 31-year-old, was assigned to Triple-A Scranton and is expected to be a starter for the RailRiders. He could provide some late-season rotation insurance in case of injury.
March, 21, 2014
Mar 21
7:26
PM ET
TAMPA, Fla. -- This winter, the Yankees took out a two-year, $5 million insurance policy on
Derek Jeter
's health. That policy was named
Brendan Ryan
.
Now, with the team eight days from breaking camp, the Yankees need to find an insurance policy for the insurance policy.
After undergoing "a couple of MRIs" on his back at a local hospital, a dejected Ryan acknowledged it was unlikely he would be ready to play anytime soon and would probably begin the season on the disabled list.
"Something's pushing on a nerve, so that explains the discomfort and that electrical feeling back in there," Ryan said in the Yankees clubhouse before the start of tonight's game against the Pirates. Ryan said no disk damage was found, but "everything's snarled up in there."
He was prescribed a course of anti-inflammatories and said a cortisone shot to try to reduce the swelling was a likely next step. What was not likely was that he could ready to play in a major-league game by April 1 considering he has played in only four preseason games, and none since March 4.
"I know I've got 7 or 8 at-bats or something like that, so that's good there," he said. "I need to see curveballs. I just need to get to that point where I'm comfortable recognizing pitches and not costing the team with being an automatic out."
Yankees manager Joe Girardi said Ryan was visibly stiff at the Yankees annual Boys & Girls Club Luncheon this afternoon, after which he was sent for the test. "He wasn't moving real good," Girardi said.
Ryan's injury opens up a spot for the Yankees to carry another reserve infielder in addition to
Eduardo Nunez
; the likely candidates are
Dean Anna
and Yangervis Solarte. The backup infielder position is important because Jeter, who will turn 40 in June, is coming off an injury-riddled season in which he played just 17 games, and Girardi has repeatedly spoken about the need to rest him regularly throughout the season.
GM Brian Cashman seemed to indicate the Yankees would not go shopping for infield help --
Stephen Drew
is still available on the free-agent market -- but would be able to fill the vacancy from within.
"I think right now as long as we stay healthy, all the answers are here in camp," Cashman said. "My job is to find someone better than what we already have, if at all possible. That never changes. If he can't go, we have somebody here who will be able to do that."
February, 15, 2014
Feb 15
3:16
PM ET
TAMPA, Fla. -- If there is one message that Joe Girardi tried to make clear to his pitchers and catchers during their first meeting, it's this:
Don't try too hard early.
Girardi said he told his pitchers before the team's first official workout to not overdo it at the beginning of the spring. He added he will keep reiterating the message in the coming weeks.
Girardi said that no one will make the team in the first two weeks. It is a time to build up arm strength to ready themselves to compete.
RYAN EXPRESS:
With
Derek Jeter
expected to be limited in terms of the numbers of games he can play at short,
Brendan Ryan
could be an important Yankee. Ryan can field with anyone, but can he hit the .230-260 that the Yankees need so he can be a plus player?
In 2009, Ryan hit .292 with the Cardinals. In 2010, he was at .223. In Seattle, he was at .248. Since, then he hasn't cracked .200 the past two years.
With the Mariners, they wanted Ryan to try to hit for more power for some reason. Ryan has never hit more than four homers in a season and Safeco is one of the worst places to go deep.
So the Yankees would like Ryan to return to the basics he had with St. Louis. They aren't looking for big numbers, but they do believe if he can hit a little then his glove will make an impact when he is replacing Jeter.
December, 2, 2013
12/02/13
5:11
PM ET
The Yankees officially announced that
Brendan Ryan
has signed for two years with a mutual option for a third. Fox Sports' Ken Rosenthal said it is for a total of $5 million for the two seasons. If the option is picked up, it could be for a total of $10 million, Rosenthal tweeted.
Ryan is a superb defender and possibly could be
Derek Jeter
's eventual replacement. Of course, he doesn't hit much -- his career batting average is .237.
This is where hitting coach Kevin Long can make his money. If can add 30 points to that average and have Ryan approach .270, then the Yankees may have a plus player because the glove is great.
At the least, this likely means the end of the
Eduardo Nunez
era. (We like Nuneee too much to say "error," but you can.) The Yankees want to add another infielder -- with
Stephen Drew
and
Omar Infante
currently the top choices -- so Nunez might still be in the system. It just seems very unlikely he will be in the initial plans.
Nunez hasn't really fielded, hit or stayed healthy during his Yankee career. The poor guy can't even find himself a proper-fitting helmet.
So get used to Brendan Ryan, everybody. He is here to stay.
September, 12, 2013
9/12/13
11:34
PM ET
BALTIMORE -- Wild is the only word to describe this game, and wild is the only word to describe the end of this season as the Yankees continue to claw their way into a possible playoff spot. Tonight's 6-5 win over the
Baltimore Orioles
, their third win in four games here, doesn't pull them any closer to their goal -- the
Tampa Bay Rays
beat the
Boston Red Sox
tonight 4-3 -- but it keeps them within one game of the second AL wild-card spot with 15 games left to play.
Wildman:
Orioles closer
Jim Johnson
, a perennial Yankees foil, singlehandedly gave them the lead in the ninth inning, allowing a leadoff single to
Brendan Ryan
, throwing away what should have been an easy forceout on
Chris Stewart
's bunt and finally wild-pitching the go-ahead run home.
Major meltdown:
The O's torched
David Robertson
for three eighth-inning runs to tie the game at five on a long home run to left center by
Danny Valencia
, just three batters after
Alfonso Soriano
had saved him a run by pulling one back into the park (see below). The outburst was made worse by the fact it came with two outs and by the fact that manager Joe Girardi had hoped to avoid using
Mariano Rivera
after having used him two nights in a row and three of the past four. Of course, Girardi had to go to Mo once again, and the Incomparable One turned in a 1-2-3 ninth.
Quick hook:
Joe Frazier would have been envious of the way Girardi used his hook on
Phil Hughes
when he pulled the starter just one batter into the fourth inning after
Adam Jones
reached on an error by
Eduardo Nunez
. In his brief appearance, Hughes allowed one run, walked one and struck out three on three hits. He can't feel too good about his manager's faith in him.
Get Huffy:
Girardi went to
David Huff
, his other option to start this game, to relieve Hughes in the fourth, and Huff gave him three strong innings of one-hit ball until
Nick Markakis
led off the seventh with a home run to cut the Yankees' lead to 5-2. At that point, Girardi started wearing a path to the mound, replacing Huff with
Adam Warren
and Warren with
Cesar Cabral
to get through the inning without further damage.
No Wei out:
The Yankees put up five runs on Orioles starter
Wei-Yin Chen
.
Curtis Granderson
chased him with a massive solo home run with one out in the seventh. Previously,
Vernon Wells
had singled in two runs in the third, but then Chen settled in to retire the next 13 Yankees and struck out nine overall. It was only a temporary reprieve, however, as Granderson drove an 0-1 fastball onto Eutaw Street on one hop.
Reynolds raps:
Former Oriole
Mark Reynolds
showed how much he liked playing at Camden Yards in the second inning, belting Chen's 2-0 fastball into the left-field seats with Nunez on first to give the Yankees and Hughes an early 2-0 lead. It was Reynolds' fourth home run since joining the Yankees on August 16 and 19th overall this season.
Sori, Manny!:
Soriano made an incredible leaping catch to rob
Manny Machado
of a home run to lead off the eighth inning, pulling himself over the top of the fence with his right hand and reaching behind it to pull the ball back. For a second, it was impossible to tell he had made the catch, and Machado was halfway to second before Sori showed the ball and flipped it back in, drawing a two fists in the air salute from Robertson.
Gardner out:
Brett Gardner
left the game following his first at-bat, a strikeout on a check-swing after which he was seen to wince and touch his left side. He was replaced in center field in the bottom of the first inning by Granderson. It was later announced Gardner had a left oblique strain, an injury that could potentially keep him out of the last 15 games of the season and possibly some early playoff games. There was no immediate word on how long he is expected to be out.
Better late than never:
The first pitch was delayed an hour and 18 minutes due to a thunderstorm that brought heavy rain and some spectacular lightning to Charm City for about two hours, from 5:30 to 7:30 p.m.
What's next:
In Game 1 of a crucial (aren't they all?) three-game series with the Red Sox at Fenway Park,
Hiroki Kuroda
(11-10, 2.99 ERA) opposes RHP
John Lackey
(9-12, 3.48). The first pitch is at 7:10 p.m.
September, 11, 2013
9/11/13
1:48
PM ET
The Yankees had considered acquiring
defensive ace
Brendan Ryan
since June
. They discussed it before the trade deadline in late July and prior to September when acquired players are still eligible for the postseason. They were never close to a deal.
On Tuesday night, they completed a trade for the
slick fielding, light hitting shortstop
.
The problem was that they didn't know how badly
Derek Jeter
was hurt, and the cost from Seattle wasn't worth it to them yet. Now, Jeter is indefinitely day-to-day, meaning the Yankees feel like they need to solidify the position in his absence.
Ryan is probably going to get more of the starts than
Eduardo Nunez
. The Yankees feel they need someone to make all the plays on defense.
"It is tough to find someone better than Ryan defensively," a scout said.
Ryan can't hit, but Nunez is deceptively unproductive at the plate. While it feels like Nunez is, or at least could be, explosive with a bat, his OPS is only .666. Ryan's OPS is .519.
So while Ryan is a non-factor with a bat, Nunez is not as big of a factor as he often is assumed to be. Thus, Ryan is likely to start more.
When Nunez starts or if Jeter returns, Ryan will be a late-inning defensive replacement.
September, 11, 2013
9/11/13
12:44
AM ET
By
ESPN Stats & Information | ESPN.com
The
New York Yankees
' playoff hopes are still modestly reasonable after they sliced a game off their wild-card deficit by rallying to beat the
Baltimore Orioles
on Tuesday night.
Alfonso Soriano
was the star of this game. He has been a tremendous acquisition for the Yankees. Another,
Brendan Ryan
, is on the way.
Two are better than one
Soriano was the star of the win once again, hitting two more home runs.
This was Soriano's 37th career multihomer game, matching the career total for a number of former greats -- Ted Williams, Stan Musial and
Mike Piazza
. It was his seventh multihomer game of the season. No one else in the majors has more than four multihomer games.
So what's the difference?
Soriano isn't that different as a Yankee than he was as a Cub in a couple of respects. His batting average is .253, one point less than what it was with the Cubs, and his strikeout rate with the Yankees is slightly higher than it was with the Cubs. But the ball is carrying a little better off the bat in places such as Yankee Stadium (where he has nine of his 15 homers) and Camden Yards.
Soriano averaged a homer for every 10 balls he hit in the air with the Cubs. He's averaging two homers for every 10 balls in the air since joining the Yankees. In other words, those balls are leaving the park twice as frequently.
Soriano's 15 home runs rank second on the team, despite the fact that he has played only 43 games since joining the Yankees.
Soriano has 47 RBIs in 43 games with the Yankees. He has a chance to be the first Yankee to average better than an RBI per game in a season in which he played at least 50 games since Joe DiMaggio (who in fairness had 155 RBIs in 153 games) did so in 1948.
And in other news ...
The trade for Ryan is a move that provides the team a
huge
upgrade at shortstop in one respect.
Ryan has a major league-leading 92
Defensive Runs Saved
over the past five seasons, twice as many as any other shortstop in the major leagues in that span.
Yankees shortstops have combined for negative-26 Defensive Runs Saved this season, the most in the majors.
Ryan, who will not be postseason-eligible, figures to be a late-game defensive replacement for
Eduardo Nunez
and possibly
Derek Jeter
. He has been credited with only three Defensive Runs Saved this season (his total was as high as seven a month ago), but he looks pretty impressive when compared with Nunez's negative-27 in 2013 and Jeter's negative-38 since the start of the 2011 season.
Putting the Ryan-Nunez comparison another way: Ryan has a Revised Zone Rating of about 75 percent, meaning he gets outs on about 75 percent of the balls on which shortstops most often get outs. Nunez's Revised Zone Rating (a stat tracked on
FanGraphs.com
) is only 60 percent.
One recent acquisition is crushing opponents with his swing. Another is coming to town to thwart opponents with his glove.
July, 25, 2011
7/25/11
11:00
AM ET
By
Mark Simon
| ESPNNewYork.com
Stat of the Day
Courtesy of the brilliant statkeepers at the Elias Sports Bureau: The Yankees will be playing a team with a losing streak of at least 15 games for the first time since September 7, 1926 against the Red Sox, who entered with a 16-game losing streak. The Yankees won, 4-2. The last time the Yankees lost to a team that had lost 15+ in a row was on September 8, 1926, when they lost to those same Red Sox, 5-2
Jason Vargas Stat To Watch
Vargas has had trouble finishing off Yankees hitters when he's gotten to a two-strike count. In his last three starts (dating back to last season), the Yankees are 11-for-30 against him in two-strike situations, including three hits that plated four runs in a 7-1 Yankees win on May 29.
Other opponents are hitting .186 against Vargas in two-strike situations since 2010.
A caution to the Mariners: The last four times an opponent has started a left-handed pitcher in Yankee Stadium, they've lost the game. The last lefty starter to beat the Yankees in the Bronx was
Jon Lester
on June 7.
Freddy Garcia Stat To Watch
Garcia has not allowed a home run in his last seven starts, the best run of his career to date.
However, one thing to keep in mind is that five of those seven starts came on the road (he survived homer-friendly Cincinnati and Toronto). He's gone two straight at home without yielding one.
In those five road starts, Garcia yielded 58 balls that our batted-ball system classified as fly balls without letting one leave the ballpark. That's tough to do.
He's given up 69 fly balls at Yankee Stadium this season, with five going for home runs (two line drives cleared the fences as well).
By the way, one odd quirk about Garcia pitching against his former team. He's 4-3 against them. He went 0-3 against them as a member of the World Series champion White Sox in 2005, but has won three straight decisions against them since then.
How much do the Yankees miss A-Rod?
Since Alex Rodriguez went down, the players who have replaced him within the starting lineup (
Ramiro Pena
,
Eduardo Nunez
and
Brandon Laird
) are a combined 8-for-46. Laird is 0-for-5 in his two-start stint.
Ichiro Suzuki Stat To Watch
Suzuki is a .370 career hitter against Garcia and has never struck out against him.
Via Baseball-Reference.com
, that's his third-most at-bats against a pitcher without a strikeout. He never struck out in 35 at-bats against
Nate Robertson
and has not whiffed in 32 at-bats against Twins pitcher
Scott Baker
.
Suzuki might want to teach something to struggling teammate
Chone Figgins
, who is 3-for-32 against Garcia with 12 whiffs.
Suzuki is in the middle of a rough season by his standards, partly attributable to one interesting stat through our pitch-performance data. Check out the chart on the right, which shows his dramatic decline when he makes contact with a pitch deemed by ballpark Pitch F/X tracking to be out of the strike zone
Don't forget about…
Mariners shortstop
Brendan Ryan
was 5-for-10 with two walks in the first series between these teams this season. He cooled off soon after. In his first 45 games after that series, Ryan hit .249 with a .606 OPS. But then Sunday, he had two hits and five RBI, including a grand slam, in a loss to the Red Sox.
May, 28, 2011
5/28/11
11:00
AM ET
By
Mark Simon
| ESPNNewYork.com
Next up for the Yankees in their weekend of pitching powerhouses is Mariners ace
Felix Hernandez
. The Cy Young winner will try to better the effort of
Michael Pineda
, who was a bit wild in his first meeting with the Yankees. That was an outlier performance for a group of starting pitchers who have a 1.75 ERA and have averaged better than seven innings per game over their last 13 starts.
Felix Hernandez Matchup to Watch
Curtis Granderson
started his career with eight hits in his first 12 at-bats against Hernandez, capped by a four-hit game against the righty in September 2007.
But since then, Hernandez has gotten the better of the matchup. Granderson is 3-for-22 with nine strikeouts since that offensive outburst. Thanks to
Baseball-Reference.com
and its matchup pages, we can tell you that the last 17 times Hernandez has gotten Granderson in a two-strike count, he's gotten him out.
Ivan Nova Matchup to Watch
Since pitching a two-hitter over 7 1/3 innings in a win over the Rangers on May 6, Nova has allowed 25 hits (and 12 runs) in 15 innings. His toughest challenge may be Mariners shortstop
Brendan Ryan
, who is hitting .542 with 13 hits and six RBI during a seven-game hit streak. Amazingly, Ryan has almost as many hits in those seven games as he did in 76 at-bats in April (14).
That's Why He's The King
Hernandez is 4-0 with an 0.51 ERA in his last four starts against the Yankees. In each of those starts against them, he has pitched at least eight innings and allowed one earned run or fewer. The last pitcher with a longer streak -- former White Sox knuckleballer
Wilbur Wood
from 1972 to '73 (five starts).
Jeter Watch
Since getting three ground-ball hits in last weekend's series against the Mets,
Derek Jeter
is 2-for-18 overall, and has made 10 straight outs when hitting the ball on the ground. His two hits in this stretch both came on line drives.
Jeter is a .304 career hitter against Hernandez, including two hits in eight at-bats last season. Of the last eight times Jeter has faced Hernandez, he has hit six ground balls and two line drives.
Better Get it All The Way Over the Fence
If you didn't see the great catch by Mariners center fielder
Franklin Gutierrez
against
Nick Swisher
last night,
check out Web Gems
.
Gutierrez tied for the major-league lead with three home-run robberies in 2010, but he's not the only one on the Mariners who can go get the ball. Right fielder
Ichiro Suzuki
also had three homer robberies last season. He's yet to get one this year.
Stat of the Day
If Hernandez beats the Yankees, he will have something he's never had before -- a winning May. Hernandez enters the day 8-17 with a 4.70 ERA in May (2-2, 2.68 ERA this season). Fair warning for all teams who follow the Yankees next month: He's 15-3 career in June.