New York Yankees:

Brennan Boesch
May, 25, 2013
5/25/13
10:37
PM ET
ST. PETERSBURG, Fla. -- Over the past three seasons,
New York Yankees
victories at Tropicana Field have occurred less frequently than a blown save by
Mariano Rivera
.
That is why the two wins in the first two games of this series, and especially today's 4-3, 11-inning victory on
Lyle Overbay
's solo home run, feel so important to the Yankees. Now, they head into Sunday's finale with
CC Sabathia
, their nominal ace, who has had his own problems winning here, bidding for the sweep against
Alex Cobb
.
Today's game was a 4-hour, 3-minute affair with more storylines than a Quentin Tarantino film. Aside from Overbay's game winner, there was:
•
Vidal Nuno
, who, in his second major league start, pitched unbeaten
Matt Moore
to a standstill for six innings, allowing five hits and being charged with two runs, the second because he was removed with a runner on first that
Boone Logan
eventually allowed to score. "He kept them off balance with a number of different pitches and threw strikes," manager Joe Girardi said.
•
Ivan Nova
, in his first appearance out of the bullpen since being reactivated from the DL, worked a shaky 10th inning -- he loaded the bases on two singles and a walk -- but came up big with a strikeout of
James Loney
to narrowly escape disaster. In fact, he wound up getting the win. "I was telling myself, 'You got to get this guy,'" Nova said. "I said, 'We're not losing this game right now.'"
•
Ichiro Suzuki
saved
David Robertson
, and the game, in the bottom of the ninth with a sliding catch of
Yunel Escobar
's slicing line drive to right with a runner on second. "Amazing," Girardi said.
"That's a game winner right there,"
Brett Gardner
, who had a pretty good look at it from center field, said.
• Gardner delivered a clutch RBI single on a 1-2 fastball from Rays' closer
Fernando Rodney
, stroking it easily into center field to drive in
Brennan Boesch
with the tying run with two out in the top of the ninth.
• Boesch was a Scranton/Wilkes-Barre RailRider Friday, but after
Curtis Granderson
suffered a broken hand Friday night, he got the call. Upon taking a flight to Tampa on Saturday morning, Boesch found himself in the pressure cooker against Rodney, coming up with two out and a man on following a walk to Overbay. Boesch lined an RBI double, drawing the Yankees to within one run and setting the stage for Gardner's game-tying hit.
"I did not sleep much, but I had a feeling that I was going to get an opportunity there just the way the game was shaking out and the way Joe has been using me in those situations late in the game," Boesch said. "For me, the most difficult thing about pinch hitting is you're sitting one minute and you're in the game the next. To try to time Rodney is difficult as it is, then you look up and he's throwing 99 [mph] with his first fastball."
• Nearly overlooked was a clutch performance by
Preston Claiborne
, who was called on to clean up the mess left behind by
Shawn Kelley
and Logan in the seventh with two on and none out and worked his way out of it, with strikeouts of
Ryan Roberts
and
Luke Scott
.
• Last but never least, Rivera pitched a perfect 11th to convert his 18th save in 18 chances this season. Mo has now converted 62 of 64 save opportunities against the Rays in his career.
May, 25, 2013
5/25/13
8:24
PM ET
ST. PETERSBURG, Fla. -- A fine starting pitching performance by
Vidal Nuno
, a stirring ninth-inning rally and a game-saving catch by
Ichiro Suzuki
set the stage for a dramatic 11th-inning home run by
Lyle Overbay
that provided the
New York Yankees
with a most-unlikely
4-3 win
over the
Tampa Bay Rays
at The Trop.


Lyle, love it:
Overbay's home run, No. 8 of the season, into the right-field seats off
Josh Lueke
with two out in the 11th, was the game winner. If this is the last week of Overbay's tenure as the Yankees' starting first baseman -- and it certainly looks as if
Mark Teixeira
will return soon -- then he left Yankees with one to remember him by.
Great escape:
David Robertson
got himself into trouble right away in the bottom of the ninth, walking leadoff hitter
Matt Joyce
, who went to second on
Jose Lobaton
's sacrifice bunt. But Ichiro made a spectacular sliding catch on
Yunel Escobar
's slicing drive to right to save the game, and Robertson slipped a 94 mph fastball past
Desmond Jennings
to strand Joyce at second.
Gardy-an angel:
Brett Gardner
reached out and tapped a 1-2 pitch from Rays' closer
Fernando Rodney
to score
Brennan Boesch
from second, tying the game at three with two out in the ninth. But with
Robinson Cano
at the plate with a chance to put the Yankees ahead, Gardner got himself thrown out trying to steal second to end the inning. Cano just stood at home plate staring out at the field for a long time after the play.
By gosh:
Boesch, recalled from Triple-A Scranton to replace
Curtis Granderson
on the roster, got the call to pinch hit for
Austin Romine
with two out in the ninth and made it a one-run game when he served an opposite-field double into left off Rodney, scoring Overbay (walk) to cut Tampa's lead to 3-2.
Close shave:
Ivan Nova
's first appearance as a relief pitcher nearly ended in disaster when he loaded the bases in the 10th on two singles and a walk, but he struck out
James Loney
on a honey of a slider and got Joyce to tap out to second to kill the threat. But thanks to Overbay, Nova comes away with the win, his second of the season.
Presto!
Just when the game seemed to be spinning out of control on the Yankees after neither
Shawn Kelley
nor
Boone Logan
could do their jobs in the seventh inning, rookie
Preston Claiborne
came on to stop the bleeding with a groundout and a pair of strikeouts, stranding runners at first and third and keeping the game close enough -- 3-2 -- to enable the Yankees to tie it in the ninth.
Vidal decision:
Nuno virtually matched Rays' ace
Matt Moore
for six innings, but things unraveled for the Yankees when manager Joe Girardi sent him out to start the seventh. Nuno allowed a leadoff single to Loney -- which looked playable by
David Adams
at third base -- after which Girardi pulled him for Kelley; from there, the wheels came off as the Rays went on to score twice. Still, Nuno turned in another excellent performance -- six-plus innings, five hits and two runs, one of which was Loney scoring on a hit allowed by Logan.
No Moore:
Despite handcuffing the Yankees on five hits and one run over six innings, Moore had the plug pulled on him by manager Joe Maddon after 104 pitches, and lefty
Jake McGee
came out to pitch the seventh. That insured Moore's second no-decision of the season; he had won eight of his previous nine starts, and this was the sixth time this season Moore had held an opponent to one run or fewer. McGee got into immediate trouble when
Jayson Nix
led off with a single and stole second with one out -- and got out of it again when he caught both Romine and Gardner looking at fastballs to end the inning.
Nicked up:
Add Nix to the list of bloodied but unbowed Yankees. He was apparently spiked on the right forearm by Rays' first baseman Loney while diving back to first on a pickoff attempt by
Jose Molina
and was treated by trainer Stevie Donohue, who was wearing biohazard gloves while stanching the bleeding. But Nix shook it off -- and stole second, complete with head-first slide, on the next pitch.
What's next:
The series finale on Sunday afternoon.
CC Sabathia
(4-3, 3.43 ERA), who has had a terrible time winning at Tropicana Field -- he is 3-6 with a 4.07 ERA in 15 lifetime starts, his lowest winning percentage at any visiting park -- goes up against
Alex Cobb
(5-2, 2.73 ERA). First pitch at 1:40 p.m.
May, 13, 2013
5/13/13
3:30
PM ET
Before Monday's second game in Cleveland, the Yankees sent down outfielder
Brennan Boesch
and brought up 23-year-old righty Brett Marshall. With their limited bullpen, the Yankees needed to create room on their roster and Boesch got the ax.
Curtis Granderson
could be called up soon, so Boesch could be stuck in the minors waiting for an injury. He was always going to be the odd man out given the presence of Granderson,
Brett Gardner
,
Ichiro Suzuki
and
Vernon Wells
. Granderson is close to returning from injury, and he might be back as soon as Tuesday night in the Bronx against the
Seattle Mariners
.
Boesch will provide outfield depth at Triple-A. With the Yankees, Boesch hit .205 with two homers and five RBIs.
May, 8, 2013
5/08/13
11:36
PM ET
DENVER -- They might not be the Bronx Bombers anymore, but the Yankees did pretty well tonight in their latest incarnation as the Bronx Bunters. They won
a 3-2 squeaker
with the kind of offense not normally seen in pinstripes.
What it means:
Right now, the injury-riddled Yankees might be more suited to playing the National League game, because that's the kind of game they won here tonight.


Stolen victory:
As befitting the punchless lineup they sent out tonight, the Yankees won this one with two infield hits, two walks, a sacrifice bunt and a split-second hesitation by Rockies 3B
Nolan Arenado
, allowing
Brennan Boesch
to beat the throw to first and score what proved to be the winning run. The Yankees loaded the bases against Colorado closer
Rafael Betancourt
on an infield single by
Vernon Wells
, a walk to
Lyle Overbay
, a perfect sac bunt by
Ichiro Suzuki
, an intentional walk to
Jayson Nix
and Boesch's pinch-hit RBI single, on which Arenado made a diving stop but double-clutched on his throw, allowing Wells to score from third.
Who's on third?:
How about Wells, who had never played the infield in 12 major league seasons but was forced into service when Joe Girardi hit for
Chris Nelson
in the ninth and had no backup with
Kevin Youkilis
on the DL and
Eduardo Nunez
nursing a sore ribcage. Incredibly, Wells handled his only chance flawlessly for the second out of the ninth inning.
Joey La Russa:
Taking a page from the Tony La Russa School of Wheel Reinvention, Girardi batted his pitcher,
David Phelps
, eighth, and his catcher,
Austin Romine
, ninth. They were pretty much a wash -- Phelps and Romine both struck out in their first two at-bats -- but the strategy almost worked when Girardi sent
Ben Francisco
up to hit for Phelps in the seventh with the go-ahead run at third. Francisco hit it hard but right at Arenado, who juggled the hot shot but still got the out at first to end the inning.
Burnin' Vernon:
The rejuvenated Wells gave the Yankees a 2-0 first-inning lead when he crushed
Juan Nicasio
's 3-2 fastball into the left-field seats with
Brett Gardner
aboard. It was Wells' seventh home run of the season, a number he didn't reach last year until Aug. 11.
Steal this:
A day after his manager appeared to question his apparent reluctance to steal, Gardner took off in the first inning, stealing second during
Robinson Cano
's at-bat. It was Gardner's fifth steal of the season and gave him back the team lead, which he had shared for one night with Suzuki.
Few signs of life:
Despite Girardi's lineup shenanigans, the Yankees still lacked a pulse at the plate. Aside from Wells (who went 3-for-4 with a HR and two RBIs) and Gardner (single and walk) the rest of the Yankees' lineup was 0-for-18 before Nelson's single with two out in the seventh.
Ichir-oops:
Suzuki made a routine play on
Michael Cuddyer
's fly to right in the fourth inning, but dropped the ball in the exchange to his throwing hand, leading many in the crowd to think he had muffed the catch. But first base umpire Phil Cuzzi correctly called Cuddyer out.
Look out!:
The Rockies sent up
Troy Tulowitzki
, who has missed a few games this week with a groin strain, to pinch hit in the eighth, and the first pitch he saw from
David Robertson
, making his first appearance in a week, sailed behind his head and caught him on the back, giving the Rockies a free baserunner. Tulo was immediately pulled for a pinch runner, who went nowhere when Robertson retired the next two hitters.
Fowl plays:
The Yankees got three runners into scoring position and two of them were courtesy of Rockies CF
Dexter Fowler
, who allowed Wells' sixth-inning single to scoot under his glove, and booted Nelson's seventh-inning single, allowing Nelson to get to third. The Yankees could get neither runner home, however.
He must have named himself:
Has there ever been a better name for a pitcher than
Josh Outman
?
Meet-and-greet:
Before the game,
Mariano Rivera
did a meet-and-greet with the stadium workers, as he has at every road stop so far this year. Among the folks waiting to meet Mo and get his autograph: Rockies starter Nicasio.
Mountain dew:
Coors Field was pelted by heavy rain for most of the day, and as late as an hour before game time it seemed pretty unlikely they would play tonight. But somehow, the rain let up enough for the grounds crew to uncover the infield and the game started on time at 6:42 local time.
What's next:
The series finale against the Rockies, with
CC Sabathia
(4-3, 3.31) facing LHP
Jeff Francis
(1-2, 7.27). First pitch is at 3:10 p.m.
April, 10, 2013
4/10/13
6:16
PM ET
CLEVELAND -- Joe Girardi gave
Ichiro Suzuki
a day off, for the second time in the first nine games of the season, because, he said, he wants to get
Brennan Boesch
's bat into the Yankees lineup.
And yesterday, there was Boesch, using a first baseman's glove belonging to
Lyle Overbay
, taking grounders on the field and learning the fine points of playing the position.
Because, Girardi said again, he wants to get Boesch's bat into the Yankees lineup. If the game gets played tonight -- and it still raining here in Cleveland -- Boesch will play right field and bat sixth.
Girardi, in fact, did get Boesch's bat into the lineup in the eighth inning of Tuesday night's 14-1 blowout of the Indians, sending him up to pinch hit for Overbay. Boesch took full advantage of his opportunity to blast a two-run homer.
With both Ichiro and Overbay struggling early in the season, Girardi is clearly looking for ways to replace one or both of them with Boesch. Ichiro is hitting .185 so far and his on-base percentage is a woeful .233. Overbay is hitting .250 but has hit few balls with authority. Interestingly enough, both homered Tuesday night as well, but it appears Girardi thinks Boesch's youth -- he's 28 -- and left-handed stroke are more attractive in his lineup than that of the 39-year-old Ichiro or the 36-year-old Overbay.
"I'm trying to keep everyone involved," Girardi said. "I''m going to try to rotate these guys a little bit and give each one of them a day off every once in a while. You might see Boesch in there tomorrow, too."
Boesch, who hasn't played first base since high school, said he is willing to do whatever Girardi asks in order to fight his way into the lineup. Although he, too, is hitting just .250, with three hits in 12 at-bats, one of those hits was a triple and another a home run.
"It's fun," Boesch said. "It's a new challenge for me, as if in baseball you need a new challenge. But I want to play, so here you go."
April, 9, 2013
4/09/13
6:15
PM ET
CLEVELAND -- The last time
Brennan Boesch
played first base was as a senior at Harvard-Westlake High School in Los Angeles, more than 10 years ago.
Still, if an emergency arises and the Yankees suddenly find themselves without
Lyle Overbay
, the team's first baseman might just turn out to be Brennan Boesch.
"Probably wouldn't be the first thing I would do," Joe Girardi said. "But any time you have a guy that can play multiple positions, it helps. It helps a manager."
Boesch was out on the field taking grounders at first base before Tuesday night's game with the Indians, a routine he has been going through for the past few games. With
Mark Teixeira
out until May at least and
Kevin Youkilis
, the only other experienced first baseman on the roster, playing third in place of
Alex Rodriguez
, Boesch is being groomed for possible duty at first.
And although Girardi wouldn't say so specifically, it is possible that Overbay's .174 batting average this season has something to do with the move.
"Maybe we can find a way to get (Boesch) in the lineup a little more," Girardi said.
Boesch, who has played 75 percent of his major league games in right field, said that if Girardi asked him to, he could play first base Tuesday night.
"That's the kind of guy that I hope I am," he said. "I guess normally I might panic, but I'd like to say I could do it right now."
Then he added, "If I'm being honest, I'd tell you I'd like to have a couple more cracks at it."
Boesch has been working with one of Overbay's backup gloves, fielding the generally friendly grounders off the bat of infield coach Mick Kelleher.
"I haven't read too many live balls off the bat," Boesch said. "I've really only done some fungo work, which doesn't necessarily simulate game action as well as a rocketed ball off a left-handed-hitter's bat."
So far, Boesch said, his biggest cheerleader has been Teixeira.
"Tex is telling me I'm doing great, but he is like the most positive guy ever, so I don't know that what he's saying is actually true," Boesch said. "I think the coaches are more honest, and they're saying, 'It's getting better.' It's not perfect, obviously, but it's getting better and that's all I can ask for."
March, 22, 2013
3/22/13
4:21
PM ET
TAMPA, Fla. -- These days, it seems as if the Yankees can't even ride a bus without getting hurt.
Brennan Boesch
, in the mix to be part of an outfield platoon with
Ben Francisco
until
Curtis Granderson
's broken arm heals, got off the 2-1/3 hour bus ride to Ft. Myers and the first thing he did was ask trainer Steve Donouhe for a heat pack.
"Why?" Donohue wanted to know.
Well, because the bus ride apparently aggravated something in Boesch's left side, and he was scratched not only from today's game against the Twins, but for tomorrow's game against the Tigers, too.
According to GM Brian Cashman, Boesch's soreness was in his ribcage, and not related to an oblique injury that had bothered him in Tigers camp before Detroit released him earlier this month. "I don't think he described it as significant, but we banged him just as a precaution," Cashman said. "So he won't play today or tomorrow regardless of how he may feel he can. We'll see more, a little bit more tomorrow."
Cashman said he did not know if any other tests were scheduled. But Boesch does have to ride the bus another 2-1/2 hours back to Tampa tonight.
March, 16, 2013
3/16/13
4:50
PM ET
TAMPA, Fla. -- The Yankees are taking a calculated risk on their newest acquisition,
Brennan Boesch
, whose tenure in Detroit ended in somewhat unclear circumstances. Now, general manager Brian Cashman hopes the sun will shine on Boesch in the Bronx. But if not, the Yankees can always use another outfielder in Scranton.
"It's a unique circumstance where we can get a player who's played in the big leagues the last number of years," Cashman said. "But he's got options, so I signed him to a split contract. So he comes in here and gets a chance to compete. It increases our depth, it increases our choices, and there's nothing wrong with that."
Boesch's agent, Scott Boras, was eager to publicize the major-league portion of the deal: $1.5 million in salary with performance bonuses that can add another $600,000. But that's only if Boesch makes the 25-man roster. If not, the Yankees will pay him $500,000.
[+] Enlarge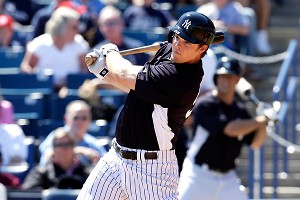 AP Photo/Kathy WillensBrennan Boesch has a career batting average of .259 over three big league seasons.
"I feel there's nothing but upside for us," Cashman said. "We make just a nominal investment in this player, and he does have big power from the left side. This is a game where timing can be everything, so we're just hoping maybe we get lightning in a bottle."
Boesch did not say where things went wrong for him in Detroit, although Jim Leyland left him off the postseason roster last year, and GM Dave Dombrowski chose to release him rather than send him to the minors, despite the fact that he has all his options left. Cashman said Boesch's release was "performance-based," and Joe Girardi pointed out that Boesch had lost much of his playing time last year to
Andy Dirks
.
"He's got a great opportunity," Girardi said. "This is a guy that played pretty well with Detroit the year that he was considered for the All-Star Game at the halfway point. We hope he's going to be a good fit."
Boesch went 0-for-3 in his first game as a Yankee, grounding out twice and striking out. He did not have a ball hit to him in right field.
"Everything's top notch over here," Boesch said. "The facility's great, and I like the atmosphere so far. Couldn't have worked out better for me."
The best-case scenario for the Yankees is that Boesch, 27, fulfills the potential Detroit saw in him as a rookie, when he hit 14 home runs and knocked in a career-high 67 runs in 2010. In that case, he could be the everyday right fielder --
Ichiro Suzuki
would move to left until
Curtis Granderson
comes back from his broken arm -- and the Yankees will have paid him less than they are paying
Joba Chamberlain
.
Boesch might also serve as DH insurance for
Travis Hafner
, who has had back issues in the past.
Worst-case scenario is that Boesch doesn't make the club, goes to Triple-A Scranton/Wilkes-Barre to play rigth field, and the Yankees cobble together one corner position out of
Ben Francisco
,
Juan Rivera
,
Matt Diaz
and maybe a kid such as
Melky Mesa
.
There is also a chance that Boesch and Francisco could split one position as a lefty-righty platoon, although the lefty-hitting Boesch's career numbers versus lefties (.286/.348/.767) are better than the righty Francisco's (.252/.329/.743).
And of course, there is always the possibility that Cashman is not done searching for the solution to his temporary outfield problem.
"Towards the end of camp, we'll evaluate what we have and we'll evaluate what's available outside of our camp," Cashman said. "I think we'll have the opportunity to increase our candidates and choices and depth, and there's no harm from that.
"Gene Michael taught me to sift through the nuggets and you separate the gold from the rest of the debris. We're just trying to do as much sifting as we can and hopefully we'll run into some gold."
March, 16, 2013
3/16/13
10:47
AM ET
TAMPA, Fla. -- Throughout his professional baseball career,
Brennan Boesch
had known only one organization. He was drafted by the
Detroit Tigers
in 2006, came up through their system, played all of his first three big-league seasons for them.
So when earlier this week, Tigers GM Dave Dombrowski told Boesch that Detroit no longer had a spot for him, Boesch was admittedly surprised, if not quite blindsided; Jim Leyland left him off the postseason roster last year. Still, it was a blow for the 27-year-old outfielder/DH.
That is, until his agent, Scott Boras, called him on Friday to let him know the Yankees were interested in signing him to help fill their void in the outfield. that's when the reality dawned on Boesch.
"They did me a favor," he said of the Tigers. "That goes without saying. I'm thankful for them to have done that. They could have done a lot of other different things probably, but here I am now in a Yankees uniform. Couldn't have turned out better for me."
By "other different things," Boesch meant a minor-league assignment, since he still has all his options left. Instead, he is in the Yankees lineup for Saturday's game against the Phillies, and having been signed to a major-league contract worth $1.5 million plus another $600,000 in performance bonuses, is virtually assured a spot on the 25-man roster when the team heads north.
With
Curtis Granderson
out until May and no one having emerged in camp as a legitimate everyday outfielder, the most likely scenario is a left field platoon consisting of the left-handed hitting Boesch and the right-handed hitting
Ben Francisco
.
Boesch said he wasn't really aware of the Yankees' outfield situation or of the team's needs when Boras approached him with the offer.
"This organization speaks for itself," Boesch said. "That's the bottom line. I wasn't looking at depth charts or opportunity. My agent told me they were interested and I said, 'Just get it done.' And I'm here."
Boesch is a career .259 hitter who has averaged 14 homers and 58 RBIs over his three big-league seasons. Yankees fans will remember Boesch's first visit to the Stadium, as a rookie in 2010, when in the course of a four-game series, Boesch had a home run, a bases-clearing triple and a double, knocking in five runs to help Detroit take three of the four games. Last year, he fell to .240/12/54, but his left-handed swing has always found the cozy right-field fence at Yankee Stadium an inviting target.
"It's pretty attractive," Boesch said. "Obviously you have to stay within yourself and can't get too greedy, but I've always loved playing there. It's just a fact. I don't know what my numbers are in New York, but I've always loved playing against the Yankees and playing in New York. It's definitely my favorite place to play."