New York Yankees:

Brett Marshall
September, 8, 2013
9/08/13
6:24
PM ET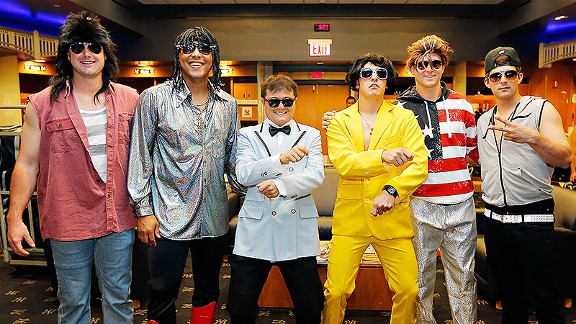 New York Yankees
NEW YORK -- There was a little levity in the Yankees' clubhouse on Sunday evening.
Following a time-honored tradition, Bombers veterans made the rookies dress up as music artists and dance around the clubhouse.
The veterans, led by
Joba Chamberlain
, forced Yankees rookies to dress up as the following stars:
Preston Claiborne
(as Billy Ray Cyrus),
Cesar Cabral
(as Rick James), interpreter Jiwon Bang (as Psy),
Brett Marshall
(as Yoo Jae-Seok, one of the dancers in Psy's "Gangnam Style" video),
David Adams
(as Vanilla Ice) and
J.R. Murphy
(as Justin Bieber).
The rookies posed for pictures, and Marshall and Bang briefly performed Psy's "Gangnam Style" in the clubhouse.
May, 15, 2013
5/15/13
11:53
PM ET
With two outs in the top of the ninth and the Yankees down by 10 runs, Joe Girardi turned to Wednesday's starting shortstop,
Alberto Gonzalez
, to get the final out.
"We need one out," Girardi said. "It is not something I want to do. For me, to bring in another pitcher, I don't think that makes a lot of sense there. We are down 10 runs with three outs to go. They have a full bullpen with their closer rested."
Prior to the ninth, Girardi told Gonzalez that he might ask him to pitch. Gonzalez used an 81-MPH change-up/fastball to force
Robert Andino
to fly out to right.
[+] Enlarge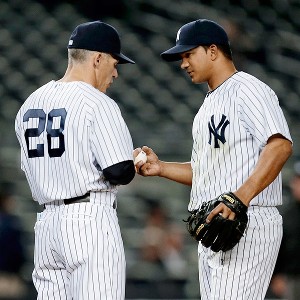 AP Photo/Julio CortezWith the Yankees down 10 runs in the ninth, Joe Girardi went with shortstop Alberto Gonzalez on the hill.
"A shortstop usually has pretty good command of where he is throwing the baseball all the time," Girardi said. "So I figured he is the guy."
In June of 2012, Girardi had outfielder
Dewayne Wise
pitch. He also once called on
Nick Swisher
to take the mound.
MUSICAL CHAIRS:
When Gonzalez moved from short to the mound in the ninth,
Jayson Nix
shifted to short. Girardi had
Vernon Wells
play second. Wells has now played second and third on the season. Wells did not get a ball hit to him.
In the seventh, Girardi had put catcher
Chris Stewart
at first, a position he had played before in the bigs.
"I said, 'Stew, don't get hurt,'" Girardi said.
Girardi gave the same advice to Wells.
HEY ROOKS:
Along with David Adams, reliever
Brett Marshall
made his debut. Marshall saved the bullpen, going 5 2/3 innings, allowing five runs on nine hits. He threw 108 pitches.
"I told him, 'Good job,'" Girardi said. "He saved the bullpen. That's what he did for us. That's not easy being a rookie and being asked to do that."
Marshall got the ball from his only strikeout and was given up a couple of lineup cards.
Meanwhile, Adams,
who could be the new starting third baseman until
Kevin Youkilis
comes back, could have a chance to stick. He played a flawless third and picked up his first hit, a single, in the sixth. He also got the ball.
"My mom and wife are probably going to fight over it," said Adams, who turned 26 on Wednesday. "So I'll give them some boxing gloves and see who wins."