New York Yankees:

Brian Gordon
July, 3, 2011
7/03/11
8:00
AM ET
By
Ian Begley
| ESPNNewYork.com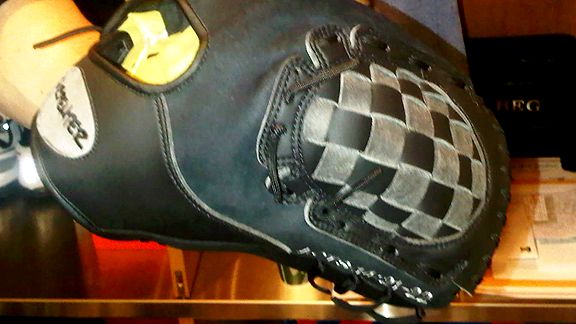 Ian Begley/ESPNNewYork.com
Brian Gordon sent the synthetic glove he used in his first start with the Yanks to the Hall of Fame.
Brian Gordon
may not be in the spot light in the Bronx right now, but his glove lives on.
Gordon sent the glove he used in his June 16 start against the Rangers to the Hall of Fame.
According to Gordon, the Hall called for his glove because it is the first synthetic glove to be used in a major league game.
"It's pretty neat, it's pretty special," said Gordon, the journeyman minor leaguer who made two starts for the Yankees.
Gordon (0-1, 5.23 ERA) was sent down on Saturday to make room for
Bartolo Colon
.
Gordon said his glove, designed by
Scott Carpenter
, is made of microfiber and is much lighter than a traditional leather glove. He said there are "about 10" players in the minor leagues using the glove.
"It just made sense to me," said Gordon, explaining his decision to use the glove. "If I'm going to be 60 feet away from these big animals trying to hit line drives, I want something a little lighter."
June, 25, 2011
6/25/11
9:00
AM ET
Yankees General Manager Brian Cashman has a shopping list—he just doesn't know where to bring it. As much as he wants pitching, so far, it's been a quiet trade market.

"Everybody wants to add, but it's still kind of early in the process," Cashman said.

Cashman spoke of the trade market and the Yankees needs before watching Phil Hughes make his second rehab start with the Trenton Thunder Friday against the New Britain Rock Cats. Cashman reiterated that he would like to bolster the Yankees stable of arms.

"Offensively we're fine, defensively we're fine," Cashman said. "Pitching wise, bullpen, rotation, we'd be open to incremental upgrades or significant ones."

While there might not be much out there, Cashman has three pieces that he can potentially add to his staff and bullpen that are currently on the disabled list: Hughes and starter Bartolo Colon, as well as reliever Rafael Soriano. Those three pitchers, he said, are better than what he is going to find on the trade market.

Hughes made his second rehab start Friday night Cashman said the goal is for Hughes to get two to three more starts before joining the team in the Bronx. Hughes has been on the disabled list since April 15 with inflammation in his right shoulder, but was 0-1 with a 13.94 in three starts with the Yankees.

Colon, who has been on the disabled list since June 12 with a sprained left hamstring, will throw a simulated game on Monday and threw a bullpen session on Friday in Tampa. Colon was 5-3 with a 3.10 ERA in 13 games for the Yankees.

In the bullpen, Soriano, who was signed to be in the set-up man, is on the 60-day disabled list with right elbow inflammation, will not return before the All-Star Break.

In Hughes and Colon's spot in the rotation, career minor leaguer Brian Gordon has started two games and has gone 0-1 with a 5.23 ERA.

"He filled in and gave us a chance to win two games," Cashman said of Gordon. "We won one of them the other one he gave up five hits, (four) runs. He's doing all right."

Once interesting internal name that could possibly help the Yankees is Trenton Thunder starter Delin Betances, who is on the 40-man roster and is 3-1 with a 3.50 ERA for Trenton, but there is going to be some time before he debuts in pinstripes.

Said Cashman: "Down the line (we could use him), but he's not someone we're looking at right now."

Cashman also reiterated that he does not see a need for Mets shortstop Jose Reyes, who is a free agent at the end of the season. He complimented the play of Eduardo Nunez, who has filled in with Derek Jeter on the disabled list.

"I think he's done a fantastic job," Cashman said. "I think he's an everyday shortstop, if there's a team that had a need for a shortstop, he'd be starting for a team in need. We are not a team in need."
June, 22, 2011
6/22/11
11:11
PM ET
Converted outfielder Brian Gordon's second major-league start was a bit of a regression from his first, but Joe Girardi said after tonight's 10-2 Yankees loss to the Reds that there will probably be a third, if only because he has no other choice.

"Obviously he's gotten an opportunity because we have people who are hurt,'' Girardi said. "Besides the few mistakes that he made, he did OK. But his mistakes were big mistakes.''

Were they ever. After allowing just two runs in 5-1/3 innings to the Texas Rangers last week, Gordon got lit up for three home runs in five innings tonight, two by Chris Heisey, including one leading off the bottom of the first inning. Johnny Gomes also homered off Gordon leading off the second, and what had to be disheartening for Gordon is that each home run was hit off a different pitch. Heisey hit a cutter for his first one and a slider for his second, Gomes an 0-2 curveball.

"It is deflating,'' Gordon (0-1, 5.23) said. "Overall I felt like I executed most of my pitches. I made three mistakes and I paid for all three of them.''

Gordon was not the worst Yankees pitcher, not by far. That honor went to Hector Noesi, who allowed eight hits and six runs in 1-2/3 innings including Heisey's third home run in the eighth. But with injuries to Phil Hughes and Bartolo Colon, the Yankees were hoping that the Gordon they saw on June 16 at Yankee Stadium would be the one they saw tonight, and for a few more starts until one or both of the other starters return to action.

Now, Girardi may not want to use Gordon again, but has to, although it is possible that he may skip Gordon's next turn in the rotation, which would come up next Wednesday agianst the Milwaukee Brewers. With Tuesday's rainout and an off-day scheduled for Monday, Girardi has the luxury of keeping his other four starters on rotation and bypassing Gordon, at least for his next turn.

Right now, he plans to start A.J. Burnett, CC Sabathia and Ivan Nova against the Colorado Rockies at home this weekend, and then Freddy Garcia to open the Milwaukee series on June 28. After that, Burnett could start again on regular rest on the 29th, followed by Sabathia. Gordon's turn would not come up again until July 3 against the Mets.

"I gotta figure out what I'm going to do,'' Girardi said. "I mean, (Gordon's) in our rotation. I haven't really decided with yesterday's off-day what do you do with him, but right now I have plans for him to start again.''
June, 16, 2011
6/16/11
5:05
PM ET
WHAT IT MEANS: The Yankees ended their homestand on a high note by sweeping the Rangers following a 3-2 walk-off win over the Rangers in 12 innings on Thursday afternoon. After being swept by Boston to start the 10-game homestand, the Yankees finished 6-1 in the final seven, with the lone loss coming in a 1-0 game to Cleveland.

HERO: Brett Gardner singled in the winning run with one out in the bottom of the 12th, hitting a ground ball right between first and second base. The rally started when Curtis Granderson singled to right and with one out, Robinson Cano reached when a pitch hit him on his hand. Gardner's single scored Granderson from second.

Corey Wade picked up the win in relief with two scoreless innings.

THE DEBUT: Brian Gordon's Yankees debut had him leaving the mound to a standing ovation. Gordon, who the Yankees signed before the game, gave up two runs over 5.1 innings before being pulled with a man on first in the sixth. He received a no-decision.

Gordon cruised through the first four innings before running into trouble in the fifth, giving up a RBI double to Ian Kinsler and forcing in the go-ahead run when he hit Adrian Beltre on an 0-2 pitch with the bases loaded and two outs. After giving up a long single to Taylor Teagarden in the sixth, Yankees manager Joe Girardi pulled Gordon for Hector Noesi.

Gordon gave up seven hits and walked three, while striking out three.

THREE AND TO THE FOUR: Yankees designated hitter Jorge Posada picked up his fourth hit against left-handed pitchers when he smacked a RBI double into the left-center gap to tie the game at 2-2 in the sixth. Posada had been 3-of-36 against lefties entering the at-bat.

MUSCLING UP: Yankees catcher Russell Martin returned to the lineup after missing the previous three games and seven of the last eight games and drove in a run in his first at-bat to give the Yankees a 1-0 lead. Martin had been just 2-of-31 and driven in one run since May 24.

MISSED CHANCE: The Yankees could have ended the game in the ninth as they loaded the bases with one out, but Granderson struck out on a 3-2 pitch that he chased out of the zone and Mark Teixeira grounded out.

WHAT'S NEXT: The Yankees head to Wrigley field to take on the Cubs as the second wave of interleague play begins. Freddy Garcia (5-5, 3.60) faces Doug Davis (0-5, 5.90) on Friday at 2:20 p.m., A.J. Burnett (6-5, 4.09) battles Ryan Dempster (5-5, 5.48) on Saturday at 4:10 p.m. and CC Sabathia (8-4, 3.28) takes the mound Sunday night at 8:05 p.m. against Randy Wells (1-1, 5.63).
June, 16, 2011
6/16/11
3:03
PM ET
By
Mike Mazzeo
| ESPNNewYork.com
Brian Gordon, as Brian Cashman pointed out, is no Cliff Lee.

He doesn't have a nameplate on his locker inside the Yankees' clubhouse, and fans watching him throw across the street from Yankee Stadium on Wednesday had no idea who the heck he was.

"Nice arm," one passerby said.

But on Thursday afternoon, Gordon -- who warmed up to Queen's "Flash" -- came out of relative anonymity to become the savior of the Yankees' depleted pitching staff.

The 32-year-old journeyman, a converted outfielder who signed with the Yankees to make an emergency start against the Rangers, allowed just two runs in 5 1/3 innings in his Yankee debut. Unfortunately, he stands to lose because New York is trailing Texas, 2-1.

Pitching in the majors for the first time since Sept. 27, 2008, Gordon allowed seven hits, walked three and struck out three. He also hit a batter, and it couldn't have come at a more inopportune time.

With the bases loaded, two outs and the game tied at 1 in the top of the fifth, Gordon struck Adrian Beltre in the back with an 0-2 curveball to give the Rangers the lead.

Hector Noesi, who also was a candidate to make the start on Thursday afternoon in place of the injured Bartolo Colon, recorded the final two outs of the sixth.
June, 16, 2011
6/16/11
1:08
PM ET
If the Yankees and Brian Gordon were an item, consider Thursday's game the first date of what began as an online romance. The Yankees have only seen tapes of Gordon pitching, never in person, and now they will finally get to watch Gordon in action when he takes the mound against the Texas Rangers.

With relatively little knowledge on Gordon, the Yankees aren't burdening their newest starter with details, but instead letting him rely on what led him to a 5-0 record with a 1.14 ERA in the International League (AAA).

"I'll go through hitters and make sure the catcher and him are on the same page as far as what he likes to do," Yankees pitching coach Larry Rothschild said. "Just let him pitch, he's had a lot of success this year. We'll let him pitch the way he has and make him aware of what he needs to be aware of.

"Just keep it simple, really."

From what they Yankees have seen on film, Gordon, who opted-out of a contract to sign with the Yankees Thursday before the game, has good command and can mix his pitches well. He throws strikes, has four pitches and keeps the ball down in the zone to get ground balls. If that sounds like a very simple scouting report, it is.

"A lot of it falls on our catcher because they've never seen him and you're not sure," manager Joe Girardi said. "I'll tell Brian go with what you believe in because we don't know you, you know yourself better than we know you."

Rothschild reiterated that the Yankees want to keep Gordon comfortable, not changing things for him because he's suddenly in the major leagues and pitching in New York. Girardi believes Gordon's experience, as he's been in the minor leagues for 13 years and has pitched in the majors, will help him as he's handled adversity.

"I have nothing to lose and everything to gain here," Girardi said of how Gordon should be approaching this start. "(He should say) I have a tremendous opportunity here to make some starts for the New York Yankees."
June, 16, 2011
6/16/11
1:00
PM ET
Yankees general manger Brian Cashman doesn't think the Phillies should be concerned that the Yankees signed one of their former minor leaguers, pitcher Brian Gordon.

"They got Cliff Lee, I got Brian Gordon," Cashman said. "I don't think they have anything to worry about."

While Cashman joked in reference to the Yankees failed attempt at signing Lee in the offseason, he also discussed the process of Gordon joining the Yankees before the righty took the mound Thursday against Texas.

Gordon had been with the Phillies AAA squad and had an opt-out in his contract that would allow him to become a free agent on June 15, provided a team wanted him.

About a week ago, the Phillies e-mailed the other 29 teams in baseball that Gordon would be available if there was any interest.

The Yankees had some interest in Gordon, but after Bartolo Colon strained his left hamstring and was placed on the disabled list, they took an even better look at Gordon, who was 5-0 with a 1.14 ERA in the International League. Super scout Gene Michael, manager Joe Girardi and pitching coach Larry Rothschild all watched video of Gordon, although the Yankees did not physically scout any of his games.

After Gordon opted out of his deal, the Yankees officially signed him right before Thursday's game and Cashman said the team had to fax in the contract before the game started. In preparation for his start, Gordon played long-toss in a park near Yankee Stadium on Wednesday with assistant Brett Weber.

"Someone stopped him and said, 'Hey, you have a great arm,'" Cashman said.

There had been talk of AAA pitchers David Phelps and Adam Warren possibly getting the start, but Cashman said if the team didn't need to bring one of those two pitchers up, there was no need to as it would allow them more time to develop in AAA.

"If I could avoid it, I would," Cashman said of bringing the young hurlers up.

Reliever Hector Noesi had been in the mix as well, but his role in the bullpen secluded him from getting the start.

"You talk about Noesi, he's kind of out of his turn in a sense because of what we've had to do with him and use him in the bullpen," Girardi said. "Phelps and Warren, they haven't been in AAA very long, while this kid you're looking at his age and has been in the big leagues and I can't tell you this is going to be what we do from here on out, but this is what we chose to do today."
June, 14, 2011
6/14/11
10:55
PM ET
This is what it has coome down to for the injury-riddled Yankees this season: their starting pitcher for Thursday afternoon's series finale against the Texas Rangers might turn out to be a 32-year-old journeyman minor leaguer who was an outfielder for the first 10 years of his professional baseball career.

The Yankees announced they have signed Brian Gordon, who had a 5-0 record and International League-leading 1.14 ERA for the Lehigh Valley Iron Pigs but had an opt-out in his deal since the parent club, the Philadelphia Phillies, has a starting staff with names like Lee, Oswalt, Halladay and Hamels.

No such problem with the Yankees, who just put Bartolo Colon on the DL with a hamstring injury and are pitch-poor rght now. Gordon is considered the front-runner to start Thursday's game, although Joe Girardi is notoriously secretive about revealing plans even one day in advance. Before Tuesday's game with the Rangers, Girardi grudgingly admitted that David Phelps might be recalled from AAA Scranton to start on Thursday, but that Hector Noesi, currently in the Yankees bullpen, might also get the nod. "We may not make that decision until Wednesday night,'' he said.

For the record, Gordon had hit 119 minor-league home runs before switching to the mound five years ago. He was tutored by Nolan Ryan in the Texas Rangers farm system, and made three major league appearances as a pitcher in 2008. According to reports, he was told to be "mentally prepared'' to start on Thursday, which, of course, does not mean he will.