New York Yankees:

Brian Roberts
March, 4, 2014
Mar 4
7:48
PM ET
TAMPA, FLA. -- Diana Roberts is used to being recognized. As
Brian Roberts
' wife in Baltimore, everyone knew her husband was a two-time All-Star and, when healthy, one of the most important players on the Orioles.
Earlier this week, she was entering George M. Steinbrenner Field when a security guard stopped her.
"Diana, right?" the guard said.
She said, "Yeah."
The guard responded, "I don't know your last name."
Later, she said told Brian, "That was so odd for me. Usually, they are like, 'you are Brian's wife.'"
That is now the life of Brian Roberts, unsung Yankee. Once the face of the Orioles' franchise, he is now just another face in the crowd.
He is trying to follow in the Yankees' recent tradition of extending the careers of former stars.
"It is just different to be the guy in the back that no one knows about or cares about," said Roberts, who faced his old club on Tuesday night at Steinbrenner Field. "I think that does help guys at times when you are trying to get back on your feet."
The Yankees are hoping the injury-cursed Roberts, 36, will follow the model of
Raul Ibanez
and
Eric Chavez
, not
Travis Hafner
or
Vernon Wells
. They have liked Roberts' game for a long time.
During the first week of free agency and months before
Robinson Cano
fled to Seattle, assistant general manager Billy Eppler contacted Roberts' agent.
"Just to say, 'Hey, look, we always appreciated the way he has played, but we have to let some situations sort of vet themselves over here first,'" Eppler said prior to Tuesday's game. "We should stay in touch through the process. If you are going to come off the board or you are going to make a decision soon, let us know. If we are going to close on something else or we are out, I will give you the heads-up."
Orioles manager Buck Showalter didn't really see much of Roberts because he only averaged 48 games per season since Showalter became the manager in 2010.
"He's got a little more thump than people think," Showalter said.
Eppler said they think the switch-hitting Roberts' lefty swing could play well with the right porch. When Roberts has been healthy, he has racked up doubles (an AL-best 56 in 2009) and has hit for some power (16 in 2009).
"We really like the way he plays the game," Eppler said.
Roberts lockers near
Derek Jeter
and knows he doesn't have to be the go-to guy anymore for the media and fans.
"I think they just want me to be on the field with a uniform on and the rest is just icing on the cake," Roberts said.
That's the plan.
"I don't know about 150 games, but I think if he performs the way that he is capable of we would like to play him as much as we can," Joe Girardi said.
February, 17, 2014
Feb 17
12:22
PM ET
TAMPA, Fla. --
Derek Jeter
whispered seven little words into
Brian Roberts
' ear that Roberts never forgot and made him believe in himself.
[+] Enlarge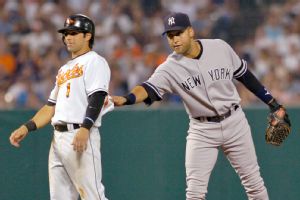 AP Photo/Gail BurtonBrian Roberts and Derek Jeter, before they were teammates.
It was 2004, Roberts recalls. He was 26. Jeter was 30, already a star. Roberts made it to second base, and the always chatty (on the field, anyway) Jeter saddled up next to him.
"You can hit .300 in this league," Roberts remembers the Yankees' captain telling him.
It made an impact on Roberts. The year before, he had hit .270. In 2004, he finished at .273. In 2005, he batted .314, was an All-Star and hit more doubles than anyone else in baseball.
Roberts might have hit .300 anyway, but he thinks Jeter boosted his confidence.
"To hear it from someone like that, it just kind of opens your eyes," said Roberts, who was Jeter's World Baseball Classic teammate in 2009. "I don't think it's just me. I think he does it to everybody. But for some reason when he tells it to you, you think you're the most important person in the world. He's just kind of got that personality, and he's so good with people."
Ten years later, Roberts has a chance to be Jeter's double-play partner as Jeter closes out his career, replacing
Robinson Cano
.
Well, not exactly replacing Cano.
"Robbie is such a special player. I'm not going to go in and be Robbie," said Roberts, now 36. "Nobody will be. Our goal is to put nine guys on the field to win a game. My goal is to try and help us do that. I'm sure there are going to be people who are going to want to look out there and say, 'He is not Robbie.' I'm not going to be Robbie, and I'm not going to try to be. I'm going to be Brian Roberts, and hopefully that is good enough."
The real question is, can Roberts stay healthy? He played 77 games in 2013, and that was his most in four years. Roberts has had several injuries, but the toughest were the concussions -- the effects of which have now ceased for nearly two years, he said.
In 2013, Roberts started off well in the Orioles' first two games of the season, going 4-for-8 at the plate, before popping his hamstring tendon in game No. 3 trying to steal a base.
"That was really frustrating for me," Roberts said. "I thought I was in a place where I thought I was going to bounce back and be myself again."
Roberts has watched a farewell tour of a legendary shortstop before. In 2001, when Roberts was a rookie with the Orioles,
Cal Ripken Jr.
said goodbye.
"I remember him hitting a home run in the eighth [inning] or something in Atlanta, and he got a curtain call," Roberts said. "When does that ever happen? I could see the same thing here happening [with Jeter]. There's such a select few guys that have meant what they've meant to the game, and it's going to be an incredible experience to play with him this year."
February, 12, 2014
Feb 12
12:00
AM ET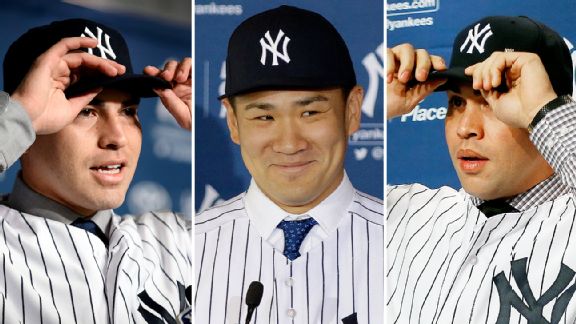 AP Photo, Getty ImagesThe Yankees missed the playoffs, then promptly reloaded. So what can fans expect in 2014?
NEW YORK -- Every baseball season begins the same way. Players report for spring training. Reporters start asking questions.
Some of those questions, naturally, cannot be fully answered until the season is over, and sometimes not even by then. But that doesn't stop us from asking them, or trying to guess at their answers.
In that spirit, as the Yankees' pitchers and catchers prepare to report to training camp on Friday, we begin asking our questions today. And coming off only their second playoff-less season in two decades, this year's Yankees team faces some serious issues.
We've come up with a dozen questions the Yankees need to answer if they're going to have a bounce-back 2014 season.
1. Who's on First?
This is an easy one, although since he played in just 15 games last season, you might have forgotten about
Mark Teixeira
. He is said to be healthy and ready to go following wrist tendon surgery, but what kind of player will he be? Teixeira will turn 34 in April, and by his own admission last season, may well be in the start of a decline. And as a frame of reference,
Jose Bautista
, who had the same surgery in 2012, had a pretty good 118 games in 2013 -- .259 BA, 28 HRs, 73 RBIs, .856 OPS -- but was nowhere near the force he had been in his MVP-caliber 2011 season.
2. What's on Second?
Well, it won't be
Robinson Cano
, doncha know? Right now, the job belongs to
Brian Roberts
, the veteran
Baltimore Orioles
second baseman who was signed to a one-year deal by the Yankees as a free agent this winter. Roberts, a career .278 hitter who has averaged roughly seven HRs a season over 13 years -- his high was 18 in 2005 -- will make no one forget Cano at the plate or in the field, but he is a serviceable player who should fit in well.
3. I Don't Know's on Third?
Again, we do know who it won't be:
Alex Rodriguez
. Right now, barring a last-minute signing or the picking up of a late spring training castoff (a la
Lyle Overbay
last year), it will either be new signing
Kelly Johnson
or old pal
Eduardo Nunez
. With the exception of the circus that seems to follow A-Rod, neither can be seen as an improvement: Johnson's past three seasons pretty much mirror A-Rod's production for power, averaging 17 HRs a season, but his BA over that span is .226 and his OPS barely scrapes .700. Nunie, of course, is Nunie -- always an adventure in the field, rarely an explosion at the plate.
4. A short season for the shortstop?
Derek Jeter
remains a huge question mark, since beginning with spring training last year he was never able to play two back-to-back games in the field and return healthy. True, he's had more time to heal this winter and presumably will benefit from a normal offseason workout routine. But he will also turn 40 this June and you have to guess he'll spend a lot of his time as a DH this season.
5. Nervous ninths?
You betcha. With
Mariano Rivera
gone, the ninth inning of a Yankees game will not be the same this year, and probably never again. Even if
David Robertson
rises to the occasion -- and he certainly has the capability to do so -- there's just no way anyone in the stands, or the Yankees' dugout, for that matter, will ever head into a ninth inning with a one-run lead thinking, "This one's in the bag." With Mo, that was a nightly occurrence, but with Robertson's penchant for putting runners on base -- and admittedly, usually leaving them there -- there will be a lot of sweaty palms in the ballpark before that last out is made.
6. Crazy eighths?
Probably, because the Yankees didn't just lose their closer when Mo retired, they lost their eighth-inning guy as well. And no one in baseball set up his closer better than Robertson, who in moving up leaves a gaping hole behind him. Who in the Yankees' bullpen will step up to fill it? Right now, the guess is
Shawn Kelley
, who was a revelation last season after recovering from a second Tommy John surgery.
7. From whom will the Yankees get minor contributions?
As in, from the minor leagues? Well, in the three-part series Andrew Marchand and I did last week on the Yankees' farm system, maybe no one. GM Brian Cashman is hopeful 22-year-old phenom
Manny Banuelos
, coming off Tommy John surgery, will show enough in spring training to make the team as perhaps the second lefty out of the bullpen. Cashman also believes 24-year-old right-handed flamethrower
Jose Ramirez
could make an impact. And there is still hope for
Dellin Betances
, as there should be for any 25-year-old who can hit 97 on the gun.
But aside from those three pitchers -- and
J.R. Murphy
, who will be given a shot to win the backup catcher's job behind
Brian McCann
-- there isn't much on the farm that is ready to be harvested.
Gary Sanchez
,
Slade Heathcott
, Tyler Austin and Mason Williams are all several years away.
8. Will the new offense make up for the loss of Cano and A-Rod?
Possibly. The Yankees lost their best bat in Cano, but you have to remember they got virtually nothing out of the catcher's spot last year -- .213-8-43, .587 OPS -- and McCann will make a huge difference there. Also,
Carlos Beltran
should be a major upgrade over
Vernon Wells
,
Jacoby Ellsbury
-- if he can stay healthy -- is a more powerful version of
Brett Gardner
, and the Yankees will have the benefit of a full season of
Alfonso Soriano
, who figures to get the bulk of the right-handed DH duty. It might be difficult to replace the home runs lost with the departures of Cano and
Curtis Granderson
, but didn't we say that before last season, too? The 2013 Yankees matched the 2012 Yankees for home runs -- in April, anyway. Overall, last year's club hit 101 fewer homers than its predecessor.
9. Can CC find his lost V-LO?
Who knows? Sabathia will turn 34 this season and barely avoided finishing as a .500 pitcher for the first time in his career. More alarming was his ERA, which skirted 5.00 (4.78) and was the highest of his career. Most alarmingly of all, the big man's velocity has steadily declined over the years, from a high of 94.1 in his first season as a Yankee, to an average of 91.4 in 2013. Publicly, the Yankees continue to maintain they believe CC will find those lost mphs this season, but plenty of pitchers his age have had to make the adjustment from thrower to pitcher and he may now be one of them. Also, for those of you who believe he was "too thin" last season, he looks to have lost even more weight this winter. If size = velocity, that may turn out to be good news for CC's cardiologist but bad news for the Yankees.
10. Can Hiro go the distance?
It's a legitimate question now that
Hiroki Kuroda
has shown a disturbing tendency to fade down the stretch in both his seasons as a Yankee. In 2012, he went 4-1 in September but posted a 4.71 ERA. That was good compared to last year, when, to borrow Graig Nettles' famous line about Sparky Lyle, he went from Cy Young to Sayonara virtually overnight, going 1-7 with a 5.40 ERA over the final two months. Hiro turned 39 on Monday and if the Yankees hope to go far in October -- or even get there in the first place -- they need him to stay strong to the finish.
11. Will Masahiro Tanaka come as advertised?
Depends on what you're expecting. Cashman might have offered a clue this weekend when he told ESPNNewYork.com's Ian O'Connor that he felt the 25-year-old right-hander could develop into "a really solid, consistent number three starter." Later, Cashman said his words had been "misconstrued" and that he meant Tanaka could be a No. 3 "this year." Whatever. At $155 million, Tanaka has got to be better than that, hasn't he? And all those teams who lined up to bid on him couldn't be wrong, could they?
All we know is, there's always a lot of adjustments to be made when coming from the Nippon Baseball League to MLB. Some make it seamlessly, like Kuroda and
Yu Darvish
. Others struggle to keep up, like
Daisuke Matsuzaka
. And some never make the adjustment (dare we mention
Kei Igawa
?) Sabathia, Kuroda and
Ivan Nova
form a nice foundation for a starting rotation, but if Tanaka can't make the adjustment, all the offense in the world is unlikely to help the Yankees.
12. Is Cashman on the hot seat?
Highly doubtful. The GM is in the final year of his contract, but he made some gutsy choices this offseason and if the team rebounds the way it might, he should reap much of the credit. Besides, Hal Steinbrenner is not George M. Steinbrenner; he has shown no inclination for scapegoating or knee-jerk firings and I can't see him kicking Cashman to the curb if the team fails to produce. Now, might Cashman decide to walk on his own?
Well, that's just one more question that we can ask today, but won't be able to answer for another six months. At least.
December, 17, 2013
12/17/13
9:58
AM ET
The
New York Yankees
have
agreed on a $2 million, one-year deal
with
Brian Roberts
, adding him to the post-
Robinson Cano
second-base mix. At this point,
the injury-prone Roberts will compete with
Dean Anna
and
Kelly Johnson
for the spot, with the position ultimately being manned by a combination of these players or a yet-to-be-added infielder.

But the Yankees could re-sign
Mark Reynolds
next, with the hope of platooning him with Johnson at third. The two would offer
Alex Rodriguez
suspension/injury protection.
With Reynolds starting against lefties and Johnson against righties, the Yankees would have a power-hitting but defensively deficient combo. Still, it might not be bad.
Here is an issue that will work itself out via trade and/or injuries by the end of spring training. You can only have 25 players on the roster. So let's take a look, going on the assumption the Yankees will have 11 pitchers when they break spring training and head north -- or west, as they begin the season in Houston. For this exercise, we will keep A-Rod suspended. This would be the rest of the projected roster, including Roberts and Reynolds.
12.
Brian McCann
, C
13.
Francisco Cervelli
, C
14.
Mark Teixeira
, 1B
15.
Derek Jeter
, SS
16.
Brendan Ryan
, SS/2B
17.
Carlos Beltran
, OF
18.
Jacoby Ellsbury
, OF
19.
Brett Gardner
, OF
20.
Alfonso Soriano
, OF
21.
Ichiro Suzuki
, OF
22. Kelly Johnson, 2B/3B/OF
23. Mark Reynolds, 3B/3B
24. Brian Roberts, 2B
25. Dean Anna, 2B/SS/3B
That would leave
Vernon Wells
off the team. Wells or Ichiro figure to be on the outs if Gardner remains with the club. They actually both could be off the roster because you don't need five outfielders; especially since Johnson can play out there, as well.
Who is going to pitch? That remains a question mark, but
maybe Masahiro Tanaka, if he is posted
.
December, 16, 2013
12/16/13
1:32
PM ET
When some Yankee people look at
Brian Roberts
, they see
Eric Chavez
. Roberts is a guy who, if he can stay healthy, could be helpful.

Roberts
The problem is, he has played in more than 59 games just once since 2009 (he played in 77 games last season). That's not a good health record.
But with second basemen dropping off the board daily (
Omar Infante
and
Mark Ellis
the latest two), the Yankees may have to glue together the position in the short term. Roberts, 36, could be part of the equation as a buy-low candidate who may have some dividends.
Meanwhile, the Yankees like
Dean Anna
. He is the career minor leaguer the Yankees
acquired in a little trade earlier this winter
. He is a 27-year-old, left-handed hitting second baseman. Anna had an .892 OPS in the hitter-happy Pacific Coast League.
Anna's OPS shot up to .929 against righties, so it seems possible the Yankees could sign Roberts at a cheap rate and go into the year with the idea of a platoon. Anna would start against righties with Roberts in the lineup against lefties.
Roberts, who switch hits, has a .716 OPS against lefties and a .782 against righties. So if Anna doesn't work out, then Roberts could play more. The Yankees know, though, that they would have to protect Roberts, just liked they did with Chavez.
The Yankees also have
Kelly Johnson
, who can swing the bat, but he may not have the glove to put out at second every day. Spot duty? Sure. Part of a platoon? Maybe. But Johnson might be exposed defensively if he was in the lineup every day at second. But he is in the mix, of course.
The Yankees declined a deal for
Brandon Phillips
. They are
hesitant to give up
Brett Gardner
in a trade, but, as their best chip, Gardner, a free agent at the end of next year, will be the central figure in rumors if he remains a Yankee.
So if Roberts/Anna were to happen and not work out, the Yankees could reconsider moving Gardner for a second baseman.
December, 10, 2013
12/10/13
10:14
AM ET
LAKE BUENA VISTA, Fla. -- If the Yankees are going to make one more big buzz move, it will likely be for Masahiro Tanaka. That is, if Tanaka is posted.
There are MLB officials who think Tanaka's team, the Rakuten Golden Eagles, will post him even if they are dissatisfied with the $20 million maximum posting fee, while there are others who think they won't and will instead keep him for one or two more years.
Well, everything could become a little clearer as Rakuten's president Yozo Tachibana is going to arrive here at the Swan & Dolphin Hotel,
according to Yahoo Sports
.
If Tanaka is posted, the Yankees will be big players for him and, with the $189 million goal looking less and less likely, they may just blow everyone else away.
NEEDS:
Yankees GM Brian Cashman is scheduled to meet with the media at some point this afternoon. Since Cashman didn't arrive until mid-afternoon on Monday, he didn't talk. He and his team were holed up in their suite, looking into trades for
Brett Gardner,
among others.
Still, it is hard to see how the Yankees don't dip back into free agency with holes to fill at second, third and in the pitching staff. Plus, you never know, they might decide they need a seventh outfielder.
THE BINDER:
Each manager speaks at the winter meetings. At 4:30 p.m., Joe Girardi will step up to the mic. It will be the first time he has talked since
Robinson Cano
left.
GRANDY MAN:
Curtis Granderson
will be introduced as a Met at 12:30 p.m. here.
WHAT DO YOU THINK:
The Yankees have been in on
Omar Infante
, but
Brian Roberts
hasn't been associated with them.
#Yankees have talked to Brian Roberts agent. Could just be kicking the ol' tires. I hear they need a second baseman.

— Roch Kubatko (@masnRoch) December 9, 2013
Roberts, 36, meets the age requirement, but he is not nearly as durable as Cano. His 77 games played in 2013 were the most for him since 2009.
SIMON SAYS:
Our colleage Mark Simon chimes in with this nugget:
Frank Lary earned the nickname "Yankee-killer"for his success against the team in the 1950s and 1960s. Lary was 28-13 with a 3.32 ERA in his career against a Yankees dynasty facing the likes of Mickey Mantle, Yogi Berra and other Yankees legends.

In addition to being a great pitcher, Roy Halladay, who retired on Monday, was this generation's Frank Lary, the premier Yankees killer of the past 20 seasons. He went 18-7 with a 2.98 ERA against the Yankees from 1999 to 2010. That included a stretch from 2003 to 2009 in which he won 13 of 15 decisions, including a one-hit shutout, a two-hit shutout and a three-hit shutout.

With Halladay retired, who now holds the title? We've got a few names in mind. The most natural of those is Felix Hernandez, but the Yankees have gotten him a few times. He's 8-5 with a 2.89 ERA against them, with a pair of two-hit shutouts in Yankee Stadium.

A.J. Burnett (6-3 with a 2.43 ERA) would be another possibility, but he could retire (or end up in the National League with the Pirates again). A good sleeper choice is Alex Cobb of the Tampa Bay Rays, who is 4-1 with a 2.01 ERA in seven starts over the past three seasons.

And then there's Oliver Perez, who doesn't start any more, but has a dominant history against the Yankees. He's 6-1 with a 2.22 ERA in 48 2/3 innings pitched against them, with most of that damage coming as a member of the Mets.