New York Yankees:

Carlos Pena
May, 10, 2012
5/10/12
11:05
AM ET
By
ESPN Stats & Information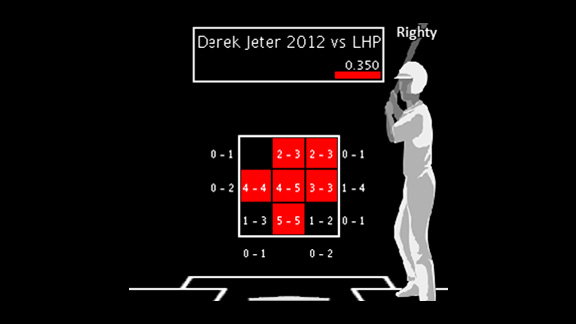 Derek Jeter can do no wrong against lefties this season
David Price Matchups to Watch
The Price that the Yankees see on Thursday has a different approach than the one who used to be reliant on locating his fastball around the outside part of the plate.
Price has increased the use of his other pitches (changeup and slider) and throws a fastball that appears to be more of a cutter now.
Price throws his fastball/cutter on the inner-third of the plate to righties on more than half of his pitches. In 2010 and 2011, he came inside with that pitch less than 30 percent of the time.
This is working very well. He's 4-0 with a 1.55 ERA and 27 strikeouts in 29 innings in his last four starts. In his last start against the Athletics, his fastball netted 11 outs and only one baserunner (on a walk).
We'll see how the new Price fares against two right-handed hitters who figure to pose a challenge.
Nick Swisher
is 10-for-24 with eight walks against Price.
Derek Jeter
is 12-for-his-last-28 against Price, including his 3,000th career hit last season.
Price worked Jeter inside with seven of his 10 pitches in their first meeting of the season, but Jeter was still able to get two hits on the other three pitches thrown to him.
The heat map above shows how Jeter has fared against left-handed pitching this season. He's an amazing 22-for-28 in at-bats that end with a pitch in the strike zone against them.
CC Sabathia Matchups to Watch
Sabathia has looked much more like his old self in his last three starts, lasting at least eight innings in each one.
He's upped his ground ball rate from 41 percent in his first three starts to 53 in his last three, and the Yankees have turned 29 of the 35 grounders he's yielded into outs.
That an 83 percent success rate, 10 percentage points higher than their efficiency turning grounders into outs this season.
The most interesting matchup from this game will be Sabathia against
Carlos Pena
.
Pena was in a 1-for-29 slump against Sabathia before hitting a grand slam against him in the first inning on Opening Day. Sabathia struck him out in the next two at-bats, something he's done to Pena five times in their last seven confrontations.
Inside the Matchup
David Price and CC Sabathia have gone head-to-head six times, with the Rays winning each of the previous five meetings.
Price is 3-0 with a 1.56 ERA in those five meetings. Sabathia is 0-3 with a 5.91.
Off the Mark
Since his two-homer, six-RBI game against the Red Sox,
Mark Teixeira
is 8-for-56 with six RBI in his last 15 games, though much of that is against right-handed pitching.
He's 3-for-18 in that stretch against lefties, though with only one strikeout.
Teixeira's ground balls are not finding holes from either side of the plate. He's 0-for-his-last 12 when hitting a ground ball against a left-handed pitcher.
Endgame questions?
Both teams face a question of who closes, given that
David Robertson
has thrown 44 pitches and
Rafael Soriano
has thrown 39 for the Yankees over the last two days, and Rays closer Fernando Rodney threw 28 pitches in his first two-inning stint of the season.
The Yankees could come back with Soriano, who has not pitched on three consecutive days in the regular season since doing so against the Yankees, September 13-15, 2010.
The Rays likely option would be
Joel Peralta
, with whom the Yankees are familiar. He allowed four of eight Yankees he faced to reach base, including a three-run homer to Swisher earlier this season.
Kenton Wong, Brandon Mendoza, Lee Singer, Mike Proia, Dan Tomaro, J.B. Kritz, and Mark Simon contributed to this post
April, 8, 2012
4/08/12
2:39
PM ET
Carlos Pena just turned on a Phil Hughes fastball -- clocked at 93 MPH -- and sent it into the right-field seats to give the Rays a 2-0 lead over the Yanees in the third inning. Pena now has five hits, two home runs and seven RBI in the series, and there are still six innings to go.
April, 6, 2012
4/06/12
3:50
PM ET
Joe Girardi's first managerial decision of the season was a doozie, choosing to have CC Sabathia walk Sean Rodriguez, a career .229 hitter with 22 lifetime home runs, in order to pitch to Carlos Pena, who has averaged more than 22 home runs a year for 11 seasons and has seven career grand slams.

This was not just a purely reflexive lefty-righty move; Rodriguez is a career .286 hitter off Sabathia (6-for-21) and Pena had just four hits in 35 ABs vs. CC, although two of them were home runs.

Well, now he has three. In his first at-bat for the Rays, Pena launched a 3-2 pitch into the right-centerfield bleachers for a grand slam, giving the Rays a 4-0 first inning lead.

Girardi had the numbers on his side, but you didn't need numbers to tell you what should have been obvious to anyone wo follows baseball, that Pena is a dangerous hitter and Rodriguez is not. should make for some interesting post-game repartee.
January, 18, 2012
1/18/12
11:50
AM ET
According to a report by Ken Davidoff of Newsday, the Yankees have had contact with the representatives for Vlad Guerrero and Raul Ibanez about possibly filling their (maybe) vacant DH position. It has already been established that the Yankees are also interested in Johnny Damon Redux, Hideki Matsui Part II, and Carlos Pena.

In order to make a more educated decision, here are the particulars for each candidate. Read them over, factor in everything -- age, likely salary demands, recent production, where he fits into the lineup -- and choose one.

Or, don't choose any and go the more prudent way, cobbling together the lineup spot with a combination of Andruw Jones and a rotation of the Yankee regulars.

Guerrero: Turns 37 on Feb. 6. Right-hand hitter. 2011 salary: $7.6 million
Career: .318 BA, 449 HRs, 1496 RBI
2011: .290/13/63/.317 OBP

Damon: 38 years old. LH hitter. 2011 salary: $5.25 million
Career: .286/231/1126
2011: .261/16/73/.326 OBP

Matsui: 38 on June 12. LH hitter. 2011 salary: $4.25 million
Career: .285/173/753
2011: .251/12/72/ .321 OBP

Pena: 34 on May 2, LH hitter. 2011 salary $9.6 million
Career: .239/258/730
2011: .225/28/80/.357 OBP

Ibanez: 40 on June 2. LH hitter. 2011 salary $12.2 million
Career: .280/252/1054
2011: .245/20/84/.289

Is there a right choice here? I'm not sure I see one. Let us know what you see.
January, 14, 2012
1/14/12
12:46
PM ET
The Yankees are likely not going to add a big, expensive bat, but the return of Johnny Damon may become a possibility. Carlos Pena is less likely as he probably could get more money and more playing time in Milwaukee or Cleveland.

Since Friday night, the Yankees haven't really started planning on if they will add another bat. They still have to determine how much money they want to spend this offseason. But the idea of Damon has more legs than Pena.