New York Yankees:

Chris Chambliss
October, 21, 2010
10/21/10
9:00
AM ET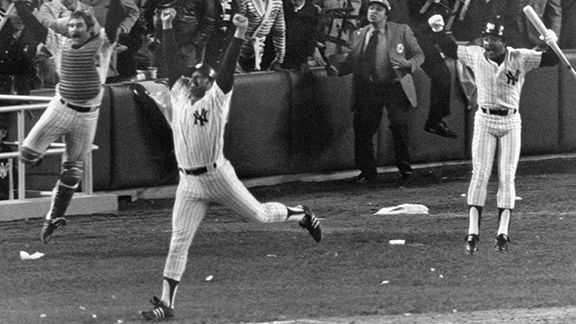 Ray Stubblebine/AP Photo
Chris Chambliss has great memories of the moment his walk-off home run landed and made the 1976 Yankees American League champs.
Throughout the postseason, Baseball Tonight and SportsCenter will be running a feature "I Hit a Walk-Off Home Run," spotlighting some of the most famous walk-off home runs in postseason history.

Feature producer Lisa Fenn talked to Chris Chambliss about the dramatic walk-off home run he hit to win Game 5 of the 1976 ALCS and the AL pennant. Here's what Chambliss had to say:
That was one of the most exciting games I've ever been in.
George Brett
tied it with a three-run homer and that's what tied the game and got us to the ninth inning.
I was the first hitter in the bottom of the ninth. I had learned to that point that thinking home run was not too good because I didn't have good swings when I tried to hit a home run, so I just tried to put a good swing on the ball and it happened to be in the right place.
(
Mark Littell
) threw a high fastball and I took a good hard swing at it. It was up a little bit, and I was able to hit it high in the air to right field,and it went over the fence.
Their right fielder went right to the wall and he jumped for it and everything, so I didn't know it was over the fence until he didn't come down with it.
What made me go after the first pitch? Because it looked good. It was high. It was over the plate. I'm an aggressive guy so I swung at a pitch in a zone that I thought that I could get a good swing at.
The chaos started because I made it around first base and got to second base and there were fans all over the field.
I remember tripping. I went down to one knee. Somebody tried to steal my helmet from behind. From then on it was like how do I get myself to the dugout?
I went into the clubhouse and everybody asked me "Did you touch home plate? I took two security cops and the three of us made our way back onto the field. Home plate was already stolen, so it was a bare ground there but I put my foot on it and we went back.
Later on, I talked to the umpires, the guys who actually did the game and they said 'Listen, under those circumstances touching the bases was a moot point. So it was a home run as soon as it went over the fence.
I don't even remember having my arms up like that (in the photo above). What's even more special about it is, as I went down a little further: Elston Howard was a big influence on my career, he was the first base coach and there were some people who have a shot of me actually shaking hands with him, which is a shot that I'd love to have.
I have the bat and the ball. I didn't know for a long time but Graig Nettles is the reason I have the bat. I hit the ball, I probably just dropped it like I usually do but
Graig Nettles
had the presence of mind to run on the field and pick up the bat. He took the bat and went back to the dugout . Graig used my bat to protect our gloves and our hats and um he's the reason I have the bat today.
I've got a close No. 2 (moment) because the following year we got into the World Series we were in Game 6 of the 1977 World Series. That's the day that
Reggie (Jackson
) hit the three home runs.
Before Reggie hit the three home runs I hit a two-run homer early in the game. We were down 2-0. I hit a two- run home run off
Burt Hooton
that I hit harder and further than the playoff home run, and it was my only World Series home run, so that's a huge moment for me personally.
Would I have loved to see the eyes of my teammates, see me jump into the pile at home plate? I'd say 'Yeah that would've been wonderful, but you know you're never gonna change that, so that's the way it happened.
When I see it I'm proud. I'm happy that I was part of a special moment in Yankee history."
---
Five things you may not have known about
Chris Chambliss'
walk-off home run in Game 5 of the 1976 ALCS, from Mark Simon, ESPN Stats and Information.
1-
Chambliss's walk-off home run was the second series-ending home run in postseason history. There have been six since, the next being
Joe Carter's
World Series-ending walk-off home run for the 1993 Blue Jays.
2-
Chambliss hit .524 in the 1976 ALCS, with 11 hits in 21 at-bats. That's the highest batting average in an LCS in Yankees history (the 2010 LCS is their 14th LCS).
3-
Chambliss hit .321 in the regular season against the Royals, his highest batting average against any major league team.
4-
Chambliss, who hit six regular season walk-off home runs hit one other one in 1976 and it was pretty dramatic. With the Yankees trailing the Red Sox, 5-3 with two outs in the ninth inning on July 25, Chambliss hit a game-winning three-run home run.
5-
The Yankees dominated the MVP voting in 1976. Catcher
Thurman Munson
won it, outfielder
Mickey Rivers
finished third, and Chambliss placed fifth, tied with Twins infielder
Rod Carew
.
October, 9, 2010
10/09/10
9:00
AM ET
By
Mark Simon
| ESPNNewYork.com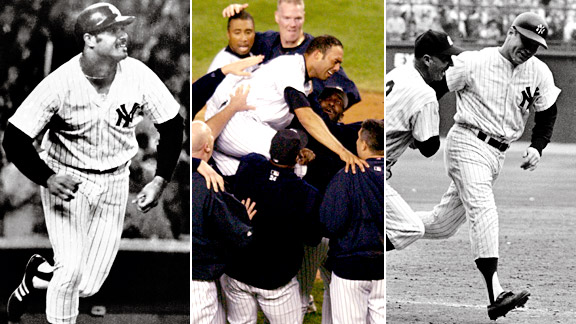 AP Photo
Chris Chambliss, Mariano Rivera and Mickey Mantle are among the most valuable clinching-game players in Yankees history.
With clinching feeling like an inevitability at this point, today seemed like a good day to look back through Yankees history at the best performances in a postseason series-clinching win.
How to do that? It feels like a combination of statistical analysis and common sense is the right way to go.
We'll let the stat Win Probability Added, available on the research godsend,
Baseball-Reference.com
serve as the initial guide.
Win Probability Added measures the impact of every plate appearance on the chance a team has to win a game.
Each plate appearance is worth percentage points, based on the increase or decrease that teams have historically shown to win in those situations. A tie-breaking home run in the ninth inning nets a lot more points than a home run in a 10-0 blowout.
WPA measures value, so there's a bias to those whose late-game heroics were difference-makers over those who were accumulators over the course of a game. So we'll reserve the right to overrule the WPA tally when it seems appropriate.
Let's do this in a position-by position format to create an All-Yankee Clinchers Team.
Catcher --
This one isn't too hard, advanced metrics or not. In Game 7 of the 1956 World Series,
Yogi Berra
was Superman, hitting two-run home runs in each of his first two at-bats against
Don Newcombe
, to put the Yankees up 4-0 after three innings. The Dodgers would intentionally walk Berra the next two times up, and the second time
Moose Skowron
buried them with a three-run home run. The Yankees won 9-0 to avenge their World Series loss the previous year.
First Base --
Chris Chambliss'
performance in Game 5 of the 1976 makes this another not-so-tough choice. Not only did Chambliss hit the walk-off home run in the ninth inning, but he also had a game-tying sacrifice fly in the first inning and a go-ahead RBI groundout in the third.
Through the quirks of the Win Probability system, Chambliss actually lost points for the latter two (since he made outs each time), but his home run more than makes up for that. He gets tabbed ahead of the aforementioned Skrowron, a very valiant runner-up, who had four-RBI games in Game 7 of both the 1956 and 1958 World Series.
Second Base --
Let's go with sentiment over mathematics here, our choice being
Brian Doyle
, for his efforts in Game 6 of the 1978 World Series. For those unfamiliar, Doyle had only 54 regular season at-bats that year, but was called to duty when
Willie Randolph
got hurt.
Doyle ended up going 7-for-16 in the series with four runs scored. In the clinching sixth game he went 3-for-4 with two RBIs, driving in the tying run in the second inning with a double, and a lead-padding run with a sixth-inning RBI single.
The math says to take
Billy Martin
(walk-off hit in 1953 World Series) or
Tony Lazzeri
(a three-hit, two-homer game in 1932), but we like a good story, so we'll pick Doyle.
Shortstop --
WPA says to go with Doyle's double play mate,
Bucky Dent
, but we'll overrule in favor of the next guy on the list. In Game 7 of the 1947 World Series,
Phil Rizzuto
was the Yankees' unsung hero.
With the Yanks trailing 2-0 early, Rizzuto drove in their first run in the second inning. He then kept a rally alive with a two-out fourth inning single, which led to the Yankees taking the lead later in the inning. Then in the sixth inning he bunted for a hit, stole a base, and scored on a two-out hit to put the Yankees up 4-2. And as a bonus, he started the series-ending double play.
For those wondering,
Derek Jeter's
best series-clinching games fall a little short, statistically speaking. Perhaps he's due for a big one today.
Third Base --
Amazingly, the individual game that scores highest of any Yankee-clincher Win Probability-wise, is one which
Alex Rodriguez
didn't even drive in a run.
Rodriguez earns the honor for the events of the 2004 ALDS Game 4 clincher against Minnesota, in which he reached base four times in six turns. He didn't have the winning hit, but he did the next best thing. In the 10th inning, he doubled with one out, then stole third (a play increasing the Yankees' chance of winning by 11 percent by itself) and scored on
Kyle Lohse's
wild pitch.
Left Field --
A more distant memory than
Reggie Jackson's
three-homer game (which we'll get to in a moment) is
Babe Ruth's
series-clinching trifecta in Game 4 of the 1928 World Series. Twice Ruth homered to tie the game and he added a put-away blast with the game out of reach in the eighth.
This one actually doesn't score highest on the WPA chart --
Bob Meusel
(1923 WS),
Elston Howard
(1958 WS) and
Dave Justice
(2000 ALCS) rate higher, but the power of the Bambino overrules in this instance.
Center Field --
This was one of the harder ones to pick, but we'll go with
Mickey Mantle's
clutch hitting against the Dodgers in Game 7 of the 1952 World Series. His sixth-inning home run gave the Yankees the lead and his seventh-inning RBI hit gave the Yankees a two-run cushion.
If you want to stump your friends with some good clinching trivia, ask them to name the only Yankee center fielder with four hits in a clinching game. It's not Mantle,
Joe DiMaggio
,
Bernie Williams,
or even Hall of Famer
Earle Combs
, the latter three of whom all had games that could have been picked here -- it's
Mickey Rivers
, in Game 5 of the 1976 ALCS.
Right Field --
Reggie Jackson
, Game 6, 1977 World Series. Three swings, three home runs. End of discussion.
DH --
Also fairly simple:
Hideki Matsui
tied a World Series record with six RBIs in last year's clincher against the Phillies. WPA says he's the pick too.
Mid-game replacement --
We'll call it a tie, and I think our Baseball Tonight colleague
Aaron Boone
will agree that trying to pick between his walk-off home run in Game 7 of the 2003 ALCS and
Luis Sojo's
series-clinching hit in Game 5 of the World Series is too tough. So let's call it even. There's room on the bench for both.
Starting Pitcher --
The performance that rates highest among all Yankees, regardless of position, for Win Probability Added in a series clincher --
Ralph Terry
. People of my age talk about
Jack Morris'
Game 7 1-0 win for the Twins in the 1991 World Series. People my father's age speak of Terry, who overcame the stigma of allowing
Bill Mazeroski's
series-ender two years prior.
Terry allowed no runs and four hits in a 1-0 win in San Francisco. Yes, he was fortunate to escape a ninth-inning jam when
Willie McCovey
lined out with runners on second and third to end the series, but it speaks highly to his value that his manager felt confident enough in him to stick it out in the ultimate pressure-cooker moment.
Another one with which to stump your friends: The last Yankee to pitch a complete game in a series-clincher?
Mike Torrez
, better known for giving up the famous homer to
Bucky Dent
, did it in Game 6 of the 1977 World Series (it rates a distant 30th on the WPA list).
Relief Pitcher --
Mariano Rivera
has been on the mound to get the last out of 14 different postseason series (trivia buffs note:
Gabe White
and
Ramiro Mendoza
are the other two Yankees to get series-clinching outs in the Rivera closer-era), but rising above those on the WPA scale and our list is one in which he didn't celebrate the final out -- Game 7 of the 2003 ALCS.
Rivera pitched three shutout innings against the Red Sox that day, bravely keeping the game tied until Boone's winning home run. It's the ultimate game in the legacy of one of the greatest Yankees of all time.
Now, as to which is better: three scoreless innings or three home runs? You can make the call on that.