New York Yankees:

Chris Davis
July, 8, 2013
7/08/13
12:00
PM ET
By
ESPN Stats & Information
Who should
Robinson Cano
select to participate in the 2013 Home Run Derby? You can see the selections announced on "SportsCenter" at 6 p.m. ET.
Here is the ESPN Home Run Tracker analysis of the top choices.
Mark Trumbo, Los Angeles Angels of Anaheim
Although Trumbo ranks ninth in the AL with 19 home runs, nine of those went at least 425 feet, the most in baseball. His average home run distance is 417.7 feet, fourth in the majors (minimum 10 home runs), and all but three of his home runs would have been out of Citi Field.
His
475-foot home run
off
Dan Straily
on April 29 is tied for the longest home run of the year.
Chris Davis, Baltimore Orioles
Davis leads the majors with 33 home runs, showing power to all fields.
Davis has not hit a home run longer than 440 feet this season, but seven have gone at least 425. His eight home runs to center field are the most in baseball.
Nelson Cruz, Texas Rangers
Cruz has 22 home runs this season, including ones that went
450
feet and
445
feet. Nineteen of those homers would have been out of Citi Field.
Although Cruz's average home run distance is 410.4 feet (12th among players with at least 10 home runs), his average home run distance is 419 feet when excluding his opposite-field home runs.
Other AL options:
Miguel Cabrera, Detroit Tigers
: It is hard to keep Cabrera off this list, as he is second in baseball with 27 home runs. However, his average home run distance is "only" 406.7 feet, 25th in the majors (minimum 10 home runs).
Raul Ibanez, Seattle Mariners:
Ibanez has 21 home runs, but his average home run distance is 383.6 feet, the lowest in the AL (among those with at least 10 home runs). Only four of those 21 were longer than 400 feet, and nine would not have been homers at Citi Field.
Adam Dunn, Chicago White Sox:
Despite having 23 home runs, including six of at least 430 feet, Dunn ranks 17th in average home run distance.
Mike Trout, Los Angeles Angels of Anaheim:
Trout has the third-highest average home run distance in baseball (419.5 feet), but his 14 home runs were not enough to make the top three.
Edwin Encarnacion, Toronto Blue Jays:
Encarnacion has 23 home runs, but only one over 430 feet.
July, 6, 2013
7/06/13
7:40
PM ET
By
Ian Begley
| ESPNNewYork.com
Andy Pettitte
is one of the best left-handers of his generation, maybe a future Hall of Famer.
But he's also human.
So he felt just like anyone else who worked outside in the sweltering heat on Saturday.
"It was a grind out there, man," Pettitte said.
But it was worth it.
Pettitte earned the win in the
New York Yankees
' 5-4 triumph over the
Baltimore Orioles
by giving up four runs (three earned) on nine hits over 6⅔ innings.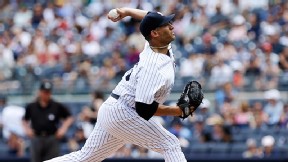 AP Photo/Frank Franklin IIAndy Pettitte snapped a three-game losing streak Saturday, but he wasn't too happy afterward.
In doing so, he snapped a personal four-start winless streak. It's no surprise that the win came against the Orioles. Pettitte is undefeated in his past 11 starts against Baltimore since Sept. 19, 2007, going 8-0 with a 2.99 ERA.
Overall, he is 28-6 against the O's. Only Yankees great Whitey Ford (30) has more wins against them in team history.
But Pettitte wasn't exactly popping champagne in the clubhouse after his latest win over Baltimore.
Instead, the 41-year-old chided himself for a lack of execution.
"Usually, when you throw the ball where you want to, you feel like that's going to be an out," Pettitte said. "I haven't been getting that the past three or four starts."
Pettitte's ERA has risen by more than a half-run over his past five starts. That's not an astronomical increase, but it's worth watching because the 17-year vet has noticed a troubling trend in recent starts.
He's hitting his spots, but he's not getting the intended results.
"It just seems like my pitch selection isn't right," Pettitte said. "Maybe I've been a little aggressive in certain counts."
One example Pettitte cited was his second-inning battle with
Chris Davis
.
Pettitte made the pitch he wanted -- a cutter on the inner half of the plate -- but Davis drove it over the center-field wall for his 33rd home run.
"It was exactly where I wanted, but he's just a big, strong man," Pettitte said.
He gave up seven more hits over the next six innings but managed to scatter them and allow the Yankee offense to come back from an early 3-0 deficit.
He left to an ovation from the 42,678 on hand after he struck out
Nick Markakis
looking in the seventh.
"I think they all know what I'm trying to do out there," Pettitte said.
But he couldn't mask his frustration.
"I can't remember going through a stretch like I have right now where you feel like every decision you're making out there is not the right one," he said. "I feel really good [physically], and I'm hoping that I can get off on a long streak soon."