New York Yankees:

Corey Kluber
August, 9, 2014
Aug 9
5:38
PM ET
NEW YORK -- After missing three straight game because of his injured pinkie,
Mark Teixeira
might be at least a bench player Sunday, Joe Girardi said.
"He's going to go through BP to see how he feels, but he is definitely closer than he was yesterday," Girardi said Saturday after the Yankees' 3-0 loss to the Indians.
Before testing the pinkie, Teixeira was
not as optimistic Saturday morning
.
Corey story:
The Yankees have had plenty of days when their hitting has been to blame, but on Saturday it was more about Indians starter
Corey Kluber
.
"He's nasty," Derek Jeter said. "You can see he is going to have an extremely long and successful career."
Kluber, 28, had 10 strikeouts in his six scoreless innings. Three relievers finished off the Yanks.
Cervy time:
With
Brian McCann
on the seven-day concussion DL, Girardi said that his plan is to play
Francisco Cervelli
every day and that
Austin Romine
will give Cervelli a rest if need be. As for McCann, Girardi said the Yankees are doing right toward their catcher.
"It's not what you want, but it is what we thought was necessary to protect him and to make sure he was going to be OK," Girardi said.
X-rays:
Brandon McCarthy
's X-rays on his right foot were negative. McCarthy took a comebacker off the foot on a hard shot from
Michael Brantley
. McCarthy -- who was once drilled in the head by a comebacker -- said he
didn't have any flashbacks
.
August, 25, 2012
8/25/12
12:27
AM ET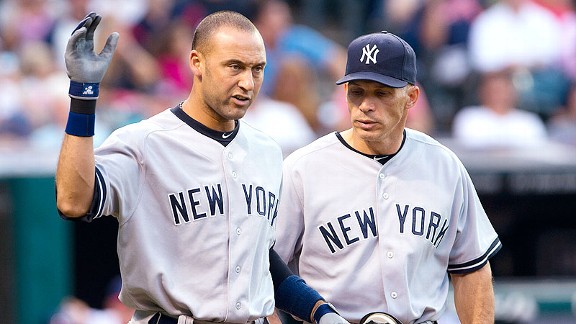 Jason Miller/Getty ImagesDerek Jeter reacting to being hit in the head by a pitch while walking to first base with Joe Girardi.
It was about the most frightening sight -- and sound -- a Yankee fan could imagine: A 92 MPH fastball homing in on the head of
Derek Jeter
, and then caroming off his batting helmet with a resounding THWACK!!
Nick Swisher
, in the on-deack circle, couldn't bear to look.
"I heard it and kinda closed my eyes real quick because I thought he was going down," Swisher said. "And then he was just kinda standing there and I was like, what a champ. That didn't faze him at all."
Luckily for everyone concerned, Jeter took the brunt of the impact on the bill of his helmet, which cracked in two places. And although there was a tense moment as Jeter said something to
Corey Kluber
, the rookie who uncorked the pitch, while Kluber stared back silently, there were no real repercussions other than a
CC Sabathia
pitch that sailed behind the derriere of
Asdrubal Cabrera
in the fourth inning.
"I told him, 'Be careful when you throw up and in,'" Jeter reported, although the TV replays told a different story.
In any case, Jeter characteristically insisted on staying in the game, gruffly pushing Joe Girardi and trainer Steve Donohue aside, although he admitted afterward that the moment was frightening.
"It's scary when it's coming," he said. "It is what it is. It's over with now."
And when someone asked if the impact had hurt, Jeter snapped, "No, it felt good. Of course it hurt. You get hit with a 90-something mile per hour fastball, it's going to hurt. There's no problem, so I'm fine."
Jeter admitted he was angry with Kluber, a 25-year-old rookie making his fifth major-league start. "Of course you're angry. No one wants to get hit in the head,'' he said. "I don't think anyone throws at someone's head on purpose. I don't see any reason why. I haven't faced the guy and I don't know the guy. I don't think he did that, but if you're throwing up and in, you've got to be careful. That's a dangerous area to be throwing. Fortunately, there are no problems."