New York Yankees:

Dante Bichette Jr.
March, 31, 2012
3/31/12
5:06
PM ET
Modesty is a wonderful quality in a person and judging by Dante Bichette Jr.'s first post-game interview, he has it in abundance.

The Yankees first pick in the 2011 draft (51st overall), the son of former major league slugger Dante Bichette, who is a close friend of Joe Girardi's, belted the first two pitches he saw in his first two spring training at-bats with the majr league club out of the wind tunnel known as Osceola County Stadium.

The first may have needed a little help but the second created a jet stream of its own, sailing over the centerfield fence, 410 feet away, and over the batter's eye some distance beyond that.

"For sure, I was lucky to make contact with the first two swings and they went pretty far,'' said Bichette, who will not turn 20 until September 26. "I''m happy with that. I was just trying to hit the ball, that's all."''

Bichette grew up in Orlando and lives about 20 minutes away from the ballpark he hit those pitches out of. In fact, Osceola is familiar turf -- it was the home field for the travel team he played on as a kid.

After both of his home runs, he was greeted at the top step of the dugout by Girardi, who high-fived him, and afterward, both Mark Teixeira and Raul Ibanez went out of their way to shake his hand in the clubhouse.

"It couldn't have gone any better,'' said Bichette, whose parents, his 14-year-old brother Bo --"The better one in the family, for sure,'' he said -- and an uncle were in attendance. "It was all kind of surreal.''


March, 31, 2012
3/31/12
4:17
PM ET
There were 30 hits, 20 runs and nine home runs in today's Yankees-Astros game at Kissimmee, and they didn't even play all nine innings. A Wizard-of-Oz-esque rain and wind storm caused the umpires to wave it off in the top of the ninth with the Yankees leading, 11-9, and trust me, nobody on the Houston side raised a fuss.

So naturally, our three stars today are all hitters.

Star #1 -- Dante Bichette Jr.: With his parents in the crowd, the Yankees first pick in the 2011 draft got his first two at-bats in a spring training game, saw his first two pitches, and hit both of them out of the yard. The first got a little help from Mother Nature but the second was crushed over the batter's eye in dead-center. Quite a debut for the kid. Now if he can only learn to work the count a little . . .

Star # 2 -- Robinson Cano: The new No. 3 hitter looks like he's ready for Opening Day, going 2-for-3 with a laser beam of a home run, no wind necessary, and turning a neat double play on a ball that deflected off pitcher Adam Warren.

Star #3 -- Raul Ibanez: After a slow start, The King of Siam is starting to wield his power, hitting his second home run in three games -- he now leads the team with three -- and knocking in four runs.

Honorable Mention -- Curtis Granderson : The Grandy Man was three-for-three with a double and is hitting .381.
June, 7, 2011
6/07/11
7:03
PM ET
By
Ian Begley
| ESPNNewYork.com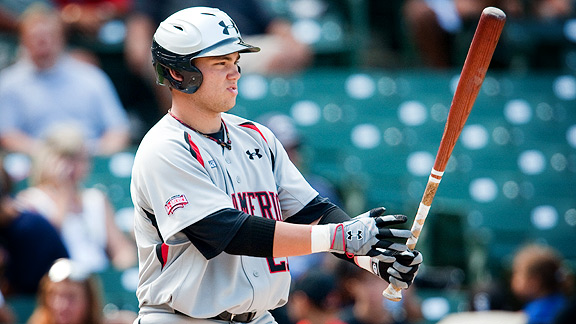 Damen Jackson/Icon SMI
The Yankees selected Orangewood Christian (Fla.) product Dante Bichette Jr. with the 51st pick of the first-year player draft.
Dante Bichette Jr.
calls Yankees manager
Joe Girardi
, "Uncle Joe."
But he'll have to come up with something a little more formal from now on.
The Yankees selected Bichette Jr., the son of the former big leaguer
Dante Bichette
, who is a close friend of Girardi's, with the 51
st
pick of the first-year draft.
So he can't call Girardi "Uncle" anymore. That's no way to refer to someone who could one day be your boss.
"I think I'm going to have to stop that," he said jokingly on Tuesday.
Bichette Jr., an 18-year-old power hitter, called getting selected in the compensation round by the Yankees "a dream come true."
"It's the most prestigious club around. There's nothing better than being a Yankee," he said.
Bichette Jr. played third base at Orangewood Christian (Fla.) HS, which he led to the Class-2A state finals this spring. He was recently named by
Baseball America
as the 15
th
best prospect in the state.
He credits his success to Dante Sr., who played for the Rockies, Red Sox and Reds -- among others -- over a 14-year big-league career.
"There's no greater tool than my dad," he said.
Bichette Sr. and Girardi have been close friends for nearly two decades. The two became close friends in Colorado during the Rockies' 1993 expansion season.
As Girardi put it on Wednesday, he and Bichette "were about as opposite as you can get. He was more of a free spirit and everybody knows how I am."
But Girardi and Bichette developed a tight friendship in Colorado, lifting weights together and hanging out off the field.
Bichette Jr. was born during the Rockies' inaugural season.
"He was a wonderful little kid," Girardi said.
Dante Jr., his dad and the rest of the Bichette family would stay at Girardi's home in Chicago on road trips.
Some nights, Dante Jr. would have a tough time falling asleep, so Joe and Dante Sr. would drive him around the neighborhood to help him relax.
"To think that this is the kid that we drafted today, the kid that I was driving around to get to sleep," the manager said, "that's a special family."
Over the last 18 years, Bichette Jr. went from restless baby into a blue chip prospect.
He hit a team-high .640 with 58 runs, 14 doubles, 10 homers and 40 RBIs in 30 games. The
Orlando Sentinel
named Bichette Jr. "All-Central Florida Baseball Player of the Year" each of the last two seasons.
"I'm definitely ahead of some of the high school hitters as far as my approach," Bichette Jr. said. "I handle myself on the field as a big leaguer would."
He can thank Dante Sr. for that.
"I think hitting wise, I'm pretty much the same person," Bichette Jr. said. "We have the same strengths and the same weaknesses …. Hopefully, I'll be able to learn from him."
If Bichette Jr. can duplicate the career accomplishments of Dante Sr. (.299 career BA, 274 HR), the Yankees will have found a gem. He is projected at the next level as a third baseman and outfielder.
"Dante is one of the guys in this draft we thought had an impact bat and the potential to hit for big power in the middle of the order,"
Damon Oppenheimer
, Yankees VP of Amateur Scouting, said. "He's someone with an advanced makeup and work ethic who possesses the desire and drive to be a special major leaguer."
Girardi went to bed early on Monday after a long West Coast trip so he missed the Yanks' first pick. He woke up Tuesday morning to a bunch of text messages, informing him of the news. He talked to Dante Bichette -- or "Big Dante" -- on Wednesday morning. Bichette Sr. was "really excited" about his son's future.
Girardi insists that he didn't influence the Yankees to select his Bichette Jr.
"Our club felt he was the best available player," he said.
If Bichette Jr., who is being advised by
Dan Evans,
can't come to terms with the Yankees, he will attend college at the University of Georgia.
But he anticipates that both sides will be able to quickly hammer out an agreement. After all, he hopes to someday be a part of Uncle Joe's lineup.
"I hope I'm going to play for him one day," he said.
NBA
NHL
COLLEGE BASKETBALL
MLB
MLS