New York Yankees:

David Cone
May, 28, 2013
5/28/13
11:34
AM ET
By
Mark Simon
| ESPNNewYork.com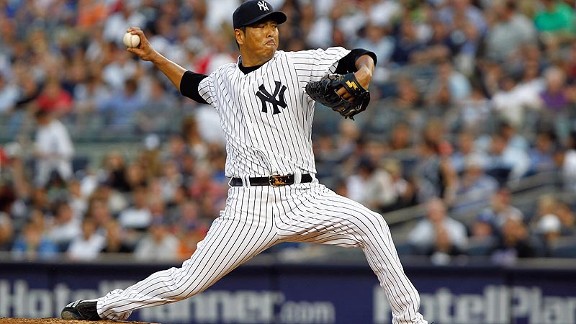 Debby Wong/USA Today SportsHiroki Kuroda's start last season was one of the best by a Yankee against the Mets.
Matt Harvey
figures to garner much of the attention on Tuesday, but let's not forget that
Hiroki Kuroda
is as capable of pitching a gem of a game as the Mets ace. In fact, he's had good starts against the Mets in the past.
With that in mind, let's look back at the best Yankees pitching performances in this rivalry.
We'll list the best statistically by Bill James Game Score, a stat that ranks starts on a scale that is usually from 1 to 100 (based on innings, runs, hits, strikeouts, and walks).
Andy Pettitte, 2002 -- Game Score 87 (9 IP, 0 R, 3 H, 8 K, 2 BB)
There have been two shutouts in the Mets-Yankees rivalry. One was thrown against Andy Pettitte and one was thrown by him, an 8-0 win.
The latter took 120 pitches, but it was the usually-consistent Pettitte in control. The Mets would put two men on base in only one inning and Pettitte took care of that threat with an inning-ending pickoff.
Did You Know? Andy Pettitte and A.J. Burnett are the only pitchers to throw consecutive starts of seven innings or more allowing no runs in this rivalry.
Roger Clemens, 2000 World Series -- Game Score 87 (8 IP, 0 R, 2 H, 9 K, 0 BB)
Though this game is best remembered for Clemens throwing a bat shard at
Mike Piazza
, it should be noted that this was a game in which Clemens pitched at the highest level.
Mets hitters had little chance against Clemens on a 49-degree night in the Bronx. He struck out four hitters in the first two innings and was never touched on the way to putting the Yankees up 2-0 in the series.
Did You Know? The highest Game Score by a Yankee in a World Series game is 97 by Don Larsen in his perfect game against the Brooklyn Dodgers in Game 5 of the 1956 World Series.
A.J. Burnett, 2009 -- Game Score 82 (7 IP, 0 R, 1 H, 10 K, 3 BB)
Burnett had his share of Jekkyl and Hyde moments as a Yankee, but against the Mets, he was consistently great. In this start, he allowed only an
Alex Cora
single in the sixth inning en route to a 5-0 win.
Did You Know? A dozen Yankees pitchers have made at least three regular-season starts against the Mets. Burnett had a 3-0 record and 1.33 ERA in his three starts, the best of those 12 pitchers.
Hiroki Kuroda, 2012 -- Game Score 81 (7 IP, 0 R, 1 H, 7 K, 1 BB)
Kuroda's effort was a near-duplicate of Burnett's, with the Mets getting their only hit in the sixth inning, a double by
Omar Quintanilla
.
The man on the mound for the other team got a bit more attention, since it was Johan Santana's first start following his no-hitter. This one didn't go well, with the Yankees tagging him for three straight homers in the third inning.
Did You Know? Over the last seven seasons, the Yankees have had two pitchers allow one hit in seven innings against the Mets. All other major-league teams have combined for two such games from their pitchers.
David Cone, 1997 -- Game Score 79 (8 IP, 2 R, 2 H, 11 K, 2 BB)
The inaugural Subway Series finale was a great game between the two teams at Yankee Stadium. The Yankees would end up prevailing 3-2 on a hit by
Tino Martinez
, but early on it looked like Cone's dominance against his former team would be the story.
Cone took a no-hitter into the seventh inning then tired, allowing a run in each of the next two frames. The game-tying score would be a famous one in the rivalry when Steve Bieser coaxed Cone into a balk from third base.
Did You Know? David Cone's 145 combined wins for the Mets and Yankees (81 Mets, 64 Yankees) are the second-most for a pitcher for those two teams. The most is 181 by Dwight Gooden (157 Mets, 24 Yankees), who will be helping broadcast the Harvey-Kuroda duel tonight.
November, 15, 2012
11/15/12
2:07
PM ET
David Cone
, who pitched for both the
Toronto Blue Jays
and the
New York Yankees
and now a broadcaster for the YES Network, took a look at the 12-player blockbuster deal between the Blue Jays and the
Miami Marlins
that sent
Jose Reyes
,
Josh Johnson
and
Mark Buehrle
to Toronto and formed a very definite opinion: "I would think they've got to be the favorite (in the AL East) right now."
Cone shared his comments at Yankee Stadium this morning, where he, Joe Girardi and a bunch of Yankees employees took part in an event to assemble "comfort packs" of food and supplies to U.S. troops serving in Afghanistan during the holiday season.
"I think the Blue Jays see a golden opportunity," said Cone, who went 13-9 with a 3.14 ERA in two stints as a Blue Jay, in 1992 and 1995. "They see the AL East is ripe for the taking. You've got to admire them for making a move and taking a shot."
Asked if he thought the deal shifted the balance of power in the division, Cone said, "I think it does absolutely. Especially considering Toronto is going to get the roster that they had back healthy again. They'll get Brendan Morrow back. That rotation is going to be something. The pitching is going to be good. Put Jose Reyes in there, and if (Jose) Bautista is healthy again, I would think they've got to be the favorite right now.''
Girardi was less enthusiastic about the Blue Jays' prospects for 2013, but did allow, "Well, they definitely improved their club. They added to their rotation. They added speed to their lineup as well, and an everyday shortstop. This is a club that's improved."
The manager stopped short, however, of declaring the Blue Jays the favorite to win the division. "Well, it's going to be a little bit more difficult for us," he said. "They've been tough on us over the years anyway. It just becomes a little more difficult. But there's a long way to the start of spring training and Opening Day and there's a lot of work to be done."
Yankee fans, who do you agree with, Cone or Girardi? Have the Blue Jays leapfrogged the Yankees as the team to beat in the AL East? Or do you still see the Yankees as the favorites until proven otherwise? Or is there a third choice?
March, 20, 2012
3/20/12
7:00
AM ET
On the day the new oldest member of the Yankees staff,
Andy Pettitte
, shows up for work, the youngest member,
Michael Pineda
, of the Super 7 goes to the mound still looking to answer the question:
Where's the fastball?
We have said it all along that the 90-92 mph readings might not mean anything, even if both
Brian Cashman
and
Joe Girardi
have stated, at one time or another, that Pineda is not guaranteed a spot in the rotation. So if he is overwhelmed by New York and he forgot to pack his top fastball, he could be an Empire State Yankee to start the season. It wouldn't be the worst thing.
Still, with that said, YES'
David Cone
thinks that Pineda can be successful even if his fastball isn't at 95-plus.
"He really pitched at about 94 [last year]," Cone said during our conversation on Monday. "It is not that far off from 90-91."
Cone said that at 23, after pitching in the majors for the first time, it is not that unusual for a starter's arm to be overwhelmed by the grind of the season.
"It is very difficult for young pitchers to sustain themselves over a long major league season," Cone said.
Cone thinks Pineda will be fine because of his "high aptitude" for pitching. So Pineda's velocity will be a story once again, but we have already seen the nasty slider and the developing change so maybe he could be pretty good without his best heat.
UP NOW
: My column on
how Cone in 2003 was Pettitte in 2012
. Here is the
podcast of my conversation with Cone
.
Michael Kay
and
Don LaGreca
talked with Pettitte during Monday's show
.
ON DECK:
March Madness!
Kieran Darcy
makes his 2012 spring training debut. Darcy will be in the clubhouse, beginning at 2:10 p.m. when the doors open. Pettitte is scheduled to talk with reporters at 6 p.m. At 7 p.m., Pineda takes the mound against the Pirates. The game will be on YES. We will be on the blog all day and night. Thanks for reading.
QUESTION OF THE DAY:
We did an
O/U with Pettitte
on Monday, here is another question: Who has more wins this season -- Pineda or Pettitte?
March, 19, 2012
3/19/12
7:24
PM ET
March, 19, 2012
3/19/12
1:40
PM ET
I'm writing a column on my conversation with YES' David Cone on Andy Pettitte. In the meantime, you can listen here.

Cone reveals how long he thinks Pettitte might play and how many games he may win this season. He also talks about the lure of coming back in the year of your 40th birthday. Cone tried it in 2003 after sitting out a season.

"There is something about spring training," Cone said. "It really gets into your system. All baseball players have this internal clock around February when it starts to kick in and the juices start to flow. I think underestimated how much I was going to miss it."

March, 19, 2012
3/19/12
12:16
PM ET
• The Michael Kay Show will have Andy Pettitte on ESPN New York 1050 today at 5 p.m.

• I just got off the phone with David Cone, who tried his own comeback a decade ago, I will have a lot on that coming up.

So keep it here. Thanks.
March, 30, 2011
3/30/11
1:41
PM ET
ESPN.com Illustration
ESPNNewYork.com named the 50 Greatest Yankees -- not an easy task, considering the Bombers have 27 World Series titles, 40 American League pennants and enough Hall of Famers to fill their own wing in Cooperstown.
The List

Rank 'Em »
•
Matthews:
My top three? Ruth, Gehrig, Rivera »
•
Here's the method to our madness »