New York Yankees:

David Ortiz
March, 4, 2014
Mar 4
4:40
PM ET
TAMPA, FLA. --
David Ortiz
chimed in on
Derek Jeter
's retirement -- and Big Papi came with big praise.
"If there's one guy that the baseball game is gonna miss once he's retired, it's Derek," Ortiz told Jim Duquette and Mike Ferrin on Sirius-XM's MLB Network Tuesday. "Derek is very professional, that's a guy that is all about the game, all about the business.
"He is one of the baseball players that I can tell you that pretty much his whole career has done everything perfectly right. And when I watch him play I get goosebumps. You know what I'm saying? That's one of the players that everybody wants to come and see. ... That's a player that definitely we're all gonna miss after he's done with baseball."
SORIANO IN THE OF:
The Yankees have two Gold Glove outfielders and a third, who might be better than both. Even with
Jacoby Ellsbury
,
Carlos Beltran
and the gold-glove-less
Brett Gardner
,
Alfonso Soriano
will still see some time in the outfield.
Why? Well, mostly to keep Soriano happy.
"I like him in the mix because I know it is important to him to be in the outfield," Joe Girardi said.
Soriano, who has been sick, is supposed to play in his first exhibition game on Thursday.
As for
Ichiro Suzuki
, Girardi says nice things about him all the time, but there doesn't seem to be any room for him unless there is an injury or two.
AGITATED JOE:
Mark Teixeira
was supposed to take BP against live pitching on Tuesday in preparation for his spring debut on Thursday. There was one problem -- the Yankees had no one to throw it.
"Believe it or not, we don't have someone," Girardi said. "I'm extremely disappointed because we didn't have one. I told Larry, 'I didn't know if I could go on with my day.' Confused."
Girardi said Teixeira will take BP on Thursday.
MOMENT OF SILENCE:
Before Tuesday night's game, the Yankees will have a moment of silence for Monica Barlow. Barlow, who was an Orioles public relations director, passed away at 36. Brittany Ghiroli from
MLB.com wrote a nice tribute to Barlow
.
January, 15, 2014
Jan 15
3:28
PM ET
In August, when
Alex Rodriguez
was hit by a pitch thrown by Red Sox starter
Ryan Dempster
, Sox slugger
David Ortiz
stuck up for A-Rod. The two hung out that same weekend. They are good friends.
Now, A-Rod's attorney, Joe Tacopina, has pointed a finger up north -- though Tacopina denied it was at Ortiz.
In an interview with ESPN Radio's Colin Cowherd on Tuesday, Tacopina said he wouldn't name others accused of PED use, but "some of them are godlike in Boston right now."
In an e-mail to the Boston Globe, Tacopina denied he was talking about Big Papi, but wouldn't say to whom he was referring.
In 2009, the New York Times reported that Ortiz failed a test during the 2003 survey drug program. Ortiz has probably never been more popular than he is now after Boston's 2013 championship run.
December, 7, 2013
12/07/13
1:45
PM ET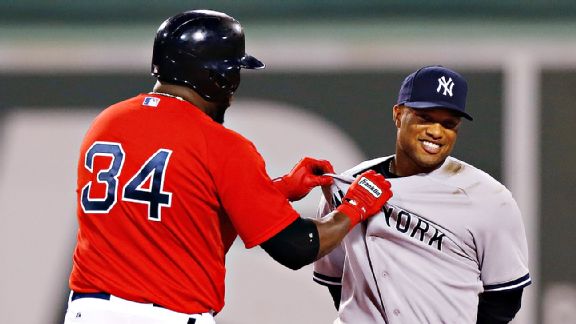 Jared Wickerham/Getty ImagesDavid Ortiz says the Yankees have lost "the face" of their team in Robinson Cano. Do you agree?
David Ortiz
thought the Yankees would step up for
Robinson Cano
.

"I couldn't believe the Yankees let that walk away," Ortiz said on WEEI Radio in Boston. "He's the face, as long as he played for the Yankees, he was the face of that ballclub. He was backing up everybody."
Ortiz and Cano are friends so it is not surprising that he would speak so highly of Cano. The Yankees wanted to keep Cano, just at their price. They offered $175 million for seven years, which is pittance compared to the 10-year, $240 million that Cano received from Seattle.
To read the rest of the story click here.
November, 1, 2013
11/01/13
8:07
PM ET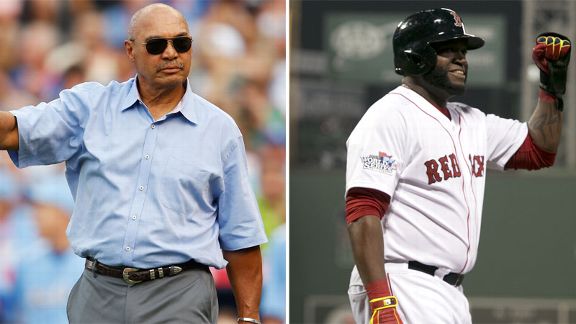 Getty ImagesReggie Jackson isn't willing to give up his Mr. October moniker.
Reggie Jackson has a message for anyone wanting to dub
David Ortiz
"Mr. October" after being named MVP of the World Series for his efforts in Boston's triumph over St. Louis.

"He did a great job [in the playoffs]. There's only one Mr. October," Jackson said on HuffPost Live on Thursday. "We got one day left now. Don't say nothing silly now."
Jackson, who was promoting his book "Becoming Mr. October", earned his nickname for his stellar play in the postseason during his Hall-of-Fame career.
He hit .278 with 18 homers and 48 RBIs in 77 career postseason games. In 27 World Series games, he hit .357 with a .457 on-base percentage and .755 slugging percentage with 10 homers and 24 RBIs. Jackson won five World Series crowns, two with the Yankees.
He's most famous for hitting three straight homers in the Yankees' 7-2 win over the Dodgers in the decisive Game 6 of the 1977 World Series.
Ortiz hit .688 with a slugging percentage of 1.188 in this year's World Series, and is a career .295 hitter in the postseason with 17 homers and 60 RBIs. In the World Series, he's a .455 hitter and his slugging percentage is .795. He has three homers and 14 RBIs in 14 World Series games.
While Jackson defended his territory in the interview, he praised the Red Sox designated hitter. Ortiz has now won three World Series titles with Boston.
"I like to watch Big Papi play, for sure," Jackson said.
Jackson said he had no problem watching the Red Sox win it all this year.
"I really had great admiration for the teams in the World Series [chase] -- Dodgers, Detroit, St. Louis, the Red Sox," Jackson said. "I thought any one would have been a great representation of being a champion."
QUESTION: Who is Mr. October: Reggie or Ortiz? Please let us know in the comments section below.
August, 22, 2013
8/22/13
11:48
AM ET
NEW YORK -- It is newsworthy that
David Ortiz
supported
Alex Rodriguez
and not his own teammate,
Ryan Dempster
, after Dempster intentionally drilled A-Rod. But the comment that might have been as interesting as Big Papi supporting his buddy, A-Rod, was the one in which he warned that
Dempster might have awakened the Yankees
.
"You saw how the game ended up," Ortiz told USA Today. "
CC Sabathia
was throwing 91 (mph) and started throwing 96. Alex later hit one way out there. You're talking about a good team that you can't wake up. But we learn from our mistakes."
Back in 2004, a lot of folks felt like when
Jason Varitek
shoved A-Rod at Fenway that it sparked the Red Sox. They went on to win 46 of their final 66 and a championship.
Do you think Dempster drilling A-Rod has sparked the Yankees?
July, 6, 2012
7/06/12
10:30
AM ET
By
Mark Simon & Katie Sharp
| ESPNNewYork.com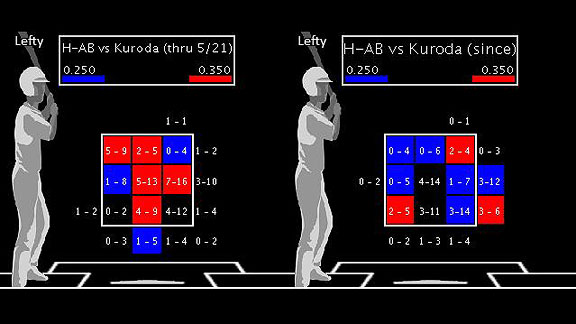 Hiroki Kuroda has excelled against left-handed hitters recently
Hiroki Kuroda Stats To Watch
Kuroda has pitched like an ace in his past seven starts, with a 1.65 ERA and 46 strikeouts in 49 innings.
He has held lefties to a .211 average with just one home run allowed during that span, after hitters posted a robust .330 average and slugged .530 against him in his first nine starts this season.
Also worth noting: Kuroda is 5-7 with a 4.08 ERA in 13 starts at night. In his three afternoon starts, he's 3-0 with no runs allowed in 23 innings.
Robinson Cano Stats To Watch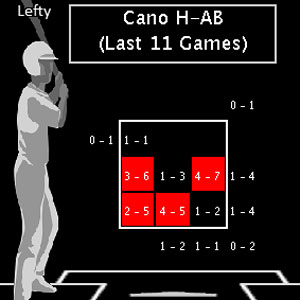 Robinson Cano during his hitting streak

Cano is in the midst of a tremendous tear, with an RBI in each of his last eight games.
If he can get an RBI in each of his next three, he'd match the Yankees record for consecutive games with an RBI, shared by Babe Ruth and Joe DiMaggio.
After getting off to a slow start this season, Cano is hitting .350 with 19 home runs since May 6.
He's also 20-for-his-last-45 with five home runs during an 11-game hitting streak.
Josh Beckett Stats To Watch
This will be Beckett's first start against the Yankees this season. He made five starts in 2011, winning four of them and getting a no-decision in the others. He's won five straight decisions against the Yankees overall. The last Red Sox pitcher with a longer winning streak against the Yankees was
Reggie Cleveland
(seven straight, 1975 to 1977)
Beckett returned from a two-week absence and allowed two runs in six innings in a no-decision against the Mariners.
The Red Sox have lost Beckett's last four starts, scoring only seven runs in those four games. That skid matches the longest that the Red Sox have had in Beckett's starts. They also had a four-game losing streak in Beckett starts in 2006.
One more loss for Beckett would be his eighth of the season. He hasn't had eight losses in a single season since 2008, when he had 10.
Beckett handled three Yankees very well last year.
Mark Teixeira
,
Nick Swisher
and
Alex Rodriguez
were a combined 1-for-30 (with four walks) against him. They missed on 14 of their 31 swings against Beckett's off-speed pitches.
David Ortiz Stats To Watch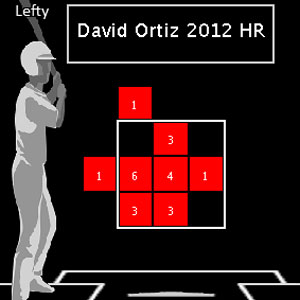 David Ortiz's home runs in 2012

The Yankees should avoid the inner third of the plate when pitching to Ortiz this weekend.
Ortiz has hit 22 home runs this year and 11 have come on pitches on inner-third of the plate or further inside.
Only two players --
Ryan Braun
and
Miguel Cabrera
-- have more homers on inside pitches this season.
Ortiz has torched the Yankees this year with six hits, including a homer and a double, and zero strikeouts in eight at-bats.
He's 0-for-1 with a walk and a sacrifice fly in his career against Kuroda.
Adrian Gonzalez Stats To Watch
Gonzalez has gone from being one of the best home-run hitters in baseball to minimal home run production in just two seasons. Gonzalez averaged 34 home runs a season for the Padres from 2007 to 2010. He hit 27 in 2011 and has only six in 2012.
The heat map below looks at the area in which Gonzalez was likely/unlikely to get an extra-base hit in 2010 versus the areas in which he was likely/unlikely to hit doubles, triples, and home runs in 2012. (Red being high likelihood; Blue being low likelihood -- based on Isolated Power by pitch location).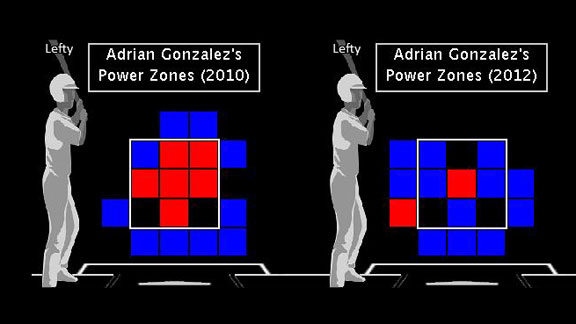 April, 21, 2012
4/21/12
10:35
AM ET
By
Mark Simon, ESPN Stats & Information
Freddy Garcia Matchups to Watch
David Ortiz
was 5-for-10 with two doubles and a home run against Garcia last season, though Garcia retired him in each of their last four head-to-head meetings.
Look for Garcia to pitch Ortiz to the outer-third or further away. He got Ortiz out three times with pitches to that area later in the season. In fact, 17 of the last 23 pitches he threw to Ortiz in 2011 were located on, or just off the outside part of the plate.
Garcia got burned for those hits early in the season, when he made the mistake of coming inside a couple of times too many.
Ortiz will be ready for the outside pitch though. He's 8-for-18 against pitches thrown to that area this season, albeit with no home runs.
Mike Aviles
is the Red Sox hitter with the best numbers against Garcia, with eight hits in 14 at-bats. But he's also whiffed four times in those matchups.
In his last start, Garcia got roughed up a bit by the Twins, though the Twins did get a little fortunate. Four of the nine hits they had against him were on pitches that were not in the strike zone.
Felix Doubront Matchups to Watch
Alex Rodriguez
has not gotten a hit against left-handed pitching this season. He's 0-for-14 against lefties overall, with seven ground balls, three fly balls, three strikeouts, and one line drive out.
For his career, Rodriguez averages a home run every 15 at-bats against lefties, so in that regard he's due for one of those. However, he only had two home runs in 94 at-bats against left-handed pitching last season.
Doubront averages almost 93 miles-per-hour with his fastball. The last time Rodriguez hit a pitch thrown at least 93 miles-per-hour from a left-handed pitcher over the fence was against a 94-mile-per-hour heater from
Jon Lester
on May 9, 2010.
Jeter Watch
Derek Jeter
already has as many hits in the month of April as he did in 22 games last April. The most hits he's ever had in an April is 35, in 2006.
Jeter is 11-for-20 against left-handed pitching this season and 10 of those 11 hits have either been hit straight away or to the opposite field.
Putting The Bat on The Ball
The Yankees have been amazing through the first 14 games in making contact. They had more home runs (5) than strikeouts (4) in Friday's win.
The Yankees have 77 strikeouts through 14 games, a rate of 5.5 per game, which ranks best in the American League.
Last season, Jeter,
Robinson Cano
and
Mark Teixeira
combined for 287 strikeouts. This season, the three of them are
combining
to average one strikeout per game.
Keeping Opponents Bats Off The Ball
Yankees pitchers have 137 strikeouts through the first 14 games, an average of nearly 10 per game, and 60 more strikeouts than their hitters have had.
Yankees pitchers have struck out at least seven opposing hitters in 12 straight games. I
n the Live Ball Era (since 1920), they've never had a longer streak
, having had runs of 12 straight stopped in 1996, 2001, and 2009. The last AL team with a streak longer than a dozen is the 2008 Angels (14 straight).
October, 13, 2011
10/13/11
1:53
PM ET
So
David Ortiz
, fed up with the Red Sox drama in Boston, says he'd consider playing for the Yankees. (Not that the Bombers have asked him).
Do you feel like you've seen Big Papi don the interlocking NY logo?
You have; take a look
.

June, 9, 2011
6/09/11
6:18
PM ET
By
Ian Begley
| ESPNNewYork.com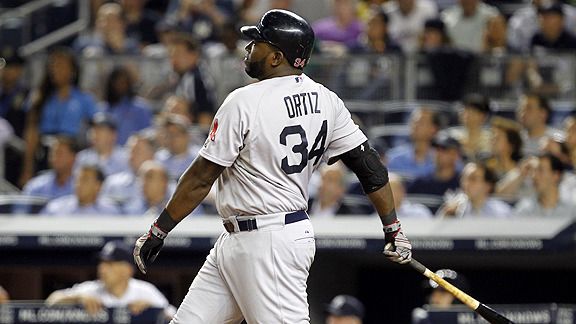 William Perlman/THE STAR-LEDGER/US Presswire
Joe Girardi said David Ortiz is "probably comfortable" at the plate against Yankees pitching. He has homered in his last three games in Yankee Stadium.
In a move that is certain to fire up the chorus of Yankees fans calling for
David Ortiz
to get drilled,
Joe Girardi
admitted on Thursday that Ortiz is "probably comfortable" at the plate against the Bombers.
"Well he's had a lot of success (against the Yankees) and I think you do get feelings against certain clubs," Girardi said on Thursday. "The question was brought to me about making him uncomfortable.
"We moved him off the plate the other day, I don't know if it was the next pitch or two pitches (later), he hit a home run. The bottom line is if you don't make pitches on this guy, he's going to hurt you and he's going to hurt you bad. And we haven't made the pitches on him. And he probably is comfortable because he's had a lot of success against us."
It's been an interesting series for Ortiz and Girardi.
Girardi said he "didn't care" for Ortiz's bat flip after a fifth-inning homer on Tuesday night. On Wednesday, after hitting another homer in another Red Sox win, Ortiz was not interested in revisiting the controversy. He made that clear in an expletive-filled exchange with reporters.
"I don't care what Joe Girardi says," Ortiz said to a New York writer. "Take it like a man. I'm done with that."
Ortiz said he did not flip his bat Wednesday so he could avoid being on the "national news."
"I don't want to have you guys asking me the same questions. I got almost 370 bombs in the big leagues and everybody wants to make a big deal because I bat-flip one of them. (Expletive) that (expletive), man. If I have to make that video on my (expletive), let's see how many bat flips I got on this (expletive). Good night."
Ortiz has hit 364 home runs in his career. Thirty-four have come against the Yankees, a total against one opponent exceeded only by the 39 he has hit against Toronto. And that doesn't count the five home runs he has hit against the Yankees in the postseason, including one of the most dramatic in club history -- the 12th-inning walkoff home run in Game 4 of the 2004 ALCS.
Ortiz has homered in each of the team's past three games against the Yankees, all at Yankee Stadium.
The last Red Sox player to hit home runs in three straight games in the Bronx was
Mo Vaughn
, back in 1994, according to the Elias Sports Bureau.
Information from ESPN.com's news services was used in this report.
June, 9, 2011
6/09/11
1:41
AM ET
By
Adry Torres, ESPNdeportes.com
Big Papi apparently has had enough of the latest saga in the Red Sox-Yankees rivalry.

After Wednesday night's 11-6 rout, David Ortiz let out a few F-bombs along the way when peppered with questions regarding comments made by Yankees manager Joe Girardi and whether or not he thought he would get beaned by Thursday starter CC Sabathia.

"I don't care what Joe Girardi says," the Boston slugger fired back at a local New York writer. "Take it like a man. I'm done with that."

Ortiz hit a two-run homer off New York rookie reliever Hector Noesi and flipped his bat before going on his home run trot.

"I don't want to be on national news tomorrow," replied Ortiz on not flipping his bat after a two-run blast Wednesday. "I don't want to have you guys asking me the same questions. I got almost 370 bombs in the big leagues and everybody wants to make a big deal because I bat flip one of them. [Expletive] that [expletive], man. If I have to make that video on my [expletive], let's see how many bat flips I got on this [expletive]. Good night."
June, 8, 2011
6/08/11
8:15
PM ET
By
Mike Mazzeo
| ESPNNewYork.com
This isn't the 1980s, but former Yankees and Mets pitcher
Dwight Gooden
tweets if it were,
David Ortiz
"would be laying on his ass."
Gooden tweeted from his handle
@DocGooden16
: "In the 80s Ortiz would be laying on his ass right now after the stunt he pulled last night"
June, 8, 2011
6/08/11
7:30
PM ET
By
Mike Mazzeo
| ESPNNewYork.com
Now that's sportsmanship.

David Ortiz absolutely demolished a fastball from A.J. Burnett over the right-field wall to give the Red Sox a 3-0 lead after a half inning of play on Wednesday night at Yankee Stadium.

However, unlike Tuesday night, Ortiz didn't do any showboating this time, instead dropping his bat and watching his linedrive two-run homer fly over Nick Swisher's head and into the stands. Ortiz drew the ire of the Stadium crowd -- as well as Joe Girardi -- after he spun upon connecting for a two-run shot off Hector Noesi in the fifth inning.

"I didn't really care for it," Girardi said.

Ortiz responded: "It's not my first time. It's not going to be my last time. So, big deal."

Oh, and so much for all that retaliation/retribution stuff. Burnett threw Ortiz a first-pitch backdoor breaking ball.
June, 8, 2011
6/08/11
12:04
AM ET
By
Ian Begley
| ESPNNewYork.com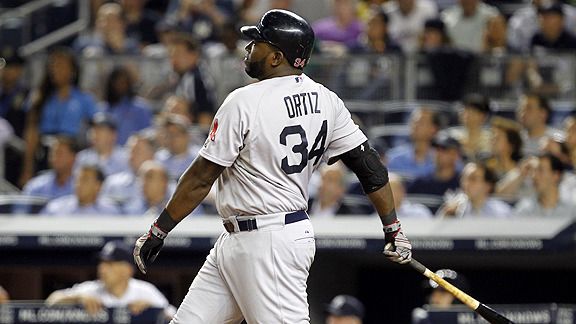 William Perlman/THE STAR-LEDGER/US PresswireDavid Ortiz's exaggerated follow-through on a fifth-inning homer drew criticism from Yankees manager Joe Girardi.
The Yankee Stadium crowd wasn't happy with
David Ortiz's
home-run celebrating bat flip in the fifth inning Tuesday.
The Yankees' manager didn't like it either.
"I didn't really care for it,"
Joe Girardi
said after the Yanks' 6-4 loss to Boston. "I don't know if he was upset that he missed some pitches earlier. You know, I've got a young kid [
Hector Noesi
] on the mound. I didn't know if [Ortiz] was upset that he came in hard on him."
Ortiz hit a two-run homer to right off of Noesi in the top of the fifth to give the Red Sox a 6-1 lead. After an exaggerated follow-through on his swing, Ortiz flipped his bat toward the Red Sox dugout. The Red Sox slugger didn't see anything wrong with the gesture, calling it "just another home run for Papi."
"I mean, it's not my first time, it's not going to be my last time," Ortiz said when he was informed of Girardi's comments. "Big deal. I enjoy the game. It's not like I do it all the time. It's part of the excitement, you know? … What can I tell you?"
Noesi threw an inside fastball on Ortiz the pitch before the home run. Some interpreted it as a purpose pitch, in response for
Jon Lester's
beaning of
Mark Teixeira
and
Russell Martin
in the first inning.
Ortiz did not think the fastball was intentional. As far as Girardi being upset about the gesture, Ortiz said "if [Girardi] was on this side, he would have enjoyed it."
Most Yankees players said they didn't notice the bat flip.
Martin said Ortiz's gesture was "part of the game" though he noted it wasn't the first time Big Papi has shown up a pitcher.
"He took his time coming out of the box. You never want it to happen to you," Martin said. "I guess it's up to us to do it right back to him. We didn't get the opportunity. It's part of the game. Some guys do it, some guys don't."
Martin added: "I've seen him do it before. I like it better when he's doing it against other teams, not against us."
Girardi was asked what he could do to deter any showboating in the future.
"Nothing," said Girardi, whose team fell to 1-6 against Boston this season. "David has always played the game hard. I've never had a problem with David Ortiz.
"This guy's been a clutch player for a long time. My reaction is more probably protecting our young kid. And that's what I'm going to do."
The manager surmised that it was "one of those things" in baseball in which he'd defend a Yankee hitter if he finished off a home run in the same fashion.
"Of course when it happens to you, you're going to defend your guy. … And if it's our guy, I'm gonna say there was nothing intentional about it," Girardi said.
The Red Sox have won four straight at Yankee Stadium for the first time in the two-year history of the Stadium. They also tied the Yankees for first place in the AL East with the win on Tuesday night, the first of a three-game set in the Bronx.