New York Yankees:

Derek Lowe
October, 5, 2012
10/05/12
8:28
PM ET
Yankees manager Joe Girardi declined to say who would be on his 25-man roster, or who would start Game 2 of the ALDS, in his news conference with reporters on Friday.
He did say
CC Sabathia
will start Game 1.
Other notes from Friday:
• We told you what
we thought the roster would be
, but Girardi wasn't as forthcoming, so we asked around to try to find out who made the cut and who did not.
The most interesting thing we learned is that
Jayson Nix
(hip flexor) took extra BP today and thinks he is healthy enough to play in the ALDS.
Now, a player thinking he is ready is different than the coaching staff or front office thinking the same. Nevertheless, if Nix can play, he could take
Andruw Jones
' spot on the roster.
After all, who would you rather have on defense if need be --
Eduardo Nunez
or Nix? Plus, without Nix, if Nunez is the DH against a lefty, the Yankees would have to give up the DH if
Derek Jeter
or
Robinson Cano
got hurt. So Nix is a possibility.
• Prior to the Yankees' workout on Friday,
Cody Eppley
said he hadn't heard if he was on or off the roster. We think
Derek Lowe
will get the nod over Eppley.
•
Casey McGehee
was packing up and looked pretty shaken up. He confirmed he will not be on the roster.
• As mentioned above, Girardi wouldn't say who is starting Game 2 -- it will be either
Andy Pettitte
or
Hiroki Kuroda
. Wallace Matthews
says it should be Pettitte
.
August, 27, 2012
8/27/12
10:56
PM ET
By
Ian Begley
| ESPNNewYork.com
Recap
|
Box score
|
Photos
WHAT IT MEANS:
The New York Yankees' 11-inning defeat to the Toronto Blue Jays on Monday didn't do much to hurt them in the standings. They're still 20 games over .500 and in control of their destiny in the AL East. But it may have cost New York in the long run.
That's because slugging first baseman
Mark Teixeira
left the game in the fourth inning with a Grade 1 calf strain.
The first baseman suffered the injury while running out of the batter's box on a foul ball. He stayed in the game, worked a walk and eventually scored on
Russell Martin
's single to right. He said the strain tightened up on him while he was on the base paths.
Manager Joe Girardi said he doesn't expect Teixeira to play in the rest of this series. His availability for the next series, against Baltimore, is also in question.
Teixeira is hitting .255 with 23 homers and 81 RBIs this season, so he would leave a sizable void in the Yanks' lineup.
LATE-INNING DRAMA:
Captain Clutch? Of course. Jeter bailed out closer
Rafael Soriano
with a solo homer to right to tie the game at 7-7 in the ninth. The normally reliable Soriano blew the lead a half-inning earlier by allowing a three-run homer to
Colby Rasmus
, which erased a 6-4 Yankees lead.
For Jeter, Monday's blast was his 12th ever in the ninth inning or later and the first of which that ever tied a game.
The Jays broke the 7-7 tie in the top of the 11th thanks to some sloppy Yankees fielding.
Mike McCoy
, running for
Yorvit Torrealba
, went from first to third on a botched pickoff from
Derek Lowe
to first baseman
Eric Chavez
.
McCoy scored when
Adeiny Hechavarria
tapped a slow roller to
Jayson Nix
at third. Nix fielded and fired to Chavez to get Hechavarria at first, but McCoy broke for the plate at the perfect time and beat Chavez's throw to the plate.
The Yanks couldn't get a run across in the bottom of the 11th.
TWICE IS NICE FOR CANO:
Robinson Cano
entered play Monday with a homerless streak of 38 at-bats. He snapped it in the first inning with a solo shot off of Toronto starter
Henderson Alvarez
and added another when he lined a low fastball from Alvarez over the wall in right in the fourth.
Cano has 27 homers on the season. Monday was his second multihomer game of the year. His most recent one was in June against
Johan Santana
and the Mets.
D-ROB DELIVERS AFTER WIFE'S DELIVERY:
Less than 12 hours after his wife, Erin, gave birth to Luke Joseph Robertson,
David Robertson
was on the Yankee Stadium mound. He gave up two hits and struck out one in a scoreless eighth and left to loud ovations.
WHAT'S NEXT:
The Yanks continue their 22-game stretch against AL East opponents on Tuesday. RHP
Phil Hughes
(12-11, 4.15 ERA) takes on LHP
Ricky Romero
(8-11, 5.63) of the Blue Jays.
August, 17, 2012
8/17/12
11:00
AM ET
By
Katie Sharp
| ESPNNewYork.com
AP Photo/Seth WenigNick Swisher and Mark Teixeira celebrate during the Yankees' win on Tuesday.
Stat Of Series
Nick Swisher's
grand slam Monday was his 200th career home run, giving the Yankees seven players with at least 200 career homers. The only other team in major-league history to have seven players with at least 200 career homers was the 2008 Yankees.
No Relief Against Texas
All good winning streaks must come to an end, right? Prior to Thursday's loss, the Yankees had won eight straight home games against Texas, tied for their longest home winning streak against the franchise.
The bullpen imploded, allowing a season-high six runs and nine hits. It was the first time the Yankees' relievers combined to allow that many hits and runs against the Rangers since 2002.
And it is just the fourth time they have done that at home versus Texas (1983 and twice in 1998).
Steady Freddy Ropes Rangers
Freddy Garcia
continued his solid pitching since returning to the rotation with a win on Wednesday. Garcia threw a season-high 32 splitters, netting him seven outs and no baserunners allowed with the pitch.
Garcia improved to 4-0 with a 1.91 ERA in six starts against the Rangers since the start of 2006. During that span, only
Zack Greinke
has a better ERA against the Rangers (1.26) than Garcia (minimum five starts).
This was the third straight game the Yankees held the Rangers under three runs, the first time they have done that in the same series versus the Rangers since 1985.
Kuroda Is Our Hiro
On Tuesday,
Hiroki Kuroda
pitched the best game of the season by a Yankee, with a two-hit shutout against the Rangers. It was the first shutout allowing two hits or fewer by a Yankee since
Chien-Ming Wang
in 2006 against the Rays, and the first against the Rangers since
Ron Guidry
in 1977.
Kuroda also became the first Yankees right-hander to throw a two-hit shutout against the Rangers at Yankee Stadium.
Seventeen of the 22 balls in play (77 percent) were grounders, Kuroda's highest rate over the last four seasons. His 17 groundball outs are also his most during that span.
Kuroda's fastball averaged a season-high 93.2 MPH and he recorded a season-best 14 outs on his heater, with one hit allowed.
Swisher Slams Texas
Swisher hit his sixth career grand slam, and second this season, in the Yankees' series-opening win. He joins
Robinson Cano
and
Curtis Granderson
with at least two slams this season.
According to the Elias Sports Bureau, this is the second time in franchise history the Yankees have had three different players with multiple grand slams in one season. In 2010,
Alex Rodriguez
, Cano and
Jorge Posada
all did it.
Derek Lowe
pitched four scoreless innings in relief in his first appearance in pinstripes to earn the save. Elias also tells us that Lowe is the first Yankee to record a save of at least four innings in his debut with the team.
My blogging colleague
Mark Simon
chimes in with this great fact: Lowe is the first pitcher to pitch for the Yankees after defeating them in a postseason series-clincher at Yankee Stadium (he won Game 7 of the 2004 ALCS).
Ridiculous Yankeemetric Of Series
On Wednesday,
Eric Chavez
joined
Craig Nettles
(1979) and
Alex Rodriguez
(2009) as the only Yankees third basemen to go 3-for-3 or better against the Rangers since they moved to Texas in 1972.
August, 13, 2012
8/13/12
11:03
PM ET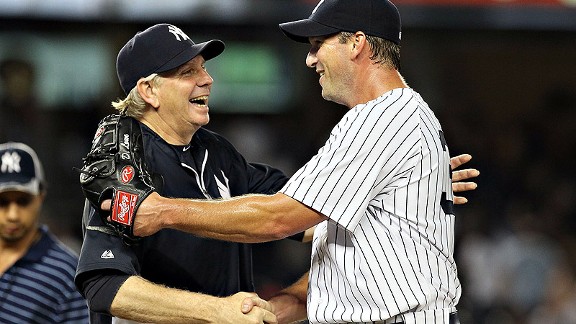 Jim McIsaac/Getty ImagesDerek Lowe earned a four-inning save on Monday night in his Yankees debut.
Knowing that 2004 could be stuck in some New York Yankees fans' minds,
Derek Lowe
had some interest in how he might be received wearing pinstripes in the Bronx. The man who played a huge part in ending the Curse of the Bambino, now was taking the same path as
Babe Ruth
did -- from Boston to New York -- though, for Lowe there were stops in between.
When he came in to start the sixth inning, Lowe listened to the crowd.
"Derek, I love you," Lowe said of what he heard the fans say. "I don't know if it is for me or for Jeter."
Lowe is already one of the best quotes on the team, dropping one-liners as adeptly as he threw his sinker/slider combination on Monday night to pick up a four-inning save while not allowing a run. The fans were really rather indifferent to Lowe's first appearance, as the 39-year-old wore
A.J. Burnett's
No. 34 and retired a tough Rangers lineup as if he were in his heyday. He allowed just two hits, walked none and struck out four among his 12 outs.
Lowe was released by the Cleveland Indians because, in his words, his pitches were leaving his hand as if they were
"mashed potatoes."
"A way-overpaid batting practice pitcher," Lowe said of himself. He is pocketing $15 million this year.
Before 2009, Lowe was the Yankees' second choice behind Burnett as the Robin to
CC Sabathia's
Batman. He went to the Atlanta Braves and then the Indians before landing with the Yankees the other day after vowing to return only if he could contribute. If Monday is an indication, he may help the Yankees a lot. Even if his pitches were in the low-80s in the ninth.
"I think I was throwing below the speed limit the last inning," Lowe said.
Lowe, a former closer, picked up his first save since the 2003 American League Division Series when he ended Game 5 against the Oakland A's to seal a Red Sox rally from two games down to a 3-2 series win. He hadn't picked up a regular-season save in more than 11 years, which is the longest streak since
Darren Oliver
took 15 years between saves.
"I'm not going to lie to you and say I won't sleep with a smile on my face," Lowe said.
Yankees manager
Joe Girardi
thinks Lowe will need a couple of days before he can go out there again. But after Monday, Lowe could become an important member of the Yankees.
Before Lowe pitched so well,
David Phelps
threw five quality innings in his start in place of the injured Sabathia. Phelps allowed two runs, but, aided by two pickoffs, looked very good. He has now made four starts and has a 2.50 ERA in 18 innings. It was the first time he had gone five innings in a start.
August, 13, 2012
8/13/12
6:28
PM ET
Derek Lowe said his agent, Scott Boras, had talks with the Red Sox, Orioles, Giants and Phillies before he signed to be a reliever with the Yankees.

Lowe, who will wear No. 34, said he is a different pitcher than the one who had an 8.77 ERA in his final 10 starts before being released by the Indians. Lowe said that after working with his personal guru, Chris Correnti, he will pitch more like the guy who owned a 3.78 ERA in his first 13 starts of the season. He said after tinkering too much, he got out of whack.

"Sometimes it works," Lowe, 39, said. "Sometimes it doesn't."

After working in Fort Myers, Fla., with Correnti, Lowe said he would only come back if he thought he could contribute. He thinks he can.

"I was honest with myself," Lowe said.

Lowe showed that honesty by saying that at the end of his time in Cleveland, his pitches were leaving his hand like "a mashed potato." How about now?

"It is better than a mashed potato," Lowe said.

Lowe, whose 2004 performance was huge in Boston breaking the Curse of the Bambino, said he thought his new hometown fans would cheer for him if he pitches well.
August, 13, 2012
8/13/12
1:21
PM ET
The Yankees have made the Derek Lowe signing official. Ryota Iragashi has been optioned to Triple-A. Here is the release from the Yankees:

The New York Yankees today announced they have signed right-handed pitcher Derek Lowe to a Major League contract and selected him to the 25-man active roster. Lowe is scheduled to join the team tonight and is expected to pitch out of the bullpen.

Lowe, 39, spent the beginning of the 2012 season with Cleveland, going 8-10 with a 5.52 ERA (119.0 IP, 73 ER) in 21 starts. He was designated for assignment on August 2 and released on August 10.

A two-time American League All-Star (2000, 2002), Lowe owns a career record of 174-156 with 85 saves and a 4.01 ERA (2,634.2 IP, 1,174 ER) in 655 games (377 starts) over 16 Major League seasons (1997-2012) with Seattle, Boston, Los Angeles-NL, Atlanta and Cleveland. He ranks sixth among active Major League pitchers in innings pitched and seventh in wins.

Lowe is one of just three pitchers in Major League history with at least 160 career wins and at least 80 career saves, along with John Smoltz and Dennis Eckersley. On April 27, 2002, he tossed a no-hitter with Boston vs. Tampa Bay (1 BB, 6 K).

He has made 278 career relief appearances, going 18-22 with a 2.95 ERA (381.0 IP, 125 ER) and holding opponents to a .248 batting average. In his career, Lowe has compiled a 3.54 combined ERA (825.1 IP, 325 ER) from August 1 through the end of the regular season, nearly three-quarters of a run lower than his combined ERA to start the season through July 31 (4.22, 1809.1 IP, 849 ER).

The Michigan native has spent 16 seasons in the Majors, joining Livan Hernandez (17 seasons) as the only active players with 14-or-more seasons in the Majors who've never been placed on the Major League disabled list, according to the Elias Sports Bureau.

Lowe has made 23 postseason appearances (12 starts), going 5-7 with one save and a 3.21 ERA (95.1 IP, 34 ER), winning a World Series title with the 2004 Boston Red Sox.
August, 12, 2012
8/12/12
2:07
PM ET
Look, everyone knows the following two statements to be fact:

• David Phelps will start against the Texas Rangers on Monday night in at Yankee Stadium in place of CC Sabathia, and

• Derek Lowe will be a Yankee by that time.

So why won't Joe Girardi acknowledge them?

Two reasons. The first falls under the old "What if he gets hit by a bus?" philosophy the manager adopted last year when he refused to acknowledge that Ivan Nova was making a particular start.

"What if I say he is?" Girardi asked. "And then he goes out and gets hit by a bus?"

Even after being assured by the beat crew that if such a misfortune befell Nova, we would give the manager a pass, he persists in refusing to acknowledge the obvious in the event something unforeseen happens that might cause his plans to change. In the case of Phelps, it is the possibility that Phil Hughes could melt down early today against the Blue Jays, necessitating a long relief man. (Which, presumably, is why Ryota Igarashi was called up for the day from Scranton.

In any event, Girardi refused to name his starter for Monday -- "We've got to get through today. Obviously the usual suspects are the candidates; Phelpsy is a candidate. We've got to see what happens today," he said -- and clearly instructed Phelps to adopt the same line, because the young righty scampered off to the manager's office when he saw the beat crew advancing toward his locker.

When he returned, Phelps could hardly stifle a grin as he said, "Uh, Joe told me we're going to worry about today. If they need me today, I'm in the game. We'll worry about tomorrow tomorrow."

But rest assured, unless, heaven forbid, Phelps gets hit by a bus, he is starting Monday night.

As for Lowe, the deal has not been finalized, giving Girardi an easy out. "It's not official, so there's really nothing to talk about yet," he said.

The manager was persuaded, however, to talk about Lowe in general terms.

"He's had a great career," Girardi said. "He's pitched in big markets in big games, playoff games. He understands the importance of the months of August and September."

And he acknowledged that Lowe's repertoire, which induces a high percentage of groundouts, might be a good fit for the launching pad that is Yankee Stadium.

"In our ballpark, ground-ball pitchers are somewhat important," Girardi said.

And under pressure, he was forced to agree that if Phelps were added to the Yankees rotation, even temporarily, it would require the club to add a long man to their bullpen to replace him, a role the 39-year-old Lowe might be suited for.

"That would be something we'd definitely consider," he said.

See what we have to put up with everyday?
August, 11, 2012
8/11/12
7:27
PM ET
TORONTO -- The Yankees are in the process of finalizing a deal to acquire Derek Lowe to serve as a stopgap for their pitching staff while CC Sabathia is on the disabled list with left elbow inflammation.

The deal was confirmed via text message by Scott Boras, Lowe's agent.

Lowe, a 39-year-old right-hander, was designated for assignment by the Cleveland Indians on Saturday. His deal with the Yankees will not be finished until Monday, and he is expected to pitch out of the bullpen for the team while Sabathia, who will be out of action at least until Aug. 24, is recovering.

Lowe, a member of the Boston Red Sox's 2004 World Series championship team, is in the final year of a four-year, $60 million contract signed with the Atlanta Braves before the 2009 season.

In 16 major league seasons, Lowe's record is 174-156 with a 4.01 ERA. This season, he made 21 starts for the Indians, compiling an 8-10 record and 5.52 ERA.
June, 21, 2010
6/21/10
6:24
PM ET
By
Mark Simon
| ESPNNewYork.com
Could tonight's Diamondbacks starter, Rodrigo Lopez, be the next pitcher to stymie the Yankees in the postseason?

Check out this funky stat: Lopez ranks as having the fifth-highest ERA against the Yankees, among the 177 pitchers whose careers have started in the last 50 years.

But check out the other names with whom Lopez has company. Three of the four others -- Josh Beckett, Derek Lowe , and Kenny Rogers -- all share the distinction of having shut the Yankees down in a noteworthy posteason performance (Beckett and Lowe for the Red Sox, Rogers for the Tigers).

So if Lopez gets traded to a contending team, the Yankees might want to be a little wary.