New York Yankees:

Dewayne Wise
July, 21, 2012
7/21/12
8:19
PM ET
By
Jeff Fletcher
| ESPNNewYork.com
OAKLAND, Calif. -- The Yankees got the news they hoped for when an MRI exam on Saturday revealed that Nick Swisher has a mild strain of his left hip flexor, and nothing more serious.

"He's not going to play tomorrow and I don't know if we'll see him in Seattle," manager Joe Girardi said after Saturday night's 2-1 loss to the A's. "(We'll) see how he responds to treatment."

Swisher, who was injured while trying to beat out a ground ball in the seventh inning on Friday night, said he was relieved that the injury was not more serious.

"After hearing that it puts your mind at ease," he said. "You know exactly what you are dealing with."

Even if Swisher misses all three games in Seattle, a series starting Monday, the Yankees would be able to play a man short, Girardi said.

"We can do that if we have to," he said.

Dewayne Wise, who started in Swisher's place in right field on Saturday night, is a left-handed hitter. The Yankees will face all right-handed starters for the rest of this trip.
July, 2, 2012
7/02/12
10:15
AM ET
By
Katie Sharp, ESPN Stats & Information
US PresswireRobinson Cano is congratulated by his Yankee teammates during their 4-2 win Sunday.
RIDICULOUS GAME OF THE SERIES
The Yankees' 14-7 loss to the White Sox on Friday was a disaster in so many ways (all of the following are in the Live Ball Era, via
baseball-reference.com
):
• It was the second time the Yankees have allowed at least 14 runs and four homers versus the White Sox. The other game was in 1930.
• This was the third home game the Yankees allowed at least four homers and five doubles. The others were in 2006 (Rays) and 2009 (Indians).
•
Dewayne Wise
became the first Yankee position player to pitch since
Nick Swisher
in 2009, and the first to not allow a baserunner since
Alvaro Espinoza
in 1991 (thanks, Elias).
•
Cory Wade
allowed four doubles; only one Yankee reliever allowed more doubles in a game:
Art Schallock
in 1953.
And finally ...
Adam Warren
(2⅓ IP, 6 R, 8 H) became the first Yankee to make his MLB debut as a starter, and allow at least six runs and eight-or-more hits in fewer than three innings pitched.
GETTING EVEN
The Yankees earned a split with the White Sox after taking the series finale 4-2.
Robinson Cano
hit his 20th home run of the season, matching
Joe Gordon
for the most 20-homer seasons by a Yankee second baseman with four.
Cano also extended his streak of at least one RBI against the White Sox to 11 games, which is the second-longest such streak by a Yankee behind
Ben Chapman
, who had a 13-game streak from 1930-31.
Phil Hughes (8 IP, 2 R) went to his curveball often, throwing a career-high 32 curves, including 20 in the lower third of the zone or below. The White Sox were 1-for-7 in at-bats ending in a hook to that location.
HIRO-KKKKKKKKKKK-I
In Saturday's 4-0 win, three Yankees went deep for the team's 40th multi-homer game of the season. Only one major-league team reached 40 multi-homer games quicker than the 77 games it took the Yankees: the 2000 Cardinals (72 games).
Hiroki Kuroda
(7 IP, 0 R, 11 K) showcased a nasty slider, with seven of his 11 strikeouts coming on the pitch. Thirty-three of his 38 sliders were on the outer third of the plate or further away, where he got each of those seven strikeouts. He got the White Sox to whiff on 12 sliders, matching his most whiffs on the pitch since 2009.
STUNNING COLLAPSE
The Yankees led 3-1 entering the final frame on Thursday night but fell apart, with
David Robertson
allowing the game-winning three-run homer in a 4-3 loss.
The last White Sox to hit a go-ahead homer in the ninth inning at Yankee Stadium was
Robin Ventura
, who took
John Hayban
deep on June 26, 1992.
The last White Sox with a
multi-run
homer in that situation was
Tommy Byrne
, who hit a game-winning grand slam off
Ewell Blackwell
in 1953.
Ivan Nova
(7⅓ IP, 1 R) now has four straight starts with one run or fewer allowed and at least five innings pitched against the White Sox, becoming the first Yankee to do that since
Whitey Ford
in 1965.
June, 30, 2012
6/30/12
5:17
PM ET
By
Mike Mazzeo
| ESPNNewYork.com
This week alone,
Dewayne Wise
has fooled an umpire into thinking he made a diving catch in the stands, retired the only two batters he faced during a scoreless relief appearance and gone 7-for-11 at the plate with two homers and five RBIs.
"He's doing everything for us,"
Joe Girardi
said.
The fact that the reserve outfielder tied his career high with three hits -- including a homer and a double -- in Saturday's 4-0 win over his former team, the White Sox?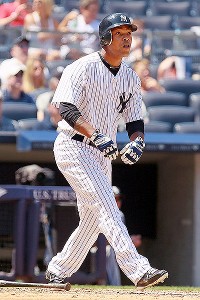 Mike Stobe/Getty ImagesDewayne Wise watches the flight of his fifth-inning homer.
No surprise there.
"It's been crazy, man," Wise said. "I'm just trying to take advantage of the opportunity and have fun."
Wise, 34, a .219 career hitter coming in, laced a two-out RBI double in the second, lined a homer to right in the fifth and cranked a single in the seventh.
Prior to his current stretch, Wise had been 4-for-30 this season. He credits hitting coach
Kevin Long
for getting him back in the groove.
"He's unbelievable. I'll go in there and see one thing, and he'll tell me right away, 'I think you've gotten away from doing this,'" Wise said. "It's hard when you don't know when your next at-bat is going to come."
Could Wise have pitched Saturday on short rest?
"They asked me today in the eighth inning, 'Are you ready? Can you throw the ninth?'" Wise said. "I said, 'I'm ready.' They were just messing with me."
On Friday night, Wise became the first Yankees position player to pitch at the Stadium in 44 years. He got
Paul Konerko
to fly out to center and
Alex Rios
to ground out.
Wise desperately wanted to face ex-teammate
A.J. Pierzynski
, but never got the chance.
"I told him I was throwing nice and easy, but if he would've come up to the plate, I probably would've been in the trainer's room today, because I was gonna try to throw as hard as I can," said Wise, who registered up to 82 mph on the radar gun. "I told him the first one I was gonna throw at his head and try to scare him a little bit."
How fast does Wise think he could bring it?
"I don't know. I think I could reach 90 if I really tried," said Wise, who was told his fastball had natural sinking action since he's a southpaw. "But I didn't want to wake up hurt."
Does he ever want to pitch again?
"No. I don't ever want to do that ever again. I felt too close. My heart was beating so fast. I thought they were going to hit one back at me," Wise joked.
June, 29, 2012
6/29/12
11:48
PM ET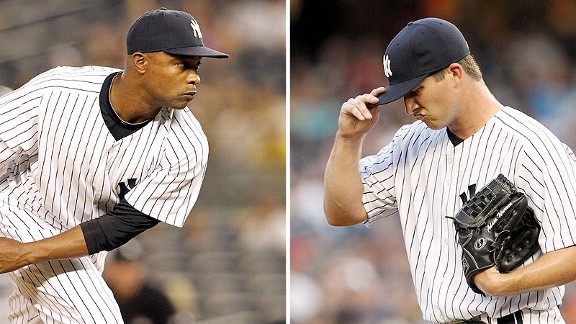 US PresswireOutfielder Dewayne Wise pitched great Friday. Rookie Adam Warren? Not so much.
By the end of Friday night, there was a memorable pitching debut. With a season-high 19 hits and 14 runs on the board and with the bullpen depleted after rookie
Adam Warren
had virtually nothing,
Joe Girardi
put in outfielder
Dewayne Wise
to pitch.
"He was really my last guy," said Girardi, who didn't want to use
Rafael Soriano
,
David Robertson
or
Cody Eppley
in mop-up. "I'd used everyone else. They weren't going to let me use (bullpen coach
Mike
)
Harkey
or K-Long (hitting coach
Kevin Long
)."
When Wise got to the mound,
Russell Martin
asked him what pitches he throws.
"I throw a fastball," Wise said.
Wise, who hadn't pitched since he was a sophomore in high school nearly two decades ago, was the best pitcher of the night. Throwing "fastballs" that ranged from a high of 82 to a low of 65, Wise retired both White Sox batters he faced.
"Everyone kind of laughed about it," Wise said after
the Yankees' 14-7 loss
to the White Sox.
Warren couldn't laugh after going just 2 1/3 innings and allowing six runs in his major league debut. He said he took a little time to enjoy the moments, but overall he never could find his fastball location.
"It was frustrating," Warren said.
It might turn out to be a quick stay for Warren because Girardi said the Yankees are probably going to try to add a pitcher prior to Saturday's 1 p.m. start.
NOTES
Wise became the first Yankees position player to pitch since Nick Swisher's scoreless inning in April of 2009 against the Rays. The last position player to pitch in a home game was Gene Michael in 1968. Michael threw three innings and gave up five runs in Game 2 of a doubleheader against the Angels.
Girardi wouldn't say who will start on Wednesday in Tampa, when Warren's turn would come up next. It likely will be David Phelps, who pitched well in relief, even though he got the loss. Phelps, who allowed two runs in his 3 1/3 innings, said he would be able to throw 80 pitches by Wednesday. Girardi did give Phelps an endorsement, saying, "We really think he is in our future plans."
Martin entered in the ninth on defense and missed a tag at the plate when he didn't lower his glove to the ground. Martin said it had nothing to do with his back and he expects to start on Saturday. Girardi also said he thinks Martin will be behind the plate for Hiroki Kuroda.
Girardi said that Cory Wade is not locating. Wade has been awful, giving up 13 runs in his last 5 1/3 innings. "It has been a struggle for him about the last month," Girardi said. If Wade doesn't pitch better, he is going to be re-located off the roster.
June, 29, 2012
6/29/12
6:31
PM ET


When Jeff Woytovich and his wife, Betsy, created the Children's Alopecia Project (CAP) in 2004, it was a chance to help those inflicted with the alopecia -- a disease that causes hair loss -- to gain confidence and self-esteem as they endured trying times.

The couple's daughter, Madison, was diagnosed in 2003.

"A lot of these kids don't feel normal," explained Woytovich. "So when you get to be with kids that feel just like you, you now feel normal and get to do things and feel in ways that you never did before."

Friday afternoon at the New York Botanical Garden in the Bronx, members of CAP were able to feel normal among some of baseball's current and former stars as the Yankees stopped by to conclude HOPE Week. The eighteen members of CAP who showed up from as far as Houston, Tex. enjoyed a wide range of activities with the Bombers on a hot day.

Third baseman Alex Rodriguez, Hall of Famer Reggie Jackson, former Yankees David Wells and Darryl Strawberry, manager Joe Girardi, current Yankees Ivan Nova, Freddy Garcia, Raul Ibanez, Andruw Jones, Dewayne Wise and Cory Wade, and former Rutgers player Eric LeGrand all participated. The Yankees presented CAP with a $10,000 check and all the CAP families were invited to Friday night's game against the White Sox.

"This was the surprise of a lifetime," said Aaron Friedman, a 14-year-old from Cleveland who is diagnosed with alopecia. "Meeting all these players and seeing them give back to the community, there's nothing like it. It's the greatest feeling in the world."

Alopecia is a disease that is caused by the body's immune system attacking hair follicles, which causes smooth, roundish patches of hair loss. The disease strikes approximately four million people in the United States. After the Woytovich family couldn't find a support network for kids with the disease, they created their own, which has expanded internationally and includes more than 1,000 families.

Since a handful of the stars who showed up Friday were bald, including Jones, Wade, Wise, Ibanez and Wells, the CAP kids were able to paint on their heads. Some painted specific objects, while there was an attempt to put the Yankees' logo on top of Jones' head. Ibanez said being bald gave him and some of the other players a bond with the kids.

"It gives you a talking point right away," Ibanez said. "These kids, having to go through some of the things they've had to go through, this is really about trying to build their self-esteem and show them it's OK to be bald."

When they weren't having their heads painted, the Yankees were leading scavenger hunts. Taijha Williams, a 13-year-old with alopecia from Jersey City, N.J., paired up with her favorite Yankee, Nova, and the two could be seen smiling as they walked side-by-side through the gardens -- even though they got lost twice along the way.

"I loved that she's interacting and feeling comfortable in her own skin. Obviously that's the goal but day to day it's a challenge," said Williams' mother, Denise Rolon. "This event, she gets to let her hair down and really appreciate the fact that they know she has alopecia and don't treat her any differently."

June, 28, 2012
6/28/12
10:30
AM ET
By
Katie Sharp, ESPN Stats & Information
Getty ImagesRobinson Cano celebrates his 6th-inning go-ahead homer in Wednesday's win over the Indians.
BITTERSWEET SWEEP
The Yankees completed the sweep of the Indians with a 5-4 win Wednesday, but lost
Andy Pettitte
for at least six weeks after he fractured his fibula. If it holds up, Pettitte's 3.22 ERA would be his second-best as a Yankee, behind only his 2.88 mark in 1997.
Pettitte struck out seven batters in four innings before leaving. It's the second time in his career that he's had at least seven strikeouts in a start of four innings or fewer, becoming the first Yankee with two such starts in the Live Ball Era.
Robinson Cano's
go-ahead homer in the sixth inning was his 10th longball in June. The only other Yankees second baseman to hit 10-or-more homers in any month was
Joe Gordon
, who hit 13 in July 1940.
BIRTHDAY HIT PARADE
The Yankees celebrated
Derek Jeter's
38th birthday with a 6-4 win Tuesday. The birthday boy went 2-for-5, increasing his batting average on his birthday to .327.
His 16 hits are the second-most birthday hits by a Yankee and his five multi-hit birthday games are surpassed only by
Lou Gehrig
(6) in the Live Ball Era, according to the
Play Index at Baseball-Reference.com
.
Phil Hughes
threw eight shutout innings to earn the win, becoming the first Yankee with eight scoreless innings against the Indians since
Jack McDowell
in 1995.
Hughes' curveball repeatedly fooled the Indians; he got a career-best 11 called strikes on the pitch. Hughes also worked the inside part of the plate, throwing a season-high 36 percent of his pitches there, and held the Indians to one hit in eight at-bats ending in a pitch to that location.
As my ESPNNY.com blogging colleague
Mark Simon
noted in Tuesday's W2W4, Hughes had struggled going inside recently. Opponents were 9-for-16 with four homers in at-bats ending with a pitch located on the inner-third of the zone over his previous three starts.
LICKITY SPLIT
The Yankees opened the series Monday with a 7-1 win against the Indians thanks to seven innings of one-run ball by
Hiroki Kuroda
.
Kuroda went to his splitter to put away the Indians, throwing 19 of them, including 13 with two strikes.
The Indians were hitless in eight at-bats with six strikeouts ending in a splitter. His six strikeouts with the pitch are the most he's had in any start over the past four seasons.
Kuroda also kept the ball down, throwing a season-high 52 percent of his pitches in the lower third of the zone or below. He got 12 outs, including all seven of his strikeouts, on pitches in that location.
Dewayne Wise
was the surprise offensive star, hitting a homer and a triple. The only other time in his career he hit a triple and a home run in the same game was as a Blue Jay at Yankee Stadium last year on Sept. 3.
RIDICULOUS YANKEEMETRIC OF WEEK
Rafael Soriano
needed just two pitches to get the final out and the save Tuesday. It was his second two-pitch save of the season.
Only two other Yankees pitchers since 1988 (when pitch data is available) have recorded multiple saves of two pitches or fewer in a season:
Steve Farr
in 1991 and
Mariano Rivera
in 1999.
June, 26, 2012
6/26/12
11:10
PM ET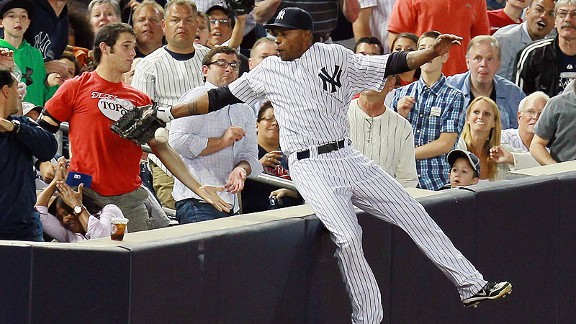 Mike Stobe/Getty ImagesA Dewayne Wise drop turned into an epic out thanks to umpire Mike DiMuro.
It might have been
Derek Jeter's
birthday, but the Yankees got the gifts Tuesday night, two of them from third-base umpire
Mike DiMuro
that might have changed the course of the game.
I say "might have'' because who's to say whether, had DiMuro called
Chris Stewart's
second-inning line drive off
Jack Hannahan's
glove a foul ball, the Yankees backup catcher would not have hit the next pitch for an RBI single anyway?
And as
Joe Girardi
correctly pointed out, even if DiMuro had made the correct call on the play on which
Dewayne Wise
tumbled into the stands but a fan came up with the baseball, who's to say Hannahan -- yes, him again -- would not have made an out anyway?
But that doesn't change the fact that Hannahan had an absolutely valid argument on both plays or that DiMuro had a very bad night that, potentially anyway, hugely benefited the Yankees or that Indians manager
Manny Acta
asked the most relevant question of all: "If it's such a great play, why aren't they showing it on the board for the fans?''
The answer was obvious: Because the replay showed something that whoever chooses the video clips at Yankee Stadium thought best not to show again. Sort of like the Warren Commission with the Zapruder film.
Admittedly, it was tough to tell in real time (at least from the press box) that Hannahan's foul pop had in fact glanced off Wise's glove, but that also doesn't change the fact that the umpire
never
asked Wise to produce the baseball, which was another lucky break for the Yankees since Wise didn't have it. He left it where it landed and, er, wisely ran off the field with his glove tightly closed.
"Normally when a guy makes a play like that, that's the first thing they ask, to show him the ball,'' Wise said. "But I guess he was confident that I had made the catch. He made the call really quickly so I just told myself to try to get up and keep myself together and run off the field. It was a tough angle for him, but truthfully, the ball popped out.''
A couple of innings later, Wise said, he flipped a ball into the stands toward the fan who had tried to stuff the ball into his glove to make it appear he had made the catch. Why did he wait so long? "Well, they already had one,'' he said.
To his credit, DiMuro spoke to a pool reporter and owned up to his mistake. "I went out on the ball and saw the ball into his glove in the stands. He disappeared into the stands, and I believed that the ball was in his glove. Now that I see the tape, it's obvious that the ball fell out of his glove. In hindsight, I should have asked him to show me the ball,'' he said.
It was too late, of course, to help the Indians or Hannahan, who argued the call after seeing a replay in the clubhouse and got ejected. "I can live with the fact that he didn't see him drop the ball or live with the fact that he didn't see the fan jumping up and down two feet away, excited he got a foul ball,'' Hannahan said. "But to not ask him to see the ball is absolutely inexcusable. And it's frustrating.''
Hannahan said the expressing of that opinion, without swearing, was what got him tossed, an account DiMuro pretty much confirmed. "He and I got into a discussion about the play,'' DiMuro said. "He told me to reference the tape replay, and that is why I ejected him.''
Huh?
In any event, the game became close when
Cory Wade
allowed a three-run home run in the ninth to close the gap to 6-4, but to assert the blown call now looms even larger becomes absurd when you realize the player who hit the home run,
Jose Lopez
, would not have even been in the game if DiMuro had gotten it right; he came in to replace Hannahan after the ejection.
March, 30, 2012
3/30/12
11:28
PM ET
Lost in the hubbub surrounding the Michael Pineda situation, was the fact that not only was there a game tonight, but that the Yankees came back to win it, and big. After falling behind 6-1 after Pineda's 2-2/3 inning stint, the Yankees rallied to close the gap to 6-5 against old buddy Jonathan Papelbon, take the lead, 7-6, in the fourth inning, and finally to make a rout of the thing, which ended after nearly four hours after it began at 13-7.

Herewith are tonight's three stars:

Star #1: Dewayne Wise. In probably his last hurrah as a Yankee, the former Philly crushed two home runs and drove in three runs, raising his spring average to .412. Stuck on a team loaded with outfielders and DHs, Wise would be wise to exercise the out in his minor-league deal and try to latch on somewhere else.

Star #2: Curtis Granderson: Back in centerfield for the first time since suffering some elbow soreness earlier in the week, the Grandy Man hit his second homer of the spring in the third inning to start off the Yankees' comeback. Best of all: It came off Papelbon.

Star #3: Clay Rapada Rapada had a good day for a very bad reason: his main rival for the job of second-lefty-out-of-the-pen, Cesar Cabral, left the game with what looks like a serious elbow injury, which probably means Rapada wins the job by default, although he, too had an excellent spring -- 0 earned runs in 8.1 IP. He also got the win in this one, throwing a scoreless seventh inning.
There are no games scheduled for today.