New York Yankees:

Evan Longoria
August, 9, 2013
8/09/13
4:49
PM ET
NEW YORK --
Evan Longoria
isn't glad to see
Alex Rodriguez
back in pinstripes.
The Rays' star third baseman questioned why Rodriguez seemingly is going to be able to play out the rest of the season while he appeals his 211-game suspension. A ruling on the suspension, which lasts through the 2014 campaign, isn't expected to come until November or December at the earliest.
"I don't think it's fair for the other teams, because I'm in the American League East. Whether he is 100 percent or not, whether his mind is where it needs to be or not, he can affect the game in a positive way. He can affect the game in a tremendous way, which is being in the lineup," Longoria said on The Hot Clicks podcast on SI.com. "In a pennant race, he's a guy that you don't want in the lineup. Looking at it from that perspective and that perspective only, I don't think it's fair that we can't have an arbitrator hear the case sooner."
With arbitrator Fredric Horowitz likely taking until after the season ends before making his ruling, the Yankees will be able to use Rodriguez as they make their playoff push. Entering Friday, the Yankees are 11 games behind the Red Sox in the AL East and seven games behind Oakland and Texas for the second wild card. The Yankees have lost four in a row as they begin a three-game set with Detroit.
Rodriguez's return hasn't sparked the Yankees, as they were swept by the White Sox in his first three games this season. Rodriguez went 3-for-11 with zero homers and zero RBIs, but he does have a .429 on-base percentage. He's batting fifth and playing third in Friday's game against Detroit.
Longoria is puzzled by the length of the appeals process, asking why it's not handled more swiftly like with suspensions that come after a brawl.
"If you get in a bench-clearing brawl and a guy punches another guy and is ejected from the game and he gets a 10-game suspension, well you appeal that and it's heard within the next three weeks," Longoria said. "Then you either get 10 games or six or whatever. I don't understand why that same process can't happen with this."
The Yankees' third baseman is the only one of the 13 players served suspensions this week for violating the drug policy to appeal, as the others, including teammate
Francisco Cervelli
, accepted their 50-game suspensions.
"I'm wondering if that's because maybe it's a longer process because there's more to be presented. It's more like a court case than the other situations," Longoria said in comparing these suspensions to brawl suspensions. "I just don't think it's fair. If the other guys are going to serve them, then why doesn't he? Why wouldn't all the other guys appeal and continue playing? But I don't know. I don't understand."
The Rays currently own the first wild-card spot and are two games behind Boston in the AL East. Tampa Bay has six games left with the Yankees, including three at Yankee Stadium in the final week of the season.
Longoria said he doesn't have a relationship with Rodriguez.
"I think he just put himself in some bad situations. He just put himself behind the eight ball," Longoria said. "It's hard to look at him, and for as many times as he's done what he's done and admitted it, been caught obviously in what was it '03 and '07 or whatever, that interview when he said that this is what he did, it's just tough to believe this didn't occur now based off his history."
Rodriguez admitted in 2009 to using performance-enhancing drugs from 2001-03 while playing with Texas.
"One bad decision can ruin a career, especially in this game, and then it's tough to regain the faith of the fans," Longoria said. "It's tough to regain the trust of the fans, and the same thing goes with your peers and your colleagues."
July, 26, 2013
7/26/13
12:48
PM ET
By
Mark Simon & Katie Sharp
| ESPNNewYork.com
Five things about the
Tampa Bay Rays
, other than their 19-3 record in the last 22 games, that turn this What2Watch4 into a What2Worry4.
Rays love lefties
The Tampa Bay Rays are 21-11 when the opposition starts a left-handed pitcher this season.
They lead the majors in batting average (.288), on-base percentage (.349) and slugging percentage (.437) against left-handed pitching this season. These are not in any way the Rays of 2012, who had a .238/.319/.385 average slashline. They've cut how often they miss on their swings from 25 percent to 21 percent.
Rays lefties are even hitting left-handed pitching. Last year, burdened with the bat of
Carlos Pena
, their lefties hit .176/.266/.290 against lefty pitching. This season, thanks largely to first baseman
James Loney
that line is .306/.356/.443.
Longoria vs Sabathia
Evan Longoria
is due.
Longoria is in a nasty slump, with 11 hits and 22 strikeouts in his last 67 at-bats. He's gone 18 straight games without a multi-hit game and has struck out in 15 straight games. He's got a seven-game hitting streak, but is only hitting .259 in it.
Seeing Sabathia should make Longoria happy though. He's 18-for-47 with 12 walks and six homers against Sabathia. He revels in seeing the Sabathia fastball-changeup combo, which has netted him 16 of those hits, eight of those walks, and five of those homers.
Hellickson rolling
Sabathia's mound counterpart,
Jeremy Hellickson
, is 5-0 with a 2.19 ERA in his last six starts, a major turnaround from his first 14 starts, in which he posted a 5.67 ERA.
Hellickson has succeeded recently in an area that has given Sabathia major trouble—getting outs with runners on base.
Opponents hit .344 with men on base against Hellickson during that troublesome stretch. They're at .176 (thanks to a 63 percent ground-ball rate) in his last six efforts.
Rookie sensation
The furor over Dodgers rookie
Yasiel Puig
has cooled down a little bit of late, but it might be just beginning for
Wil Myers
, baseball's best hitter
over the last two weeks
.
Myers is 18-for-36 (.500) with five extra-base hits in his last 9 games, having dramatically cut back on how much he was swinging-and-missing from the first three weeks of his career.
Myers was 5-for-13 with a grand slam (his first career homer) in his first trip to Yankee Stadium. We'll see what he has in store this time around.
Secret weapon
Yankees fans are probably familiar with the back end of the Rays bullpen, where the likes of
Jake McGee
,
Joel Peralta
and
Fernando Rodney
have flourished the last couple of seasons.
But they might not be aware of the Rays secret weapon—lefty
Alex Torres
.
Torres has unbelievable numbers this season. In 30 1/3 innings, he's allowed only one run and eight hits, and has allowed only two of 11 inherited runners to score.
Joe Maddon has gotten more comfortable with Torres to the point where he's changed Torres' role. In his first 10 games, he entered with the Rays tied or leading only twice (once they were up eight runs). The Rays have been tied or leading in six of his last eight appearances.
Expect to see him in key spots, perhaps as soon as tonight.
April, 6, 2012
4/06/12
9:30
AM ET
By
Mark Simon, ESPN Stats & Information
Let's take a snapshot look at the key matchups to watch against Thursday's Opening Day starting pitchers.
Matchups to watch vs CC Sabathia
The Rays best player,
Evan Longoria
, is their best hitter against CC Sabathia.

Longoria
Longoria is 10-for-30 with four home runs and 10 walks (four intentional) in his career against Sabathia. Longoria's four homers are the most he's hit against any pitcher. He homered in his last at-bat against the Yankees, which clinched the wild card for the Rays on the final day of the 2011 season.
The one thing Sabathia does have is that he's gotten Longoria to hit into four double plays against him, the most of any hitter he's ever faced.
Sabathia does dominate the Rays catcher, former Yankee
Jose Molina
, who is 0-for-14 against him. The only player with a worse 0-for against Sabathia is another former Yankee,
Hideki Matsui
(0-for-15).
Matchups to watch vs James Shields
Rays starter
James Shields
uses his changeup to neutralize left-handed hitters, and he's done so very well against two Yankees in particular –-
Mark Teixeira
and
Curtis Granderson
.

Shields
Teixeira is 6-for-41 in his career against Shields. Granderson is 3-for-43.
Over the last three seasons, Shields has thrown that pair of hitters 98 changeups. They've netted him 26 outs, and gotten Teixeira and Granderson no hits.
Teixeira will be looking to homer on Opening Day against a pitcher who owns him for the second straight year. Last season, he homered against future AL MVP
Justin Verlander
, against whom he was previously 1-for-17.
The Yankee who owns Shields is
Robinson Cano.
He's a .386 career hitter with four home runs (matching his most vs any pitcher) against Shields.
Cano was one of the best hitters in baseball against the changeup. He missed the pitch once every six swings, a rate well better than major-league average. His contact did damage, to a .373 batting average with three home runs.
That explains why Shields is hesitant to throw Cano a changeup. Since 2009, he's only thrown 11 to Cano (giving up two hits) out of 123 pitches.
Did you know?
Three fun tidbits about the Yankees and Opening Day…
1 -- Though
Derek Jeter
is the Yankees all-time hits leader, he's not their all-time hits leader on Opening Day.
Though records are not complete,
Baseball-Reference.com
dates back to 1918 and has three Yankees with more Opening Day hits than Jeter's 18--
Mickey Mantle
23,
Lou Gehrig
22, and
Babe Ruth
21.
2 --
CC Sabathia
will be the first Yankees pitcher to start four straight season openers since
Mel Stottlemyre
(1967-1970).
3 -- The Yankees have opened the season at Tropicana Field once before, losing 8-3 in 2004 to the Rays and Tampa starter
Victor Zambrano
. The Yankees have lost seven of the last 10 times they've opened a season on the road.
February, 10, 2012
2/10/12
8:13
PM ET
UNCASVILLE, CONN.--Don Zimmer had to interject for a moment.

At the beginning of the press conference for the Connecticut Sports Foundation Celebrity Dinner and Memorabilia Auction at Mohegan Sun on Friday, there were several Yankees-Red Sox questions. Then, Zimmer was asked about his take being in the rivalry.

The senior advisor for the Rays had to defend his team.

"I'm with the Tampa Bay Rays. I guess we have no chance," Zimmer said. "We'll give em all they can handle. We got a good pitching staff and we got a pretty good third baseman right here (Evan Longoria). We'll give them all they can handle. Believe me."

While a lot of the talk has revolved once again around the Yankees and Red Sox rivalry, especially with Bobby Valentine becoming the new Red Sox manager, Zimmer was giving a reminder not to sleep on the Rays. Tampa Bay won the Wild Card last season and won the division in 2010 and expects to have another strong team with a young and deep pitching staff.

"I think it's hard for people not to take a much harder look at us now after what we've done. We kind of look forward to being the underdog," Longoria said. "We were the doormat for so many years. It's fine if they don't give us a chance. We've come to expect that. It's actually much easier if you don't have to answer the questions the Yankees and the Red Sox have to answer every year. It's much easier to slip in the back door in late September and find ourselves in the playoffs again."

Just ask the Red Sox about that one.
September, 20, 2011
9/20/11
11:02
AM ET
By
Mark Simon, ESPN Stats & Information
Ivan Nova Stats2Watch4
Nova's winning streak still sits at 11 after no-decisions in his last two starts. He is 3-0 with a 2.41 ERA in his last five starts, with opponents hitting just .214 against him.

Nova has stifled right-handed hitters in his last three starts, holding them to four hits in 35 at-bats, including 0-for-6 with three strikeouts on Sept. 14 against the Mariners.

Nova's one bugaboo in the Rays' lineup is Johnny Damon, who is 4-for-4 against him. Primary power threats Evan Longoria and Ben Zobrist are each 1-for-8.

Brett Gardner Stats2Watch4
Gardner is hitting .394 with a .487 on-base percentage against the Rays this season, with four of his hits infield/bunt hits. Gardner has taken advantage of his speed, stealing five bases in five tries against the Rays.

Mark Up
The Rays held Red Sox slugger Adrian Gonzalez to 0-for-12 over the weekend, by throwing him a high percentage of pitches knee-high or below. A different approach has stymied Mark Teixeira of late.

Teixeira has been beaten by pitches in the upper-third of the strike zone and above over the last month and a half. He is hitless in the last 19 at-bats that have ended with pitches to those spots.

The issue is a bigger one for Teixeira against right-handed pitchers versus whom he has a .130 batting average against such pitches, than the lefties, against whom he's hitting .229.

Teixeira's tendency against righties is to pop the high pitch up. Forty-six of his 60 balls in play against high pitches from that side are fly balls or popups. Three have gone for home runs, but of the others, only three have been base hits.

Wade Davis Stats2Watch4
Davis tends to run very hot and cold. He has risen recently against the caliber of his competition, throwing nine innings of two-run ball against both the Tigers and Red Sox in the past month, but he has also been hit hard by the Blue Jays and Orioles.

Davis has been fortunate that he hasn't been hit harder than he has. Opponents are hitting .602 against him on line drives, a mark more than 100 points below major league average.

Davis is 2-2 with a 3.81 ERA against the Yankees. He has had past issues with three Yankees-- Derek Jeter (5-for-13), Robinson Cano (5-for-12, 1 HR) and Alex Rodriguez (4-for-12, 2 HR).

3 Keys for the Rays2Watch4
The Rays come in rolling, having won three-of-four against the Red Sox.

Longoria has been a MVP-caliber performer recently, with 13 RBIs in his last 13 games. He was 6-for-15 with two home runs in the series win against Boston.

The Rays have defended very well all season. They lead the majors in opponents' batting average on balls in play at .267, 15 points better than the next-best team. They make the routine and spectacular plays, the latter evidenced from their 11 No. 1 Web Gems on "Baseball Tonight" this season, second-most in the major leagues.

Reliever Joel Peralta, now a closer with Kyle Farnsworth injured, has dominated against lefties, who are hitting .152 with 33 strikeouts and six walks against him. Peralta ranks second in baseball in opposing left-handers' batting average and on-base percentage (.198).

Dating back to July 9 (the day he gave up the hit that capped Jeter's 3,000-hit, 5-for-5 afternoon), Peralta, who features a nasty split-finger fastball, has faced 40 left-handed hitters, giving up just two hits and one walk.

July, 18, 2011
7/18/11
10:11
AM ET
By
Mark Simon, ESPN Stats & Information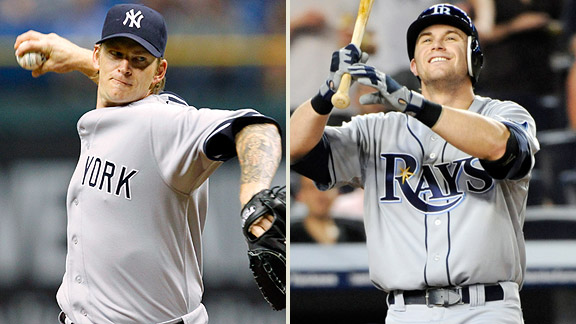 AP PhotosA pivotal matchup in a pivotal series could be how A.J. Burnett handles Evan Longoria.
We're going to narrow our What2Watch4 for this Yankees-Rays series (7 ET, ESPN) down to one matchup: Rays third baseman
Evan Longoria
vs Yankees pitching.
Longoria was the subject of much discussion on the 16-inning Sunday Night Baseball telecast, with
Orel Hershiser
and
Bobby Valentine
wondering whether what kept some of Longoria's fly balls in the ballpark was his recovery from the injuries that sidelined him earlier this season.
But the Yankees have a means of keeping Longoria in the ballpark that has nothing to do with his injury. Let's take a closer look.
In 2009, Longoria hit 16 fly balls against the Yankees. Seven of them left the ballpark (four in Yankee Stadium, three at the hitter-unfriendly Tropicana Field). That's a crazy home run-to-fly-ball rate: 44 percent (the big league average is 10 to 12 percent).
But since then, Longoria has hit 24 fly balls against the Yankees. Only one has gone for a home run.
What is that attributable to?
Our pitch performance data shows two significant changes in approach for the Yankees in the last two seasons.
For one thing, they're throwing him less of the hard stuff. Longoria had hit five of his home runs in 2009 against fastballs (including one against a cutter).
The Yankees subsequently reduced the percentage of fastballs thrown to him from 70 percent in 2009 to 60 percent over the last two years.
That's maybe a one or two pitch difference per game, but given the rate at which Longoria was crushing Yankees pitching, it's a potential difference-maker.
The other change has come in pitch location. Our data, culled from Pitch F/X (an in-ballpark pitch-tracking system) allows us to look at pitch location by section.
In 2009, two-thirds of the pitches that the Yankees threw to Evan Longoria were classified as being in the middle-third of the strike zone or higher.
That's a power hitter's kind of pitch. Since 2009, Longoria has hit 50 of his 66 home runs against pitches to those spots.
So the "pitch-him-up" approach was basically a recipe for trouble. Six of Longoria's seven home runs came on pitches in the middle-third or higher.
It looks like the Yankees figured out that wasn't the best way to go.
Over the last two seasons, Yankees pitchers have thrown 368 pitches to Longoria. If they had taken the approach they took in 2009, he should have seen 247 pitches middle-third or higher.
He's seen 206.
That's 41 fewer opportunities to drive the ball out of the ballpark.
Let's go one step further. In 2009, the Yankees threw 36 pitches to the location we classify as "middle-in."
Historically, Longoria crushes pitches to that spot. He was 5-for-11 with two home runs against them against the Yankees in 2009.
In 2010 and 2011, Longoria has had the same level of success- 5-for-10 with a home run. But he's being given far fewer chances to hit that sort of pitch.
He's gone from seeing one of every seven pitches to that spot to one of every 11. Take a peek at those two images at the bottom of this story.
The one on the left shows where the Yankees pitched Longoria most often in 2009. Look at the difference in the image on our right for 2010 and 2011. The blip on the inside part of the plate has disappeared.
This change has not just limited Longoria's power. It's kept his batting average on balls in play against the Yankees to a modest number over the last two seasons -- .286.
So it will be worth watching if Burnett, against whom Longoria has a .429 batting average on balls in play, with a 447-foot home run in 2009, follows the same pattern. It looks like he's aware of it.
Burnett has thrown Longoria 24 pitches this season and Longoria only has one hit in six at-bats.
Only one of those pitches has been middle-in.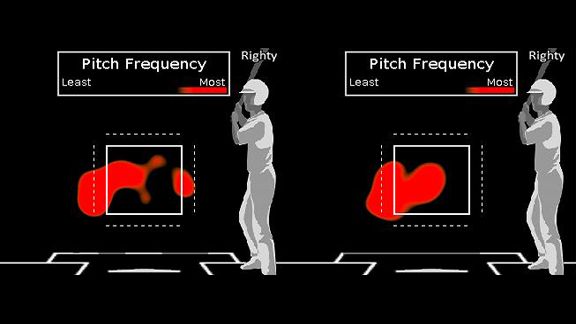 At left: How Yankees pitched Evan Longoria in 2009
At right: How Yankees pitched Longoria in 2010-2011
July, 8, 2011
7/08/11
7:42
PM ET
The Yankees made not bones about it that they wanted to play a doubleheader Saturday and the Rays wanted to make-up Friday's game later in the season. Tampa Bay's team representative Evan Longoria didn't seem to care, though. His team had its reasons and got its wish as the game will be made up on Sept. 22.

"What they say is what they say," Longoria said. "The decision was made basically to say what's best for our team and put it in their hands and let them decide."

Loongoria said his team's vote was unanimous that the team did not want to play a doubleheader on Saturday, as the team would rather play a single game to help the team with its injuries. Designated hitter Johnny Damon is injured as is pitcher Wade Davis and several other players have missed significant time this season.

From Longoria's interpretation, the final call on whether to play the game later in the year or on Saturday belonged to the Yankees and he said that if the Yankees had truly wanted to have a double header Saturday, they would've made the game happen. Longoria added he was surprised regarding the final decision.

"We're a little overextended right now and with the break approaching and us being able to get those four days, there was really no sense when we did have a mutual off day looking down the line to really force the issue now," Longoria said. "If we didn't have those off days and opportunities to get those games in, then we probably would have had to play a double header. Seeing as there was opportunities it didn't really make sense for either team to have a double header."

Longoria also said that and his teammates would like to see Yankees shortstop Derek Jeter get hit No. 3,000, but he added that he's sure that Jeter would choose to do whatever is best for his team and Longoria believed that is not playing a doubleheader. He did say the chase is probably a little bit of a burden for Jeter, although the quest for hit No. 3,000 did not influence his team in its consideration of when to make-up the game.

"I think that the guys will worry about the way we feel in here," Longoria said. "We feel for his situation, the guy's going for 3,000 hits. It's not like he's never going to get another hit again. He's got (2,998) or whatever he's got, he's going to get another hit at some point or another. The consideration is what's best for our club in here."

Added utility player Ben Zobrist: "We're thinking more about our team and what's best for our team. If it works out for them or not, they have to make the decision for their team and we have to make the decision for our team."