New York Yankees:

Francisco Cervell
March, 21, 2014
Mar 21
10:35
AM ET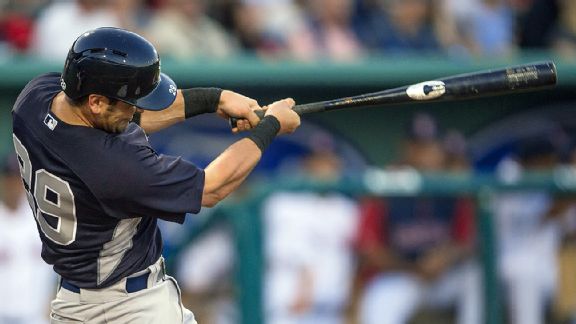 Jerome Miron/USA TODAY SportsFrancisco Cervelli's OPS this spring is 1.483. But is he worth anything as trade bait?
Francisco Cervelli
is crushing the ball this spring. He entered Friday hitting .484 in 31 at-bats. With four homers and seven RBIs, his OPS is 1.483. He has clearly won the backup catcher job over
John Ryan Murphy
and
Austin Romine
.
So by trading Cervelli, could the Yankees solve some depth issues in their bullpen or in the infield?
"At his bandwidth, I don't think you will get a lot," an NL GM told ESPN New York. "Most people think of him as a backup catcher."

The names of second baseman
Nick Franklin
or shortstop
Didi Gregorius
have been tossed around as possibilities to aid the Yanks' creaky middle infield of
Brian Roberts
,
Brendan Ryan
and
Derek Jeter
.
Joel Sherman wrote in the
New York Post
about the possibility of throwing
David Phelps
into a deal with Cervelli, Murphy or Romine for an infielder.
The thinking is that if
Michael Pineda
is ready, Phelps might become expendable.
Because if they feel Pineda is good to go in the fifth-starter slot, they would be more willing to use David Phelps as part of a deal, which would be tough for them because Phelps provides good rotation support plus potential help in the bullpen. Both the Diamondbacks (who lost Opening Day starter Patrick Corbin for the season with a torn elbow ligament) and the Mariners (who will be without Hisashi Iwakuma and Taijuan Walker to open the season) want to add starters who can help now.
Both Franklin and Gregorius have played just over 100 games in the majors and each has an OPS under .700. They are young but unproven.
But I don't think trading Phelps makes sense until you have a really good feel on Pineda -- and even then, I would pick my spots. Pineda has looked tremendous, but the Yankees still don't know -- and won't know for a while -- how he will hold up.
The
Yankees' starting pitching depth
could prove far more important than adding a Franklin or a Gregorius.
They haven't shown that they can be regular major leaguers any more than the hot-hitting Yangervis Solarte,
Dean Anna
or
Eduardo Nunez
, whom the Yankees seem to be souring on and could have his helmet falling off for another team soon.
Invariably, the Yankees are going to need their excess starting pitching. Plus, Phelps,
Adam Warren
and
Vidal Nuno
may be able to help out in the pen in the meantime.
The other trade name that will be out there heading into Opening Day is
Ichiro Suzuki
. The Yankees are willing to deal him because they don't have a spot to play him.
Early in spring training, Joe Girardi even forgot to mention Ichiro when discussing how he will use his outfielders. With
Jacoby Ellsbury
,
Brett Gardner
,
Carlos Beltran
and
Alfonso Soriano
, Ichiro needs one or even two injuries to get in the conversation.
The Yankees would likely eat some salary -- Ichiro is set to make $6.5 million -- to unload him for a low-level prospect. Ichiro's trade value is not very high because of how low his on-base percentage has been. In 2013, it was .297, which is untenable for a singles hitter.
So the Yankees could make a trade in the next week ... but it won't be for much.
January, 16, 2014
Jan 16
7:30
PM ET
NEW YORK -- Injuries, inactivity, a PED suspension -- and the threat of arbitration -- have paid off for
Francisco Cervelli
, who agreed Thursday to a one-year deal with the Yankees calling for a near $200,000 raise.
Cervelli, who after winning the starting catcher's job in spring training was limited to just 17 games last season due to a broken hand and later, an uncontested 50-game suspension for his involvement with Biogenesis, was paid $515,000 last season. According to a published report, he agreed to a $700,000 nonguaranteed contract for 2014.
And with the Yankees having signed
Brian McCann
this winter to a five-year deal to be their everyday catcher, Cervelli is once again relegated to backup duty, although he will likely have to battle
Austin Romine
and
J.R. Murphy
in spring training for that, too.
Cervelli, who will turn 28 in March, is a lifetime .271 hitter with eight home runs and 79 RBIs over parts of six big league seasons.
June, 17, 2013
6/17/13
4:57
PM ET
While the big news on Monday is
Mark Teixeira
likely
going back on the DL
and Brian Cashman taking a major dig at his hitting coach, Kevin Long, there were -- as always -- some injury updates as well.
•
Michael Pineda
will pitch Thursday in a Florida State League game. Pineda has been throwing in the mid-to-low 90s and Cashman is thrilled with his rehab progress thus far. This will be Pineda's third start, and he will throw about 80 pitches. In his fourth, fifth and sixth times out, Cashman and company will truly evaluate if Pineda should go into the rotation or stay in the minors for more seasoning.
•
Alex Rodriguez
(hip) did toss and net drills on the field Tuesday. He took three rounds of batting practice and two rounds of "super batting practice" according to Cashman, which is "up close." He also did long toss and took ground balls to both sides. On Tuesday, A-Rod will take another step forward.
"Alex will get some simulated at-bats of live pitching, but it is not a simulated game," Cashman said.
•
Derek Jeter
(ankle) did tee-and-toss, 15 cage batting practice swings, long toss, 20 grounders on the dirt with movement to the sides, and threw to first base.
•
Curtis Granderson
(broken hand) played long toss. He will have the pin in his hand taken out Wednesday. After that, he will strengthen the hand for a week and then he'll pick up a bat.
•
Eduardo Nunez
(oblique) did some tee-and-toss and took some grounders Monday. Cashman said he hopes Nunez is either with the big club or with Triple-A Scranton/Wilkes-Barre by the middle of July.
•
Francisco Cervelli
(fractured hand) will be "underwater with a bat," according to Cashman, in 7-10 days. He could return to the Yankees around mid-July.