New York Yankees:

Garrett Jones
December, 19, 2014
Dec 19
3:22
PM ET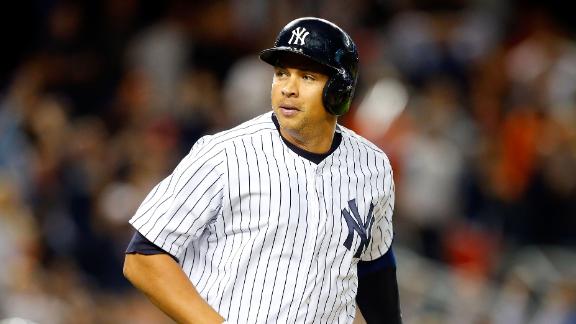 NEW YORK -- The Yankees have been quite candid about letting the world know what they expect from
Alex Rodriguez
in 2015:
next to nothing
.
And now, if there had been any doubt before, A-Rod surely knows what he can expect from the Yankees: maybe even less than they expect from him.

Friday's trade
of
Martin Prado
and
David Phelps
to the
Miami Marlins
for starting pitcher
Nathan Eovaldi
, 1B/OF/DH
Garrett Jones
and pitching prospect Domingo German does more than shore up the starting rotation and add a backup for the oft-injured
Mark Teixeira
.
It also advances the ongoing marginalization of Alex Rodriguez, who seems to be losing playing time and at-bats with each move.
Already this week, the signing of
Chase Headley
to a four-year deal effectively ended A-Rod's days as the Yankees' third baseman. And the acquisition of Jones, a decent lefty power hitter who has averaged 19 home runs per year over the past six years, has further implications for A-Rod's Yankees future, or lack thereof.
Jones has played most of his major league games at first base. So much for the idea of having A-Rod take grounders at first this spring to prepare for some Teixeira backup duty. And with the Yankees already carrying four outfielders --
Jacoby Ellsbury
,
Brett Gardner
,
Carlos Beltran
and
Chris Young
-- it seems likely that when Jones isn't at first, he will be getting a good amount of lefty DH at-bats as the Yankees hope to exploit the apparent mismatch of hid power stroke vs. their homer-friendly right-field fence.
So it appears that Alex Rodriguez, with 654 career home runs and $61 million in Yankee paychecks due him, has been reduced to a part-time DH at best.
There is a school of thought that this is all part of the Yankees' plan to humiliate Rodriguez to the point that he will quit and leave his money behind, but there's about as much chance of that as there is of Joe Girardi becoming the frontman for a hip-hop group. Still, with no legal recourse to void A-Rod's contract and apparently little stomach for paying off his contract and releasing him, humiliation may be the only weapon the Yankees have left.
Short of a permanently disabling injury that would allow both parties to go their separate ways with some measure of dignity and financial satisfaction -- A-Rod would get the rest of the money owed on his contract and the Yankees would recoup some insurance money -- this could continue to be a long, drawn-out, messy divorce.
December, 19, 2014
Dec 19
2:55
PM ET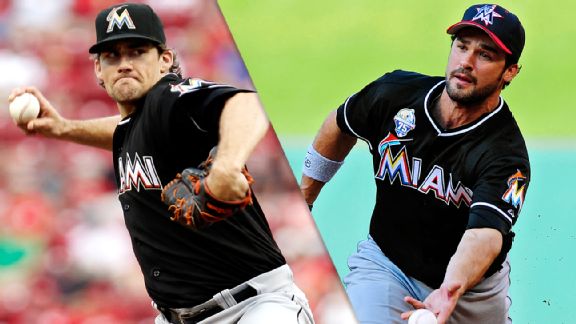 USA TODAY SportsNathan Eovaldi and Garrett Jones will don the pinstripes in 2015.
NEW YORK -- Just when you thought the Yankees were taking a timeout, having (somewhat) bolstered their rotation and settled on a starting infield, boom -- Trader Cashman strikes with a deal I feel safe in guessing no one would have predicted: sending
Martin Prado
and
David Phelps
, both of whom the club spoke highly of just two days ago, to Miami in exchange for right-handed starter
Nathan Eovaldi
, veteran 1B/OF/DH
Garrett Jones
and right-handed pitching prospect Domingo German.
Who are these guys?
Eovaldi, who will turn 25 in February, has pitched in parts of four major league seasons with the Dodgers and Marlins. An 11th-round draft pick, Eovaldi was part of the 2012 trade that sent
Hanley Ramirez
from the Marlins to the Dodgers. He has thrown a total of 460 big-league innings in 83 appearances (79 starts), has a record of 15-35 and a 4.07 career ERA. Last year he went 6-14 for the Marlins with a 4.24 ERA. The book on him is a blazing fastball (average: 96 mph), but a disproportionately low strikeout total (142 K's in 199⅔ IP last year, or 6.4 K's per nine innings) because his location -- he throws a lot of fastballs over or near the middle of the plate -- resulted in a low swinging-strike percentage. He also allowed more hits (223) than any other NL starter last season. Still, he has a livelier arm than the 28-year-old Phelps, who probably has shown us all he has, and the Yankees are gambling on Eovaldi's upside.

Jones, who will turn 34 in June, didn't become a full-time major leaguer until 2009, when he was 28. He batted .293 with 21 homers for the Pirates that season, and has averaged 19 home runs and 66 RBIs in his six full seasons, although his batting average has plummeted; he is a career .253 hitter who hasn't come close to .293 since 2009. He's a left-handed hitter, always a plus at Yankee Stadium, and has played most of his games at 1B, which means he immediately becomes
Mark Teixeira
's backup, something the Yankees did not have last season. He also can play the outfield (mostly right field) and could get some DH at-bats as well.
German is 22 and just completed his first season in Class A, going 9-3 with a 2.48 ERA for the
Greensboro Grasshoppers
of the Sally League.
Nicknames, anyone?
"Jonesy" is obvious, even if we just had one two years ago. I'm betting Joe Girardi will soon be referring to his new pitcher as "E-O." He's got a couple of years to think of one for German.
Martin, we hardly knew ye:
While the trade of Phelps is hardly surprising -- it was a hot rumor last winter, too -- the Yankees' decision to part with Prado comes as a bit of a jolt. Prado, who hit .316 with seven HRs and 16 RBIs in 37 games for the Yankees after being acquired in a trade deadline deal with the
Arizona Diamondbacks
, was expected to be the Yankees' starting second baseman after the Yankees re-signed
Chase Headley
to a four-year deal to play third. Why, it was only Monday that Cashman was thanking the heavens for placing Prado on his roster because of the versatility he gave the Yankees. Apparently, among Prado's many assets was his trade value.
What's on second?
Until the next unexpected move, it appears that the Rob Refsnyder/
Jose Pirela
spring training experiment is back on. But who knows? To paraphrase Yogi, the Yankees' offseason ain't over until it's over.
February, 11, 2012
2/11/12
12:27
PM ET
So says a source intimately familiar with the negotiations between the Yankees and the Pirates to move A.J. Burnett and his hefty contract between now and the start of the season. According to the source, the hangup is "money and players,'' namely, how much of the $33 million remaining on Burnett's contract the Yankees are willing to eat and which player(s) the Pirates are willing to part with. Rightfielder Garrett Jones, a left-handed bat whom the Yankees coveted, is definitely off the table. Still, the source said "This thing has legs and it is real. There's a chance something will happen there, although not today.''

The source also said freeing up money from the dumping of A.J.'s contract would have no bearing on whom the Yankees sign as a DH, or even if they will, whether it is Raul Ibanez, Johnny Damon or Hideki Matsui. "Whoever it is is going to have to play for $1 million to $2 million,'' the source said. "(The Yankees) are already over budget, so it doesn't matter how much they save on Burnett. One thing has nothing to do with the other.''

The Yankees pursuit of a reserve outfielder seems to reduce the chances of a return by Eric Chavez, since the club appears willing to go with a combination of Eduardo Nunez, Ramiro Pena and possibly Brandon Laird as backups for Alex Rodriguez and the other infielders.