New York Yankees:

Gary Sanchez
October, 14, 2014
Oct 14
12:45
PM ET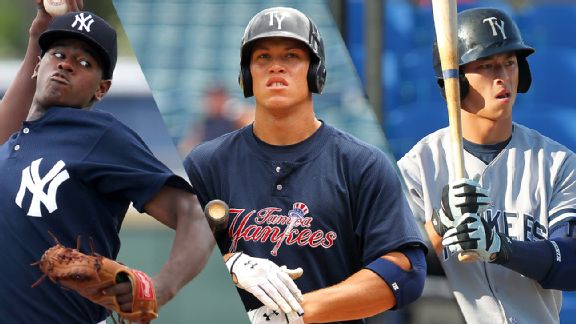 Icon SMILuis Severino, Aaron Judge and Rob Refsnyder could be Bronx Bombers -- or trade bait.
The Yankees' farm system improved in 2014. While it's still not great, there are a handful of players in the minors who could make a difference.
Let's take a look at 11 who could make a direct impact on the Yankees in 2015, be a big part of their future, or be traded to fill holes.
1. Luis Severino, RHP:
Severino may be the best prospect in the Yankees' system. Last winter, we told you
he could be the next big name
to emerge from the farm.
Severino lived up to the hype this season. He went 6-5 with a 2.45 ERA in 24 starts in Double-A and Class A. He struck out 127 and walked just 27 in 113S innings.
Severino won't start 2015 in the majors, but by late summer he might be an option. If all goes well, he could be a big part of the 2016 plans. Of course, he also could become the biggest piece in any blockbuster trade orchestrated by general manager Brian Cashman.
[+] Enlarge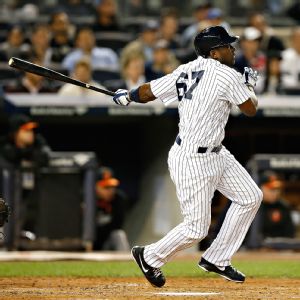 AP Photo/Kathy WillensJose Pirela could give Rob Refsnyder a run for his money at second base next season.
2. Aaron Judge, OF:
There are some in the Yankees organization who believe Judge may end up a 30-homer, 100-RBI guy. Just 22, he was impressive in his first pro season, hitting .308 with 17 homers and 78 RBIs in 131 Class A games. His OPS was .905.
Judge, the 32nd pick in the 2013 draft, is 6-foot-7, 230 pounds. A right-handed hitter and thrower, he plays the outfield and can be a DH.
It would be very surprising if he made it all the way to the majors in 2015, but he is a player teams will want in a big deal. I tend to doubt the Yankees will give him up, as he could be the right fielder -- if he develops properly -- by 2016 or 2017.
3. Rob Refsnyder, 2B:
Refsnyder, 23, has already been mentioned as possibly the starting second baseman if he can beat out
Martin Prado
or if Prado is needed at another spot. Refsnyder hit .318 with 14 homers and 68 RBIs in 137 games in Double-A and Triple-A in 2014.
The question on Refsnyder -- who was an outfielder on Arizona's 2012 NCAA championship team -- is if he can make the transition to the infield. If he doesn't win the second-base job, he has a chance to make the club as a utility player.
To read more on Refsnyder, click
here
for my story from early this year, or
here
for Mark Simon's take.
4. Manny Banuelos, LHP:
Banuelos may not be as hyped as he once was, but when spring training opens he will be just 23. Just as
Dellin Betances
did, Banuelos still has a chance to turn his potential into major league success.
The lefty, coming off Tommy John surgery, had a 4.15 ERA in three levels of the minors, but in his final 15 innings for Triple-A Scranton/Wilkes-Barre, he had a 3.60 ERA, striking out 13 and walking 10. While nothing spectacular, he may be going in the right direction. He will compete for a job (most likely in the pen) in spring training, but could be at Triple-A waiting for a call-up as a starter.
5. Gary Sanchez, C:
Just 21, Sanchez was young for Double-A and did OK. If he is going to be an elite player one day, he will need to hit better than .270 with a .743 OPS because there are questions about his defense behind the plate. If Cashman were to unload one of his top prospects, Sanchez might be the one to go. He has a lot of catchers in front of him and some developing to do, so it would seem he is still a long away from being a Yankee.
6: Bryan Mitchell, RHP:
Mitchell, 23, pitched 11 innings for the big club at the end of the season and gave up only three earned runs. He has a pretty good chance to make an impact in 2015 as either an extra starter or in the pen.
7: Jacob Lindgren, LHP:
The Yankees used their first pick in the 2014 draft on Lindgren, a lefty reliever. There was some thought he might be called up this year, but now he has an excellent chance to break camp with the big club as the main lefty in the pen. He is just 21.
8: Jose Pirela, 2B
: Pirela, 24, can hit, which allows him to compete for a roster spot and maybe even the starting second-base position this spring. The question is whether he can defend well enough. Like Refsnyder, he owns an infield and an outfield glove, which could earn him a trip north to begin the season.
9: Ian Clarkin, LHP
: The 19-year-old lefty, another first-rounder in 2013, had a strong season in Class A, striking out a batter an inning. He won't be a factor on the major league level in 2014, but his development will be one to watch.
10: Eric Jagielo, 3B:
Jagielo, the 26th pick in 2013, had a very respectable .811 OPS in Class A and Rookie ball in 2014. He is a 22-year-old third baseman. He also is highly unlikely to make an impact on the big league club in 2015.
11: Jose Ramirez, RHP:
Ramirez, 24, was a guy the Yankees were very high on going into spring training in 2014. Injuries derailed him, but he is a righty who might be able to make some leaps and help in the Bronx pen in 2015.
August, 3, 2013
8/03/13
2:30
PM ET
TRENTON, N.J. -- The Yankees have promoted top prospect Gary Sanchez to Double-A Trenton, according to a Thunder official. Sanchez, 20, hit .254 with 13 homers and 61 RBIs for Class A Tampa.
The catcher is known for his offense, while his defense is something he must improve upon. Sanchez was No. 18 in Keith Law's preseason Top 100 prospects, but drop to 49 in the revised midseason addition:
What a dismal year for the Yankees' top prospects. Tyler Austin has struggled and is out with a wrist injury, Mason Williams has been worse, Slade Heathcott has underperformed, and Ty Hensley has been out after hip surgery.

Sanchez is the best of the group, but his stock has taken a hit as his receiving, much improved last year, has regressed while his explosive hands and raw power haven't produced offensive results yet either. He's a stretch to make the top 50, but I still see too much potential, mostly on offense, to walk away entirely.
Sanchez will get to see first-hand what could be the
Alex Rodriguez
Reality Show.
To read more from Law, click here.
February, 6, 2013
2/06/13
11:47
AM ET
It is amazing how quickly these lists can change. A year ago, Manny Banuelos was the talk of the Yankees, with
Dellin Betances
not far behind. Now, in Keith Law's Top 10 Yankees prospects, Banuelos is down to seventh, while Betances isn't even on the list. Banuelos slid because of Tommy John surgery, while Betances couldn't find the plate in 2012.
Still, there are plenty of youngsters to take their place in what Law ranks the 10th best farm system in baseball. Here are the rankings. In parenthesis is where the Yankees' top players fared in
Law's top 100
.
1. Gary Sanchez, C (18)
2. Mason Williams, CF (35)
3. Tyler Austin, RF (52)
4. Slade Heathcott, CF (56)
5.
Jose Ramirez
, RHP
6. Ty Hensley, RHP
7. Manny Banuelos, LHP
8. Jose Campos, RHP
9. Mark Montgomery, RHP
10. Angelo Gumbs, 2B
This is what Law writes:
The Yankees' system is top-heavy, with several elite prospects but not a ton of depth, led by the group of position players who started in low-Class A Charleston last year that could produce as many as three above-average or better regulars plus several other guys who'll have big-league value. The loss of Jose Campos for most of 2012 and for Manny Banuelos until 2014 hurts their pitching depth significantly, although the oft-injured Jose Ramirez was extremely effective when healthy this year.
To read more,
click here
(Insider).
February, 1, 2013
2/01/13
7:00
AM ET
We are now in February, just 11 days until Feb. 12, the day pitchers and catchers report to spring training -- and each day between now and then, Wallace Matthews, Mark Simon and I will present a list dealing with a specific issue facing the Yankees this season. Today, we look at the four guys who are the most exciting in the Yankees' system.
THE FOUR MOST EXCITING MINOR LEAGUERS IN THE YANKEES SYSTEM
To pick our four most exciting prospects in the Yankee system we enlisted Yankees VP of Player Development, Mark Newman, who was kind enough to give us his rave reviews. With Manny Banuelos out for the year with Tommy John surgery and
Dellin Betances
having regressed, the Yankees top prospects are in the lower levels of the minors, but Newman brings up names like
Mike Piazza
and
Bernie Williams
when discussing them.
In each description, we have the 2013 level that Newman expects them to begin the year.

1) MASON WILLIAMS
Position: CF
Age: 21
Height: 6-foot-0
Weight: 155
Throws: Right
Bat: Left
2012 A-Ball Stats: .298 average, .820 OPS
2013 Level: Single-A Tampa
Newman's Take:
"Bernie Williams-type He is an excellent defender. He is not a switch-hitter. He is a left-handed hitter. He can run and he can hit. He has hit well early in his career. We are going to try and have some patience with him."
2) GARY SANCHEZ
Position: C
Age: 20
Height: 6-foot-2
Weight: 220
Throws: Right
Bat: Right
2012 A-Ball Stats: .290 average, .829 OPS
2013 Level: Single-A Tampa
Newman's Take:
"We've got
Austin Romine
slated to start in Triple-A. We've got J.R. Murphy who caught in Double-A. Most likely Sanchez will start the season in Tampa. He has big power. He can really throw. I don't think there is a real easy comp on him. He is young. He can hit the ball a long way and he can hit the ball a long way to right field. Some of that stuff is similar to a [Mike] Piazza, but he's got big time arm strength. He's got a chance to be really special because of a couple of really significant tools and because of his age. He has performed well in leagues where he was two years, sometimes three years, younger than everybody else in the league."
3) SLADE HEATHCOTT
Position: OF
Age: 22
Height: 6-foot-1
Weight: 190
Throws: Left
Bat: Left
2012 Rookie/A-Ball Stats: .302 average, .841 OPS
2013 Level: Double-A Trenton
Newman's Take:
"He's in that A, Double-A. There is probably a better chance that he is going to start in Double-A. He's got power, great speed and is hyper aggressive. He plays as hard as you can play the game. He has to refine his skills, control his aggressiveness. He is a fun guy to watch. You don't find tools like this. He can fly. He can hit it up in the lights. He plays hard. He works hard. [Because of time missed due to injury,] I would not say that he is going to have any type of accelerated pace."
4) TYLER AUSTIN
Position: OF
Age: 22
Height: 6-foot-2
Weight: 200
Throws: Right
Bat: Right
2012 Rookie/A-Ball Stats: .320 average, .960 OPS
2013 Level: Double-A Trenton
Newman's Take:
"Austin was a third baseman, but now is an outfielder. The move was a combination of Austin's skills and where potentially we thought we could have a need on the major league level one day."
EXTRA POINT:
Coming Sunday, who are the minor leaguers who could help in the majors this year? Righty Mark Montgomery, who could have been on this list, leads the charge as a "
David Robertson
-type" reliever, to use Newman's words.

QUESTION: WHICH OF THESE PROSEPCTS EXCITE YOU THE MOST?
January, 31, 2013
1/31/13
6:22
PM ET
The Yankees announced who they are inviting to Major League camp. The most interesting names are Slade Heathcott, Cito Culver, Tyler Austin and Gary Sanchez. The Yankees have also signed
Travis Hafner to what is believed to be a major league deal
.
Here is the release:
The New York Yankees today announced that they have signed five players to minor league contracts with an invitation to Major League Spring Training: OF Matt Diaz, INF Dan Johnson, OF Thomas Neal, OF Juan Rivera and C Bobby Wilson. The club has also invited 39 additional players to 2013 Spring Training, bringing the total number of invitees to 44 (20 pitchers, six catchers, nine infielders and nine outfielders). The total number of players now scheduled to report is 84 – 17 more than 2012's total of 67.

The list of invites includes Yankees first-round draft picks OF Slade Heathcott (2009) and SS Cito Culver (2010), and 2012 South Atlantic League All-Stars OF Tyler Austin and C Gary Sanchez.

Diaz, who turns 35 on March 3, is a career .291 (543-for-1,863) batter with 211 runs, 97 doubles, 14 triples, 45 home runs and 225 RBI in 726 games over 10 seasons with Tampa Bay (2003-04), Kansas City (2005), Atlanta (2006-12) and Pittsburgh (2011). He is a career .324 (306-for-945) batter with 31 home runs against left-handed pitchers, and has appeared defensively at all three outfield position. Diaz grew up in Lakeland, Fla., played baseball at Florida State University and was selected by Tampa Bay in the 17th round of the 1999 First-Year Player Draft. His last name is pronounced Dye-ez.

Johnson, 33, has appeared in 413 combined Major League games over parts of seven seasons with Oakland (2005-08), Tampa Bay (2008, '10-11) and Chicago-AL (2012), batting .237 (313-for-1,320) with 59 doubles, 56 home runs and 194 RBI. He also played a season in Japan in 2009 with Yokohama. He spent most of the 2012 season with Triple-A Charlotte (.267, 127-for-476, 28 home runs), before appearing in 14 games with the White Sox as a September call-up (.364, 8-for-22). He hit three homers in the team's regular season finale at Cleveland. He was originally selected by Oakland in the seventh round of the 2001 First-Year Player Draft.

Neal, 25, made his Major League debut in 2012 with the Cleveland Indians, going 5-for-23 (.217) in nine games. He spent the majority of the season with Double-A Akron, batting .314 (127-for-405) with 77 runs, 24 doubles, 12 home runs and 51RBI in 117 games for the Eastern League champions. Among Eastern League leaders, he ranked third in on-base percentage (.400), fourth in batting average and tied for fifth in runs, appearing in games at all three outfield positions. Neal was originally selected by San Francisco in the 36th round of the 2005 First-Year Player Draft, and acquired by Cleveland on 7/30/11.

Rivera, 34, batted .244 (76-for-312) with 14 doubles, nine home runs and 47 RBI in 109 games with the Dodgers in 2012. He made 30 starts in left field, 39 at first base, five in right field and one at DH. Originally signed by the Yankees as a non-drafted free agent in 1996, Rivera appeared in 88 games with the Yankees over parts of three seasons (2001-03), hitting .262 (68-for-260) with eight home runs. He has collected 67 outfield assists in his career, tying for 12th-most among active players in the Majors since his debut in 2001.

Wilson, 29, has spent his entire career in the Angels organization, after being selected by the Angels in the 48th round of the 2002 First-Year Player Draft out of St. Petersburg College. He hit .211 (36-for-171) with five doubles, three home runs and 13 RBI in 75 games in 2012 with the Angels, and caught 15-of-60 stolen base attempts (25.0%) – the seventh-highest percentage among AL catchers. A native of Dunedin, Fla., Wilson is a career .208 (81-for-389) batter in 191 Major League games with a .994 fielding percentage behind the plate, and catching 23.0% of potential base stealers (29-of-126).

2013 SPRING INVITEES
OF Abraham Almonte
C Francisco Arcia
OF Tyler Austin
INF Greg Bird
RHP Corey Black
LHP Juan Cedeno
RHP Preston Claiborne
INF Cito Culver
RHP Matt Daley
OF Matt Diaz
OF Adonis Garcia
RHP Shane Greene
RHP Nick Goody
OF Slade Heathcott
RHP David Herndon
C Kyle Higashioka
INF Walter Ibarra
INF Dan Johnson
RHP Tom Kahnle
INF Addison Maruszak
RHP Jim Miller
RHP Bryan Mitchell
RHP Mark Montgomery
INF Luke Murton
OF Ronnier Mustelier
C J.R. Murphy
OF Thomas Neal
INF Jayson Nix
RHP Zach Nuding
LHP Vidal Nuno
RHP Mike O'Brien
RHP Kelvin Perez
RHP Branden Pinder
INF Jose Pirela
RHP Ryan Pope
OF Juan Rivera
INF Kyle Roller
C Gary Sanchez
OF Rob Segedin
LHP Josh Spence
LHP Matt Tracy
INF Gil Velazquez
RHP Chase Whitley
C Bobby Wilson
March, 8, 2012
3/08/12
10:17
AM ET
The fun thing about all these sites now with evaluation is that there are
Mel Kipers
everywhere. We mean that as a compliment because we have always loved Kiper's making a two-day activity into a 365-day job. Anyway, Baseball Prospectus'
Kevin Goldstein
, who also writes for ESPN Insider, has his new list of the
Yankees Top 20 prospects
.
Goldstein has
Manny Banuelos
No.1 and slots catcher
Gary Sanchez
as the only other Five-Star Yankee prospect. For Four-Star guys, Goldstein has
Dellin Betances
and
Mason William
s. Among his Three-Star players are
Jorge Campos
and
Dante Bichette
.
As for me, my sleeper pick as a guy to watch i
s D.J. Mitche
ll. Just from talking to some of his teammates, I think he is a guy that might slide a little under the radar of the Banueloses, Betanceses,
Adam Warrens
and David Phelpses, but he might come up and do well at some point.