New York Yankees:

Get to Know
February, 27, 2013
2/27/13
1:31
PM ET
In the Arizona Fall League, a scout watched Slade Heathcott and compared him to a more athletic
Todd Hollandsworth
. That same scout thought Heathcott was the best player in the Fall League.
The 22-year-old Heathcott, a Texan, is in major league camp for the first time. When he speaks, he sounds like an outfielder cut out of the 1950s or '60. With a past that includes his own battle with alcohol, it makes sense that Heatchott says one of the players he looks up to is the late Mickey Charles Mantle.
[+] Enlarge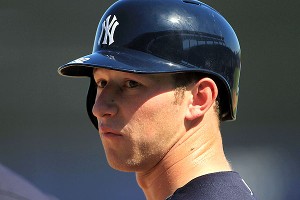 John Munson/THE STAR-LEDGER via USA TODAY SportsSlade Heathcott
"He played hard," Heathcott said. "He is from Commerce, Oklahoma, which is about 15 minutes from where my family is. The Commerce Cowboys, actually. Just the way he played. He was a five-tool athlete, a stud, did his best to handle things and came out on top. I like hearing that."
Heathcott said he has read two Mantle bios. "That's how I became of fan of his," Heathcott said.
Heathcott, 6-foot-1, 190 pounds, is a ball of excitement as a player. In fact, the biggest knock on him might be that he plays too hard, which has resulted in two shoulder surgeries.
"What I like to say is I have to play a little smarter," said Heathcott, whom the Yankees selected with the 29th pick in 2009. "I'm never going to back off my game. I just need to learn what situations call for it and what situations don't. That's definitely something I'm working on."
Heathcott is slated to begin the year at Double-A Trenton, but he has a chance to skyrocket all the way to the Bronx at some point this season.
February, 22, 2013
2/22/13
12:53
PM ET

Yankees prospect Mark Montgomery is asked what it is like to be compared to David Robertson and if he feels he can help the Yankees in 2013.

Mark Montgomery laughs. He was just asked where does the power come from on a fastball that sometimes reaches 94.
Montgomery may only be listed at 5-foot-11, 205 pounds, but, for a franchise that loves giants on the mound, he may make the biggest impact in 2013.
"I guess a lot of hard work in the gym," Montgomery said. "I wasn't dealt the best cards, I guess. A little undersized. I think just my delivery kind of helps me. I get a little deception on it. Being a littler guy, I think it kind of jumps on the hitter a little bit."
Montgomery, 22, has been compared to
David Robertson
because of a silly-moving slider. He will begin the season at Triple-A, but could be called up to fortify the bullpen at some point. As he spoke at his locker earlier in the week, he was taking it all in.
"This is pretty surreal," Montgomery said.
From Virginia, Montgomery grew up a Braves fan. Chipper Jones was his guy. When he went to Longwood University in Virginia, it was to play shortstop, not pitch. But then he got moved to the bullpen and figured out his curveball wouldn't cut it in relief. So he tried a different arm slots for his slider and -- voila -- the Yankees drafted him in the 11th round in 2011.
"It was pretty awesome to be taken in by a team with this history," Montgomery said.
He may help add to that history this season.