New York Yankees:

Hangin'
March, 13, 2012
3/13/12
11:15
AM ET
CC Sabathia
is a lifelong Raiders fan. He likes to tailgate with the Black Hole fans. So his favorite athlete of all time is not surprisingly an ex-Raider.
As a kid, Sabathia loved
Bo Jackson
. He will never forget when Jackson ran over
Brian Bosworth
on Monday Night Football or how he played like he was out of a video game.
So as a member of the Indians, it was a thrill for Sabathia to meet the then-retired Jackson before a game against the White Sox in Chicago.
"I was just excited," Sabathia said. "It was pretty cool for me that he knew who I was."
Jackson gave Sabathia an autographed helmet.
"It was awesome," Sabathia said. "He is definitely my favorite Raider, probably my favorite athlete. I loved him as a baseball player, too."
He still roots for his Raiders, the same way as he did as kid.
"I would say that I'm like a super fan," Sabathia said. "I'm like the crazy guy, just screaming. It is always fun for me to enjoy that part of sports."
As a high schooler entering the draft, Sabathia had an interesting meeting with
James Worthy
. The former Lakers star wanted to represent Sabathia.
"He was trying to do agent-stuff," Sabathia said.
Sabathia ended up going a different direction, but, through Worthy, Sabathia got to know
Magic Johnson
pretty well. The two have spoken on the phone on occasion and are friendly when they run into each other.
"It is crazy," Sabathia said. "It is just weird. He is awesome, though."
To read more Hangin' with the Yankees click here.
March, 12, 2012
3/12/12
11:15
AM ET
Ivan Nova's best buddy on the team had always been A.J. Burnett. For all the flaws of Burnett's Yankee career, a small part of his legacy could be the influence he had on Nova.

While Burnett struggled with his confidence, he stressed the importance of it to Nova. The focus on believing in himself is what Nova believes propelled him to his breakout 16-4 season.

With Burnett gone, CC Sabathia asked Nova, "What are you going to do now?'

"I'm going to be close with you now," Nova told Sabathia.

Sabathia could inherit the big brother role from Burnett, but Nova could be the one passing on the advice to his fellow Dominican, the shy Michael Pineda.

"We are getting really close here," Nova said.

Nova, 25, is explaining what it means to be a Yankee and how to handle yourself. Pineda has confided in Nova about the overwhelming feeling of seeing 11-plus reporters waiting for him after a spring outing compared to one or two in Seattle.

"He said he doesn't like to talk," Nova said.

Something that can't be underestimated is the difficulty of speaking a second language to a bunch of reporters. If you are quiet to begin with, it can add to a transition that is already laced with expectations.

"It is hard," Nova said. "Everyone is watching what you are doing. You have to be careful every time."

After Nova would appear in games, he used to be nervous talking to the media. His mother would tape his interviews off YES and the two would go through them like they were Siskel & Ebert.

"She would say, 'You look good today. You look relaxed," Nova recalled.

Nova felt like he took another leap during the playoffs when the New York media and the national media were in front of him for his pre-start press conference.

"When I had the press conference for the playoffs, I was nervous," Nova said. "Not for the game, but for the press conference. ... A lot of people don't understand when you have 20 people with 15 cameras in front of you, you get nervous."

Now, he is trying to calm Pineda's nerves.

"I tell him the same thing that those guys told me before, that A.J. told me," Nova said. "Don't get pressure with the media. It doesn't matter if you had a bad day. If you have a bad today you have to show up and talk to them."

It is part of the learning for Pineda. Nova is trying to be a good teammate, just as Burnett was for him.
March, 1, 2012
3/01/12
11:45
AM ET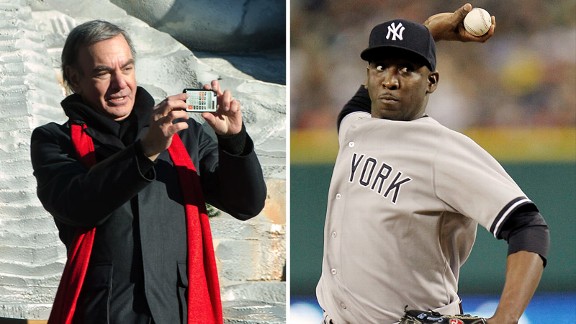 Getty ImagesLook out, Neil Diamond! You've got some competition in Rafael Soriano.
Rafael Soriano
almost always looks as if he is in a sad mood. When I asked him who he hangs out with on the road, he didn't try to cover anything up.
"Nobody," Soriano said.
In hotels, he said, he mainly watches soap operas on his iPod.
But, from a conversation we had last season, I knew there was one thing that can always brighten Soriano's mood -- hearing or, even talking, about the song, "Sweet Caroline," by
Neil Diamond
.
"Oh, yes," said Soriano, displaying a wide smile to accompany a large chuckle. "I love it. I love it."
Next, I asked if he had it on his iPod. "Oh, yes," Soriano said. "I don't know why I like it."
I suggested that he should make it his walk-in music.
"No, Boston fans, they love that song," Soriano said. "I don't want to have problem with that."
Soriano then told me that Jeter doesn't like it. In fact, Jeter hates it, he said.
Soriano, though, can't get enough of it -- and so he proceeded to start playing it in the middle of the clubhouse.
"Where it begins ..."
Soriano turned to
Mariano Rivera
in the next locker over and said, "Mo, you like it?"
Mo said, "Oh, Sweet Caroline? Yeah, I like it."
Soriano said, "I love it."
Then the singing began.
"And spring became the summer. Who'd have believed you'd come along?"
Soriano has a good voice. And it was nice to see the guy smile.
February, 29, 2012
2/29/12
12:00
PM ET
When Francisco Cervelli is on the road, he thinks about two things -- baseball and shopping. If Ramiro Pena is on the team, he has a tag-team partner as they hit the streets.

"We shop a lot," Cervelli said "Oh, my God. Clothes, all the time. We walk a lot. We have fun."

So excluding New York, what are the best places to shop in the majors?

The No. 1 city in baseball is ... Toronto.

"It is like a Europe style," Cervelli said. "That is what we like. We like to walk all the streets. They have so many good things, bro."

Are you buying suits? Jeans?

"It depends what you are feeling," Cervelli said. "Sometimes you go out looking for something and you come back with another thing"

After Toronto, Cervelli likes Los Angeles. But there is one undisputed champion of merchandise.

"We've got New York," Cervelli said.

The most underrated smaller market for shopping?

"Kansas City is good," Cervelli said. "They've got like one street where they have a lot of stores and a lot of things."

And what do Cervelli's teammates think about all his shopping.

"He has to look pretty," David Robertson said with a smile
February, 22, 2012
2/22/12
3:38
PM ET
In a new feature of the blog, we have started Hangin', where we go off the field with the Yankees and learn a little more about them.

In the Yankees clubhouse, there is a big sign over the doorway that says, "Compete." Tucked in one corner of the room is the locker for CC Sabathia. Purposely, the Yankees have placed Manny Banuelos next to him on one side and Michael Pineda on the other.

Pineda has watched CC since he was a young kid. When asked who else he has followed, Pineda mentioned Roger Clemens and Pedro Martinez. His favorite all-time pitcher is by far his fellow Dominican, Martinez.

"Pedro Martinez," Pineda said, smiling and gushing. "He is my best pitcher. I like his emotion when he is on the mound. He attacked the hitter. I loved him."

When it was pointed out to the 6-foot-7 Pineda that he is nothing like Martinez because of his size, Pineda said, "Pedro's a little guy, but on the mound he is a big guy."

Pineda has never met Martinez, but the two have spoken once on the phone.
February, 21, 2012
2/21/12
4:45
PM ET
In a new feature of the blog, we have started Hangin', where we go off the field with the Yankees. First up, Phil Hughes.

Q: When Phil Hughes is away from the ballpark, who do you hang out with?

A: Usually on the road, I'll hang out with Gardy (Brett Gardner) a lot. If his wife doesn't come on the trip we'll hang out and play video games in the hotel. People think we live a pretty glamorous life but it is similar to hanging out with your buddies back home. We just hang out and talk about anything but baseball and play video games or whatever else. It is usually pretty mellow.

Q: What games?

A: Gardy is a big FIFA guy. I'm better at hockey so we always bicker about which one we are going to play.