New York Yankees:

Hiroki Kuorda
October, 10, 2012
10/10/12
1:28
PM ET
By
Mark Simon
| ESPNNewYork.com
For more things to watch for, check out these pieces on the challenges posed by Miguel Gonzalez and the struggles of Alex Rodriguez.
Hiroki Kuroda vs. the Orioles
The biggest key for Kuroda could be his pitch location against the Orioles' lineup.
In his two starts against Baltimore this season, he had vastly different locations and vastly different results.


On April 30, Kuroda's pitch locations basically matched his season average. He threw to the outer-third or inner-third (or off the respective corners) 80 percent of the time and kept the ball out of the middle of the plate. The net result: seven innings pitched, one run allowed in a 2-1 win.
On Aug. 31, Kuroda left the ball over the middle-third of the plate (width-wise) much more often than usual. Of his 99 pitches, 29 were over the middle-third (the most such pitches he made in any start all season).
The Orioles got four hits against those pitches, including a
J.J. Hardy
home run, in a 4-1 win.
One other thing to watch from Kuroda:
In his last two starts of the season, right-handed hitters were 12-for-26 against him. During most of the regular season, Kuroda could count on getting a right-handed hitter (like Hardy,
Mark Reynolds
or
Adam Jones
) to chase pitches out of the zone at a rate of once for every three pitches he threw.
In those last two starts, he only got 10 chases on 47 such pitches (21 percent).
Kuroda and the long ball
Kuroda had a 4.63 ERA in his final seven starts, with seven home runs allowed in 44 2/3 innings. He was allowing a home run every 9.7 innings prior to this stretch.
Kuroda fared well in terms of keeping the ball in the park at Yankee Stadium, allowing 12 home runs in 132 1/3 innings
Kuroda's home-field advantage
For whatever reason, Kuroda's slider/splitter combo fared significantly better at Yankee Stadium than it did on the road.
Opponents hit only .162, with a 40 percent miss rate on their swings against that pitch combination in Yankees home games, compared to .279 with a 34 percent miss rate on the road.
Kuroda's playoff history
Kuroda has made three career playoff starts, two of which were very good and one that was awful. He beat the Cubs with 6 1/3 scoreless innings in the 2008 NLDS and beat the Phillies with six innings of two-run ball in that year's NLCS. The next year, he got pummeled by the Phillies in the NLCS, yielding six runs in 1 1/3 innings in Philadelphia.
Stat of the Day
The Yankees would have to lose twice at home to lose this series. Since the wild-card format began in 1995, the Yankees have only lost twice at home in an LDS.
They did so in 2001, losing the first two games to the Athletics before taking the next two in Oakland and the final one in the Bronx. And they did so last season against the Tigers, with the second loss being in the clinching Game 5.
July, 13, 2012
7/13/12
10:30
AM ET
By
Mark Simon, ESPN Stats & Information
Hiroki Kuroda Stats To Watch
Kuroda got in trouble in his last start because he gave up an unusually high number of fly balls and line drives. He yielded 16 against the Red Sox, one shy of his career-high.
That may have been due to Kuroda's throwing more hittable pitches to lefties, who were 8-for-17 with a homer and three doubles against him. They had hit .218 against him in the five starts prior to that one.
Kuroda held Angels lefties to three hits in 13 at-bats in their first meeting, in which he pitched eight scoreless innings. Kuroda kept the ball in the strike zone more often than he usually does, but the Angels didn't take advantage. He had his highest rate of called strikes in this game, getting 24 on 62 takes (39 percent).
After posting a 4.14 ERA in the second half of his rookie season, Kuroda has had a post-break ERA below 3.10 in each of the last three seasons.
Kuroda's history is that he tends to be more of a strike-thrower in the second half of the season. He averages about 2.6 strikeouts per walk prior to the break, but has averaged better than a 4-to-1 rate in the second half of each of his four seasons.
Jeter Meter
Derek Jeter
closed the first half strong by going 12-for-28, with five multi-hit games in his last six games. He took advantage of pitches over the heart of the plate, getting five hits on the nine pitches he saw that were over the middle-third of the plate width-wise, and in the middle-third of the strike zone height-wise.
Jeter has shown some vulnerability recently to being jammed inside. Of the last 67 pitches he's seen on the inner-third of the plate or closer to him, he's gotten just one hit and made 14 outs.
Jeter has historically been a better performer in the last two and a half months of the season. He's had a better second-half batting average and OPS in 11 out of 16 seasons since 1996.
Maybe not a breakout day for A-Rod
Alex Rodriguez
is 1-for-16 in his career in the regular season against
C.J. Wilson
and 2-for-21 against him including playoffs. That .067 regular-season batting average is his second-worst against any pitcher against whom he's had at least 20 plate appearances. (he's .056 against
Darrell May
.)
Trout Line
The way Angels center fielder
Mike Trout
played in the first half of the season, he could be on his way to being the third player to win Rookie of the Year and MVP in the same season, along with
Fred Lynn
(1975, Red Sox) and
Ichiro Suzuki
(2001, Mariners).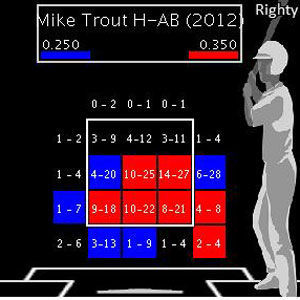 Mike Trout by pitch location in 2012

As one of my Stats & Info colleagues, Micah Adams, checked into the other day, Trout is one of four AL players to hit at least .340 with 10 home runs by the All-Star break and make the All-Star team. One of those was a Yankee --
Joe DiMaggio
in 1936.
Trout's speciality is hitting pitches in the lower-third of the strike zone or below. The average major leaguer hits .222 with a .632 OPS in plate appearances that end with pitches there. Trout is .361/.920. The .361 is the best mark in baseball, and the .920 OPS ranks fourth-best.
Pujols Watch
Angels first baseman
Albert Pujols
has established himself as a player who gets better as the season progresses. His career numbers after the All-Star break: .337 batting average and .1.053 OPS -- 21 points and 49 points higher than his first-half numbers.
Kuroda will want to be careful early in the count against Pujols. Since May 6, Pujols is 28-for-62 with eight home runs in at-bats ending within the first two pitches. Pujols is 4-for-18 lifetime against Kuroda.