New York Yankees:

Home Runs
April, 10, 2013
4/10/13
3:35
PM ET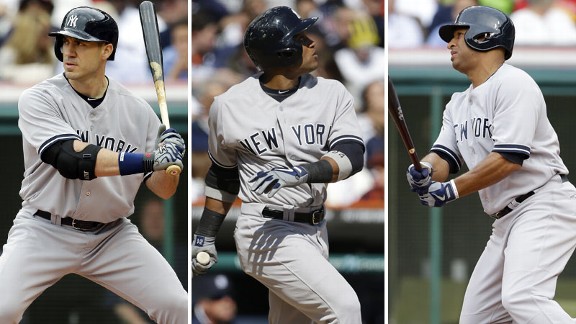 AP PhotosHow many teams have hit more home runs than the Yankees so far this season? Not one.
You really can't. One of the all-time John Sterling-isms could not be more apt than it is after a little more than a week of baseball here in 2013.
Out of the nine departed or injured players from the 2012 team, the Yankees have a combined 194 home runs missing. From
Curtis Granderson
(43) to
Mark Teixeira
(24) to
Nick Swisher
(24) to
Russell Martin
(21) to
Raul Ibanez
(19) to
Alex Rodriguez
(18) to
Eric Chavez
(16) to
Derek Jeter
(15) to
Andruw Jones
(14), the Yankees are without nine of their top home run hitters from last year's record-setting mashers. Only
Robinson Cano
(33) remains, at the present time.
So what has this collection from
Vernon Wells
(2) to
Travis Hafner
(2) to
Kevin Youkilis
(2) to
Ichiro Suzuki
(1) to
Brett Gardner
(1) to
Francisco Cervelli
(1) to
Lyle Overbay
(1) to
Brennan Boesch
(1) to
Jayson Nix
(1) done so far? They have absolutely obliterated the 2012 Yankees' pace though eight games. All the '12 team did was hit the most home runs (245) in Yankees history.
After eight games in 2012, they had a measly eight. This 2013 Bronx Bombers? They have 15 heading into game No. 9 Wednesday night, which puts them in a tie with the Oakland A's and the
Colorado Rockies
for the most in all of baseball. They are on pace for 304 homers!
Cano is leading the way with three, but the Yankees are a $230 million feel-good story. The little engine that could -- with the unpredictable big power, so far.
September, 27, 2010
9/27/10
11:11
AM ET
By
Mark Simon
| ESPNNewYork.com
The Yankees don't have to worry too much about the stolen base in this upcoming series with the Blue Jays. Toronto ranks last in the American League, third-worst in baseball with just 56 this season.
But the Yankees do have something else to worry about in Rogers Centre starting tonight -- the home run.
The Blue Jays are 43-32 in Rogers Centre this season, including 4-2 against the Yankees, and a big part of that relates to home runs – how they've maximized those they've hit, and minimized those they've allowed.
The Blue Jays have hit 140 home runs in Rogers Centre this season, while allowing just 78. If that home run differential of plus-62 holds, it would tie for the third-biggest in the modern era (since 1900).
The 140 home runs, with three home games remaining, gives the Blue Jays a chance at the all-time record for home runs by a team in their primary home ballpark, 153 by the 2005 Rangers.
Remember that Toronto play three fewer games than it usually would at Rogers Centre this season because the team had a three-game series moved to Philadelphia to accommodate the G20 Summit.
The Blue Jays already hit more home runs at Rogers Centre this season than the Yankees did in Yankee Stadium in 2009 (136). It's part of a major uptick in home runs at home for the Blue Jays.
Toronto hit just 69 there two seasons ago, the fourth-fewest in baseball and a total more appropriate for a team that plays in a place like PETCO Park.
Not surprisingly, the Blue Jays hit the ball in the air (be it line drive or fly ball) more frequently than any team in baseball.
Fangraphs.com
charts them as having the lowest ground-ball rate in the majors (39.3 percent of balls-in-play), the highest fly-ball rate (43.7 percent) and the highest rate of fly balls that leave the ballpark (13.3 percent, the Yankees rate second at 12.2 percent)
The player the Yankees will have to be careful with is the most prolific home run hitter in the majors this season,
Jose Bautista
, who has six home runs in 15 games against the Yankees this season, including four in six games at Rogers Centre.
Bautista is enjoying an impressive Yankees-killer type of season, with a .507 on-base percentage and those six home runs. In the last 55 years, eight other players have put up a .500 on-base percentage AND hit six home runs against the Yankees in a season, and the names are impressive –-
Ted Wiliams
(1957 Red Sox),
Jim Rice
(1983 Red Sox)
Albert Belle
(1994 Indians), and
Manny Ramirez
(2006 Red Sox) among them.
Bautista's on-base percentage is aided by 18 walks, the most by a player against the Yankees since
Tony Phillips
had 18 for the 1993 Tigers. Bautista's next walk will give him the most by anyone versus the Yankees since
Eddie
"The Walking Man"
Yost
had 24 for the 1960 Tigers.
A.J. Burnett
will be the first man to get the ball for the Yankees, and he'll have to reach back to his 2008 form if he hopes to keep the ball in the ballpark tonight.
Burnett allowed only seven home runs in 110 1/3 innings at Rogers Centre that season, his last with the Blue Jays (though he did have a 4.49 ERA). But in his lone Rogers Centre start in 2010, he allowed three home runs in six innings in a loss on June 4.
This isn't to say that the Yankees can't do a little homer-hitting damage of their own tonight. Blue Jays starter
Marc Rzepczynski
has allowed six home runs in 26 1/3 innings at home this season. And there's a potential homer mark in sight for one Yankee.
Alex Rodriguez
already has more home runs in Rogers Centre than any visiting player (32), but with 51 home runs against the Blue Jays, he's only three shy of Ramirez's mark for most against them.