New York Yankees:

HOPE Week
June, 20, 2014
Jun 20
8:13
PM ET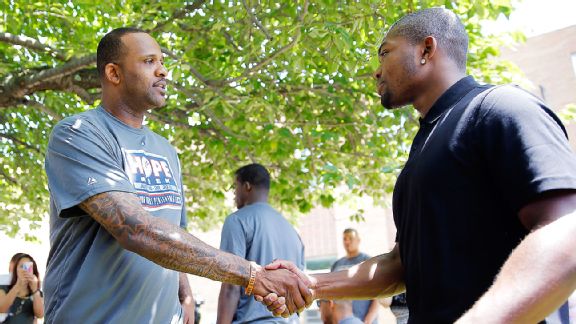 Courtesy New York YankeesCC Sabathia speaks with HOPE Week honoree Quai Jefferson. Jefferson threw out the first pitch on Friday.
NEW YORK -- The Yankees honored Quai Jefferson on Friday, the final day of HOPE Week. When Jefferson was six, his mother, Vaida, was diagnosed with multiple sclerosis.
By the time he turned 10, he was running the house and taking care of his mom. He just graduated from Saint Joseph Regional High School in Montvale, N.J. He was on the honor roll and a varsity football and basketball player.
He is headed to University of Delaware, where he will play football. He plans on majoring in business administration.
Prior to Friday's game, he spoke with
Derek Jeter
and threw out the ceremonial first pitch to
Brendan Ryan
.
July, 12, 2013
7/12/13
7:57
PM ET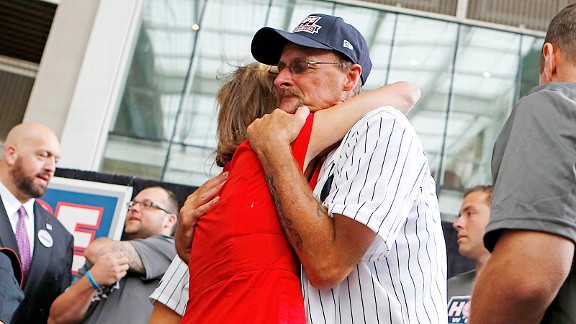 New York YankeesKirk Smalley, whose 11-year-old son committed suicide in 2010, embraces Yankees General Partner Jennifer Steinbrenner Swindal on Friday at Yankee Stadium.
NEW YORK -- Kirk Smalley needs help.
On Father's Day 2010, a little more than a month after his 11-year-old son, Ty, killed himself following incessant bullying at school, Smalley declared he would halt the cruelty that affects so many people.
"I made a promise to Ty that I will stop bullying in our world," Smalley said, his voice rising with passion.
Three years into his pledge, Smalley realizes how ambitious his task is. He knows that what he set out to do is nearly impossible for just one man from the small town of Perkins, Okla.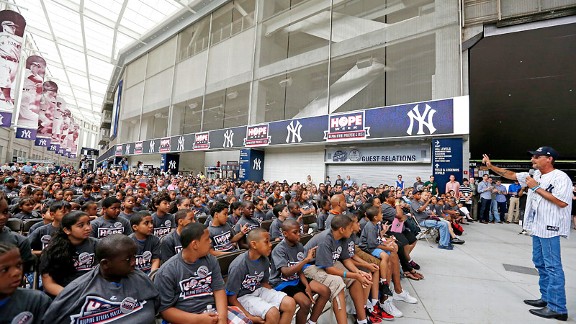 Courtesy of New York YankeesSmalley talked to schoolchildren about his son and other victims of bullying in the Great Hall.
That's why he asks others to enlist in his movement when he speaks with Stand for the Silent, as he did Friday in front of approximately 500 people at Yankee Stadium.
"I can't keep my promise to my baby," Smalley said, his voice cracking. "I can't do that alone. I need your help. I need you to help me keep my promise."
The Yankees flew Smalley to New York to speak Friday, the final day of the team's fifth annual HOPE Week. Smalley talked about his son and other victims of bullying while urging a crowd of local youths from the tri-state area to make a difference.
The Yankees and Delta Air Lines each donated $10,000 to Stand for the Silent, a group led by Smalley and his wife, Laura, that aims to eradicate bullying.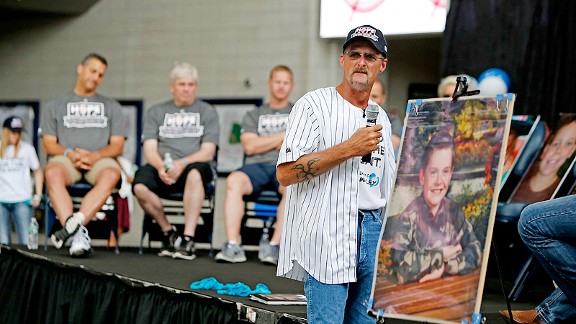 New York YankeesSmalley shows the crowd a photo of his son, Ty, who killed himself three years ago following incessant bullying at school.
The Yankees were represented Friday by team executive Jennifer Steinbrenner Swindal, GM Brian Cashman, pitching coach Larry Rothschild and players, including
Andy Pettitte
,
Joba Chamberlain
and
Travis Hafner
. WWE's "Big Show" also was in attendance.
"Knowing that we were able to work with the
New York Yankees
to spread our message means the world to us," said Kirk Smalley, who was wearing a Chamberlain jersey. "They can reach so many people and impact so many lives."
Smalley said Ty had been picked on for two years before retaliating against a bully on May 13, 2010, resulting in a suspension. Laura Smalley drove her son home from school but had to return to work. She arrived back at the Smalley house at 2:38 p.m. to find Ty dead on the bedroom floor.
Stand for the Silent began in the aftermath of Ty's death, created by students in Oklahoma enrolled in the Upward Bound program. For the past three years, Kirk Smalley has spread his message across the United States, as well as internationally in places such as Australia. He said he speaks up to five times a day.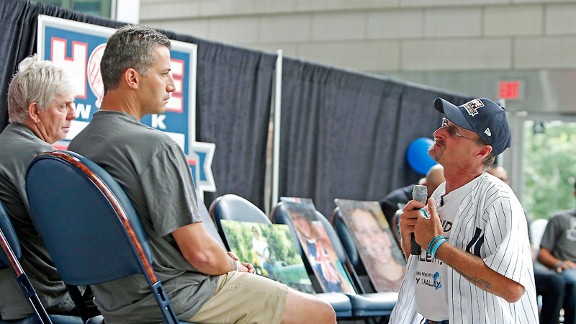 Courtesy of New York YankeesSmalley had a chance to speak to Yankees including Andy Pettitte.
"Our main message is to teach these kids they are somebody. They have a right to be here and be who they are and we love them no matter who they are," Smalley said. "Let them know they can be themselves and don't have to conform to what everyone else thinks they should be."
On Friday, with pictures of five youths who took their lives because of bullying resting on chairs behind him, Smalley used their stories to stress why this problem has to end. He taught the crowd how to say "I love you" in sign language, using it as a way to show support. As Smalley talked about Ty's death, people in the crowd flashed the signal back at him.
"This was helpful. I know someone this happened to, a little girl from Queens that took her life. I took my kids out so they could understand, see what others go through," said Queens resident Syvel Orlando, who attended with the Woodside Warriors football program and brought her 10-year-old son and 8-year-old daughter. "This is very powerful. [The message] should be spread throughout the schools."
The event concluded with a video, set to "I'll Stand by You," showcasing how individuals can reach out to others and help, and the reciting of the "I Am Somebody" pledge.
"It was extremely powerful," Cashman said of Smalley's presentation. "He and his family's pain and what they have lived through and gone through every day, they don't want others to suffer through that. The fact they are standing up and being such difference-makers in choosing to stand up and fight, they are true angels from heaven."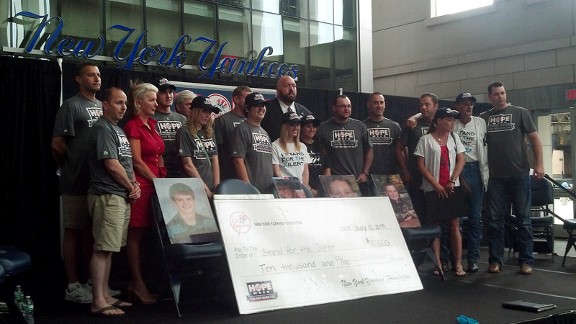 Matt Ehalt/ESPNThe Yankees and Delta Air Lines each donated $10,000 to Stand for the Silent, a group led by Smalley and his wife, Laura, that aims to eradicate bullying.
July, 10, 2013
7/10/13
9:34
PM ET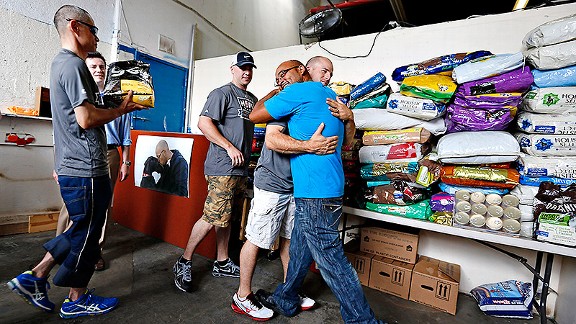 New York YankeesThe Yankees visited the New Beginning Animal Rescue on Wednesday (the photo in the background is of founder Pedro Rosario and King).
NEW YORK -- A photo greets you as soon as you enter the New Beginning Animal Rescue. It's a large shot that showcases NBAR founder Pedro Rosario embracing King, a black Great Dane. Rosario took King into his shelter last year after finding the dog nearly 30 pounds underweight for its age.
Rosario spent about three to four months helping King back to proper size and health, and after seven months, he finally found King a new home to share with another dog and a loving family.
"That's what we're all about," Rosario said. "Making sure these animals come, however they come, and we're able to help put them where they belong health wise, height wise, issues wise, and make sure they get the right home. That we're not going to get them back in six months or a year later."
[+] Enlarge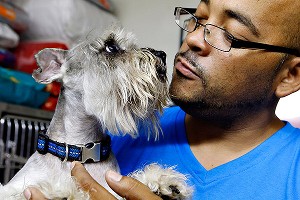 New York YankeesRosario worked with animal control for 16 years prior to starting NYC's Top Dog and NBAR.
To honor Rosario's efforts in the community, the Yankees spent time with him and the rescued animals Wednesday in the Castle Hill section of the Bronx as part of HOPE Week. NBAR is a nonprofit group that houses abused, stray and unwanted animals, and helps them find new homes where they can be cared for.
Outfielders
Brett Gardner
and
Ichiro Suzuki
, reliever
Shawn Kelley
, and front-office staff brought food for the animals Wednesday and gave one dog a bath. Rosario threw out the first pitch before Wednesday's game against the Royals, and he set up an adoption station at Yankee Stadium.
The Yankees presented Rosario with a $10,000 check to help his cause.
"The fact that he started something like this, that it's such an elaborate process to find homes for these animals, you can tell he truly loves dogs," Kelley said.
"Watching him interact with them, when one's getting hyper and crazy and he goes over and calms them down. You can tell he was meant to do this."
Rosario worked in animal control for 16 years before starting up NYC's Top Dog in 2011, and NBAR followed the next year. NYC's Top Dog, which provides services such as vaccination for animals, provides the financial backing for NBAR.
Donations also help in the cause, although Rosario still has to pay out of his pocket for some of the requisite services to run the animal rescue center.
There are currently 35 dogs and 50 cats in the shelter, although he said he usually has about 65 to 70 dogs. The animals come to the shelter in various ways, including being found on the street, being sent over from the city shelter or being surrendered by the owners. When new potential owners attempt to adopt the animals, he puts the prospective owner through a rigorous inspection to make sure it's a suitable home.
Rosario uses a staff of four employees and seven volunteers, and offers high school students the chance to volunteer at his shelter.
"Pedro, it's one of a kind," employee Abraham Lopez said. "Whatever he does, he does for the animals. Everything is devoted to animals in the 13 years I've known him."
On Wednesday, Rosario showed the Yankees around NBAR, which is located on Newbold Avenue in the East Bronx. The players visited the dog cages downstairs before heading upstairs to mingle with the cats. All three Yankees said they have dogs.
Rosario couldn't believe the Yankees swung by to see his operation.
"I was speechless. I couldn't say anything," Rosario said. "I was in shock -- I'm still in shock."
July, 9, 2013
7/09/13
8:04
PM ET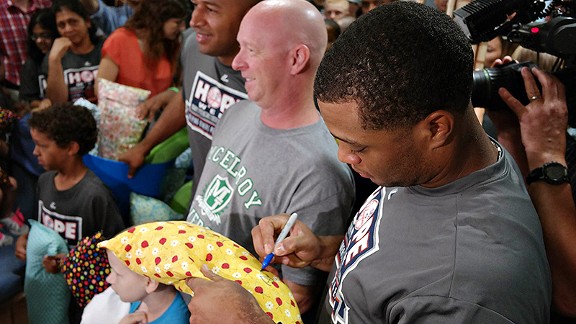 MLB.comRobinson Cano signs a "Pillow of Love."
NEW YORK -- In the one to two minutes it takes for 10-year-old Autumn Blinn to sew her "Pillows of Love," the fluffy gift she creates ends up providing a much longer impression on the recipient.
Tuesday at the Ronald McDonald House in Manhattan, Blinn's "Pillows of Love", as well as a visit by the
New York Yankees
, brought smiles to the patients.
"I think [as I make them] that the person who receives this -- they're not going to feel as much pain because it's very comforting," Blinn said. "It was really exciting because everybody was smiling."
For Blinn's charitable efforts, she was honored Tuesday by the Yankees as part of their fifth annual HOPE Week. The Yankees surprised Blinn and her family before helping distribute the pillows to the Ronald McDonald patients. The entire group also had a pizza party to conclude the afternoon.
[+] Enlarge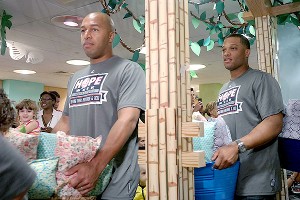 Courtesy of MLB.comVernon Wells and Robinson Cano were among the Yankees who delivered pillows at the Ronald McDonald House in Manhattan.
Blinn and her family were on the field before Tuesday's game, and the Rome, N.Y. native threw out the ceremonial first pitch before the Yankees faced the
Kansas City Royals
.
The Yankees also donated $5,000 each to the Ronald McDonald House in Manhattan and to Faxton St. Luke's in Utica, N.Y., where Blinn's grandfather, John Santiago, undergoes kidney dialysis three times a week.
The Yankees were represented Tuesday by manager Joe Girardi, second baseman
Robinson Cano
, utility player
Eduardo Nunez
, reliever
David Robertson
and outfielder
Vernon Wells
.
"It was very surprising and exciting," Blinn said of meeting the Yankees. "I said to myself, 'Seriously, these are the Yankees, or is this just a trick?'"
Blinn's "Pillows of Love" effort began last year after being taught how to sew by her grandmother. Santiago told her the pillow provided for him for his dialysis was too big, and he liked the fabric on the pillow Blinn had created. Blinn then made one for her grandfather, who stuffs the pillows Blinn creates, and the pillow became a hit among the patients, who requested their own.
That spurred the "Pillows for Love" moment, which Blinn said has resulted in more than 300 pillows being made. She has distributed them at Faxton St. Luke's, the Rome Memorial Hospital, the Ronald McDonald House in Syracuse, and Jacobi Hospital in the Bronx. The pillows are all donated, not sold for profit.
"I think it's remarkable that a 10-year-old has such an understanding of what life is about and giving back and giving people hope," Girardi said.
Tuesday's event began with the Yankees surprising Blinn and her family, with Santiago exclaiming "Oh!" as he saw the congregation of Yankees in front of him.
After some chitchat, the group headed downstairs to a play area equipped with bins full of Blinn's pillows to distribute.
The Ronald McDonald House patients couldn't stop smiling as they posed for photos with their favorite Yankees, as well as receiving autographs, and, in some cases, handing them out. Nunez, who danced while playing a video game, had a shirt filled with autographs from the patients.
"It's fun. See the smiles on their faces, and they're asking for autographs and photos. That's what it's all about, just make them happy and spend the day with them," Cano said. "I love this kind of moment."
July, 8, 2013
7/08/13
7:51
PM ET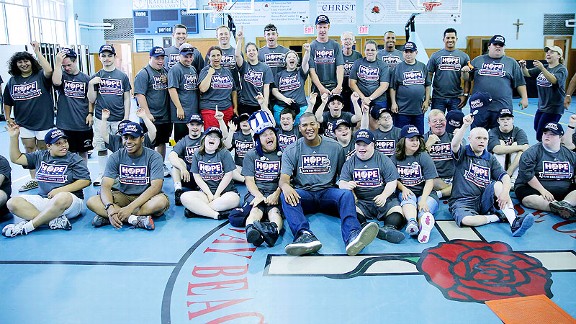 Courtesy of New York YankeesThe Yankees launched their fifth annual HOPE Week.
NEW YORK -- Knowing the Yankees would be visiting the Rockaway Special Athletes on Monday led to an early wake-up for 35-year-old member Patrick Tritschler.
"I was up at six o'clock this morning," Tritschler said. "I was so excited."
The Yankees kicked off their fifth annual HOPE Week by spending the afternoon playing various sports with the Rockaway Special Athletes at St. Rose of Lima School in Rockaway Beach. Rockaway Special Athletes is an organization that hosts recreational activities for disabled adults and children.
[+] Enlarge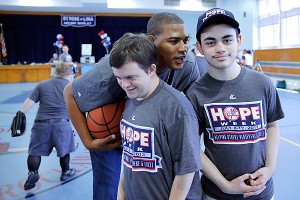 New York YankeesIvan Nova and the Yankees spent the day with the Rockaway Special Athletes.
The Yankees presented the organization with a $5,000 check, and also gave donations to St. Rose of Lima, the group's current host, and St. Camillus, its home before Hurricane Sandy damaged the gym. The group plans to use the money to spend a weekend at the Naval Academy with a former volunteer.
The members were also invited to Monday's Yankees-Royals game, and founder Joe Featherston and one athlete will throw out the first pitch. The Yankees were represented by pitchers
Ivan Nova
,
Adam Warren
and
Preston Claiborne
; infielders
Alberto Gonzalez
and
David Adams
; and outfielder
Zoilo Almonte
.
"I never thought I would be playing kickball or softball with the Yankees. It's totally awesome. I'm loving it," said Tritschler, who has been a member since 1998. "It's better than my birthday. It's great."
Featherston founded Rockaway Special Athletes in 1996, beginning with fewer than 10 members, and it's grown in the past 17 years to host approximately 40-55 people. Featherston said most of the members have cognitive disabilities, although some have physical disabilities.
The program meets once a week on Monday nights from 6:30 to 8 p.m., offering various sports like baseball and soccer.
Monday, the Yankees joined in on the fun. Inside, the six players participated in games of basketball and whiffle ball, while a game of kickball took place outdoors. The Yankees also signed autographs, posed for pictures and ate lunch with the approximately 35 group members in attendance.
"It feels really good. Unbelievable," Nova said of the day's activities. "Something you dream of, and thank God for the opportunity to do it."
He added: "This is something I'm not going to forget."
For several months after Hurricane Sandy, the organization wasn't able to meet as St. Camillus' gym was ravaged by the hurricane. Featherston eventually contacted the nearby St. Rose of Lima, and the school offered to host the weekly night of sports. Featherston remembers the pure excitement of that first night back as all the members rejoiced in being together again.
St. Camillus' is scheduled to be repaired for September. When the Rockaway Special Athletes head back to their home, they'll have a grand story to bring with them, thanks to an afternoon spent playing the games they love with the Yankees.
"It's something they will never forget," Featherston said. "The thrill of a lifetime. Who gets an opportunity to play kickball against Zoilo Almonte and Preston Claiborne? To kick off them, or pitch off them. To shoot hoops with Ivan Nova? Phenomenal. I'm very happy for them."
December, 24, 2012
12/24/12
7:07
PM ET
Daniel Fratto, a 19-year-old who participated in the Yankees' 2010 HOPE Week, died Sunday.
[+] Enlarge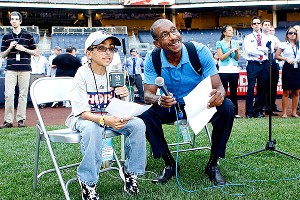 Courtesy of the New York YankeesDaniel Fratto joined Yankees' P.A. announcer Paul Olden on the Yankee Stadium field in 2010.
Fratto, who battled the effects of immune deficiency syndrome, participated in HOPE Week through his involvement with "Beautiful Children," a non-profit organization that provides adaptive sports programs for children with disabilities.
On Aug. 19, 2010, as part of HOPE Week, Fatto was the Yankee Stadium public address announcer for a half-inning, getting the opportunity to announce
Derek Jeter
's name before an at-bat against the Tigers. Fratto later would be the P.A. announcer when members of "Beautiful People" and several Yankees played a baseball game on the field.
According to a Yankees release, Fratto graduated from Minisink Valley High school in Middletown, N.Y., and was studying graphic design at SUNY Rockland. He dreamed to be an animator, and was creating his own company, "Roaring Graphics."
Fratto is survived by his parents, Michael and Danielle, and a brother, Michael.
June, 29, 2012
6/29/12
6:31
PM ET


When Jeff Woytovich and his wife, Betsy, created the Children's Alopecia Project (CAP) in 2004, it was a chance to help those inflicted with the alopecia -- a disease that causes hair loss -- to gain confidence and self-esteem as they endured trying times.

The couple's daughter, Madison, was diagnosed in 2003.

"A lot of these kids don't feel normal," explained Woytovich. "So when you get to be with kids that feel just like you, you now feel normal and get to do things and feel in ways that you never did before."

Friday afternoon at the New York Botanical Garden in the Bronx, members of CAP were able to feel normal among some of baseball's current and former stars as the Yankees stopped by to conclude HOPE Week. The eighteen members of CAP who showed up from as far as Houston, Tex. enjoyed a wide range of activities with the Bombers on a hot day.

Third baseman Alex Rodriguez, Hall of Famer Reggie Jackson, former Yankees David Wells and Darryl Strawberry, manager Joe Girardi, current Yankees Ivan Nova, Freddy Garcia, Raul Ibanez, Andruw Jones, Dewayne Wise and Cory Wade, and former Rutgers player Eric LeGrand all participated. The Yankees presented CAP with a $10,000 check and all the CAP families were invited to Friday night's game against the White Sox.

"This was the surprise of a lifetime," said Aaron Friedman, a 14-year-old from Cleveland who is diagnosed with alopecia. "Meeting all these players and seeing them give back to the community, there's nothing like it. It's the greatest feeling in the world."

Alopecia is a disease that is caused by the body's immune system attacking hair follicles, which causes smooth, roundish patches of hair loss. The disease strikes approximately four million people in the United States. After the Woytovich family couldn't find a support network for kids with the disease, they created their own, which has expanded internationally and includes more than 1,000 families.

Since a handful of the stars who showed up Friday were bald, including Jones, Wade, Wise, Ibanez and Wells, the CAP kids were able to paint on their heads. Some painted specific objects, while there was an attempt to put the Yankees' logo on top of Jones' head. Ibanez said being bald gave him and some of the other players a bond with the kids.

"It gives you a talking point right away," Ibanez said. "These kids, having to go through some of the things they've had to go through, this is really about trying to build their self-esteem and show them it's OK to be bald."

When they weren't having their heads painted, the Yankees were leading scavenger hunts. Taijha Williams, a 13-year-old with alopecia from Jersey City, N.J., paired up with her favorite Yankee, Nova, and the two could be seen smiling as they walked side-by-side through the gardens -- even though they got lost twice along the way.

"I loved that she's interacting and feeling comfortable in her own skin. Obviously that's the goal but day to day it's a challenge," said Williams' mother, Denise Rolon. "This event, she gets to let her hair down and really appreciate the fact that they know she has alopecia and don't treat her any differently."

June, 26, 2012
6/26/12
5:36
PM ET
His cooking space is compact, hardly the center of operations you'd expect for someone who feeds sometimes more than 100 people a night. He's been laid off from his job as a school bus driver since December, making it that much harder to continue providing for the people in Jackson Heights, Queens, as he's done for the past eight years.
Yet, none of it stops
Jorge Munoz
, affectionately known as "The Angel in Queens," from providing meals to those in need. The 48-year-old and his family selflessly give their time and money to make sure others don't go hungry, providing more than 700,000 meals since 2004.
"Since my childhood, my mom told me that if you share, you're OK with God," Munoz said. "I'm a man of faith. I always believe that when you do good things right here, you'll be OK."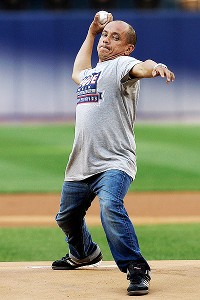 AP Photo/Kathy WillensJorge Munoz threw out the first pitch Tuesday at the Stadium.
For Munoz's devotion to others, he was honored Tuesday by the Yankees as part of HOPE Week. The Yankees presented Munoz with a $10,000 check and helped prepare his meals, with second baseman
Robinson Cano
, center fielder
Curtis Granderson
and pitchers
Boone Logan
and
Hiroki Kuroda
lending a hand by bringing vegetable oil and rice.
"It's an honor to have them here, and it's good to know them because even though they are players, now we know that they have good hearts, too," Jorge's sister,
Luz Munoz
, said. "You can see it in their faces when they are cooking for them, they're happy."
Munoz, who lives in Woodhaven after emigrating from Colombia in the 1980s, started providing food after finding out that some laborers go hungry if they don't have work on a given day. In 2004, he started preparing meals each night and bringing them to the corner of Roosevelt Avenue and 73rd St. in Jackson Heights. His sister, mother and a paid employee help make and deliver the meals.
He fed 108 people on Monday and said he has had days when he's served 160. Munoz, who has about eight volunteers helping him, has missed just one day in eight years. The gift from the Yankees is crucial to Munoz's operation, as it costs between $1,000 and $1,300 a week to provide the meals, and about $450 comes out of the family's pocket. The rest comes from donations.
The Yankees helped prepare a meal of sausage, rice, lentils and potatoes. Logan and Granderson cooked upstairs with Munoz while Cano and Kuroda were in the lower kitchen of the two-story home Munoz shares with his mother, sister and nephew.
While a chicken dominated the headlines during the Subway Series -- Mets reliever
Frank Francisco
called the Yankees chickens and the Mets then purchased one to roam the clubhouse -- there was no poultry on Munoz's menu.
"I like chicken and I know a lot of people like chicken, so if it would have been here, it would have been great to have it," Granderson said. "Still not too sure exactly where the comment came from, but I'm still going to continue to eat it, just like a lot of people will continue cooking it."
Regardless of the menu, Munoz's work impressed the Yankees -- especially the Bombers' All-Star second baseman.
"To see how this guy goes on the street and all these people get together and then he's giving food every single day, it's amazing," Cano said. "He's spending his money, his time and his family's money. He's not working and he's still doing it. It's really impressive."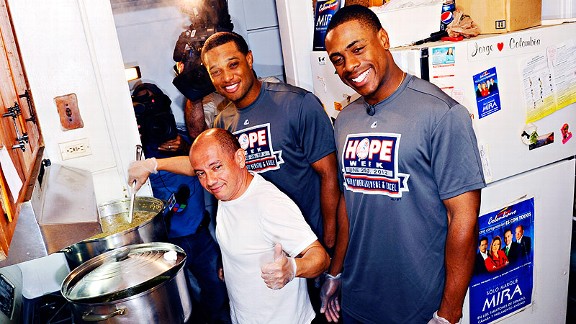 Courtesy New York YankeesMunoz poses with Yankees sluggers Robinson Cano and Curtis Granderson.
June, 25, 2012
6/25/12
5:32
PM ET
As
Mark Teixeira
guided a horse with 9-year-old
Owen Atkins
sitting in the saddle at the Riverdale Equestrian Centre, the slugger's new friend smiled from ear to ear.
Watching from close by, Atkins' father, Dan, shared in that happiness of seeing the Yankees reach out to his son, who suffers from cerebral palsy, and other members of the Flying Manes therapeutic riding program.
"It's great. This is wonderful. Owen is a huge Yankees fan," Dan said while donning a Yankees hat. "You just can't put this into words. He's extremely excited. We watch a lot of Yankees games on TV. This is something he'll have for his whole life and it's really inspiring."
The Yankees kicked off HOPE Week 2012 by helping those involved in the Flying Manes program and presenting the organization with a $10,000 check. Teixeira, infielders
Eric Chavez
and
Jayson Nix
, pitching coach
Larry Rothschild
and Yankees general partner
Jennifer Steinbrenner Swindal
all attended the event in the Bronx.
"It's probably one of the best days in my life," said 8-year-old
Michael Russo
, a rider in the program who lives in the Bronx. "We got to meet baseball players and we got to be asked questions and be interviewed. This is like a dream come true."
Flying Manes is a nonprofit organization that helps those with physical and emotional disabilities by offering therapeutic horse riding instruction. It meets once a week and was started by
Stefanie Dwyer
and her husband
Bricklin
about four years ago.
On Monday, the Yankees surprised the young riders by bringing the horses down to an enclosed riding area and interacting with them. Some took laps around the track with the kids while walking next to the horses, while others helped groom the horses and clean their hooves. The players and young children even played games at times. For example, Atkins swung a miniature plastic bat and hit a ball out of Teixeira's hands.
"We really enjoying being with our fans and being with the community," Teixeira said. "Anytime you can put a smile on a kid's face, it makes it all worth it."
Dwyer hopes that the Yankees' kind act will help raise awareness of what small programs like Flying Manes can accomplish while raising the organization's profile. Parents who have children that ride in the program all praised Flying Manes.
Russo's mother,
Lisa Higgins
, was thrilled to see her son, who has autism, talking with reporters during the event, and she said Flying Manes has been very beneficial to him. Dan Atkins said the program helps Owen, who is bound to a wheelchair, with his physical and emotional development.
"[This was] absolutely amazing. We had no idea how big this was going to be. To have this opportunity for the kids in our program to meet these guys is absolutely priceless," Dwyer said. "This made everything. They're not going to forget this for the rest of their lives; this is all they're going to be talking about."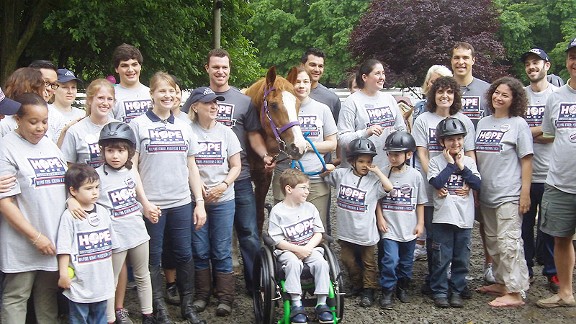 Matt EhaltYankees players and members of the Flying Manes Therapeutic Riding program are all smiles during the team's HOPE Week visit.
July, 28, 2011
7/28/11
8:50
PM ET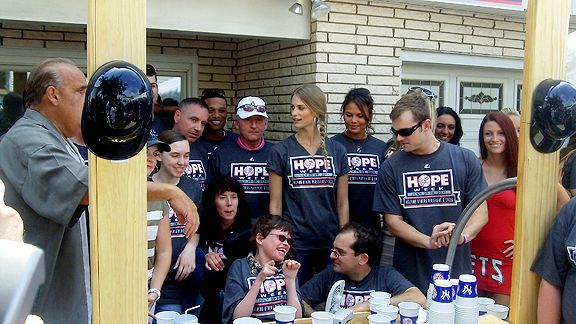 Matt Ehalt for ESPNNewYork.com
Yankees players, including Robinson Cano and David Robertson, spend the day with 17-year-old Megan Ajello, who suffers from cerebral palsy and scoliosis, as part of HOPE Week.
NEW YORK -- Outside the house, tucked away on the right-hand side of a residential street in Staten Island, stood a deep group of guests, waiting to see 17-year-old
Megan Ajello
.
Inside the house, Megan's mother,
Linda
, waited with Megan, who suffers from cerebral palsy and scoliosis, wondering if the large crowd would overwhelm her wheelchair-bound daughter.
As soon as the door to their beige-colored house opened, and she saw Yankees general manager
Brian Cashman
and Staten Island Yankees mascot
Scooter the Holy Cow
, among others, Megan flashed a smile that couldn't help but warm your soul.
Then she saw the gift the Yankees had brought Thursday to help with her lemonade sale, and it seemed almost too good to be true.
"They made her this wheelchair-accessible lemonade stand. How amazing is that?" Linda said. "It's just something every year that when we do it for the Special Olympics, she's just going to remember this day."
As part of their yearly HOPE Week initiative, the Yankees and other celebrities helped make Ajello's sixth annual lemonade stand a grand event as they donated their time and money to help raise funds for the Special Olympics. The event raised more than $15,000, according to a Yankees official.
Cashman, second baseman
Robinson Cano
, pitcher
A.J. Burnett
, shortstop
Eduardo Nuñez
, relievers
David Robertson
and
Boone Logan
, outfielder
Andruw Jones
and coaches
Mick Kelleher
and
Rob Thomson
were all on hand to take part in the festivities, which included a dunk tank that several Yankees gladly agreed to sit in.
The Yankees also gave a $5,000 check to the Special Olympics and a $5,000 check to Megan's school, the Seton Foundation for Learning, located in Staten Island.
"It's completely overwhelmed us," Linda said. "I can't imagine everything they've done today. I can't process it right now."
Megan also had spinal fusion surgery last year that put 37 screws and two rods in her back. Despite the effects that cerebral palsy has on Megan's day-to-day life, as it leads to constant muscle spasms and makes daily activities tough for her, according to Linda, Megan still spends plenty of time trying to help her community.
The lemonade stand, her sister's idea, has raised money for the Special Olympics for the past five years. It helps get her friends from school, karate class and others from around their neighborhood to come together for a great cause.
Linda said when she asked her daughter earlier in the day what it was all about, Megan told her she wants to help others.
"I appreciate being here and I felt like we're riding on this family's coattails with the goodness they are doing in the community," Cashman said. "I'm appreciative the Yankees can participate in the efforts they started. Hopefully in a small way or a big way and we can help those efforts along."
Thursday, under a sweltering sun, was filled with smiles and fun -- and, of course, cups of lemonade. When Megan wasn't helping refill cups adorned with Yankees logos, she watched as Cashman took a dive in the dunk tank early on and said that getting to dunk her father in the tank later was her favorite part.
A crowd of approximately 300 people showed up, mingling with Megan and the ballplayers. Burnett and his two sons event spent a long period of time hopping back up into the tank and getting splashed.
It's a day Megan and plenty of others will never forget.
"It's exciting and inspirational because you hope that it spurs us on to keep doing more," said Megan's father,
Daniel
. "Hopefully the other people will see what she can do and realize they can do this stuff with their children and get them involved."