February, 24, 2015
Feb 24
4:07
PM ET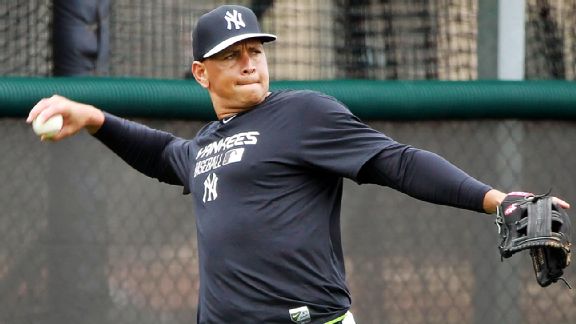 Kim Klement/USA TODAY SportsJoe Girardi said he "anticipated" discussing the possibility with A-Rod of the slugger playing first base at times this season.
TAMPA, Fla. -- He probably won't be playing much third base, but the possibility remains that
Alex Rodriguez
, banished to the purgatory of right-handed DH, may yet find some playing time at first base.
Yankees manager Joe Girardi said Tuesday he "anticipated" discussing the position shift with A-Rod after the position players officially report to camp Wednesday morning. Rodriguez checked in Monday and has been taking BP and fielding grounders at third across the street at the Yankees' minor league complex.
"I'll talk to him about taking some grounders over there just to be prepared, if I need to give a guy a day off or however we chose to do it," Girardi said. "But yeah, I'm going to talk to him about it and see how comfortable he is."
On Monday, A-Rod seemed taken aback by the suggestion at first: "Umm, I haven't taken any [grounders at first], I don't think, in my life."
But when asked whether he was willing to give it a shot, Rodriguez said, "I'm willing to try whatever Joe wants me to try."
Not that it will be easy for a player even as athletic as A-Rod was in his prime to make the shift. Baseball history is filled with tales of good players who found the move to first base difficult. Ask
Mike Piazza
.
"Ground balls aren't going to be a problem, and throwing the baseball isn't going to be a problem," Girardi said. "It's the nuances of first. Holding a guy. Coming off the bag. The bunt plays. Understanding your responsibilities, because now he's on the other side. Making the 3-6-3 double play, or the 3-6-1. It's a completely different throw than he's ever made, for the most part. Understanding the cuts and where you're supposed to be. When you go over there, it's not as simple as people think. It's a pretty complicated position."
Still, assuming A-Rod can hit -- and that's a pretty big assumption -- Girardi said he needs to find ways to get his bat into the lineup. The Yankees signed
Garrett Jones
in the offseason to back up the oft-injured
Mark Teixeira
at first, and the bulk of Rodriguez's field time is likely to come when
Chase Headley
, signed to be the every-day third baseman, needs a day off.

It raises another novel possibility -- the possibility that Rodriguez, entering his 21st season in the big leagues, may have the kind of spring training veterans are usually spared from, namely having to make a lot of road trips in order to get enough playing time to be ready for Opening Day.
"To me, the most important thing is getting him at-bats," Girardi said. "I'm going to take it week by week, see where he's at physically and how he's responding, make sure he's getting enough at-bats."
A-Rod might also get some of those at-bats in minor league games, although those don't begin until mid-March. It probably means that when the Yankees make a particularly long and difficult road trip, such as the 2½-hour ride down to Fort Myers to face the Red Sox on, appropriately enough, Friday the 13th, Rodriguez will be on that bus. Girardi said he would not shield Rodriguez from the hostile reaction he is likely to get from Red Sox fans.
"It won't be the first time he's dealt with that," Girardi said.
Or the last.
Headley: 'No awkwardness' with Alex:
Chase Headley met A-Rod, the man Headley is replacing at third base, for the first time today -- they had spoken on the phone a couple of weeks ago, a call A-Rod initiated -- and said it was just like meeting any other teammate.
"Obviously [the phone call] broke the ice, and today just started the process of getting to know each other better," Headley said. "It was great to meet him and get to talk baseball a little bit. As far as a teammate, I expect him to be great. I've heard great things from other guys, and every interaction that I've had with him has been positive."
[+] Enlarge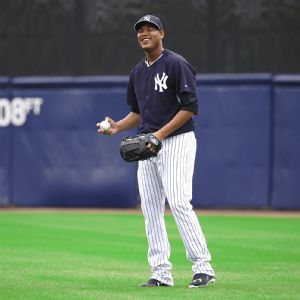 AP Photo/Lynne SladkyIvan Nova said he felt no discomfort in his elbow after throwing off a mound on Tuesday.
Headley, who signed a four-year, $52 million free-agent contract in December, said that it was made clear on both sides that he was coming to play third base, and that the subject of Rodriguez's return barely came up in the negotiations.
"I don't think we even had to ask that," Headley said. "I think that everybody kind of knew that that monkey was in the closet, and it was going to come out eventually, so we talked about it, and we were comfortable with it."
For his part, A-Rod has called Headley "an excellent addition to our team" and has said he is willing to do anything the club asks of him. But when pressed on whether he felt he could still play third, Rodriguez said, "Yeah."
Based on what? "Based on faith," he said.
Nova, Sabathia, Pineda, Eovaldi throw:
That's four-fifths of the Yankees' ideal starting rotation, and all four came out OK, according to Girardi.
For Ivan Nova, it was the third time he's thrown off a mound since undergoing Tommy John surgery last April, and he was restricted to throwing only fastballs. But Nova said he felt no discomfort in his elbow, which had bothered him on and off for several seasons before he was diagnosed with a torn UCL after just four starts last season.
Bailey is closer:
Andrew Bailey
, the only truly legitimate closer on the Yankees' roster, threw 30 pitches in a bullpen session and believes he has a chance to make the team even though he is just 19 months into a usual 24-month rehab period after undergoing surgery to repair a torn labrum and capsule in 2013. Bailey has 89 career saves while teammates
Dellin Betances
and
Andrew Miller
, the two candidates for the closer job, have one each. Bailey said he was able to throw fastballs, curves and changeups without pain for the first time since suffering the injury in July 2013 while a member of the Red Sox. He acknowledges being at least two weeks behind the other pitchers but thinks that if he can get between five and eight appearances before the end of spring training, he might show the Yankees enough to bring him north for Opening Day.
Girardi seemed slightly less optimistic about Bailey's chances.
"I thought today he looked pretty good, actually, but as for Opening Day, I don't know," Girardi said. "Compared to where he was last year to where he is, there's been significant improvement. [But] his bullpens are a little more spread out than maybe some of the other relievers, and obviously going back to back would probably be somewhat important. He's a little behind but he looked pretty good today."