New York Yankees:

Jackie Robinson
April, 16, 2013
4/16/13
11:45
PM ET
Sometimes it doesn't have to be 27 up and 27 down for a perfect game.
With all the players on both teams wearing No. 42, it was the man named after Jackie Robinson,
Robinson Cano
, who had the game's biggest hit, while the player who will be the last to regularly wear the number,
Mariano Rivera
, picked up the save.
The final score: Yankees 4, Diamondbacks 2. 4-2.
Both Cano and Rivera feel a special bond with Jackie Robinson. Cano is honored to be named after him, while Rivera cherishes that he will be the last to have the number on a daily basis.
[+] Enlarge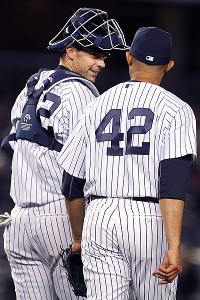 John Munson/The Star-Ledger/USA TODAY SportsThe last No. 42, Mariano Rivera closed out a perfect day in Yankee Stadium.
To Cano, who wears No. 24, it makes perfect sense that the last man to regularly wear No. 42 will be the greatest closer of all time.
After batting practice on Tuesday, Cano made it a point to tell Rivera that he is the ideal man for the number.
"He is the right guy to have 42," Cano said.
Cano is hitting like a man who plans on carrying the Yankees until the injured reinforcements arrive. His three-run long ball in the fourth erased a two-run deficit. Cano has four home runs in the first 12 games. In 2012, it took him 39 games to knock four out of the park. Still, he finished with a career-high 33.
As Cano has gotten hot, so too have the Yankees. They have won six of seven to improve to 7-5 on the season. In that seven-game span, Cano is hitting .452 (14-for-31) with four home runs and 11 RBIs.
"Robbie got going and we got going as a team," Joe Girardi said. "The big three-run homer ends up being the game-winning hit, but it seems like our offense took off a little bit [when he did.]"
Rivera has
spoken reverentially
about wearing No. 42 and what the night feels like when everyone has it on. So it seemed rather fitting to see him out there in the ninth to pick up his third save.
"It is a special night," Rivera said.
Cano and Rivera savored the evening equally. Rivera inherited Jackie's legacy, while Cano was born with it.
Cano's father, Jose, who pitched briefly in the majors, told Robinson as a kid why he was given his first name. It never really sunk in until he was in his mid-teens -- 15 or 16, he estimates -- when he came to the United States. He did his own research and spoke to people, finding out how much Jackie Robinson had to endure.
"The guy that opened the door for us, it is amazing to get to wear 42 on [this] day," Cano said.
So no, it wasn't 27 up and 27 down, but it terms of symmetry, Jackie Robinson Day at Yankee Stadium was perfect.
April, 16, 2013
4/16/13
6:45
PM ET
After throwing 35-to-40 pitches in a bullpen session Tuesday,
Andy Pettitte
said his back is better and he will be ready to start on Friday in Toronto.
"I feel good," Pettitte said.
Pettitte, 40, is 2-0 with a 1.20 ERA. Pettitte had his previous start skipped after suffering back spasms. Pettitte favored taking the mound either on Tuesday or Wednesday, but now will have had 10 days since his last start.
"It was a good decision," Pettitte said. "I don't want to second-guess anybody."
Pettitte said the one thing he will have to be careful about with the long delay between starts is feeling too strong on Friday.
NUNEZ BACK AT SHORT:
After being hit on his right wrist on Friday,
Eduardo Nunez
returned to the starting lineup on Tuesday. Nunez said the wrist is better. So far this season, the same could be said about Nunez' defense. He has yet to make an error.
"I feel comfortable the more games they give to me, the more confident I feel," Nunez said.
Nunez said it was helpful that he is only playing one position. During 2012, the Yankees sent Nunez down after he could not handle the utility role.
HONORING JACKIE:
The Yankees and the Diamondbacks are all wearing No. 42 on Tuesday night to honor Jackie Robinson.
JETER LIGHTENS WORKLOAD:
I have a
news story
on
Derek Jeter
lightening his workload. The idea that he might return in early May seems remote.
SWEET CAROLINE:
I also have a
news story
on the Yankees honoring Boston by playing Sweet Caroline Tuesday night. In the story,
Kevin Youkilis
has some poignant comments about how the tragedy impacted him.
April, 15, 2013
4/15/13
1:19
PM ET
Our own Johnette Howard sat down with the last man to regularly wear Jackie Robinson's No. 42, the greatest closer ever,
Mariano Rivera
. Rivera loves the tradition of everyone in the majors wearing No. 42 for one game during the season.
"I think it's beautiful," Rivera says, citing the once-a-year visual of all his fellow 42s-for-a-day mingling around the batting cage, running onto the diamond, standing at attention as the national anthem is played, or hustling around the field once the games begin. Rivera grew up in Panama knowing about Latin stars Juan Marichal and Roberto Clemente before he became aware of Robinson. He likes the symbolism of all these latter-day 42s -- be they African-Americans or whites or Latinos -- standing on equal footing. The tribute to Robinson is meant to ensure that no one forgets that this wasn't always so.
"Jackie Robinson was a great man," Rivera said over the weekend before a game against the
Baltimore Orioles
. "I have always said that wearing this number is a privilege and a great responsibility … to represent what Jackie represented for us, as a minority, and for all of baseball in general, it's tremendous. For me, it's just a privilege to wear and to try to keep that legacy. It makes me want to be at my best. And that's what I tried to do my whole career."
To read Johnette's full story click here.
April, 15, 2013
4/15/13
12:25
PM ET
To honor Jackie Robinson, the Yankees will all wear No. 42 on Tuesday against the
Arizona Diamondbacks
. There is a tiny hubbub about the Yankees not playing on Monday on the 66th anniversary of Robinson becoming the first African-American player in Major League Baseball.
But Joe Girardi, for one, didn't have a problem with it.
"I think you can honor Jackie Robinson without playing baseball in New York," said Joe Girardi. "I talked about taking my kids to see the movie. That's honoring Jackie Robinson because I want them to know what this man went through and what his legacy is and how important he has been to our country. I think there are a lot of ways you can honor someone without necessarily playing a game."
As for the movie, 42,
CC Sabathia
took it in and gave it a thumbs up.
I liked it as well. Usually, I'm not a big fan of sports movies based on true stories because I find they embellish too much. For example, "Moneyball" never mentioned the A's had three of the best starters in baseball. But 42 seemed to stay close enough to history and told the remarkable story very well, which made it a very worthwhile couple of hours.
QUESTION: SHOULD THE YANKEES HAVE PLAYED TODAY BECAUSE IT IS JACKIE ROBINSON DAY?
April, 15, 2012
4/15/12
6:45
PM ET
In the top shelf of Curtis Granderson's locker, there's a figurine of Jackie Robinson in a slide, a miniature version of his iconic steal of home against the Yankees in 1955.

At his parents' home, there are side-by-side photos of Robinson's steal and one of Granderson sliding into home in similar fashion against Toronto on Jackie Robinson Day in 2009, as well as the jersey he wore that day.

For the Yankees outfielder, as well his teammates, honoring the first player to break the color barrier on Jackie Robinson Day is always a special moment. Sunday is the 65-year anniversary of Robinson debuting with the Brooklyn Dodgers and all teams wear Robinson's No. 42.

"This day is the reason why I get the chance to play this great game of baseball," Granderson said before the Yankees faced the Angels. "Jackie Robinson breaking the color barrier 65 years ago and doing a lot of things not only for baseball but the Civil Rights movement, allowing African Americans like myself, other minorities (to play).

"As you look around this clubhouse, there's Latin America, Asian America, Europe and everywhere else get a chance to play this great game all because of one person and that was Jackie Robinson."

The center fielder appreciates that players are allowed to wear Robinson's jersey once a year on the date of Robison's debut with the Brooklyn Dodgers. The jersey has been retired across baseball except for those who were wearing the jersey when it was retired in 1997, with only Yankees closer Mariano Rivera still donning it.

Rivera, who was given the number by the Yankees, said it's a privilege to be the last one to wear Robinson's number. Being a minority wearing that number also carries special significance to Rivera, and he added that it's an honor and challenge to carry the legacy of the number.

The all-time saves leader complimented baseball on its efforts on Jackie Robinson Day, including the recent expansion to let all players wear the number.

"He got lost a little but I think Major League baseball is doing a tremendous job of trying to get it back," Rivera said. "I think Major League baseball is doing a tremendous job to put in the minds of the fans who Jackie Robinson is."

Granderson will be wearing high socks as well as customized shoes that honor Robinson. The shoes are designed by New Balance and have 42 written on the top of the heel as well as the flap, and are black and white. He's going to auction them, as well as a game-worn jersey, and give all the proceeds to the Jackie Robinson Foundation.

He added that there's a different feeling when he puts on that No. 42 jersey each year and likes looking around the field and seeing all his teammates with that number. This is the fourth year in which all players across baseball wear Robinson's famous number.

"Guys are enjoying it," Granderson said. "I think it's a great thing for baseball and a great thing for life in general and continuing to promote his legacy. I don't think it's been forgotten by anyone."